Banana & Feijoa Loaf – This gluten free and paleo banana and feijoa loaf is the perfect Autumn treat to sit down and enjoy a slice with a cuppa. It is light and moist with the natural sweetness of bananas giving a delicious contrast to the slight sharpness of the lovely feijoa.
This moist gluten free loaf is topped by sliced feijoas, a sweet cinnamon & honey glaze and sliced almonds.  It is gluten free, dairy free & refined sugar free and is suitable for those following a paleo diet.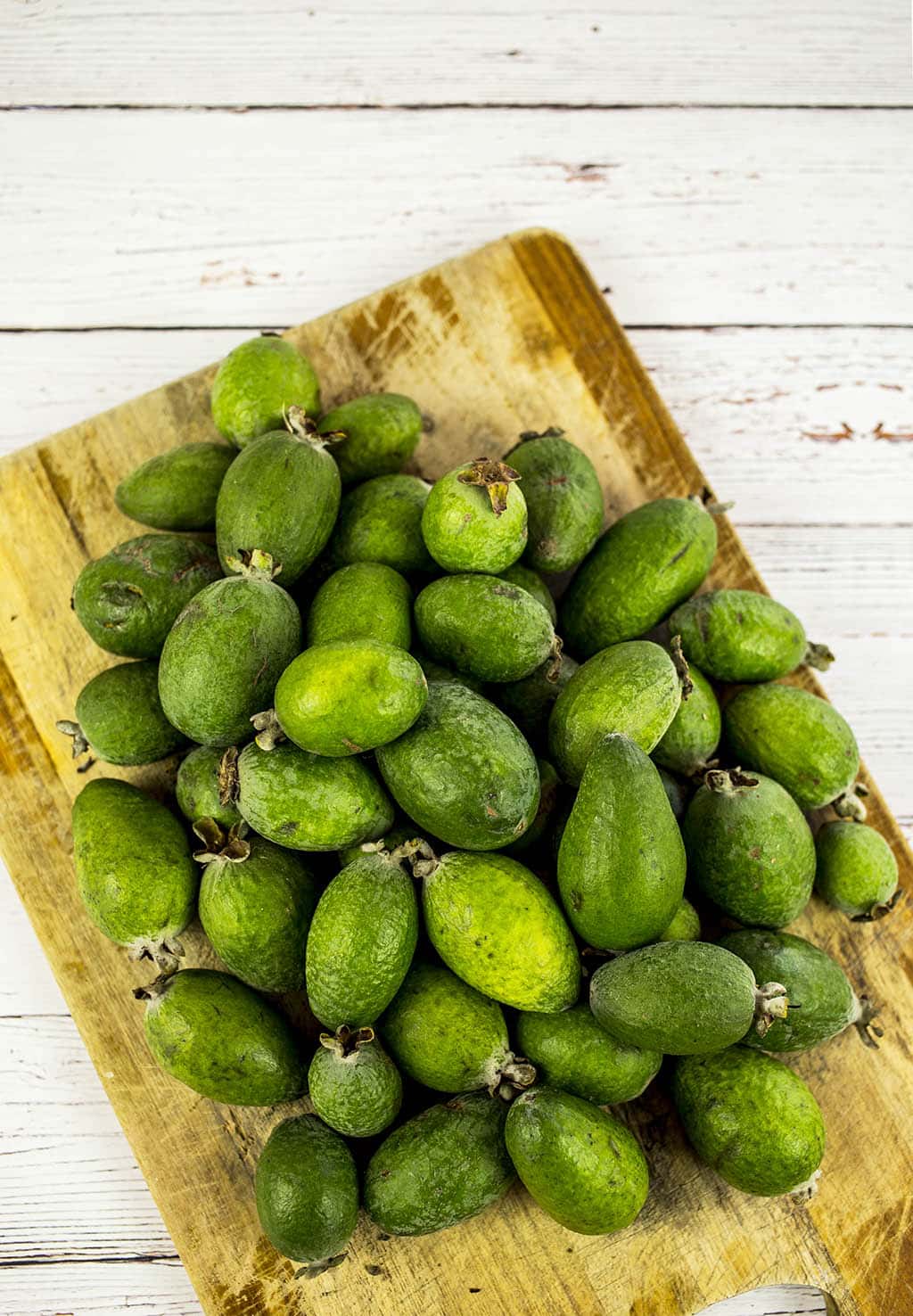 Feijoas are also commonly known as the pineapple guava. They have a distinctly tangy aromatic flavour which is accompanied by a hint of sweetness, this fruit is a favourite of many kiwi's at this time of the year.
The feijoa season is very short which adds to their appeal ensuring we enjoy this delightful fruit while we can! We are very fortunate to have been given a bag of feijoas every week recently from generous friends with an abundant feijoa tree.
This has lead to all sorts of feijoa concoctions such as blitzing them for smoothies & juices, adding to porridge or dessert, making chutney and of course using in trusty old baking!
We have been enjoying some beautiful clear crisp autumn days which have been just perfect for strolls along the beach and seeking some cosy and warming food on returning home.
I find the pace of Autumn much slower than summer which can often be rather hectic. Summer is so often full of promise about all the things that you hope to do….  I'm all for making the most of summer, but it does come with a certain amount of pressure (only put on by oneself of course) to do lots of fun and summery things.
Holidays, camping trips, beach trips, BBQ's, exercising outside, eating outdoors, picnics, swimming, bike rides, weekends away, catching up with family and friends and so on……it always takes me a while to come to terms with the fact that summer is over and I didn't quite manage everything I wanted to. That is probably because my list is usually too large!
Autumn to me is a great time for slowing down, reflecting on the past year, the people in my life that are important to me, being grateful and for looking ahead to what I hope to achieve.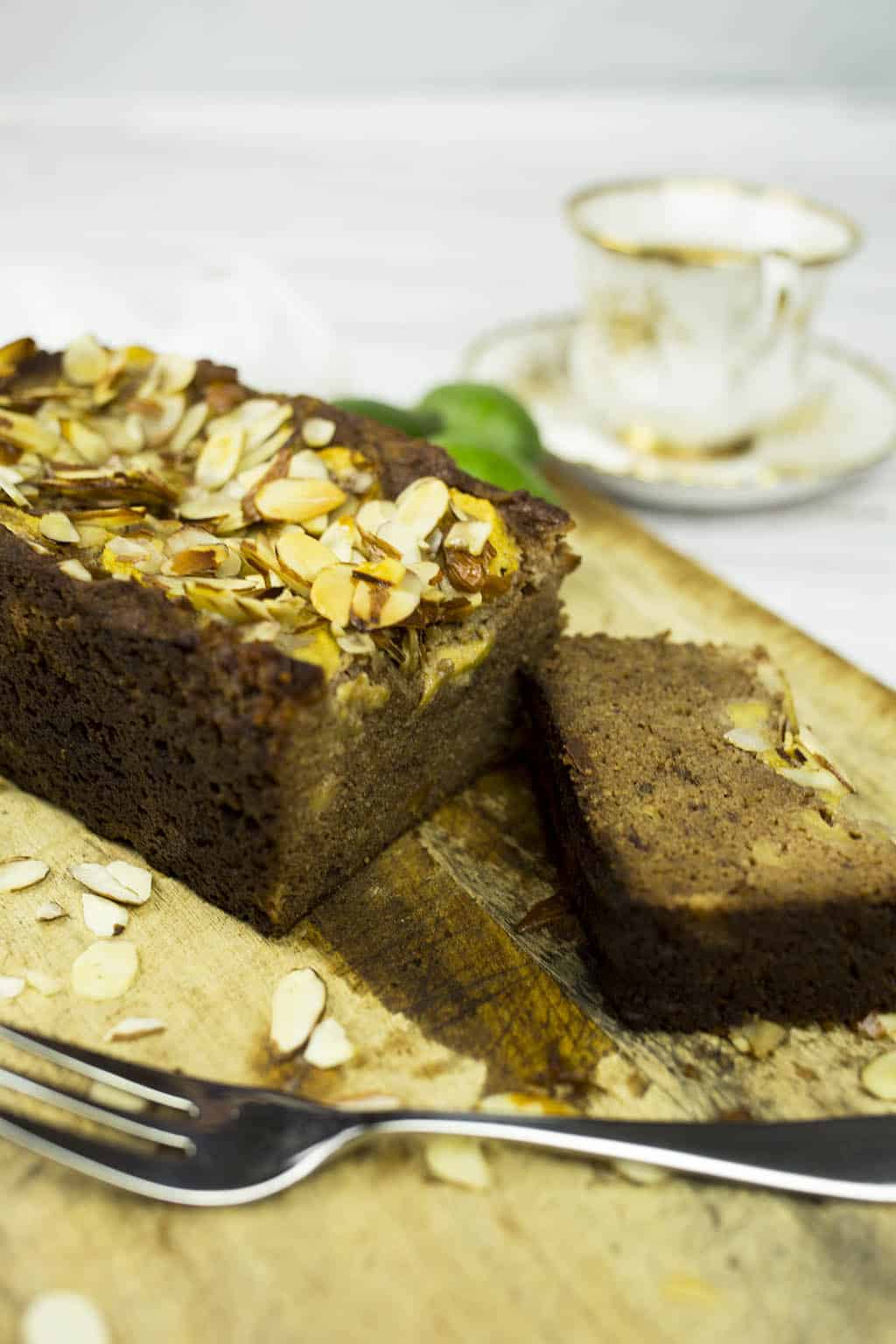 Love Food Nourish Nutrition Info at a glance:
Feijoas are a great source of vitamin C, they also are a source of dietary fibre, b vitamins, copper and magnesium.
Bananas are a great source of potassium and also contain vitamin C & vitamin B6, and the minerals magnesium, copper and manganese.
Almonds are a good source of biotin and vitamin's B2 & E and also the minerals manganese, copper, calcium and magnesium.
I hope you enjoy this recipe, if you are interested in other recipes using feijoas then you may like to try my Chia Seed Porridge with Cinnamon Pears & Feijoas.
I hope you enjoy this recipe! Please let me know how you got on in the comments below, I love hearing from you!
For more tasty recipes and to see what I've been getting up to you can follow me on Facebook, Instagram, Pinterest or Twitter.
Have a lovely week!
Hope
Banana & Feijoa Loaf – Gluten Free & Refined Sugar Free
---
Hope Pearce
A delicious gluten free loaf with banana, feijoa's and almonds.
10 minPrep Time
40 minCook Time
50 minTotal Time
Ingredients
Loaf

8 feijoas - 1/2 cup flesh mashed
2 medium bananas - 1/2 cup mashed
3 eggs
3 Tbspn coconut oil, melted
2 Tbspn honey
2 tspn natural vanilla essence
1/2 cup coconut flour
1 Tbspn cinnamon
1 tsp baking powder
1 tsp baking soda

Topping

4-5 feijoa's
1/3 cup sliced almonds
1/2 Tbspn coconut oil
1/2 Tbspn honey
1/2 tsp natural vanilla essence
Instructions
Preheat oven to 180°C/400°F

Loaf

Mash banana and the feijoa's with a fork and put aside in a bowl.
Whisk the eggs in a separate bowl until they triple in size - about 3 min.
Add melted coconut oil, honey and vanilla essence to the whisked eggs.
In another bowl sift the dry ingredients.
Add the dry to the wet ingredients and mix through until all combined.
Then add the mashed banana and feijoa's to the mixture and fold in gently.
Pour into a prepared loaf tin. - Grease the loaf tin with coconut oil if you are using a silicone tin or use baking paper for a standard tin.

Topping

Peel the feijoa's and then slice into thin circles. Place the sliced feijoa's on top of the loaf mixture in the prepared tin.
Place the sliced almonds on top of the feijoa's.
Melt the coconut oil, honey and vanilla essence gently whisk together with a fork. Evenly spoon this syrup over the top of the loaf.
Cover the loaf with tin foil and bake for 20 min, then remove foil and bake for another 20 min. Test with a toothpick or skewer - it should come out clean or with just a couple of crumbs.
Store in an airtight container in the fridge for up to 5 days.
7.8.1.2
35
https://lovefoodnourish.com/banana-feijoa-loaf-gluten-free-refined-sugar-free/
Save
Save
Save
Save
Save
Save
Save
Save
Save
Save
Save
Save
Save
Save
Save
Save
Save
Save
Save
Save
Save
Save
Save
Save
Save
Save
Save
Save
Save
Save
Save
Save
Save
Save
Save
Save
Save
Save
Save
Save