Say goodbye to processed snacks! These healthy toddler cookies are allergy-friendly and contain no added sugar, honey, or sweetener making them a healthy snack that toddlers love!
These mini oat cookies can be whipped up very quickly which makes them perfect when you are out of snacks for hungry tummies.
They contain no wheat, dairy, eggs or sugar so are allergy and intolerance-friendly.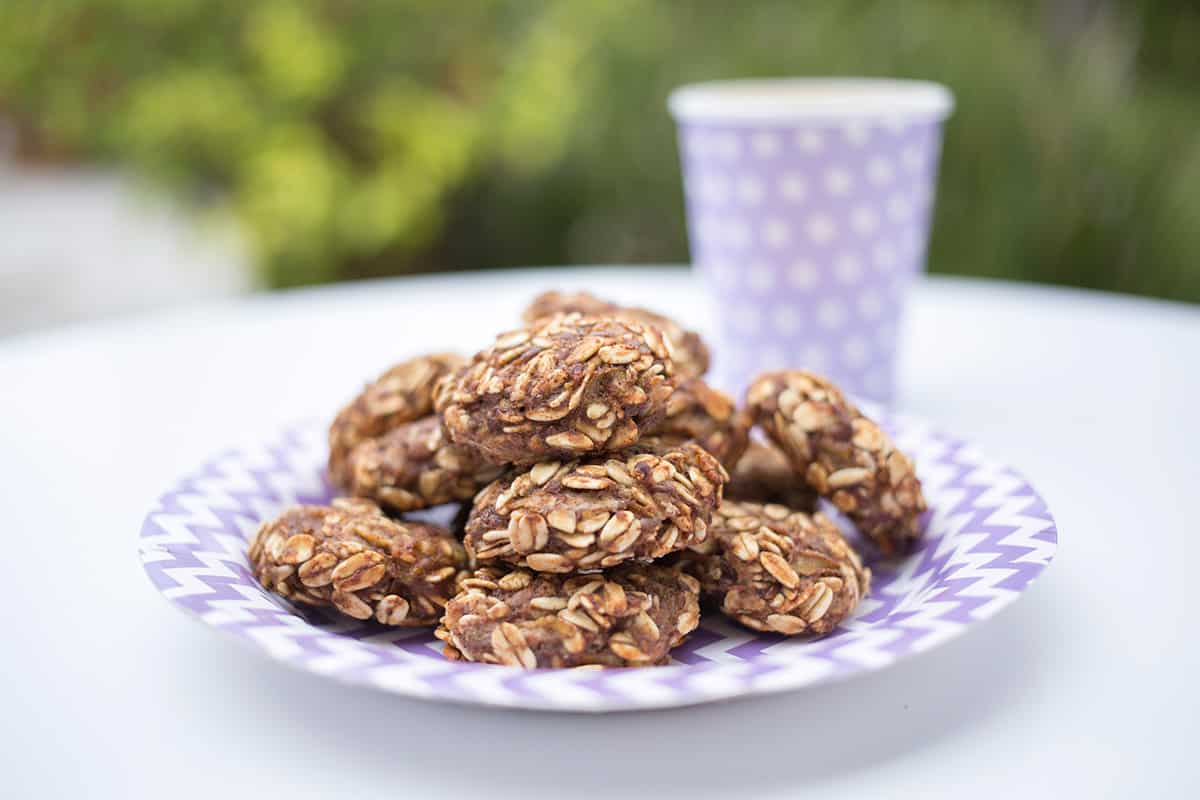 These healthy oat cookies are naturally sweetened with fruit and cinnamon, which means no added sugar, honey, or sweeteners.
The banana makes them nice and soft so they can be easy to eat for little ones that don't have a full set of teeth yet.
**2017 update** This healthy toddler cookies recipe has been popular since it was originally posted in November 2016. I have had many happy emails from mums who have kids with allergens saying their toddlers love these! This recipe has been slightly modified and has now been updated with a video. The notes in the post below reflect the events at that time.

After the events of the last couple of weeks with an earthquake in New Zealand and an astounding election result in the US, things including me have felt a little shaken up, and writing about food has seemed rather trivial.
Last week I just didn't have the heart to write an upbeat blog post.........so I didn't. My heart goes out to the people of New Zealand whose lives have been changed forever by this recent earthquake.
When mother nature strikes it is always a reminder of how fast life can change, to be grateful for what we have, and to tell our loved ones that we love them. When feeling unnerved I always turn to make food as it helps me stay centered and I find it relaxing.
In the past couple of weeks while making food I have been reflecting on how lucky I am to have an abundance of clean fresh food to make and to be able to feed my family nutritious meals - not everyone is so lucky, unfortunately. On that note, make the most of every moment folks!
Additional Recipe Tips
I have used rolled oats in this recipe but if your child is still weaning then rolled oats may be a bit too chewy so you can easily replace these with quick oats.
These oat cookies should be stored in an airtight container for up to 3 days. They can also be frozen and thawed when needed.
I have kept these oat cookies as healthy as possible with no added sugar, if you would like them to be sweeter you could try adding 2 Tbs of raisins or 1 tablespoon of honey.
Love Food Nourish Nutrition Info at a glance:
The wholegrain oats in these oat bites will help give your little ones sustained energy and a good dose of healthy fibre. Oats are very nutritious, they are a good source of various nutrients such as manganese, molybendum, phosphoropus, magnesium, copper, vitamin B1, biotin, chromium, and zinc.
I have used ground flaxseed in these oat bites, flaxseed is one of the richest sources of plant-based omega 3 essential fatty acids called alpha-linolenic acid (ALA).
Bananas are an excellent source of potassium and vitamin B6, they are also a good source of vitamin C, manganese, biotin, and copper.
Pears are high in antioxidants, vitamin C, copper, vitamin K, and fibre.
For other healthy recipes and snacks for kids you may like to check out the following posts:
From savoury to sweet this post - 50 Healthy Snacks for Kids that are Gluten, Dairy & Refined Sugar Free has a variety of different child-friendly snack ideas.

For an easy grab and go breakfast or protein-rich snack or lunchbox treat these Veggie Egg Muffins with Pesto are filling and satisfying.
These delicious nut bars Paleo Nut Bars with Goji Berries with no added sugar or sweeteners are perfect for kids.
So simple yet so easy, little kids love munching on these Banana Almond Cookie Dough Bites.
These simple no bake Chocolate Chip Oat Bars are an easy-to-make snack for the whole family.
I was inspired to make these toddler oat cookies by My Fussy Eater. Here you will find lots of great ideas for kids recipes and as the name suggests for fussy eaters.
I hope you enjoyed this recipe for healthy toddler cookies please leave a star rating and let me know how you get on, I love hearing from you!
For more tasty recipes and to see what I've been getting up to you can follow me on Facebook, Instagram, Pinterest or Twitter.
Have a lovely week!
Hope x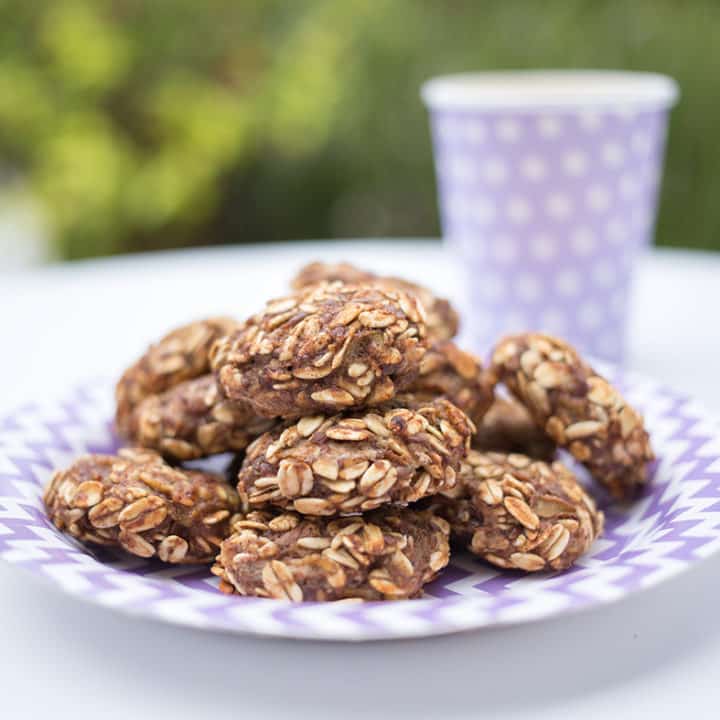 Banana, Pear & Oat Toddler Cookies
Healthy oat cookies naturally sweetened with fruit for toddlers.
Ingredients
1 medium sized banana (½ cup mashed)
1 cup rolled oats (Choose gluten free oats if needed).
½ cup grated pear
¼ cup organic apple juice
1 Tbspn ground flaxseed
2 tspn cinnamon
Instructions
Preheat oven to 180°C/350°F.
Mash banana in a large bowl with a fork.
Add oats, grated pear, apple juice, ground flaxseed and cinnamon. Mix everything together until well combined.
Line a baking tray with parchment or baking paper.
Get a spoonful of the mixture and gently form into a ball so is shaped like a cookie.
Place the cookie balls onto the tray spaced evenly. Press down gently on each ball with the bottom of a glass to gently flatten.
Bake the oat cookies for 12-14 minutes until golden brown.
Notes
Store the oat cookies in an airtight container for up to 3 days. These can also be frozen and thawed when needed.
Nutrition Information
Yield

14
Serving Size

1
Amount Per Serving
Calories

39
Total Fat

1g
Saturated Fat

0g
Trans Fat

0g
Unsaturated Fat

1g
Cholesterol

0mg
Sodium

1mg
Carbohydrates

8g
Fiber

1g
Sugar

2g
Protein

1g
This nutritional information is an estimate only and is provided as a courtesy to readers. It was auto-generated based on serving size, number of servings, and typical information for the ingredients listed in the recipe card. Please feel free to use your preferred nutrition calculator. Please consult your doctor about any specific dietary requirements.
Save
Save
Save
Save
Save
Save
Save
Save
Save
Save
Save
Save
Save
Save
Save
Save
Save
Save
Save
Save
Save
Save
Save
Save
Save
Save
Save
Save
Save
Save
Save
Save
Save
Save
Save
Save
Save
Save