This chicken mango salad is loaded with fresh, healthy ingredients that blend to make a refreshing salad with a tropical flair. Fresh crunchy vegetables, juicy chicken, and creamy avocado are a tasty match with sweet and tangy mango. This salad is Paleo and Whole30 compliant.
I love my salads and this chicken mango salad is one of my favourites. This salad is so easy to prepare and is great for a busy weeknight if you feel like something fresh, easy, and healthy……and as a bonus, it tastes good enough to serve when having friends over.
Tender succulent chicken makes a great match with fresh mango, this combination plus creamy avocado and fresh tomatoes are summer on a plate.
This colourful chicken salad is topped off nicely by a tangy mango, lemon, and coriander (cilantro) dressing. This vibrant full-flavoured dressing really brings this salad alive!
I am loving all of the summer produce out at the moment, and loading up on my salads. Our garden is thriving with lettuce and tomatoes growing, perfect for salad season …..This chicken mango salad is a favourite in our house and is definitely a crowd-pleaser!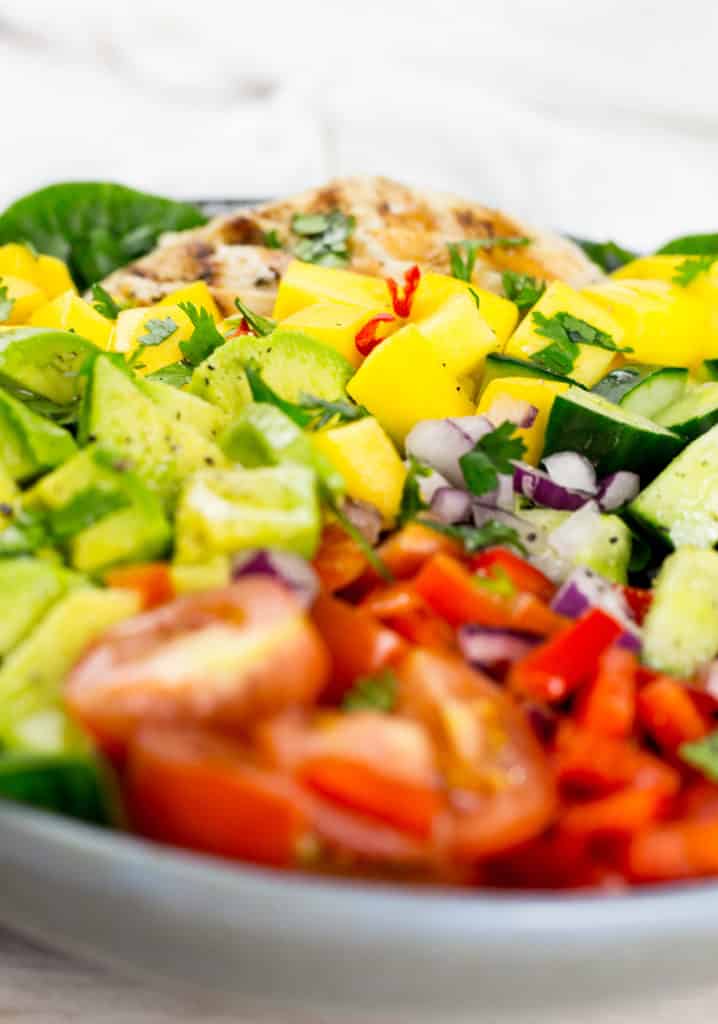 Additional Recipe Notes for making this Chicken Mango Salad
For those of you in the U.S we call cilantro leaves coriander here in New Zealand, we call both the seed and the leaves coriander. I have used both of these terms for clarification throughout this post/recipe, but they refer to the same thing – the green leafy part of the plant.
I have topped this chicken mango salad with some chopped fresh chili and coriander (cilantro) leaves to give it an extra bit of spice and fragrant flavour. This is optional.
I have marinaded the chicken to make it extra juicy, if you are short on time this step can be skipped. Marinate the chicken anywhere from 20 minutes to overnight, the longer you leave it the more succulent it will be!
Once you have peeled and diced the mango you will need to leave 1/4 cup of mango aside to use to make the salad dressing.
The length of time it will take to brown the chicken will depend on the size of the chicken breast you are using, check it while you are cooking, and leave it in the skillet until it is a light golden brown. Then transfer it to the oven.
If you are looking for other tasty salads you may like to try:
Healthy Broccoli Salad (No Mayo)
Beetroot, Avocado & Quinoa Salad with Spiced Walnuts & Mint
Sweet Potato & Feta Salad with Pomegranate & Pecans
I hope you enjoy this recipe! Please let me know how you got on in the comments below, I love hearing from you!
For more tasty recipes and to see what I've been getting up to you can follow me on Facebook, Instagram, Pinterest, or Twitter.
Have a lovely week!
Hope x
(This chicken mango salad recipe was first published on Love Food Nourish in April 2019)
Chicken Mango Salad
---
Hope Pearce
A fresh and healthy chicken mango salad with a mango cilantro dressing.
15 minPrep Time
20 minCook Time
35 minTotal Time
Ingredients
Chicken Marinade

2 Tbspn olive oil
2 Tbspn lemon juice
1 tspn garlic, crushed
1/4 tspn salt
1/4 tspn black pepper

Salad

2 large chicken breasts (700gm/24oz)
1 Tbspn olive oil for cooking
6 cups cos lettuce
1 cup cherry tomatoes, chopped
1 cup cucumber, diced
1/2 red onion, thinly sliced
1/2 red bell pepper/capsicum thinly sliced
1 avocado, diced
3/4 mango, peeled and diced (you will need 1 whole mango,leave 1/4 cup aside for dressing)
3 Tbspn fresh coriander/cilantro leaves, chopped
1 small red chili, chopped *optional

Dressing

1/4 cup mango, diced
1/3 cup olive oil
3 Tbspn lemon juice
1/4 cup cilantro/coriander leaves
1/4 tspn salt
1/4 tspn black pepper
Instructions
Place the ingredients for the marinade in a bowl and mix together, place the chicken breasts in the bowl and coat evenly in the marinade. Cover and leave for 30 min - overnight.
Preheat oven to 180C/355F.
Melt 1 Tbspn coconut oil or olive oil in a cast iron pan on a high heat. Once the pan is very hot turn the pan down to a medium high heat. Cook the chicken breasts for about 3 minutes on each side so that they are are golden brown on the outside.
Remove the chicken from the pan and place in an oven proof dish, poor over any remaining marinade. Cover the dish with foil and place chicken in the oven for 20 minutes or until cooked. To test, insert a skewer or knife and ensure that the juices run clear.
While the chicken is cooking assemble the ingredients for the salad into bowls.
Then prepare the dressing. Place all of the ingredients in a high speed blender. Blitz until you have a smooth liquid. Taste and add more salt and pepper if desired.
Once you have removed the chicken from the oven, leave to cool for 5 minutes then slice into strips.
Place the chicken on top of the salad and drizzle with the mango salad dressing.
7.8.1.2
80
https://lovefoodnourish.com/chicken-mango-salad-paleo/