Chicken Pho is a refreshing and fragrant Vietnamese chicken noodle soup cooked in a delicious infused broth, topped by an abundance of fresh herbs. Pho makes a hearty, simple and healthy meal that is full of vibrant Vietnamese flavours.
(This Chicken Pho recipe was originally posted on Love Food Nourish in October 2018)
Pho which is pronounced "Fuh" not "Fo" is a Vietnamese Noodle Soup that is a staple in Vietnamese Cuisine and is great for any season. This fragrant soup is nourishing in cooler months but also refreshing to enjoy when the weather is warm. Pho is made with either beef (phở bò) or chicken (phở gà).
We spent two months in Vietnam a couple of years ago and enjoyed a bowl of Pho most days – usually for breakfast but often again in the evening. We were in Vietnam during the height of summer (it was hot – very hot!) so it was a lovely refreshing meal that would leave you feeling very hydrated in the hot and humid weather.
You never need to go far to find a street stall or sidewalk cafe selling Pho in Vietnam; they are often packed early morning with people sitting at plastic tables and chairs enjoying a Pho before work.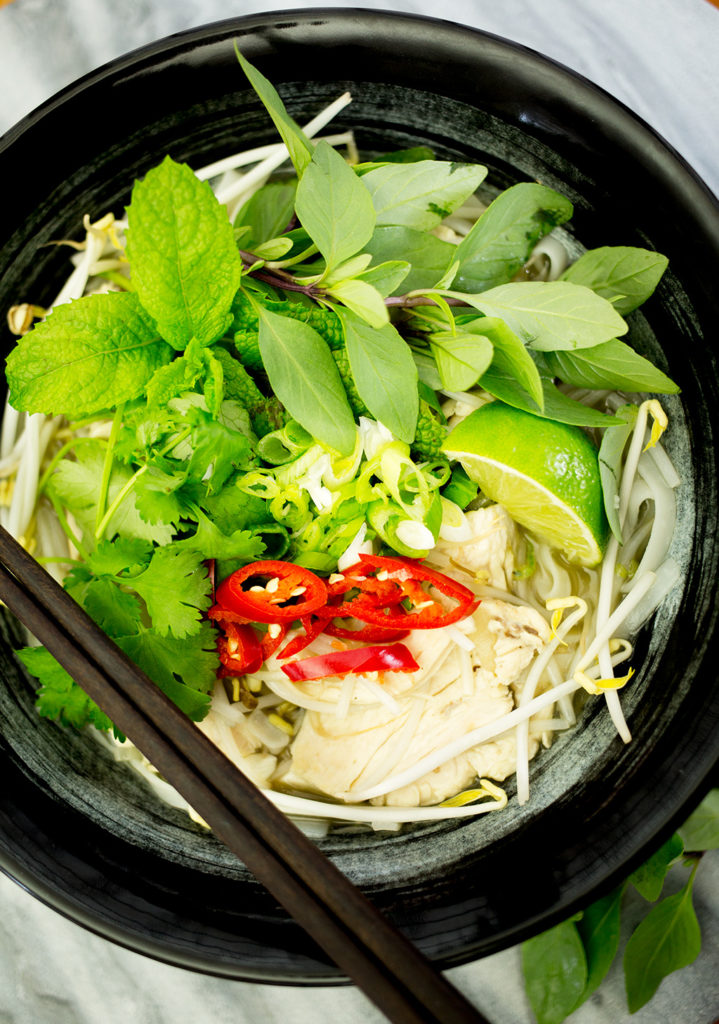 In Vietnam, Pho can vary region by region, particularly between the north and the south. I loved the variety when we were traveling as often no two dish tasted the same! You can add extra seasoning, herbs, or chili as you desire making chicken Pho very adaptable to most taste-buds!
We traveled around Vietnam with our then 18 month old, and to be honest prior to our trip I would not have envisaged him enjoying a noodle soup! However…….he loved it back then and still enjoys it now!
We omitted the herbs on top and he would happily eat (and play) with the noodles then would tip the bowl back and enjoy the tasty broth. Maybe not the best table etiquette but not bad for a little one in a foreign environment with different food!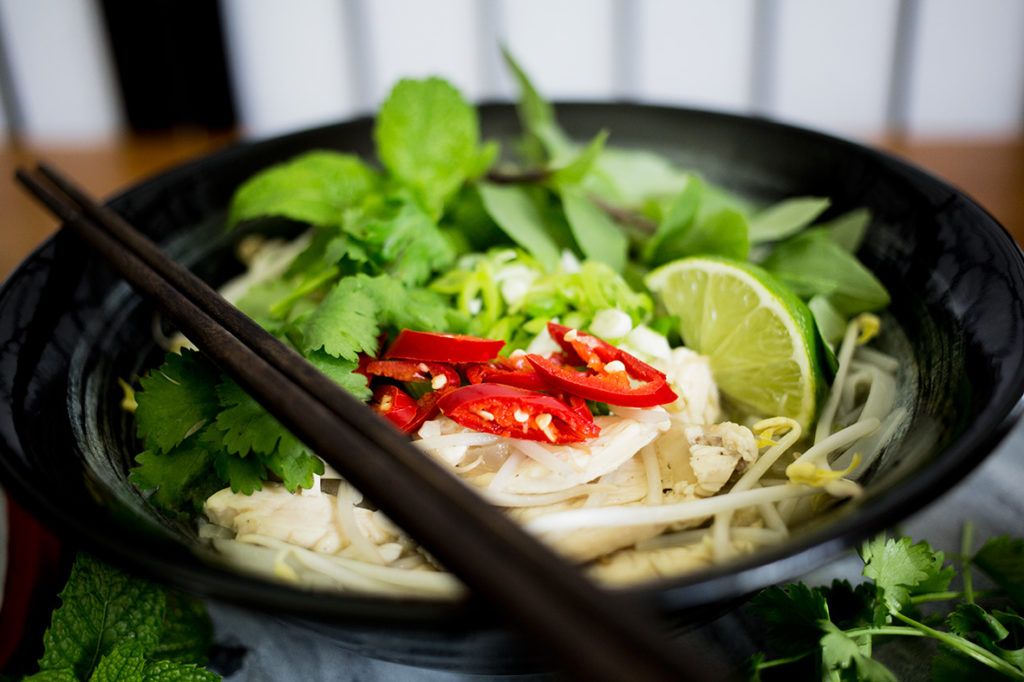 Additional Recipe Notes for making Chicken Pho Ga
The longer you can cook the broth the better it will taste (and the more nutrients it will have). In this recipe, I have given instructions for the minimum time to make a good broth. A slow-cooked broth is the more authentic way of making Chicken Pho.
Any leftover cooked chicken can be chilled in the fridge and used in other meals.
If the noodles are ready too early by mistake then run them under the cold tap and re-heat in the hot broth for 30 -40 seconds just before serving.
Removing the chicken skin prevents the broth from becoming too fatty and the broth can become very cloudy, this does not bother me but if you prefer a clearer broth then remove the skin.
How do you make quick Chicken Pho?
If you do not have time to make a homemade broth you can make a quick and easy version of Chicken Pho by purchasing good quality chicken stock and a pre-cooked chicken. You simply saute the onions and ginger, then add the spices to the pre-made chicken stock, simmer for 15-20 minutes and then add in the cooked chicken, noodles, and top with garnishes as desired. This can make a great quick and easy weeknight meal but will not have the same flavour or goodness as when making the broth from scratch.
How long will can you keep leftover Chicken Pho?
Chicken Pho should last up to three days in an airtight container in the fridge. If you don't think you can eat it all within that time then freeze leftovers immediately.
I hope you enjoy this easy chicken pho recipe. For other Asian inspired dishes you may like to try:
Chicken and Vegetable Miso Soup
Teriyaki Salmon Bowl – Gluten Free
Peanut-Miso Tempeh Salad Bowl with Cashew Nuts
Vietnamese Summer Roll Salad with Spicy Peanut Dressing
For more tasty recipes and to see what I've been getting up to you can follow me on Facebook, Instagram, Pinterest or Twitter.
Enjoy your week!
Hope x
Vietnamese Pho Recipe: Chicken Noodle Soup
---
Hope Pearce
Vietnamese Chicken Pho Ga - A tasty and fragrant chicken noodle soup
20 minPrep Time
50 minCook Time
1 hr, 10 Total Time
Ingredients
1 organic whole chicken (small)
1 Tbspn oil
ginger, 1 inch sliced
1 onion, finely chopped
2 Tbspn fish sauce
3 whole star anise
1 cinnamon stick
1 Tbspn coriander seeds
1/4 tspn black pepper corns
1/4 tspn chinese five spice powder
1 tspn coconut sugar
1 Tspn salt
Dried flat rice noodles 400g/14oz

To garnish

4 spring onions
2 cups mung bean sprouts
1 cup fresh coriander (cilantro)
1 cup fresh mint (Vietnamese mint)
1 cup thai basil (optional)
1 chili freshly chopped (optional)
6 lime wedges
Instructions
In a small saucepan add the oil and gently saute the onion and ginger for a couple of minutes until golden. Set aside.
Clean and rinse the chicken in cold water, remove excess fat and roughly cut into four pieces.
In a large pot place the chicken and top with enough cold water to cover the chicken. Add the onions, ginger, spices, fish sauce and salt. Bring to a boil and then simmer over a low heat uncovered for 25 minutes. Discard any scum that comes to the surface.
Check the chicken is cooked, remove with tongs and set aside for shredding into bite sized pieces.
Add the bones back into the broth and simmer (don't let boil) for another 25 minutes to 60 minutes if time permits.
Meanwhile prepare any fresh vegetables and cook the rice noodles according to the packet, do not over cook.
Once the broth is cooked discard the bones and strain the broth through a sieve. Taste and season with more fish sauce if needed.
Assemble the cooked noodles into bowls. Top with the shredded chicken. Pour the chicken broth evenly over each bowl. Top with carrot, mung beans, fresh herbs and fresh chili as desired.
Serve with a lime wedge and chili sauce if desired.
Notes
Chicken Pho should last up to three days in an airtight container in the fridge. If you don't think you can eat it all within that time then freeze leftovers immediately. For additional notes on this recipe please see the notes in the blog post.
7.8.1.2
68
https://lovefoodnourish.com/chicken-pho-recipe-vietnamese-chicken-noodle-soup/