This healthy chicken and vegetable miso soup is a nourishing meal that is perfect when you are feeling under the weather! Packed with nutritious vegetables, ginger, turmeric and shiitake mushrooms in a miso-lemon based chicken broth it makes a hearty bowl of comfort food.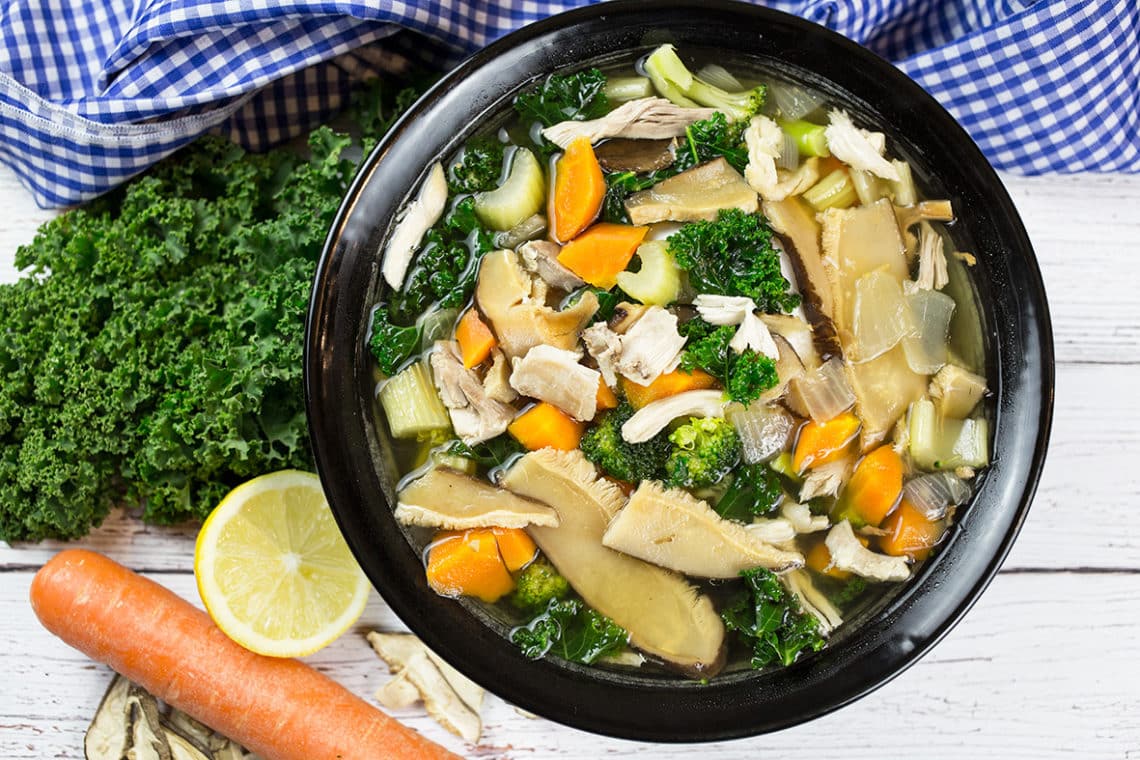 It has been a chilly few weeks here in Auckland and nourishing warming bowls of food are just what I feel like! This soup is so easy to make, it really doesn't take long at all to throw together and you can make enough to last you a few meals making it perfect for busy weeknights.
This homemade chicken soup is chock full of ingredients that have been shown to be beneficial for supporting a healthy immune system such as garlic, onion, ginger, turmeric, shiitake mushrooms and good quality chicken stock.
The miso has probiotic properties which are great for a healthy gut and immunity but gives the soup a wonderful depth of flavour with a hit of unami. The sharpness of the lemon contrasts nicely against the saltiness of the broth and also has alkalising qualities and is a good source of vitamin C.
I have used a mix of vegetables in this soup such as celery, carrots (a great source of vitamin A), kale and broccoli which are good sources of vitamin C, but any leafy greens can be used.
The shiitake mushrooms not only add a wonderful deep savoury flavour to the soup but they contain anti-bacterial, anti-viral and anti-fungal properties. This makes them a great addition to add to your meals over winter.
Shiitake mushrooms soak up flavour easily and bring a unique texture to any meal which I love. You can buy dried shiitake mushrooms at most Asian grocery stores or in some of the larger supermarkets.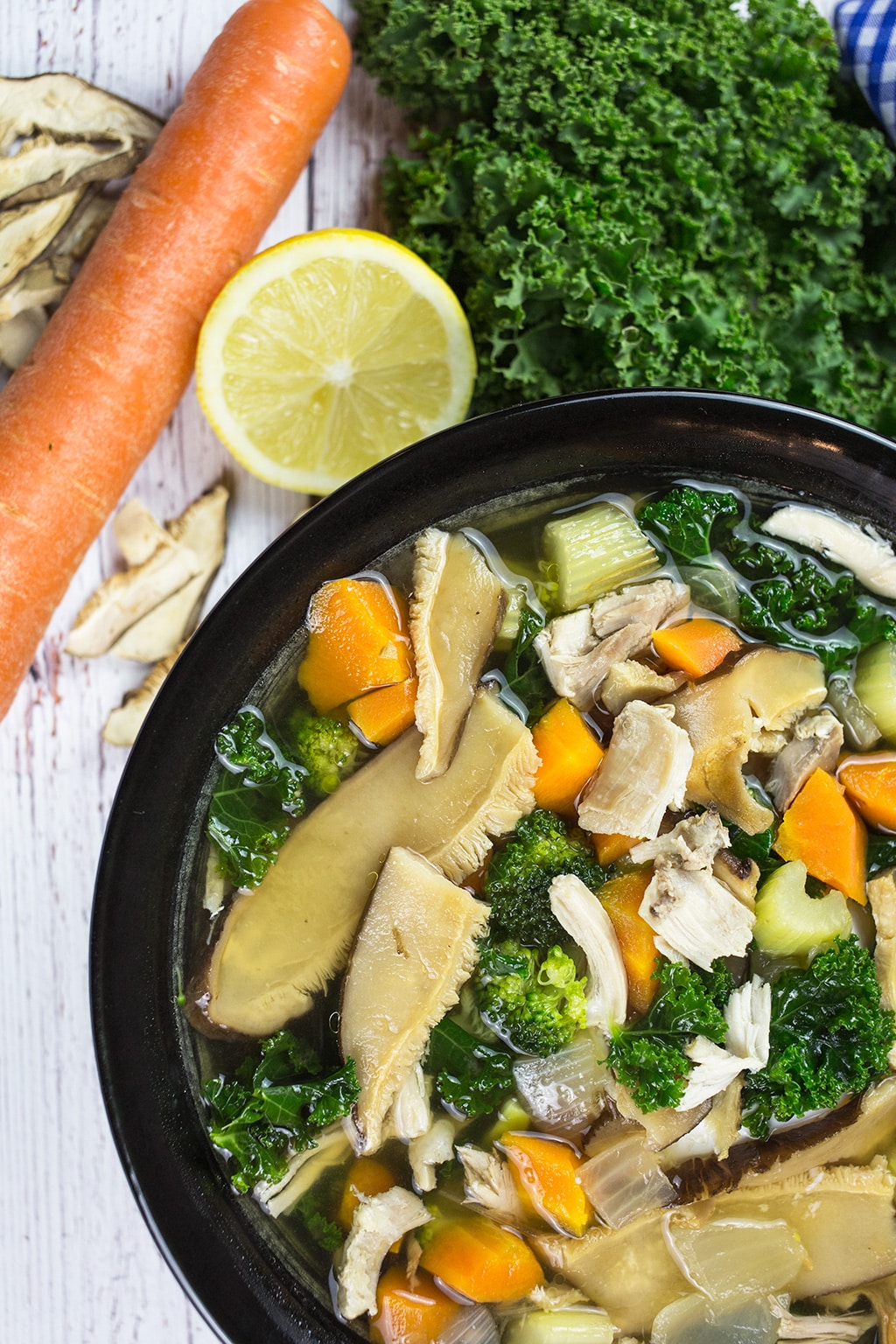 It is important to use a good quality chicken stock or broth when making this soup not only for its health benefits and full flavour but to avoid the unwanted additives and nasties that can be found in many of the cheaper commercial stocks.
Homemade works best and is a great way to use up those chicken bones after a roast or you can find some good quality stock in your local wholefoods stores in the chiller section.
If you have small children and have trouble getting soups down them then try pouring the broth over rice or pasta (gluten-free if needed) then top it with the vegetables and chicken. This is how I serve "soup" to my 3 year old to ensure he is still getting all the nutrients and nourishment from the soup and so I don't have to cook an extra meal.
Additional Recipes Notes
This soup is a great way to use up any leftover chicken - this makes it an easy and quick meal to make. I have used cooked chicken in this recipe. If you wish to use uncooked chicken then you can add 500gm/17.5 oz of chopped chicken breast and cook it in the soup for 20 - 25 minutes. Test the chicken before serving to ensure it is cooked through.
Other Asian-style recipes you might like to try:

Teriyaki Salmon Bowl
Peanut-Miso Tempeh Salad Bowl with Cashew Nuts
Gado Gado Indonesian Salad
Vietnamese Summer Roll Salad with Spicy Peanut Dressing
or if you are looking for another warming healthy soup you may like:
Roasted Red Pepper, Tomato & Lentil Soup
I hope you enjoy this recipe! Please let me know how you got on in the comments below, I love hearing from you!
For more tasty recipes and to see what I've been getting up to you can follow me on Facebook, Instagram, Pinterest or Twitter.
Have a lovely week!
Hope
Chicken & Vegetable Miso Soup
---
Hope Pearce
A healthy and full flavoured chicken and vegetable miso soup
10 minPrep Time
25 minCook Time
35 minTotal Time
Ingredients
2 Tbspn olive oil
1 onion, diced
5 garlic cloves, crushed
1 Tbspn fresh ginger, grated
1 Tbspn fresh turmeric, grated
4 cups chicken stock, good quality
4 cups water
2 Tbspn miso paste - white or yellow
3 cups shredded chicken
2 cups kale, roughly chopped, stems removed
1 cup broccoli florets
1 cup shiitake mushrooms, dried & sliced
1 lemon, juice of
salt and pepper to taste
2 carrots, diced
Instructions
In a large pot heat the oil over a medium heat. Add the onion, garlic, ginger and turmeric, carrots and celery. Saute for about 3 minutes, stirring occasionally.
Stir in the chicken stock, water, miso paste and lemon and bring to the boil. Add the shredded chicken, cover the pot, turn down the heat and simmer for 15 minutes.
Add the kale, broccoli florets and shiitake mushrooms and cook for another 5 - 7 minutes until the broccoli is just cooked and the mushrooms are tender to touch.
Serve into bowls and enjoy.
7.8.1.2
61
https://lovefoodnourish.com/chicken-vegetable-miso-soup/