You will love these Chocolate Almond and Cranberry Clusters! Rich dark decadent chocolate that is perfectly complimented by crunchy almonds, cranberries, and a sprinkle of sea salt.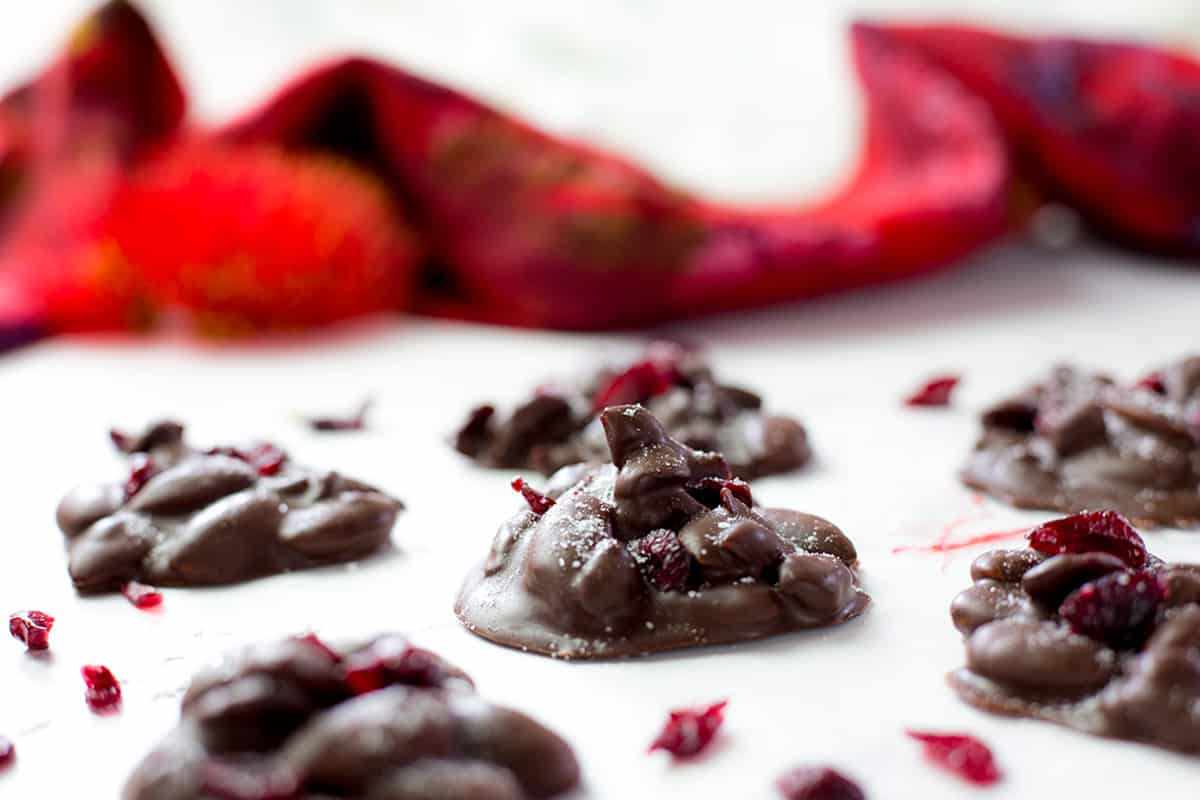 These chocolate clusters are very easy to make but most importantly taste soo good! If you are looking for an easy homemade foodie gift for the festive season then these might be just what you are looking for!
These homemade chocolate almond clusters are decadent, rich, and chocolatey. The sweet, tangy flavour of the cranberries pairs nicely with dark bittersweet chocolate.
These are so easy to make you can't go wrong - simply melt chocolate, mix in the rest of the ingredients, place the clusters on a tray, and put them in the fridge to set! How easy is that!
Choose a good quality dark chocolate
There have been many media headlines in recent years screaming out that chocolate is good for us, leaving us slightly confused about whether it is now suddenly ok to eat our favourite chocolate without feeling guilty.
The reality is that it is mainly dark chocolate that is full of antioxidants and the less milk, refined sugar, additives, or other nasties the better!
I don't like the whole "guilt mentality" that can come from it being drummed into us that treats are bad. I believe this mentality can contribute to eating disorders, weight issues and can contribute to us using food as an emotional escape.
But one thing you can do is choose the quality of your treats! Making your own homemade treats makes this easier as you can monitor the quality of the ingredients that go into your food.
It is best to choose a good quality organic chocolate and to look for a chocolate that is 75 % cocoa or more - the higher the cocoa the higher the antioxidants. The conventional cocoa trees that are not organic are often heavily sprayed with pesticides.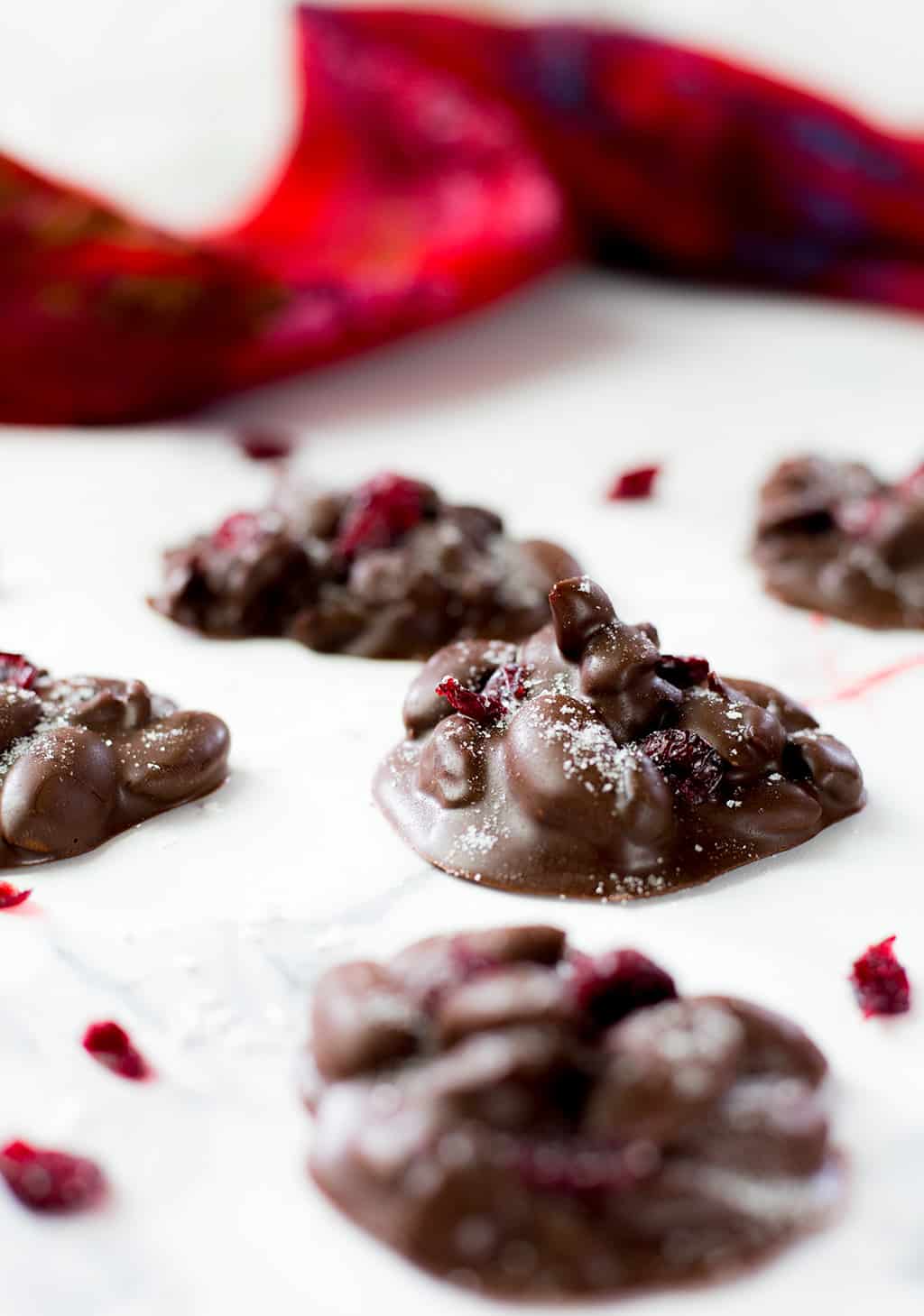 Everything in moderation and dark chocolate definitely falls into this category. It is full of antioxidants that do have health benefits but it still doesn't mean we should eat truckloads of the stuff.
Too much dark chocolate (particularly before bed) can easily cause some people to feel wired, jittery, and have trouble sleeping.
I, unfortunately, am one of those annoying sensitive types, but hey I still love it! So for me, dark chocolate has to be consumed in small amounts and definitely not within an hour or two of bedtime.
The added sea salt tops off these chocolate almond clusters perfectly. Sea salt and chocolate have been very popular in recent years and for very good reason, they taste amazing together!
For years we didn't add salt to chocolate and now I think many of us are wondering why..... I love it! But if you are not a fan of salty and sweet then you can easily omit the sea salt and just go for chocolatey and sweet instead.
For other gluten-free and refined sugar-free Christmas treats you may like:
If you are looking for other gluten-free dishes to add to your Christmas table you might like to try:
If you are in the Southern Hemisphere (like me) and Christmas is a Summer affair you may also like:
Beetroot & Avocado Quinoa Salad with Spiced Walnuts & Mint
I hope you enjoy this recipe for chocolate almond clusters, please let me know how you got on in the comments below or leave a star rating, I love hearing from you!
For more tasty recipes and to see what I've been getting up to you can follow me on Facebook, Instagram, Pinterest or Twitter.
Have a lovely week!
Hope
Note these chocolate almond and cranberry clusters were first published on Love Food Nourish in December 2017, I have updated the photos and amended the recipe slightly.
Chocolate Almond & Cranberry Clusters
Inactive Time:
40 minutes
Delicious dark chocolate clusters with almonds, cranberries, and sea salt, make a delicious treat or snack. Gluten-Free, Dairy-Free and Vegan (depending on chocolate used).
Ingredients
100 gm/3.5 oz dark chocolate, roughly chopped - I used one that was 85% cocoa.
2.5 teaspoon coconut oil
2 Tablespoon maple syrup
½ teaspoon vanilla extract
1 cup almonds, raw or unsalted, and roasted
¾ cup dried cranberries*
½ to 1 teaspon of coarse sea salt
Instructions
In a medium saucepan bring 1 inch of water to the boil. Reduce to a simmer then place a heatproof glass or metal bowl over the top of the saucepan.
Add the chocolate and coconut oil into the bowl, stirring constantly until it is all slowly melted.
Add in the maple syrup and vanilla essence. Stir until all combined. Remove chocolate from the heat and let cool for 10 minutes. It should slightly thicken during this time.
Stir the almonds and dried cranberries into the chocolate. Line a baking tray with parchment/baking paper. Spoon mounds onto the prepared baking tray. Sprinkle with sea salt as desired.
Place the chocolate clusters in the refrigerator for 30 minutes until set.
Store the clusters in an airtight container in the fridge for up to 1 week.
Notes
If you are concerned about the added sugar in dried cranberries you can buy them sweetened with apple juice at most whole foods stores.
Nutrition Information
Yield

12
Serving Size

1
Amount Per Serving
Calories

164
Total Fat

10g
Saturated Fat

4.2g
Trans Fat

0g
Unsaturated Fat

5.2g
Cholesterol

0.7mg
Sodium

100mg
Carbohydrates

18g
Fiber

2.3g
Sugar

14g
Protein

2.4g
This nutritional information is an estimate only and is provided as a courtesy to readers. It was auto-generated based on serving size, number of servings, and typical information for the ingredients listed in the recipe card. Please feel free to use your preferred nutrition calculator. Please consult your doctor about any specific dietary requirements.
[mpprecipe-recipe:48