These gluten-free & Paleo chocolate raspberry brownies are everything you ever wanted in a brownie - fudgy, moist and chocolatey all balanced perfectly against the sharpness of delicious raspberries.
Sometimes in life, you need treats (everything in moderation eh?) and these decadent rich chocolate raspberry brownies fit that bill perfectly!
These chocolate brownies are gluten-free but grain-free, dairy-free and refined sugar-free...and are still super tasty!
The fudgy moist chocolatey goodness melts in your mouth which goes nicely against the tartness of the raspberries.
We have been suffering from a bout of the "after-holiday blues" after our recent trip to Bali....It always takes me a little while to get over holidays and adjust to "normal" life again. Endless grey skies and rain, unfortunately, has not been helping....
After weeks and weeks of rain, we finally had a week of sunshine - yay! It is amazing how much better and brighter life seems with a little bit of sun!
With the much needed sunshine came a couple of trips to the beach, walks outside, some time spent at home gardening and baking - all of which seemed to work wonders at lifting my spirits!
I have added a LOT of raspberries to this recipe as I am a massive raspberry fan and just love the sharpness they provide against the rich chocolate flavour.
Chocolate and raspberry has to be one of my go to favourite sweet combinations - I just love it! Chocolate and salted caramel comes a close second....
What is your favourite chocolate combination?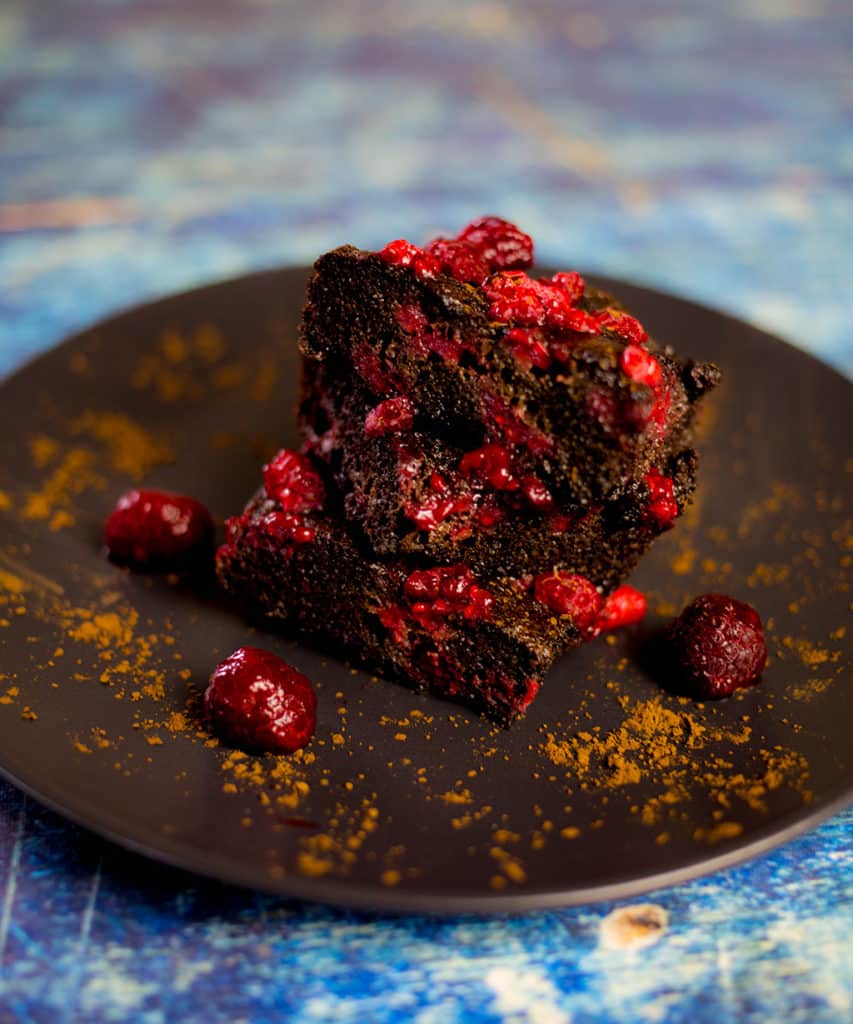 Additional Recipe Notes
Now it is definitely NOT raspberry season here in New Zealand as we are just coming out of Winter!
I have used frozen raspberries in this recipe, fresh raspberries could work too but frozen raspberries seem to work much better and add some extra moistness into the brownies giving them an extra gooey texture.
How to layer the raspberries for these chocolate brownies...
I have divided the serving of raspberries into three components as I like having the extra intense raspberry layer on top.
Stir ½ cup raspberries into the mixture, then add 1 cup of raspberries on top of the prepared batter (these will sink in when baking but give the top of the brownie a layer of cooked raspberries just below the surface).
The final layer of raspberries are placed on top of the brownie after it is cooked and slightly cooled to make the brownies look like the picture below.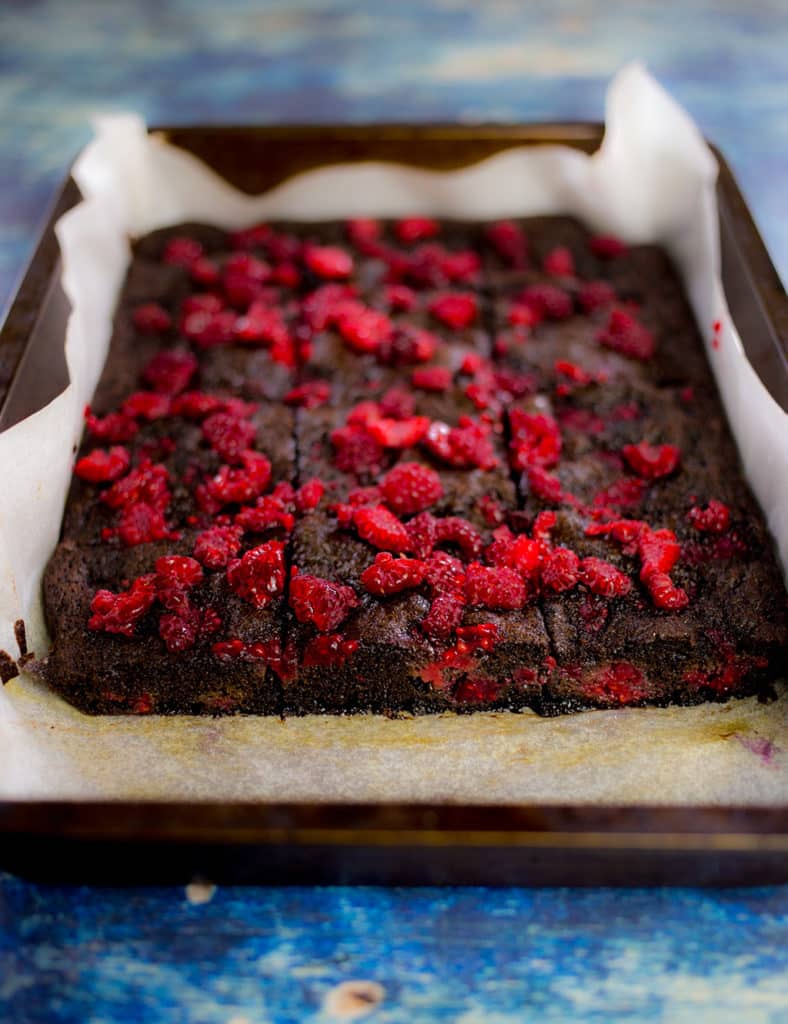 If you are looking for other tasty recipes with raspberries and chocolate you may like to try my Raw Raspberry Tartlets or for other paleo treats check out No Bake Pina Colada Slice or Lemon Almond Coconut Cakes with Whipped Coconut Cream.
I hope you enjoy this recipe! Please let me know how you got on in the comments below, I love hearing from you!
For more tasty recipes and to see what I've been getting up to you can follow me on Facebook, Instagram, Pinterest or Twitter.
Have a lovely week!
Hope x
Chocolate Raspberry Brownies (Paleo & Gluten Free)
---
Hope Pearce
A rich and fudgy chocolate paleo brownie with raspberries
15 minPrep Time
20 minCook Time
35 minTotal Time
Ingredients
⅓rd cup coconut oil, melted and cooled
3 large eggs
½ cup coconut sugar*
1 teaspoon vanilla essence
⅓rd cup unsweetened cocoa powder or raw cacao powder sifted*
½ cup almond meal/almond flour
pinch of sea salt
½ teaspoon baking soda
⅓rd cup chocolate chips (dairy free)
1.5 cups frozen raspberries, roughly chopped

Topping

½ cup frozen raspberries, roughly chopped into small pieces
Instructions
Preheat oven to 180°C/355°F.
Line a 8 x 8 inch baking pan with parchment/baking paper.
In a medium sized bowl mix whisk the eggs, then add in the cooled coconut oil, coconut sugar and vanilla and mix together.
In a separate bowl mix together the dry ingredients.
Add the dry ingredients to the wet ingredients and stir until combined. Add the chocolate chips and ½ cup of the frozen raspberries and stir through.
Pour the batter into the prepared baking tin.
Add the remaining 1 cup of chopped frozen raspberries to the top of the batter evenly. (These will sink in when baking, see note in blog post above)
Cook for 20-25 min. (20 minutes if your prefer your brownie to be more fudgy, 25 min if you prefer it firmer). You want it to be set around the edges and just set on top but still fudgy in the middle.
Leave to cool for 10 min then add the other ½ cup of frozen raspberries to the top of the brownie evenly. Wait until cooled before cutting and serving.
Notes
The brownies will have a slightly more bitter chocolate taste (which I quite like) if using raw cacao powder compared to unsweetened cocoa powder. Once you have mixed all of the ingredients together taste the batter and add more sugar or sweetener if desired.
7.8.1.2
43
https://lovefoodnourish.com/chocolate-raspberry-brownies-paleo-gluten-free/
Save
Save
Save
Save
Save
Save
Save
Save
Save
Save
Save
Save
Save
Save
Save
Save
Save
Save
Save
Save
Save
Save
Save
Save
Save
Save
Save
Save
Save
Save
Save
Save
Save
Save
Save
Save
Save
Save
Save
Save
Save