This healthy bruschetta recipe makes a healthy alternative to your classic bruschetta using delicious baked eggplant as the base.
Topped with pesto, tomatoes, olives, basil and dollops of cashew cheese this eggplant bruschetta recipe will become a new household favourite. Gluten Free, Paleo, Vegan and Whole 30 friendly.
(This was originally posted in January 2019).
Eggplant bruschetta can make a great starter or it can also be served as a main with a side salad, rice or quinoa. This healthy, colourful dish is packed full of fresh Mediterranean flavours.
We currently have tomatoes and basil galore in our garden, my little boy loves to pick and wash them. He is a keen little gardener and will proudly show me the produce that he helped plant and grow. Getting kids to help in the garden can be a great way to get them be interested in eating their veggies.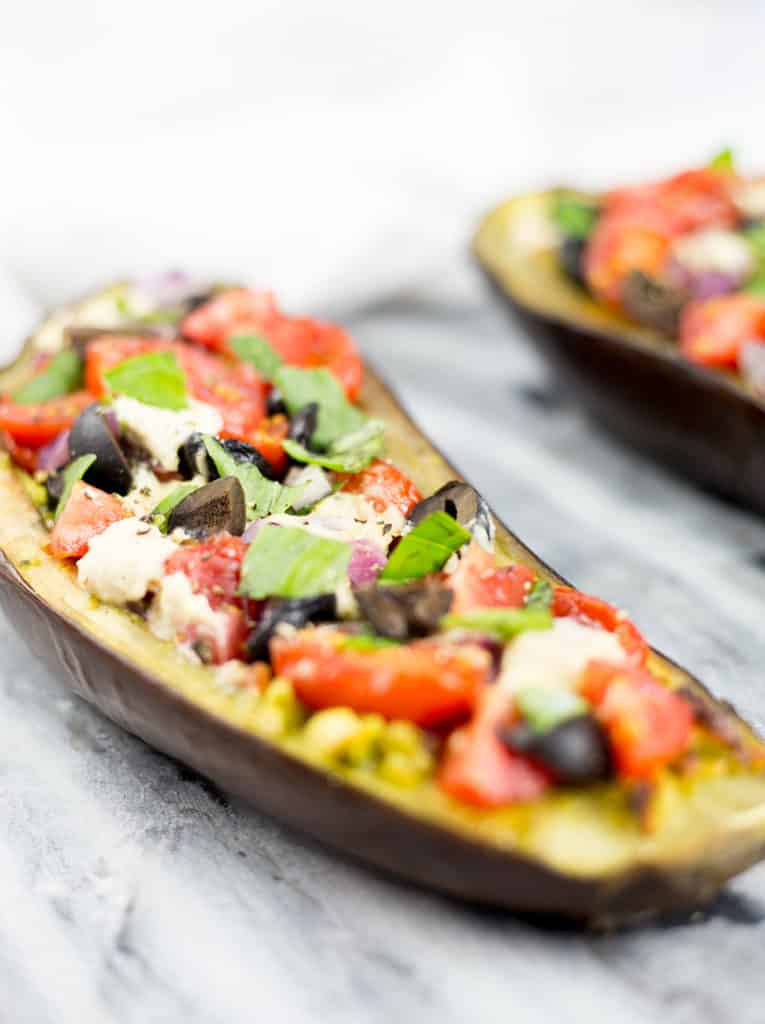 Once cooked and brushed with olive oil and pesto the flesh of the eggplant becomes lovely and tender and soaks up the flavour from the pesto and the veggies.
The tomatoes, red onion, olives and fresh basil give this dish a lovely freshness and burst of Mediterranean flavour topped off beautifully by the creamy cashew cheese.
Additional Recipe Notes for making Eggplant Bruschetta
I used this dairy free Kale, Basil & Walnut pesto in this recipe which makes it Paleo and Whole30 compliant. I love making my own pesto, it is a great way to get some more greens into my diet.
The cashew cheese adds a lovely nutty creaminess to this bruschetta. If you are not dairy free and wish to use cheese then feta or Mozzarella will work well too.
Any type of olives can be used, I prefer to use pitted kalamata olives in this recipe.
Eggplant bruschetta can be served with another side dish such as my Mediterranean Chickpea Salad, Easy Quinoa Salad or plain rice or quinoa.
Other recipes you might like to try:
I hope you enjoy this recipe! Please let me know how you got on in the comments below, I love hearing from you!
For more tasty recipes and to see what I've been getting up to you can follow me on Facebook, Instagram, Pinterest or Twitter.
Have a lovely week!
Hope x
Baked Eggplant Bruschetta (Paleo, Gluten Free, Vegan)

---

Hope Pearce

Delicious and healthy eggplant bruschetta full of Mediterranean flavours.Vegan, Whole30 and Paleo Friendly.

10 minPrep Time

20 minCook Time

30 minTotal Time

Ingredients

Eggplant

2 eggplants
2 Tbspn olive oil
4 Tbspn pesto
1 cup cherry tomatoes, chopped in half
½ cup red onion, finely chopped
1 cup black olives, pitted
¼ cup fresh basil leaves
salt and freshly ground black pepper to taste

Cashew cheese

½ cup cashews, soaked*
1 garlic clove, crushed
1 Tbspn water
1 Tbspn lemon juice
salt and pepper to taste
1 tspn nutritional yeast

Instructions

Add the cashew nuts to a bowl and enough warm water to cover them, cover bowl and let them sit for 10 minutes while you make the rest of the dish. Alternatively you can use cashews that you have soaked overnight.
Cut the eggplants in half through the stem. Make 4 slits with a knife lengthways inside the eggplant.
Brush each side of the eggplant with olive oil.
Place fan down (skins facing up) under the grill at 180c and grill for about 10 min until the skins have blistered slightly.
Turn over and brush the inner side of the eggplant with pesto. Place about half of the chopped tomatoes, red onion and olives along the inside. Leave the rest aside. Press them slightly until the slits you have made which will help them hold.
Grill for another 10 minutes. The eggplant should be tender but not falling apart.
While you are grilling the eggplant add all of the ingredients for the cashew cheese to a high speed blender or food processor and blitz until smooth and creamy.
Remove the eggplant from the grill. Top the eggplant with the remaining chopped tomatoes, red onion and olives.
Roughly tear the fresh basil and add on top with dolops of the cashew cheese.(You may have some cashew cheese left over)
Add a sprinkle of salt and freshly ground pepper.
Serve alone as a starter or alongside a salad or quinoa or rice as a main.

Notes

See additional notes in blog post. This nutritional information is an estimate only and is provided as a courtesy to readers. It was auto-generated based on serving size, number of servings, and typical information for the ingredients listed in the recipe card. Please feel free to use your preferred nutrition calculator. Please consult your doctor about any specific dietary requirements.

7.8.1.2

76

https://lovefoodnourish.com/eggplant-bruschetta-paleo-gluten-free-vegan/