This delightful feijoa and pear cake has a hint of ginger and cinnamon and is topped with sliced almonds coated in a ginger and maple syrup glaze. It is gluten-free and Paleo-friendly.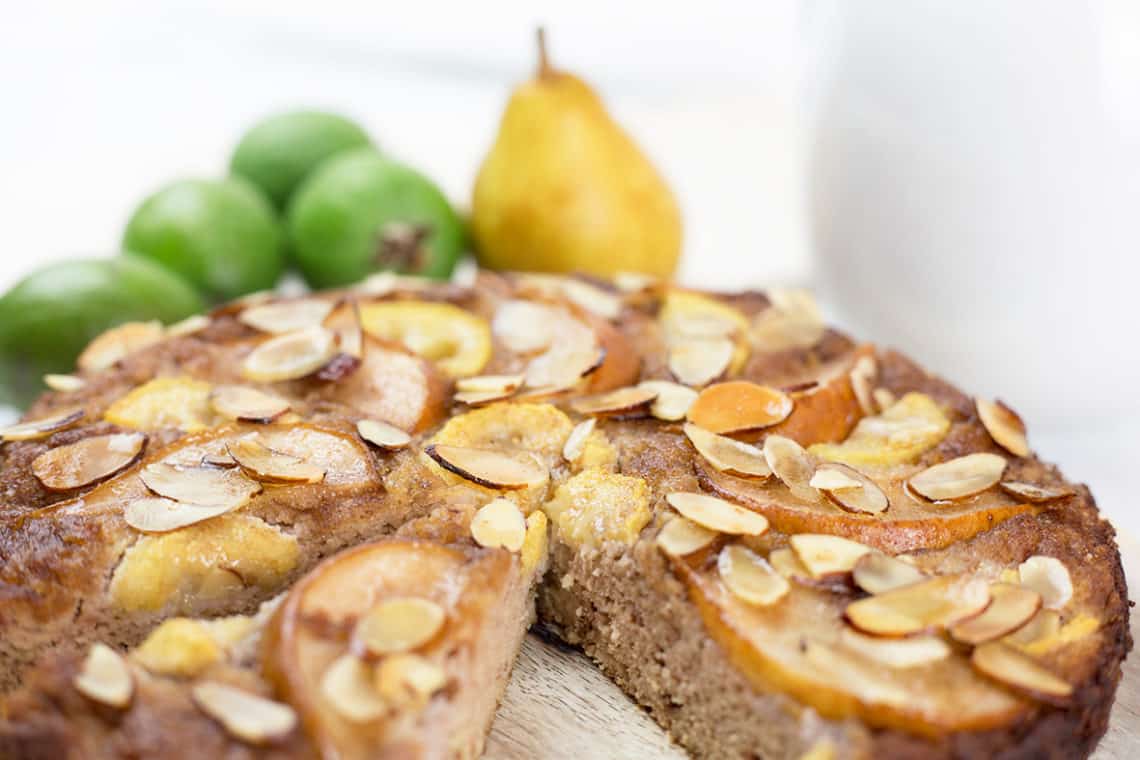 We are enjoying an abundance of feijoas at the moment and making the most of them while their short season lasts! This feijoa cake highlights the unique tart flavour of the feijoas which goes well with sweet pears and warming spices.
I'm definitely in the mood for cosy Autumn baking at the moment, this feijoa cake goes perfectly with a cup of tea or to enjoy as a comforting dessert that is not too heavy.
Another favourite feijoa recipe that you might like to try is this banana and feijoa loaf, we make this every year in feijoa season.
We are now into week four of being housebound and it is definitely getting tougher as each week goes by. I hope wherever you are you are managing ok in this bizarre time.
I made this feijoa cake specifically out of coconut flour and almond meal as they do seem to be the only flours that are readily available (in my area) at the moment due to the flour shortage going on.
Tip - If you are someone that does not regularly bake with almond meal you may not realise that it is usually not found in the section where you find standard flour in most New Zealand supermarkets. It is usually found in the section by the pre-packaged nuts.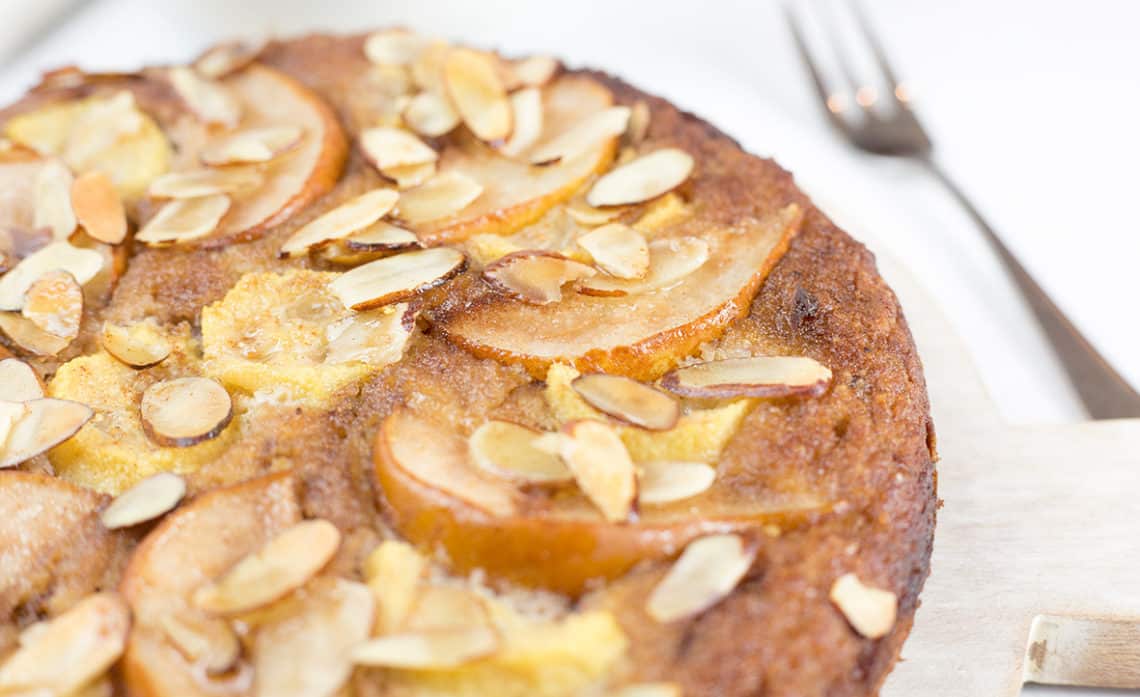 Feijoa and Pear Cake Swaps and Variations
I used olive oil in this cake, pure not extra virgin works best as it has a milder taste. You could also use coconut oil melted to room temperature before using or butter.
You could swap out the pears for apples.
If you don't have dried ginger then you could finely grate fresh ginger, use between ½ teaspoon and 1 teaspoon depending on your preference for ginger.
Any type of brown sugar works best. I used rapadura sugar which is unrefined and is Paleo friendly. You could also use coconut sugar or just plain brown sugar.
You can use any milk instead of almond milk.
Other recipe tips
You can serve this warm as a dessert or keep it as a cold slice. It goes well with natural plain yoghurt or coconut yoghurt or vanilla ice cream - dairy free if needed.
This cake is best stored covered in the fridge. It should keep for up to 5 days.
If you are looking for other recipes using coconut flour or almond meal you might like to try:
If you are looking for other cake recipes these Lemon Coconut Cakes make tasty little sweet treats or this whole orange almond cake is super easy and bursting with orange flavour.
I hope you enjoy this recipe! Please let me know how you got on in the comments below, I love hearing from you!
For more tasty recipes and to see what I've been getting up to you can follow me on Facebook, Instagram, Pinterest or Twitter.
Have a lovely week!
Hope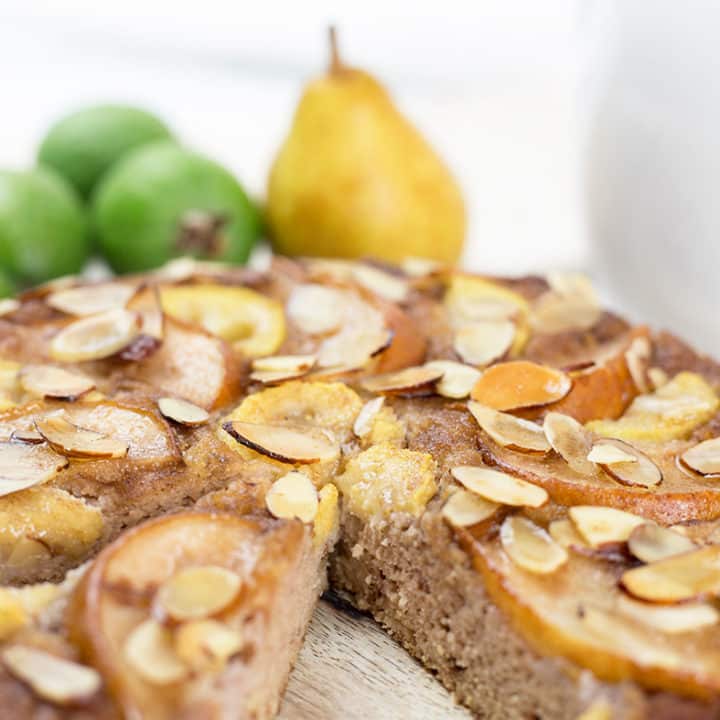 Feijoa, Pear and Ginger Cake – Gluten Free
Yield:
1 cake - approx 12 slices
A delightful feijoa, pear and ginger cake topped with sliced sliced almonds and a ginger and maple syrup glaze. Gluten Free and Paleo friendly.
Ingredients
Feijoa and Pear Cake
3 eggs
⅓ cup olive oil
2 Tbs almond milk, unsweetened
1 teaspoon apple cider vinegar
1 teaspoon vanilla extract
½ cup feijoas, approx 7-8 feijoas
⅓ cup pear, grated, approx ½ pear
1 cup almond meal
3 Tbs coconut flour
2 Tbs sugar
1 teaspoon baking soda
¼ teaspoon ginger, dried
⅓ cinnamon, ground
Topping
¼ cup feijoas, approx 3-4 feijoas
⅓ cup pear, approx ½ pear
¼ cup sliced almonds
Glaze
1 Tbs olive oil
1 Tbs maple syrup
1 teaspoon vanilla extract
⅛ teaspoon ginger, dried
⅛ teaspoon cinnamon dried
Instructions
Preheat oven to 180°C/355°F
Cake
Whisk the eggs in a medium sized bowl.
Add the olive oil and vanilla and whisk again.
Scoop the feijoas out of their skin with a spoon, lightly mash with a fork, and then add into another small bowl with the grated pear, then add into the first bowl with the eggs and olive oil.
Add the remainder of the ingredients for the cake into the bowl and fold in gently.
Pour into a prepared and lined cake tin. I used a 20.5cm/8 inch springform tin.
Topping
Thinly slice the ½ pear lengthways and arrange symetrically around the cake.
Peel the feijoas and then slice into thin circles. Place in between the pear around the cake.
Sprinkle the sliced almonds over the top of the fruit.
Quickly whisk the ingredients together for the glaze in a small bowl or cup, drizzle evenly over the cake.
Place in the oven and cook for 25-30 minutes until golden brown. Test with a skewer or toothpick it should be mostly clean with a few crumbs.
Leave to cool for at least 10 minutes before slicing. Serve warm or cold alone or with yoghurt, coconut yoghurt or icecream.
Store covered in the fridge for up to 5 days.
Notes
Please see swaps and variations in blog post if you don't have access to all ingredients.
This cake will make approx 12 slices.
Nutrition Information
Yield

12
Serving Size

1
Amount Per Serving
Calories

185
Total Fat

14g
Saturated Fat

2g
Trans Fat

0g
Unsaturated Fat

12g
Cholesterol

47mg
Sodium

125mg
Carbohydrates

11g
Fiber

2g
Sugar

6g
Protein

5g
This nutritional information is an estimate only and is provided as a courtesy to readers. It was auto-generated based on serving size, number of servings, and typical information for the ingredients listed in the recipe card. Please feel free to use your preferred nutrition calculator. Please consult your doctor about any specific dietary requirements.