Greek Style Fish Salad - A delicious light, fresh and tasty fish salad that is full of Mediterranean flavour with olives, basil, tomatoes and a simple lemon dressing.
This Greek fish salad is an easy to make fresh and healthy meal that is full of crisp and crunchy vegetables along a good serving of protein - which means you won't go hungry! This can make an easy healthy weeknight meal but also tastes good enough to serve to guests for lunch or dinner. After our recent bouts of hot and humid weather anything that does not require standing over the stove for hours sounds good to me!
I love simple, healthy meals that you can throw together quickly! This fish salad can be on the table in less than 20 minutes! Olives, basil, tomatoes and red onion give this salad lots of Mediterranean flavour, the capsicums (bell peppers) and cucumber give the salad a nice bit of texture and added crunch.
We have recently been away up north in the Bay of Islands where my husband was fortunate enough to have a very successful fishing trip. He returned very happily with an abundance of kingfish - lucky us! From fresh sashimi to a variety of different fish salads we were very spoilt - and still had enough fish left to drop off portions to family and friends.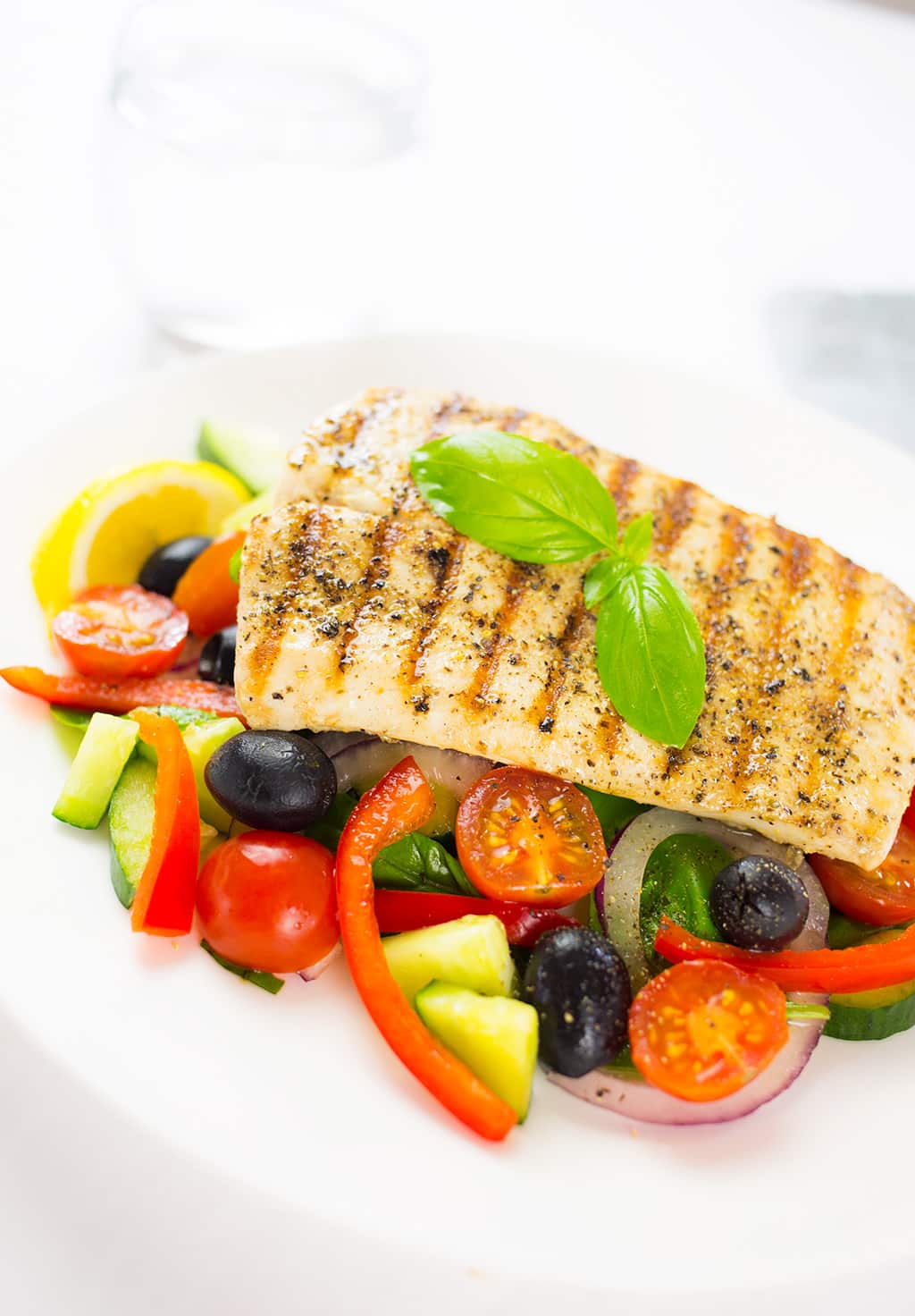 Kingfish has a lovely white meaty texture making it one of my favourite fish to enjoy. This salad would work well with any fish, but the thicker meaty varieties work best such as kingfish, tuna, or mahi mahi. If none of these are available then salmon could be a nice alternative.
For other seafood recipes you may like to try:
Hot Smoked Salmon Salad with Egg & Mustard Potatoes
Vietnamese Summer Roll Salad with Spicy Peanut Dressing
For other salad recipes you may like to try:
Chicken, Asparagus & Avocado Salad with Lemon Cashew Dressing
Gado Gado Indonesian Salad
Loaded Lentil Salad
I hope you enjoy this recipe! Please let me know how you got on in the comments below, I love hearing from you!
For more tasty recipes and to see what I've been getting up to you can follow me on Facebook, Instagram, Pinterest or Twitter.
Have a lovely week!
Hope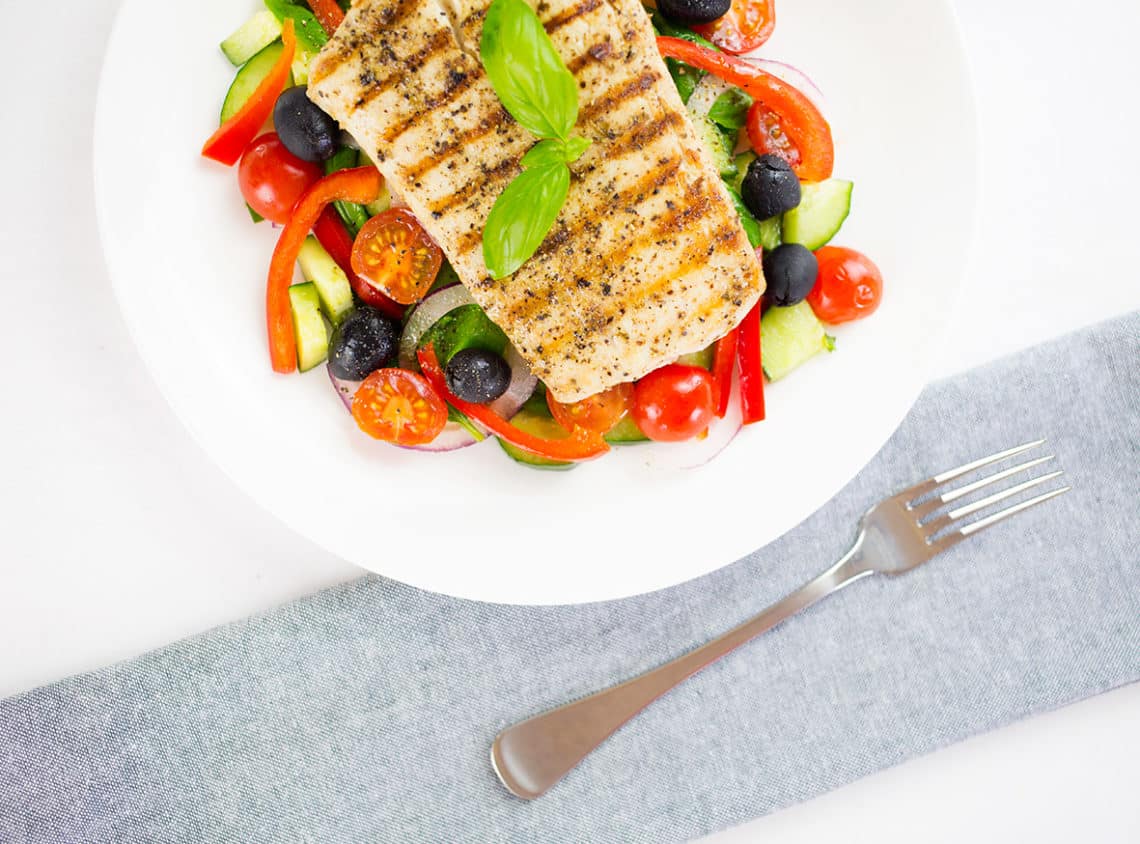 Med/greek salad
---
Hope Pearce
A light fresh and tasty fish salad with Mediterranean flavours.
10 minPrep Time
8 minCook Time
18 minTotal Time
Ingredients
300gm/10.5 oz fish
1 Tbspn olive oil
½ tspn oregano, dried
½ cup basil
½ cup cherry tomatoes
½ cup black olives, pitted
½ cup cucumber, chopped
½ cup red pepper, thinly sliced
½ cup red onion, thinly sliced
wedge of lemon
salt and pepper to taste

Dressing

2 Tbspn olive oil
1 Tbspn lemon juice
1 garlic clove, crushed
salt and pepper to taste
Instructions
Prepare the fish - rub each side of your fillet or with a drizzle of olive oil, season with salt and pepper and sprinkle with oregano.
Melt 1 Tbspn olive oil in a cast iron grill pan on a high heat. Once the pan is very hot turn the pan down to a medium heat. Cook the fish for about 3-4 minutes on each side*. You want the fish to be slightly golden on the outside and should pull apart easily and be flaky once cooked.
Place all of the ingredients for the salad in a bowl and toss with the lemon dressing.
Separate the salad on to 2 plates and place the fish over the top. Serve with a lemon wedge and drizzle with extra olive oil if desired.
Notes
Cooking times will vary depending on the type of fish you use. For meaty varieties cook for 3-4 minutes on each side. For less meaty varieties such as snapper, cod or terakhi cook for about 2 minutes on each side. Salmon may need 4-5 minutes on each side.
7.8.1.2
54
https://lovefoodnourish.com/fish-salad-greek-style/