This gluten-free coconut banana bread is naturally sweet, moist, and oh so moreish! The blend of bananas mixed with a hint of coconut and cinnamon make a delicious combination. Gluten-Free, Dairy-Free & Paleo-friendly.
This banana bread is topped with crunchy shaved coconut and sliced banana, it is perfect to enjoy for breakfast, morning or afternoon tea.
Who doesn't love a good slice of banana bread? There is something so comforting about it isn't there?
The smell of bananas, cinnamon, and coconut coming from the oven let off such an inviting aroma. It makes you want to sit down with a cuppa and put your feet up.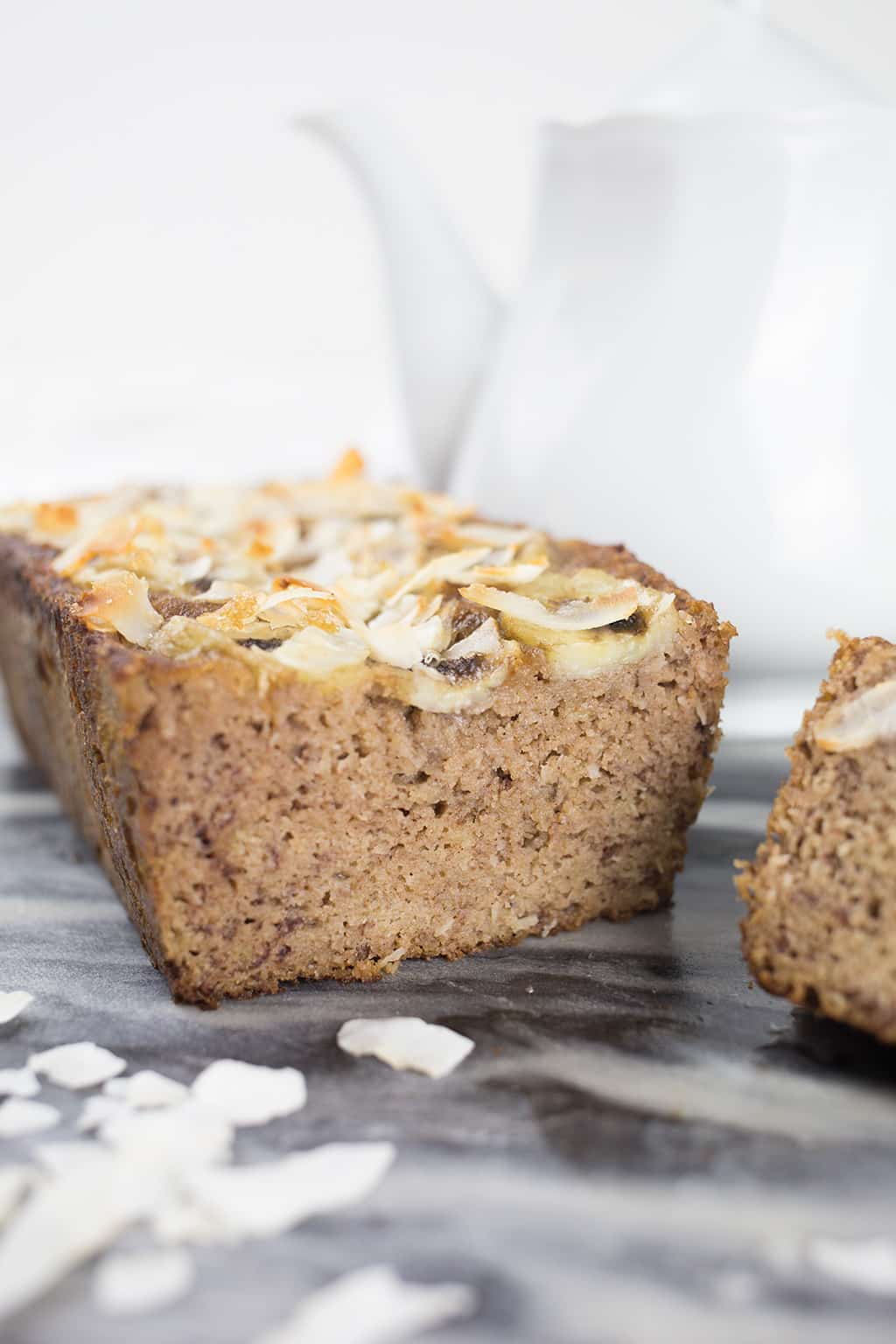 In the past, I have often found your classic banana bread a little dry. This gluten-free bread is not dry...... I promise!
I have used coconut flour as I love the texture it gives to gluten-free baking. It is also fairly cost-effective for a gluten-free flour as you only need such a small amount. In addition, the blend of coconut oil with a little milk used means this banana bread is extra moist.
Recipe Tips and Variations
This gluten-free banana coconut bread can be sliced and toasted if you would prefer to eat it slightly crunchy and warm.
This bread is light and moist, it doesn't need a spread it is delicious just as it is. However, if you wanted to slather it in butter, jam, or your favourite nut butter that would work too. My easy chia jam works really well if you are looking for a quick and healthier alternative to traditional jams.
I prefer to keep this banana bread stored in the fridge, I find baked goods made with coconut flour keep better when kept in the refrigerator.
The coconut banana bread should keep for up to 5 days in an airtight container in the fridge.
I used unsweetened almond milk in this recipe, any milk of your choice will work.
For the coconut in this bread recipe, I used extra fine desiccated coconut as I didn't want an overly strong coconut flavour. You could use the thicker variety too if you prefer. This may make the texture of the bread a little more dense.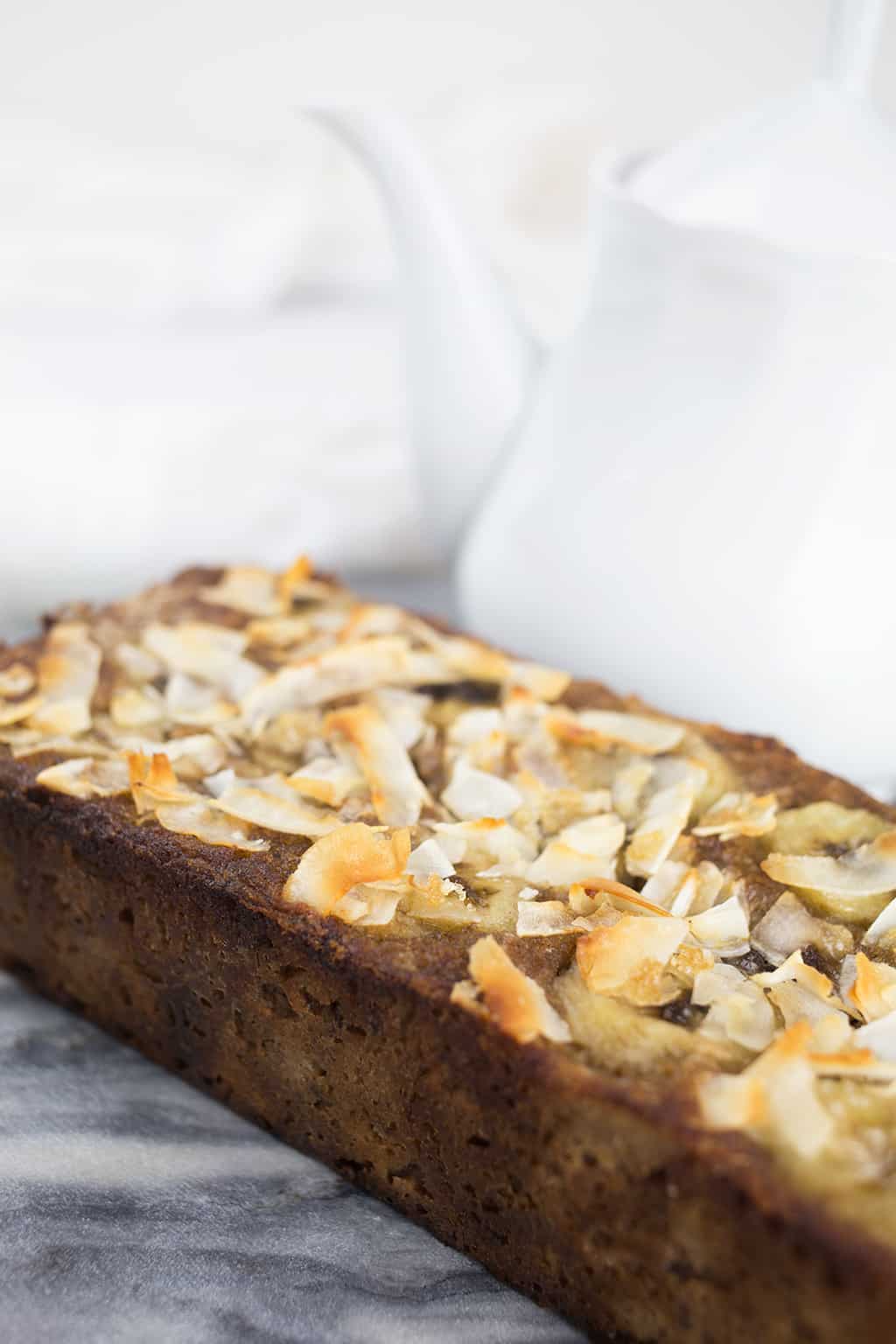 Other gluten-free bread recipes using coconut flour you might like to try.....
This Paleo Pumpkin Bread with its warming spices and crunchy nut topping it is definitely one to try.
Feijoa and Banana Loaf is unique and tasty, perfect for feijoa season! The sharp and tangy feijoas make a great match with the sweetness from the bananas.
For more tasty recipes and to see what I've been getting up to you can follow me on Facebook, Instagram, Pinterest or Twitter.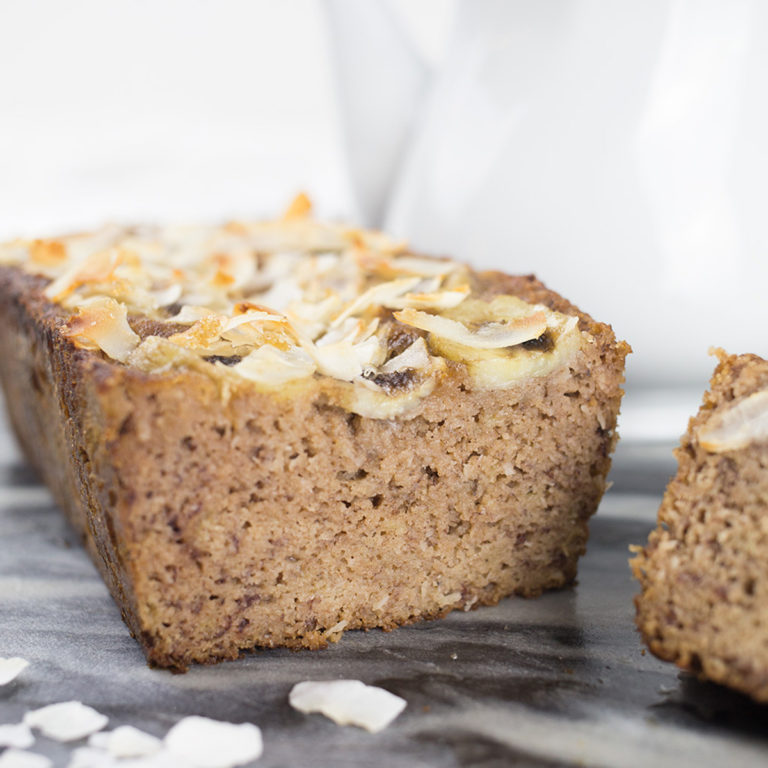 Gluten Free Coconut Banana Bread
Delicious coconut banana bread with a crunchy coconut and banana topping. Gluten Free, Dairy Free and Paleo Friendly.
Ingredients
Coconut Banana Bread
2 bananas, medium-sized
3 eggs, medium
3 Tbs coconut oil, melted
3 Tbs almond milk, unsweetened
1 teaspoon vanilla extract
⅓ cup coconut flour
2 Tbs desiccated coconut
2 Tbs coconut sugar or sugar of choice
1 teaspoon cinnamon
1 teaspoon baking powder
1 teaspoon baking soda
Topping
½ banana, medium-sized
2 Tbs coconut chips or shaved coconut
1 Tbs olive oil
1 teaspoon coconut sugar or sugar of choice
Instructions
Preheat the oven to 180°C/355°F
In a small bowl mash the bananas. Leave the bowl aside.
Whisk the eggs in a separate bowl for a couple of minutes until they tripe in size.
Add the melted coconut oil, almond milk, and vanilla extract to the whisked eggs.
In another bowl sift the dry ingredients.
Add the dry to the wet ingredients and mix through until all combined.
Then add the mashed banana to the mixture and fold in gently.
Pour into a prepared loaf tin. Grease the loaf tin with coconut oil if you are using a silicone tin or use baking paper for a standard tin.
For the topping: Peel the banana and then slice into thin circles so that they are covering the top of the bread dough in the prepared tin.
Sprinkle the shaved coconut or coconut chips over the sliced banana.
In a small bowl quickly whisk together the olive oil and sugar. Lightly spoon or use a pastry brush to brush over the topping.
Cover the bread with tin foil and bake for 20 min, then remove foil and bake for another 20 min. Test the bread with a toothpick or skewer - it should come out clean or with just a couple of crumbs.
Leave to cool before slicing.
Store in an airtight container in the fridge for up to 5 days.
Notes
For additional recipe tips and variations please see the notes in the blog post.
Nutrition Information
Yield

10
Serving Size

1
Amount Per Serving
Calories

139
Total Fat

8g
Saturated Fat

5g
Trans Fat

0g
Unsaturated Fat

3g
Cholesterol

56mg
Sodium

205mg
Carbohydrates

14g
Net Carbohydrates

12g
Fiber

2g
Sugar

8g
Protein

3g
This nutritional information is an estimate only and is provided as a courtesy to readers. It was auto-generated based on serving size, number of servings, and typical information for the ingredients listed in the recipe card. Please feel free to use your preferred nutrition calculator. Please consult your doctor about any specific dietary requirements.