Gluten-free raspberry thumbprint cookies filled with fresh chia raspberry jam. A favourite for kids and adults alike, this is a simple recipe where you can get the kids involved in baking too. These delicious cookies are Vegan, dairy-free, egg-free, gluten-free and refined-sugar-free.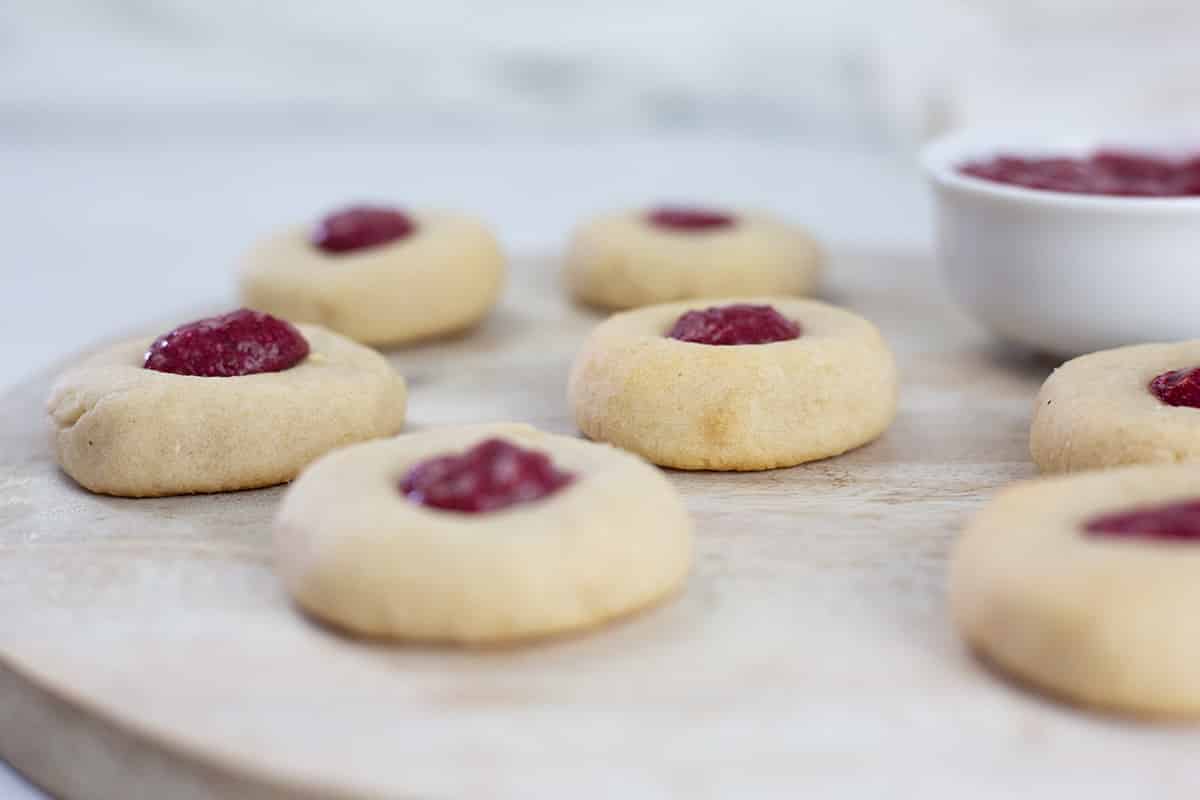 This thumbprint cookie recipe is a slightly healthier version of your classic thumbprint cookie but still delicious and rather moreish. The fresh lush chia jam gives these cookies a beautiful red colour making them the perfect festive cookie or to be enjoyed any time of year!
If chia jam is not for you then you can easily sub for your favourite jam, raspberry and strawberry jam are my personal favourites.
Thumbprint cookies are usually made with a firmer shortbread cookie dough or soft fluffy cookie dough. I went for somewhere in between where the cookies are soft and slightly fluffy and chewy in the centre but firm on the outside.
Key Ingredients
All-purpose gluten-free flour blend - I used a self-raising blend. If you don't have one then you will need to add 1 teaspoon of baking powder. If you are not looking to make gluten-free cookies you can swap the gluten-free flour for standard flour.
Almond meal - This helps give these cookies their texture and the mild nuttiness works well. You could also use almond flour, this will give a finer texture to the cookie.
Coconut oil - Could also be replaced with coconut butter or plain butter.
Almond milk - I used unsweetened almond milk you can use any preferred milk.
Jam
Chia Jam
It is difficult to make the exact amount of chia jam needed for the cookies as the ratio between the chia/and fruit needs to work for it to set and it can be tricky to blend only a tiny amount of fruit and chia seeds. It can end up just stuck on the blender blades and being a pain to scrape out. The recipe below makes a small amount equivalent to around ⅓ of a cup of chia jam.
Chia jam is delicious spread on toast, added to the top of muesli or porridge, or stirred through yoghurt. If you would like to make more then check out this post on Easy Chia Jam which you can sub any fruit for the fruit jam of your choice.
I have sweetened the chia jam with maple syrup, you could use honey or stevia for a lower sugar option.
Regular Fruit Jam
You can also use your favourite standard jam in these cookies. If cooking these thumbprint cookies the traditional way the cookie would be baked with the jam or you could still add it afterwards depending on your preference.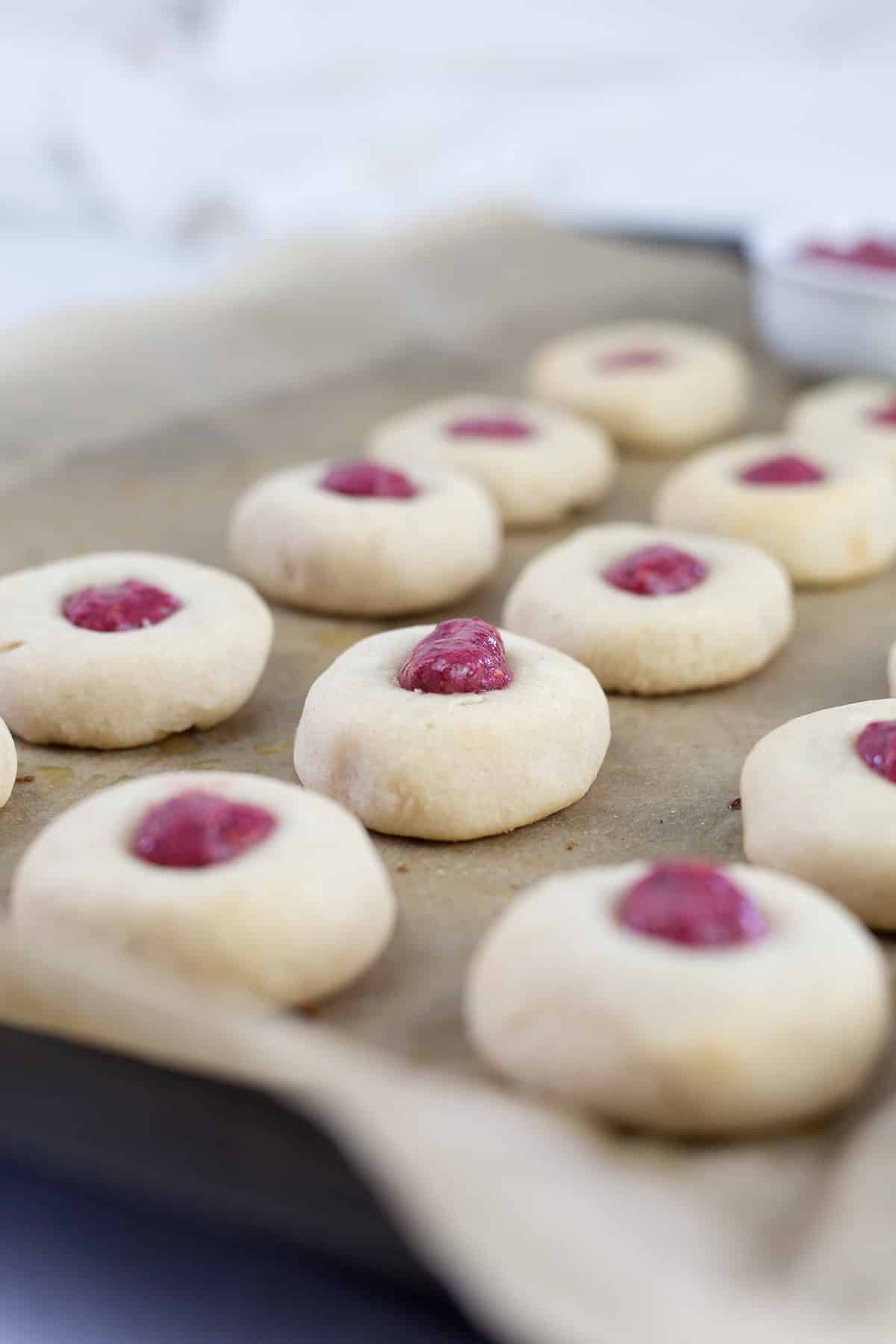 Recipe Tips
Making the cookie dough
The dough needs to be mixed well! After you have added the ingredients together mix the dough for 20-30 seconds longer which helps moisten it and makes it pliable. This releases some of the oil from the almond meal.
If the dough feels too dry then add a splash of more milk. If it feels too wet and sticky you can place it into the fridge for a while to firm up and knead it out onto some flour.
Making the cookie shapes
The easiest way to make the shape of the cookie is to roll the dough into a small ball and then flatten it with the back of a tablespoon. Try and get the balls rolled super tight without and cracks. If the dough is too sticky when flattening each ball you can grease the back of your tablespoon.
Making the thumbprint indent
Despite the name of these cookies, I find it best to not use your thumb to make the indent hole! Your thumb can make the indent too big and your nails can get in the way. Use a rounded ½ teaspoon or use your index finger and gently push around in the centre of each cookie.
Smooth out any cracks that may form with your thumb.
Ensure you use a baking tray with well-greased baking paper so the cookies don't stick.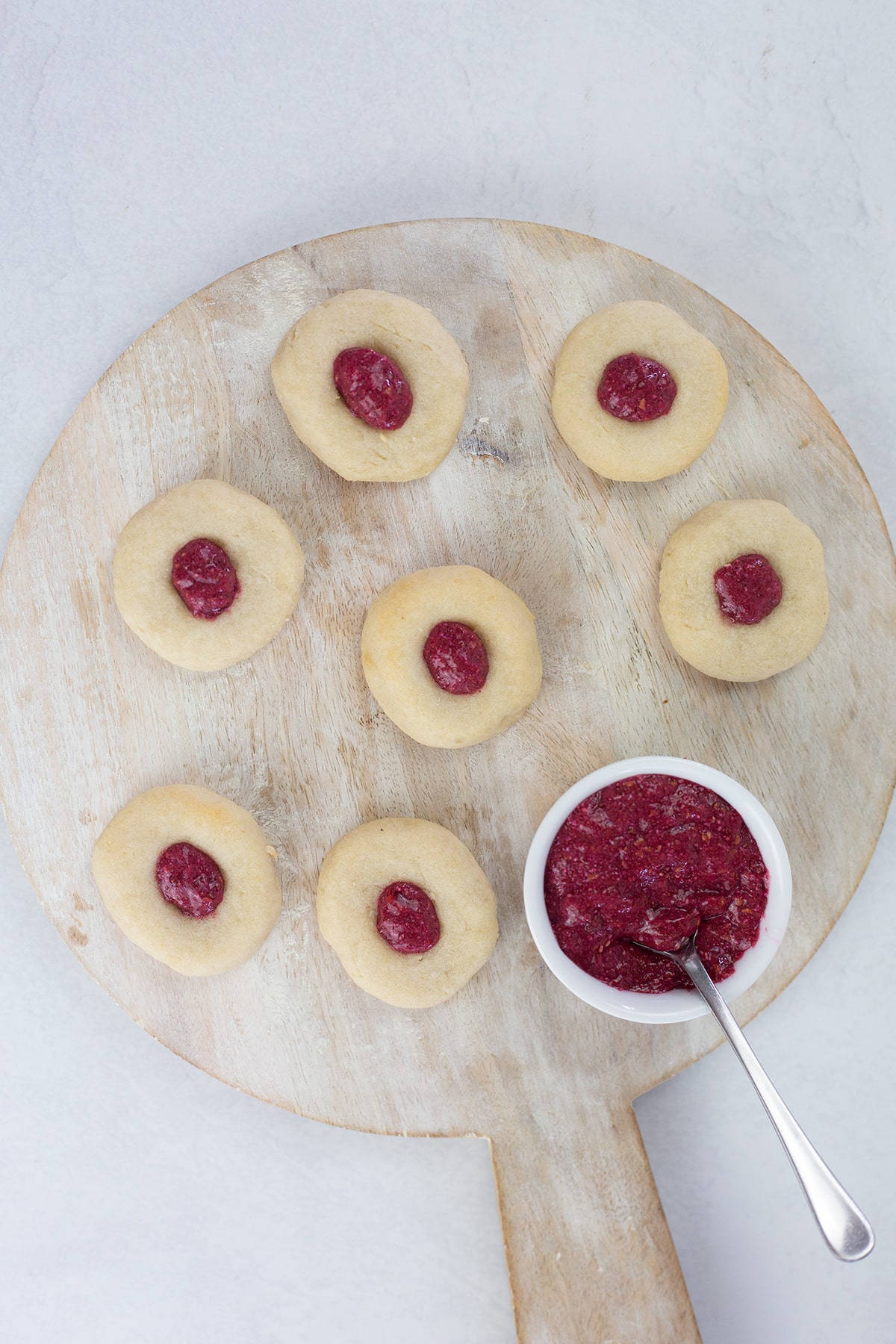 Storage
These cookies with chia jam are best kept in the fridge in an airtight container. They taste delicious fresh out of the oven or can be stored for up to 3 days.
Other easy cookie recipes:
Gluten-Free Soft Ginger Molasses Cookies
Gluten-Free Dairy-Free Chocolate Chip Cookies
Cranberry and Cacao Chip Oat Cookies
For more tasty recipes and to see what I've been getting up to you can follow me on Facebook, Instagram, Pinterest or Twitter.
If you make these gluten-free thumbprint cookies, I'd love for you to give them a star rating ★ below, and please let me know how you get on! You can also tag me #lovefoodnourish on Instagram – I love seeing your creations!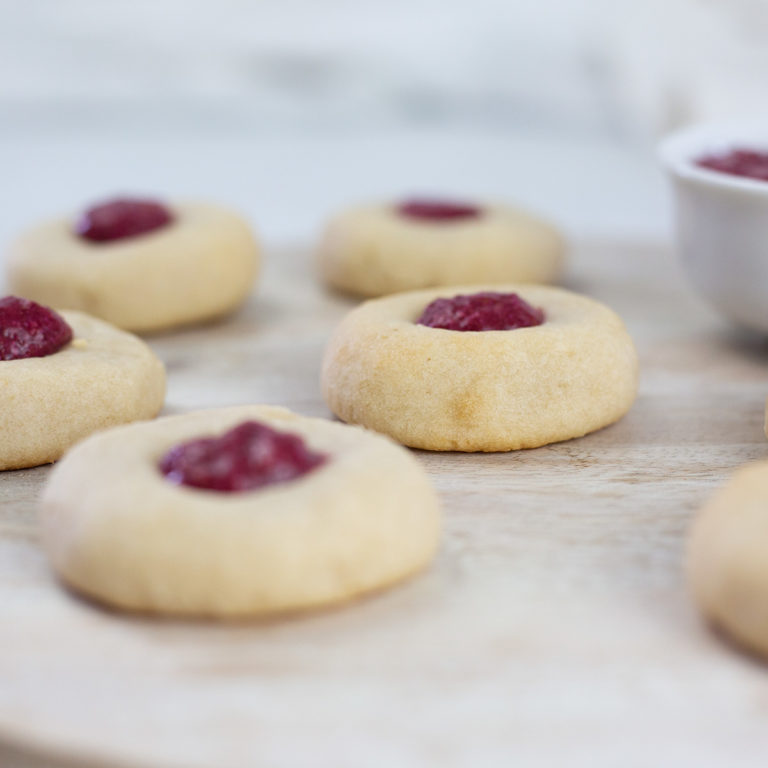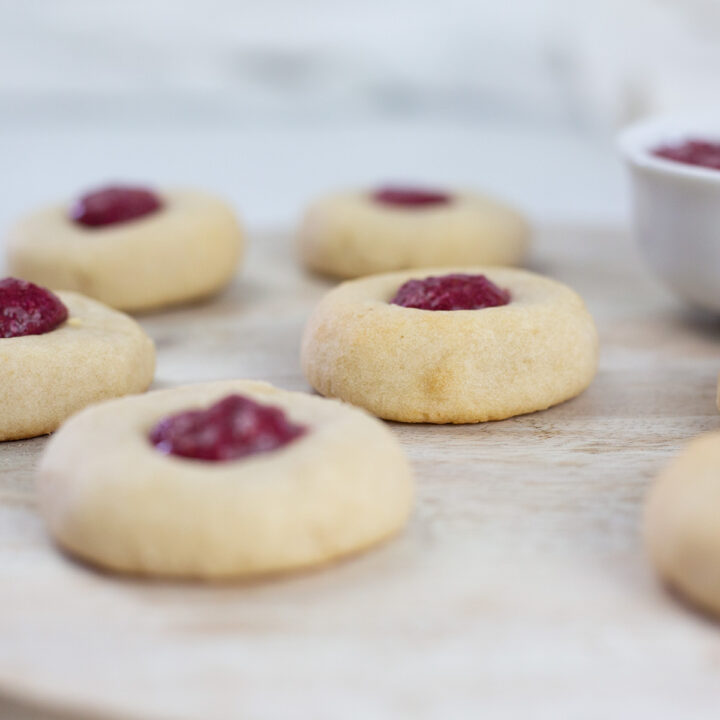 Gluten-Free Thumbprint Cookies
Additional Time:
15 minutes
These delicious thumbprint cookies filled with fresh raspberry chia jam make a fun and tasty treat. Gluten-Free, Dairy-Free, Egg-Free, Refined-Sugar Free, Vegan.
Ingredients
Thumbprint cookies
⅓ cup (32gm) coconut oil, melted
⅓ cup (80ml) maple syrup
⅓ cup (80ml) almond milk, unsweetened, or any milk of choice
1 teaspoon vanilla extract
1 ¼ cups (150g) self-raising gluten-free flour blend
1 ¼ cups (150g) almond meal
Pinch of salt
Chia jam
⅓ cup raspberries
1 Tablespoon chia seeds
2 Tablespoon warm water
½ Tablespoon maple syrup or more if desired
Instructions
Preheat your oven to 180 degrees Celsius (350 degrees Fahrenheit).
In a small pan gently melt the coconut oil until it is liquid. Stir through the milk and vanilla extract.
In a medium-sized bowl add the gluten-free flour, almond meal, and pinch of salt. Mix well.
Add the wet ingredients to the dry ingredients mix until all is combined and you have a dough.
If the dough looks too dry and crumbly add a splash of more milk. If it is too wet and sticky you can place it in the fridge for an hour.
Shape the dough into small flat patties. Place on a prepared and greased baking tray. The easiest way to do this I find is to roll the dough into a small ball and then flatten it with the back of a tablespoon.
Form an indent in the middle of each cookie with your finger, or teaspoon. See additional details in the blog post.
Bake for 10 minutes then remove the cookies from the oven and leave to cool while you make the chia jam.
If you are using frozen raspberries quickly run under hot water until they are soft. Place all of the ingredients into a high-speed blender. Blitz until you have a thick jam-like consistency. Taste and add more sweetener if desired.
Leave to set in the fridge for 15 minutes.
Spoon the jam into each cookie indent.
Notes
If you are not using self-rising flour then add 1 teaspoon of baking powder.
This recipe will most likely leave some chia jam leftover (depending on how big you make the thumbprint indents in the cookies). It is hard to mix a smaller quantity and for it to set, so keep some jam to use as a spread for a couple of days. It is also delicious mixed through yoghurt or added on top of muesli or porridge.
You can also use your favourite standard jam in these cookies. If cooking these the traditional way the cookie would be baked with the jam or you could still add it afterwards. The chia jam tastes delicious fresh and enjoyed as is without further cooking.
This recipe makes 14-16 thumprint cookies.
These cookies can overcook easily, so make sure to set a timer!
Please see the blog post for additional information.
Nutrition Information
Yield

14
Serving Size

1
Amount Per Serving
Calories

173
Total Fat

11g
Saturated Fat

5g
Trans Fat

0g
Unsaturated Fat

5g
Cholesterol

0mg
Sodium

11mg
Carbohydrates

17g
Fiber

2g
Sugar

6g
Protein

3g
This nutritional information is an estimate only and is provided as a courtesy to readers. It was auto-generated based on serving size, number of servings, and typical information for the ingredients listed in the recipe card. Please feel free to use your preferred nutrition calculator. Please consult your doctor about any specific dietary requirements.