These healthy toddler muffins make tasty little snacks for your little ones! These blueberry, banana and apple muffins contain no added sugar. They are also dairy and gluten free making them suitable for various allergies.
I love making treats for my family that I know are healthy and made from wholefoods instead of refined ingredients. These muffins contain nutritious buckwheat flour along with a tasty mix of blueberries, banana and grated apple.
These healthy toddler muffins make perfect lunchbox sized snacks. I do find little people love snacking on bite sized food so even if they are eating two of these miniature sized muffins they are more likely to eat them than a large one cut in half.
The main flour used in these muffins is buckwheat flour, this is mixed with tapioca starch to give them a lighter consistency.
Buckwheat flour is very nutritious, it is not from a grain like wheat but actually comes from a ground seed. This gives it a unique composition for a flour and makes it a good protein source for those following a plant based diet or if you are simply looking for a nutrient dense flour to use in baking. Buckwheat is also good source of vitamins (particularly b vitamins), minerals, amino acids and antioxidants (source).
Additional Recipe Notes for making Healthy Toddler Muffins
The toddler muffins contain no added sugar, honey or maple syrup. They are naturally sweetened with fruit which all have their own benefits containing various vitamins, minerals, antioxidants and fibre content.
These muffins are what I would call mildly sweet. I personally prefer this when giving baked goods to my little boy – I think when you give children too many sweet things then they really get a taste for it and want more and more!
To give these muffins an extra nutrient boost I have put an option in the recipe to add some collagen powder. This not only adds some protein to the muffins to give your little ones some extra fuel but has gut healing benefits too. You can read more about the benefits of collagen here on my healthy homemade gummies post.
I have used frozen blueberries in these muffins, any berries will work well. You can also replace the grated apple with grated pear if you prefer.
Buckwheat flour can be very dense when used on its own, I have added tapioca starch into these muffins to help give them a lighter texture. Tapioca starch I find at my local wholefoods store in the bulk foods section and it is very reasonable at usually around $4.00 a bag. A little bit goes a long way so it is a great baking addition to keep on hand if you do any gluten free baking.
You can replace almond milk with any of your favourite dairy free milk substitute however I find the blandness of unsweetened almond milk works well in this recipe.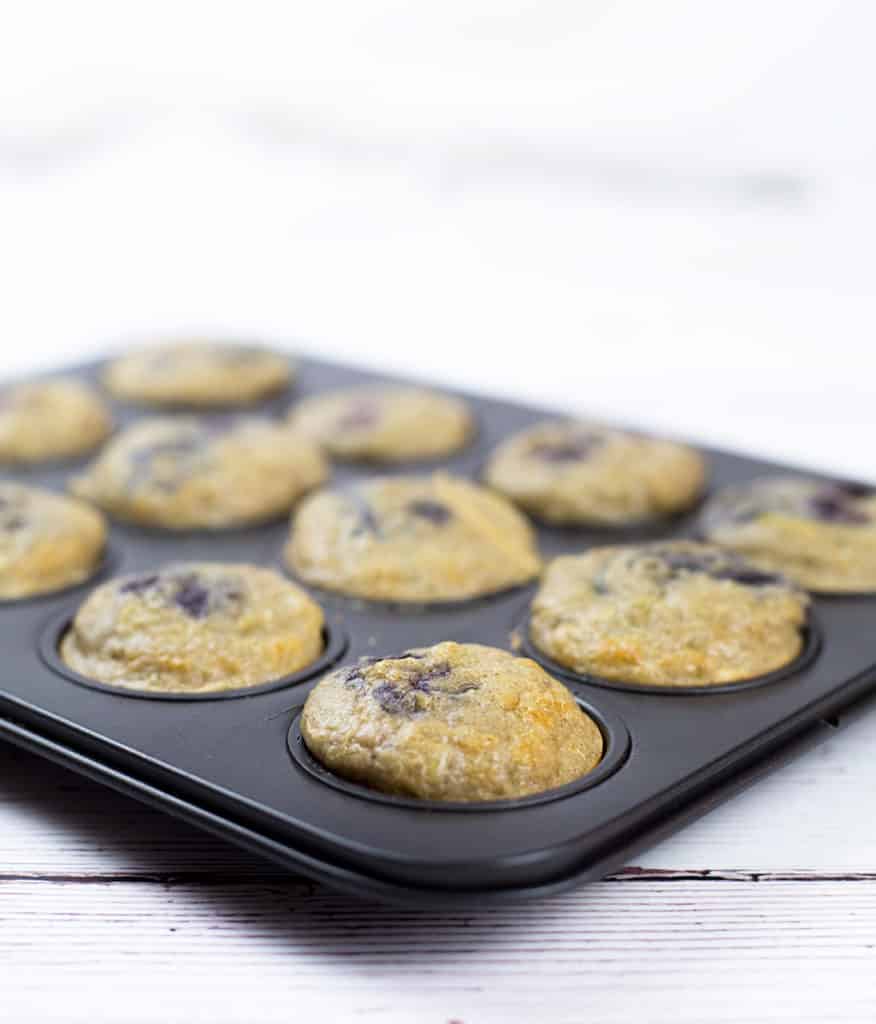 FAQ for making healthy toddler muffins….
Is buckwheat flour gluten free?
Yes! It is a common misconception among those new to a gluten free diet that buckwheat flour contains gluten due to having wheat in its name – but it doesn't!
How long will these healthy toddler muffins keep?
I tend to keep gluten free muffins like this in the fridge as it helps keep them moist. They will keep in the fridge in an airtight container for around 5 days. I like to make a big batch and freeze some in a zip lock bag or an airtight container. These muffins will keep in the freezer for up to 3 months.
Can I make these muffins in a standard muffin tin?
Yes. The 10 min cook time is based on making mini muffins, the mix makes approx 32 mini muffins. (The amount of muffins may vary depending if you add in the extra optional collagen). If you are using a standard muffin tray and making approx 12 muffins the cook time will be longer, approx 15-20 mins.
Pin for later!
If you are looking for some other healthy snacks you may like to try the following posts/recipes:
Banana, Pear & Oat Toddler Cookies
Creamy Lemon Coconut Bliss Balls (Paleo)
Gluten Free/Paleo Savoury Muffins
Paleo Nut Bars with Goji Berries
Carob and Tahini Seed Bars (Paleo)
I hope you enjoy this recipe! Please let me know how you got on in the comments below, I love hearing from you!
For more tasty recipes and to see what I've been getting up to you can follow me on Facebook, Instagram, Pinterest or Twitter.
Have a lovely week!
Hope x
Healthy Toddler Muffins
---
Hope Pearce
These healthy toddler muffins are nutritious, easy to make and tasty! These blueberry, banana and apple muffins are gluten free, dairy free with no added sugar or sweetener.
15 minPrep Time
10 minCook Time
25 minTotal Time
Ingredients
1/2 cup buckwheat flour
1/4 cup tapioca starch
3 Tbspn collagen powder *optional see additional recipe notes in post.
2 tspn baking powder
1/4 tspn sea salt
1/2 tspn cinnamon
3 eggs
1/4 cup unsweetened almond milk or favourite milk
2 Tbspn olive oil
1/2 cup banana, mashed
3/4 cup blueberries - Leave 1/4 cup aside. I used frozen blueberries.
1/2 cup apple grated
Instructions
Preheat oven to 180°C/350°F.
Sieve the dry ingredients into a large bowl.
In a separate bowl whisk the eggs, add the olive oil, almond milk and mashed and grated fruit. Add in 1/2 cup of the blueberries (leave 1/4 for the next step). Mix together.
Make a well in the dry ingredients and add the wet ingredients, stir gently until everything is combined.
Grease your muffin trays with oil or butter and spoon in the batter.
Use the remaining 1/4 cup of blueberries to place a couple of blueberries in the top each muffin before baking.
Bake for 10 minutes, test with a toothpick or skewer. It should come out with a couple of crumbs but be relatively clean.
Notes
To give these muffins an extra nutrient boost I have put an option in the recipe to add some collagen powder.This is optional. See additional notes in blog post.
7.8.1.2
86
https://lovefoodnourish.com/healthy-toddler-muffins/