These healthy homemade gummies are made with real fruit with three delicious flavours! They make a great healthy snack and contain no added sugar.
Kids love these gummies they are like healthy "lollies" - they are fun to eat and are a great way to get some protein and gut-healing gelatin into them!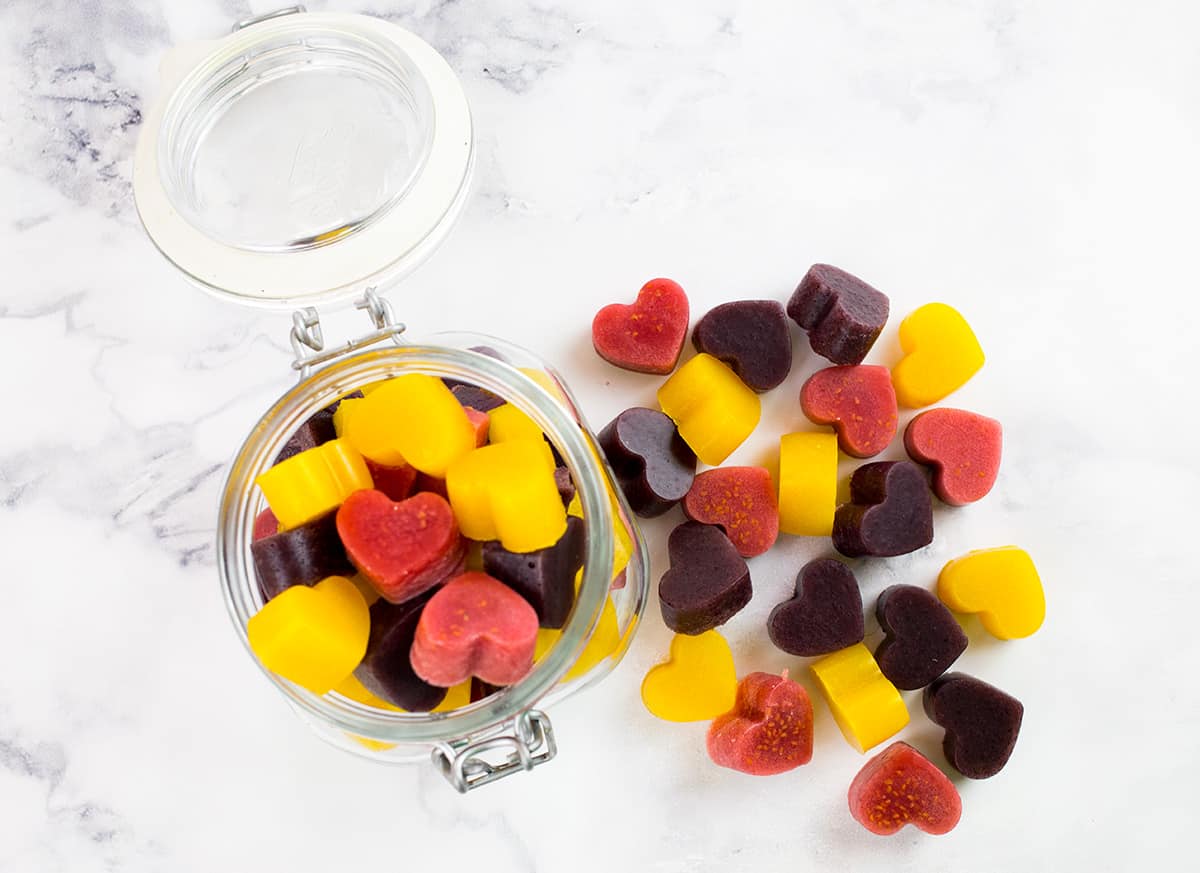 If you are looking for some healthy snack options for your kids then these gummies are ideal! I have made three different fruity flavours below:
Blueberry & Lemon Gummies
Raspberry Gummies
Mango, Lemon & Turmeric Gummies
Now... when it comes to the Mango, Lemon & Turmeric gummies you can't taste the turmeric - I promise!
Unlike the store bought gummies which usually have a high sugar content and artificial ingredients such as dyes and preservatives you can happily eat these yourself .........or feed them to your family without feeling guilty!
With all of the amazing benefits of gelatin these gummies are not just for kids but for adults too!
Unless you have been living under a rock you have probably heard about all of the benefits of drinking bone broth which has had a popular surge in recent years!
Traditionally it was common to eat all parts of the animal (marrow, bones, organ meat) in our diet and to cook with or consume homemade bone broth or stock.
This meant we were consuming a reasonable amount of gelatin in our daily diet. However our intake of gelatin rich foods has decreased drastically with our modern diet and lifestyles.
If bone broth is not your thing or you find it hard to find the time to make it then these homemade gummies make another great option to obtain the health benefits of gelatin and they take less time to cook!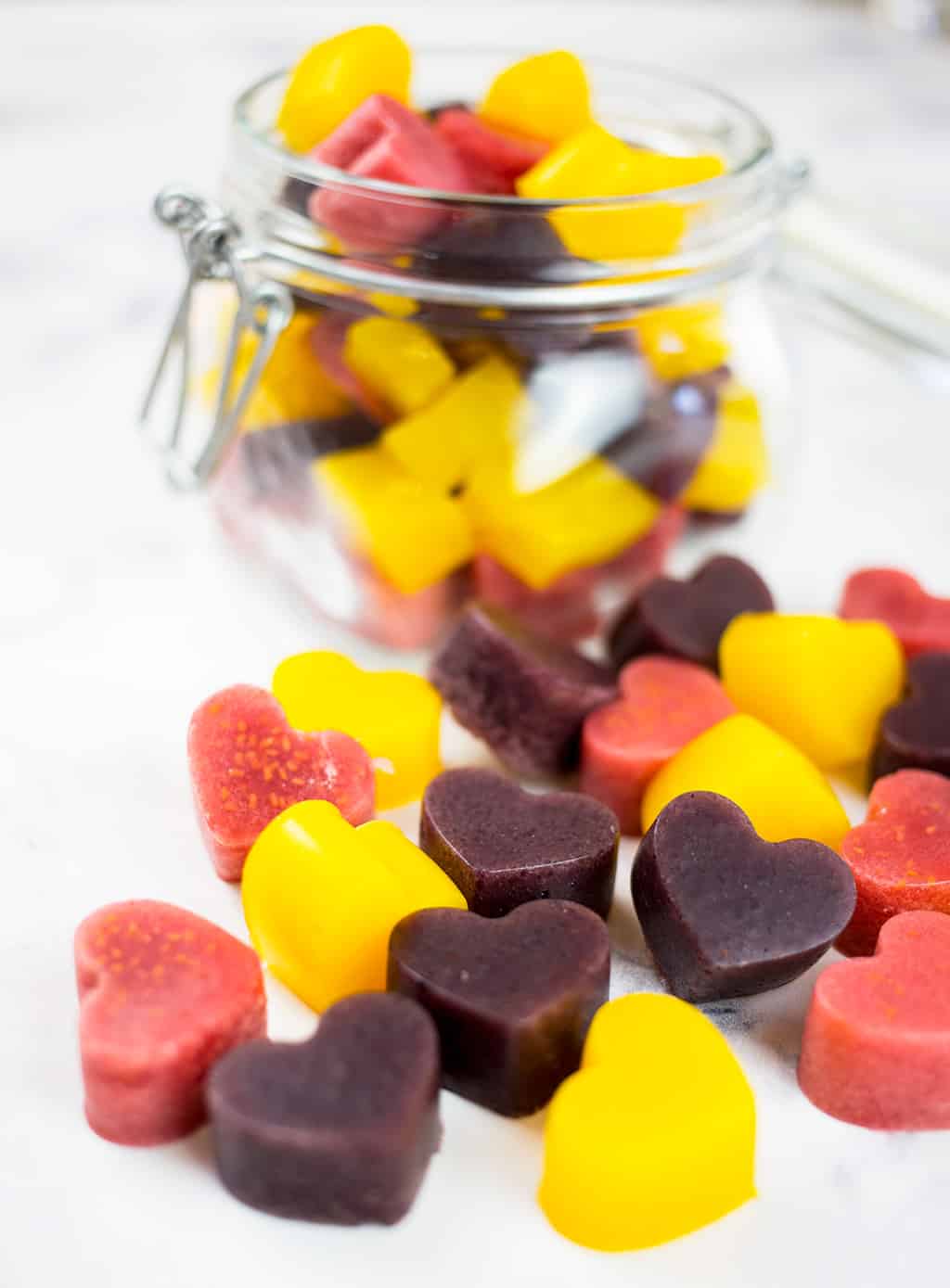 What is the difference between gelatin and collagen?
The short answer - not much!
Basically, gelatin is cooked collagen which is the protein found in the connective tissues and bones of animals. Gelatin is what you get after cooking collagen.
For example when you cook bones such as when making a homemade bone broth or stock then collagen is released and in effect, you have made your own gelatin.
Gelatin and collagen contain basically the same amino acid profile as they both contain collagen protein.
The main difference between gelatin and collagen is that gelatin will thicken when cooled and this is the powder that is commonly used to make sweet treats like jelly, pana cotta or marshmallows.
(I may receive commissions from purchases made through affiliate links in this article. This post was originally published in August 2018)
What are some of the health benefits of gelatin (collagen)?
Including gelatin in your diet is thought to have a variety of potential health benefits such as:
Supporting healthy skin - Collagen is what gives your skin its youthful appearance, the decline of collagen when we age is thought to be a major factor in skin "aging"(source).
Supporting a healthy digestive system - Glycine an amino acid found in gelatin may help to maintain a healthy mucosal lining in the digestive system (source). A healthy gut lining is very important for reducing overall inflammation in the body, healthy digestion, maintaining a healthy immune system and helping to prevent and improve adverse reactions to food such as food intolerances. In my naturopathic clinic restoring a healthy digestive system in clients was key to restoring good health.
Gelatin is a great source of protein, adequate protein is needed for growth and repair of every cell in the body. 70% of our connective tissue is made from collagen so having adequate amounts is important for the structure of our entire body including skin, digestive system and joints.
May support healthy bones - Lycine an amino acid found in gelatin may help strengthen bones, and helps the body absorb calcium (source).
Using a good quality gelatin is important. I like to use a good quality unflavoured gelatin from responsibly-farmed, pastured (grass-fed) beef, such as this one.
Like all lollies or treats (even healthy ones) these gummies are best enjoyed in moderation!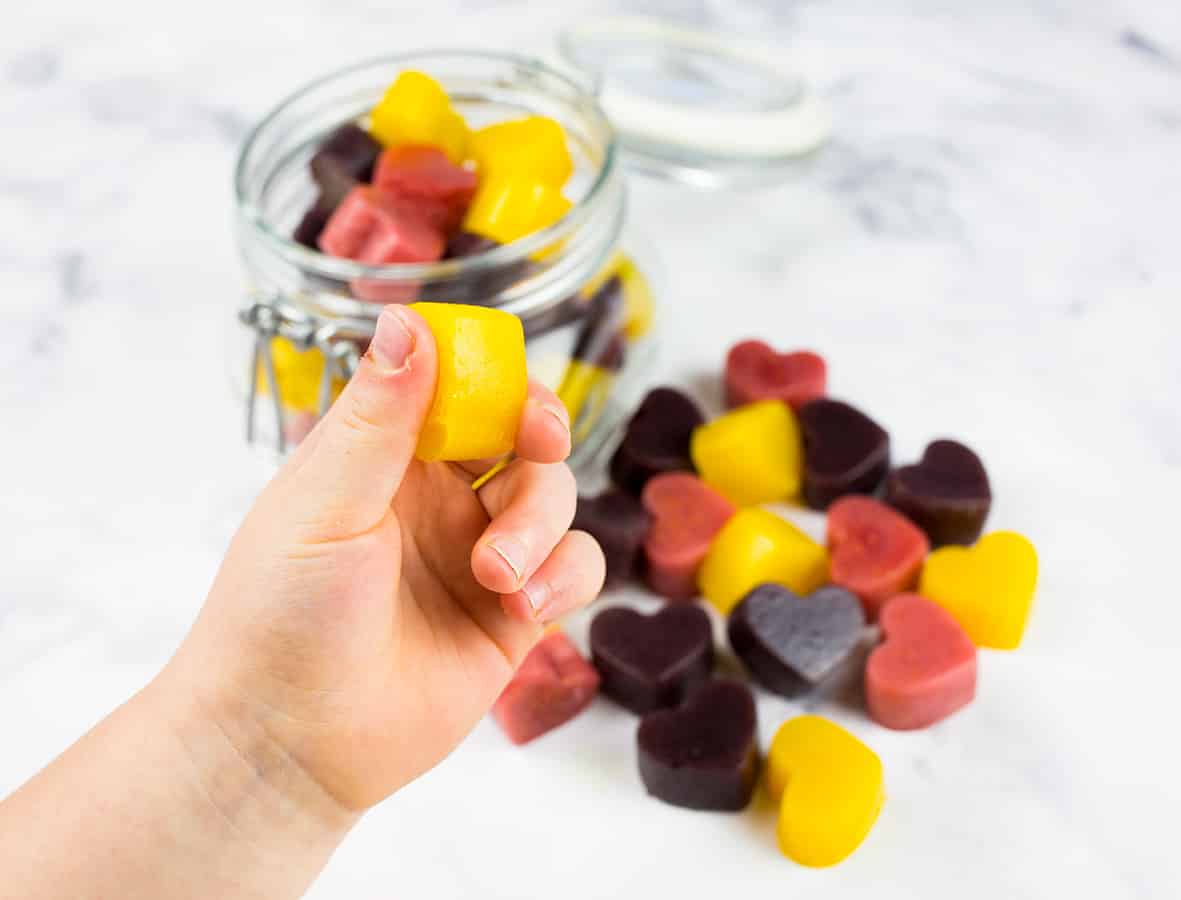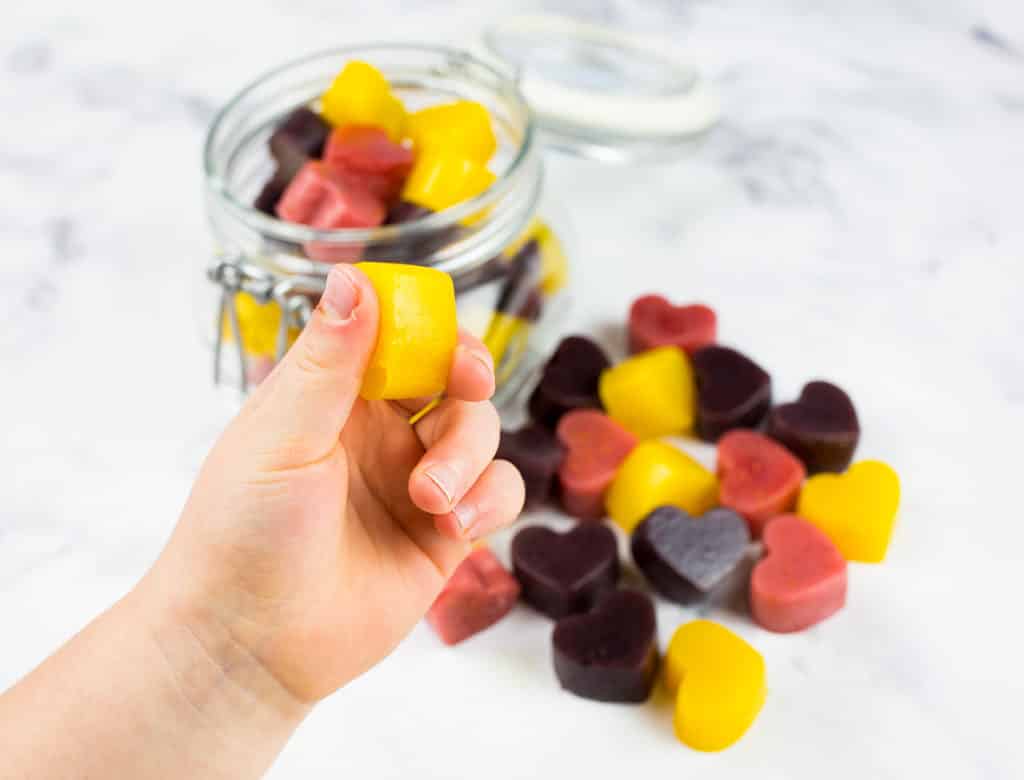 If you are looking for other healthy snacks you may like to try:
Gluten Free & Paleo Savoury Muffins
Banana, Pear & Oat Toddler Cookies
Banana Almond Cookie Dough Bites
Paleo Nut Bars with Goji Berries
I hope you enjoy this recipe for homemade gummies! Please let me know how you got on in the comments below, or leave a star ratin, I love hearing from you!
For more tasty recipes and to see what I've been getting up to you can follow me on Facebook, Instagram, Pinterest or Twitter.
Have a lovely week!
Hope
Additional Recipe Notes for making Homemade Gummies
I have used liquid stevia in this recipe to keep the sugar content of this recipe down, it only contains sugar from the fruit. Honey or maple syrup can also be used. Start out with 1 tablespoon and taste and add more if desired. If you don't like the taste of the liquid when it is in the pan then you probably won't enjoy the gummies once set, so taste and add more sweetener to suit your taste buds.
You need to work quickly with this recipe, so once you have dissolved all the gelatin in the pan then quickly pour into the moulds before the gelatin starts to thicken too much. It can be a bit messy, it can be easier to pour the liquid into the moulds with a teaspoon or a jug.
I have used frozen fruit in these gummies as I like to make them frequently and this ensures I can make them year-round when berries are not in season, fresh fruit can be used too.
My raspberry gummies still contain the raspberry seeds as I don't mind these and they give them an extra bit of texture, if you don't like the seeds then strain the liquid through a sieve before cooking.
The nutrition calculator automatically calculates all ingredients listed in the recipe so for this recipe, it calculates all flavours and adds them together then it is divided by the total number of gummies. If you are only making one of the flavours you will get around 32 gummies. The number of gummies varies depending on what size mould you use.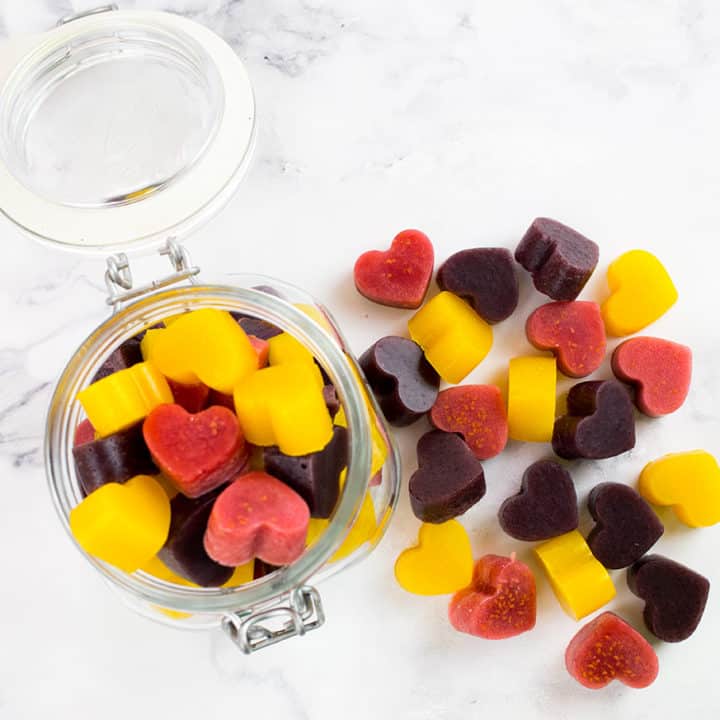 Homemade Gummies – No added sugar
Yield:
96 gummies - makes 32 gummies of each flavour.
Total Time:
3 hours
15 minutes
Healthy Homemade Real Fruit Gummies - a healthy snack that the whole family can enjoy. Made with real fruit. Gluten-Free, Refined Sugar Free, Paleo.
Ingredients
Blueberry & Lemon Gummies
1 cup blueberries, I used frozen.
½ cup water
1 Tbspn lemon juice
2.5 Tbspn gelatin
10 - 20 drops liquid stevia
Raspberry Gummies
1 cup raspberries - I used frozen
½ cup water
2.5 Tbspn gelatin
10 - 20 drops liquid stevia
Mango,lemon & Turmeric Gummies
1 cup mango, chopped - I used frozen
½ cup water
1 Tbspn lemon juice
½ tspn turmeric*
2.5 Tbspn gelatin
10 - 20 drops liquid stevia
Instructions
If you are making all 3 flavours make each flavour separately.
Add all of the ingredients minus the gelatin and stevia into a high speed blender until you have a pureed fruit liquid.
Pour the fruit puree into a saucepan and heat over a low heat. Add the gelatin and whisk until fully combined and there are no lumps. Add stevia liquid to sweeten as you desire. Taste and add more if needed.
Heat the mixture until all the gelatin is dissolved, do not let boil! Once dissolved remove from the heat.
Pour into moulds or a glass container to set in the fridge for 2-3 hours. You can put them in the freezer if you wish to hurry this process up but I find they set better in the fridge.
Pop out of the moulds or cut out of any container you used.
Store in an airtight box in the fridge for about 10 days.
Notes
Please note the nutrition calculator values are approximate only. Please see additional note 5 in blog post above for further information.
Nutrition Information
Yield

96
Serving Size

1
Amount Per Serving
Calories

4
Total Fat

0g
Saturated Fat

0g
Trans Fat

0g
Unsaturated Fat

0g
Cholesterol

0mg
Sodium

1mg
Carbohydrates

2g
Fiber

0g
Sugar

0g
Protein

1g
This nutritional information is an estimate only and is provided as a courtesy to readers. It was auto-generated based on serving size, number of servings, and typical information for the ingredients listed in the recipe card. Please feel free to use your preferred nutrition calculator. Please consult your doctor about any specific dietary requirements.
Disclaimer
The information on this website are my thoughts, ideas and personal experiences around food, nutrition and wellness and hence all information presented on this website is for informational purposes only. Please seek the advice of your personal healthcare practitioner for your specific health concerns before making any changes to your diet, lifestyle or supplement regime. To read the full disclaimer please visit here.
Disclosure: This post contains affiliate links. I may make a commission off any sales but your price remains the same.