This lentil salad is hearty, healthy, nutritious and pretty darn tasty! The lentils are cooked in a delicious broth then topped with a tasty dressing making this lentil salad a simple dish that is full of flavour.
Gluten free, Vegan and and loaded with antioxidant rich veggies this is the perfect tasty healthy dish to take to a potluck or picnic.
After a period of overindulgence with holiday festivities and summer BBQs it is time to reset and add some nutritious healthy meals into my diet such as this one.
My body is craving healthy goodness at the moment which is a sign that its time to listen and get back into my routines.
Lentils often get a bad rap for being boring, but their rich earthy flavour can really be brought alive when cooked with stock or broth as they soak up all of that delicious flavour and goodness.
I first developed my fondness for lentils after staying with my mother in law in Scotland. She always made a variety of simple lentil dishes where the leftovers were always cleverly turned into a delicious lentil soup so as not to waste anything. It was during these visits to Scotland that I realised where I had been going wrong, I hadn't been using stock when cooking the lentils. My mother in law always cooks lentils in a broth or stock, which really makes the difference from a "boring" lentil dish to a a full flavoured one.
This lentil salad is loaded with fresh veggies, crunchy pumpkin seeds along with fresh mint which all contrasts nicely with the full flavoured dressing.
Even your meat loving friends will love this salad…..I promise…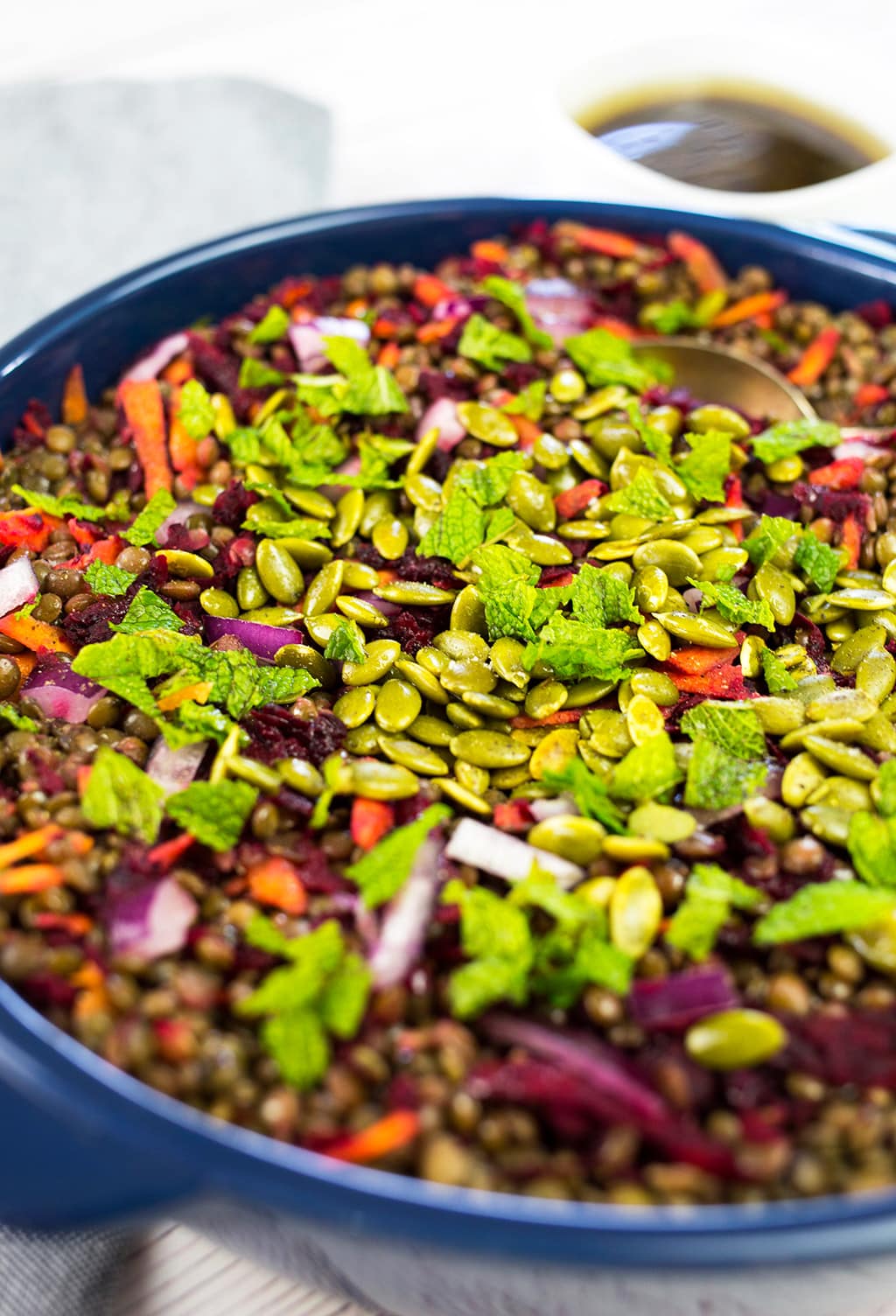 For other tasty salads you may like to try:
Peanut-Miso Tempeh Salad Bowl with Cashew Nuts
Detox Buddha Bowl with Spicy Chickpeas and Cashew Cumin Sauce
Beetroot, Avocado & Roacket Quinoa Salad with Spiced Walnuts & Mint
Roasted Pumpkin, Chickpea and Sundried Tomato Salad with Goats Feta
Sweet Potato Salad with Pomegranate, Feta & Pecans
I hope you enjoy this recipe! Please let me know how you got on in the comments below, I love hearing from you!
For more tasty recipes and to see what I've been getting up to you can follow me on Facebook, Instagram, Pinterest or Twitter.
Have a lovely week!
Hope
Love Food Nourish Nutrition Tips

Lentils are very nutritious, they are a good source of phosphorous, manganese, b vitamins, zinc and potassium. Lentils make an excellent source of molybendum and folate with 1 cup of lentils providing 330% of the daily recommended intake for molybendum and 90% of the daily intake for folate! Folate or folic acid are both forms of vitamin B9 and like all B vitamins are water soluble. This means folic acid can not be stored in the body for use when needed, it needs to be replenished daily, so eating folate rich foods is important to help replenish stores. Folic acid is well known for its need to prevent birth defects in pregnancy, it also works along side vitamin B12 to produce healthy red blood cells helping to prevent anaemia and helps to promote tissue and cell growth.
Beetroot is an excellent vegetable to include in the diet after indulging (such as the recent festive period) . It can help support the livers detoxification processes and a regular digestive system. It also has anti-inflammatory and antioxidant properties.
Carrots are high in the antioxidant Vitamin A which can help support healthy eye sight, healthy skin and healthy mucus membranes in the body such as the gut.
Mint has carminative properties which are soothing for the digestive system helping to dispel excess wind and gas.
Additional Recipe Notes
Do you need to soak lentils?
Many recipes will say you do not need to soak lentils due to the fact lentils have a low phytic acid content. However soaking lentils can greatly aid in their digestion and also reduce their cooking time. If you have poor digestion or experience gas and bloating from legumes then soaking is definitely recommended.
How to soak lentils
Rinse the lentils in a sieve, place in a pot and cover with warm water and 1 Tbspn of lemon juice, leave for around 7 hours. Once soaked, drain and rinse the lentils again and then cover with clean water to cook. If you are seriously short on time then any soaking is better than none.
Loaded Lentil Salad
---
Hope Pearce
A delicious and healthy lentil salad loaded with veggies, pumpkin seeds and fresh herbs with a tasty dressing.
15 minPrep Time
20 minCook Time
35 minTotal Time
Ingredients
Salad

1 cup french green lentils or Du Puy lentils, rinsed, drained and soaked*
2 cups vegetable stock or broth (or 2 cups water with 2 crushed bouillon cubes)
1 cup water
1 cup grated carrot (Approx 2 medium carrots)
1 cup grated beetroot (Approx 1 medium beetroot)
1/2 red onion, finely chopped
1/2 cup pepita/pumpkin seeds
2 Tbspn fresh mint
1 tspn coconut oil

Dressing

1/4 cup lemon juice
1/3 cup olive oil
1 Tbspn balsamic vinegar
1 Tbspn tamari
1 garlic clove, crushed
salt and pepper to taste
Instructions
In a medium saucepan place the soaked lentils, 2 cups of stock or broth and 1 cup of water. Bring to the boil, then reduce to a simmer cook for 20-25 min until tender. Cook so the lentils are still firm to touch, don't overcook as they will go mushy.
While the lentils are cooking toast the pumpkin seeds/pepitas. Heat a small frying pan/skillet on a medium heat. Add the coconut oil and then the pumpkin seeds/pepitas, cook for 2-3 minutes turning frequently until slightly golden. Remove the seeds and set aside on a paper towel while you prepare the rest of the salad.
Once the lentils are cooked quickly rinse under cold water (you don't want to wash away the flavour from the stock) and drain then place in a salad bowl.
Add the grated beetroot, carrot and chopped red onion to the salad bowl and toss.
Top with the peptitas/pumpkin seeds and fresh mint, pour over the salad dressing, toss again. Add salt and pepper to taste.
Notes
* See notes in blog post for soaking lentils, this is not 100% necessary for green lentils but can help with their digestion and reduce cooking time.
7.8.1.2
51
https://lovefoodnourish.com/loaded-lentil-salad/
Source:
Haas, Elson M. Staying Healthy with Nutrition. Berkley, CA: Wiley, 2006.
Fallon and Enig, Nourishing Traditions: The Cookbook that Challenges Politically Correct Nutrition and the Diet Dictocrats, New Trends, 2001.
https://www.whfoods.com