You will love this easy one-dish dinner with baked chicken, eggplant, zucchini, tomatoes, basil, and olives. This is a healthy, rustic-style Mediterranean chicken dinner that the whole family will love.
This Mediterranean chicken bake is Paleo, Whole30, Keto and Gluten-Free.
This easy chicken dinner is full of fresh Mediterranean style produce such as eggplant, zucchini, tomatoes, olives and basil. The succulent chicken is simply marinated in lemon, garlic and olive oil.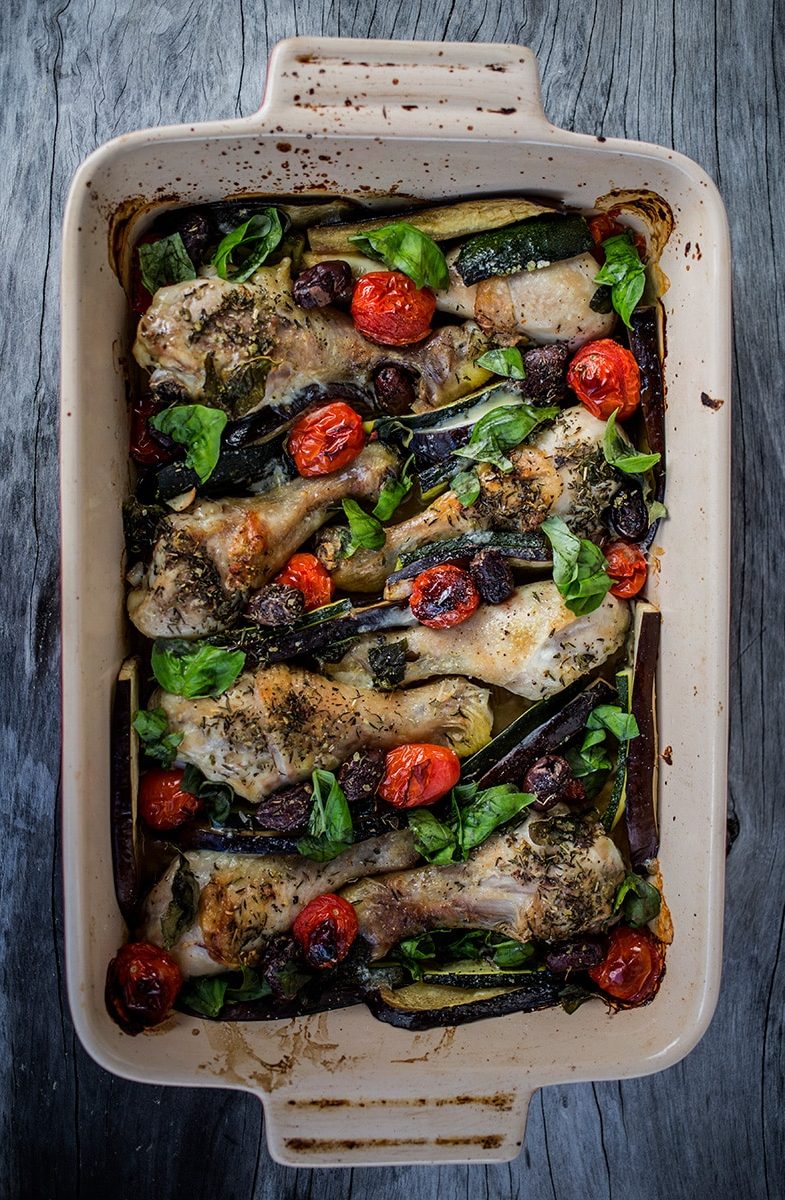 These are some of my favourite ingredients, the fresh simple flavours work so well together........
This Mediterranean chicken bake makes a great dish for entertaining. It is very simple to make, is always a crowd-pleaser and is suitable for your Paleo or Keto friends.
It does not require much preparation if you are short on time, just whip up the marinade and leave for as long as you have.
Anything that you can bake in one dish and quickly put in the oven without numerous pots and pans is always a bonus when entertaining. And let's face it fewer dishes is always a good thing!
What should I serve with Mediterranean Chicken Bake?
If I'm making this just for my family then we eat it as is, or sometimes with a side of simple greens such as spinach or rocket leaves with a dash of balsamic vinegar.
If you are entertaining or need it to go further then this chicken bake will work well with any type of side salad, roasted potatoes, or with a side of quinoa or couscous.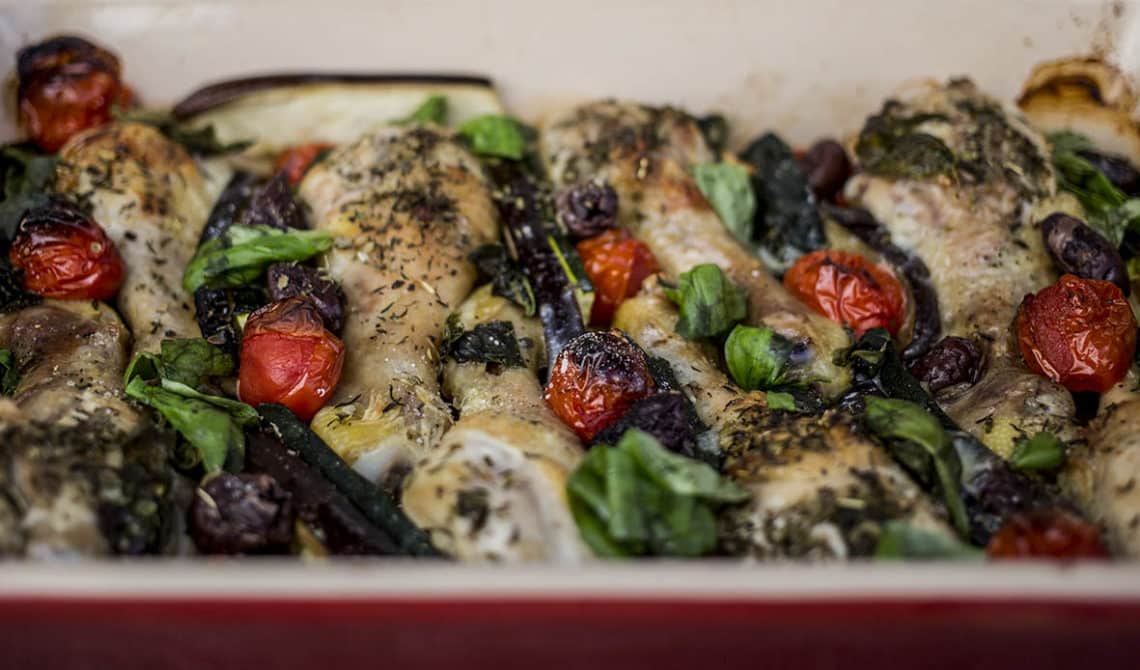 Additional Recipe Notes
I have marinated the chicken for an hour for extra flavour, if you are short on time you can just quickly marinade it and leave it for 5 min, this recipe will still work however the longer you can leave the chicken marinating the better.
You can use any type of olives in this recipe, I used pitted kalamata olives which go well with the Mediterranean style flavours.
Love Food Nourish Nutrition Tips
I love olives and love to eat them on their own or put them in savoury dishes where I can. Not only do they taste good they bring a great depth of flavour to various dishes, they also are very nutritious!
Olives are so commonly used for their delicious healthy oil but their remarkable health benefits from using them in their whole form are often overlooked. Olive skins are high in phytonutrients and olives have been shown to have excellent antioxidant and anti-inflammatory benefits (source).
In addition, olives have also been shown to function as anti-histamines at a cellular level which indicates that along with their anti-inflammatory benefits they can have a part to play as part of an anti-allergenic diet (source).
Olives are also a good source of vitamin E and contain amounts of selenium and zinc.
All of these factors combined with their healthy monounsaturated fat content makes them an exceptional food for lowering the risk of heart disease, and for many chronic inflammatory conditions (source).
If you are looking for other healthy dinner recipes you may like to try.....
Hot Smoked Salmon Salad with Egg & Mustard Potatoes
Vietnamese Summer Roll Salad with Spicy Peanut Dressing
One Pan Chicken with Chorizo and Veggies
I hope you enjoy this recipe! Please let me know how you got on in the comments below, I love hearing from you!
For more tasty recipes and to see what I've been getting up to you can follow me on Facebook, Instagram, Pinterest or Twitter.
Have a lovely week!
Hope
(This recipe for Mediterranean Chicken Bake was originally published on Love Food Nourish in October 2016, this post has been updated for user experience)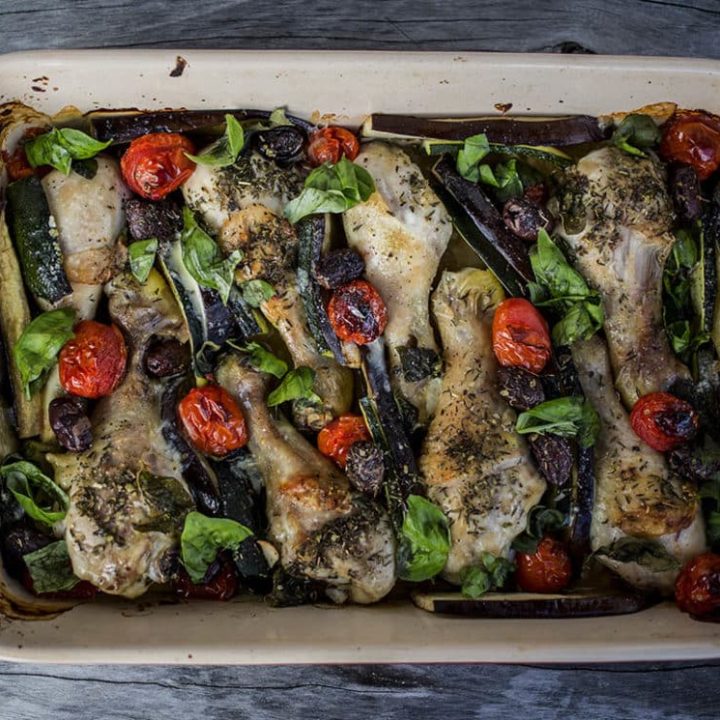 Mediterranean Chicken Bake
Additional Time to marinade :
1 hour
A rustic style chicken dinner full of Mediterranean flavours. Succulent marinated chicken with Mediterranean style produce all cooked in the one dish.
This recipe is Paleo, Keto, Whole30 and Gluten Free.
Ingredients
Chicken Marinade:
2 tablespoon lemon juice
3 tablespoon olive oil
2 garlic cloves, crushed
½ teaspoon salt
½ teaspoon ground black pepper
Main Dish:
8 chicken drumsticks
½ eggplant, medium size
1 zucchini, medium size
¾ cup cherry tomatoes
½ cup fresh basil leaves
¼ cup pitted kalamata olives
2 garlic cloves, roughly chopped.
1 teaspoon dried oregano
About 1 tablespoon olive oil to drizzle over top
Salt and Pepper to add over top
Instructions
Preheat your oven to 180°C/350°F.
Next make the marinade: Crush garlic, add lemon juice, olive oil, salt and pepper to bowl and mix together. Add the chicken drumsticks into a large dish and pour the marinade over top of the chicken. Ensure the drumsticks are evenly coated. Cover and leave to marinade for 1 hour.
Slice the ½ eggplant in half again lengthwise and then cut each quarter evenly into vertical strips - about 4mm in width (or roughly just under ¼ inch).
Cut the zucchini in half and then slice each half length-ways into thin vertical strips - about 3mm or ⅛ inch in width.
Remove the chicken drumsticks from the marinade and place drumsticks in a large baking or casserole dish. Drizzle the remainder of the marinade over the chicken drumsticks.
Place the chicken in the oven and cook for 15 minutes.
After 15 minutes remove the chicken from the oven. Add the eggplant, zucchini, tomatoes, garlic cloves, olives and half of the basil evenly around each drumstick.
Drizzle olive oil over top of chicken and vegetables and sprinkle salt, pepper and oregano over entire dish. Place the dish back in the oven and cook for another 30 minutes.
Remove after 45 minutes. The juices from the chicken should be clear - if not cook for another 5-10 minutes.
Add the remainder of the fresh basil to the dish and serve.
Notes
I have marinated the chicken for an hour for extra flavour. If you
are short on time you can just quickly marinade it and leave it for 5 minute. The dish will still work but the longer you can marinade the better. The above additional time is for the marinade time.
You can use any type of olives in this recipe, I used pitted kalamata olives.
Nutrition Information
Yield

4
Serving Size

4
Amount Per Serving
Calories

518
Total Fat

32g
Saturated Fat

7g
Trans Fat

0g
Unsaturated Fat

23g
Cholesterol

231mg
Sodium

601mg
Carbohydrates

11g
Net Carbohydrates

7.7g
Fiber

3g
Sugar

4g
Protein

46g
This nutritional information is an estimate only and is provided as a courtesy to readers. It was auto-generated based on serving size, number of servings, and typical information for the ingredients listed in the recipe card. Please feel free to use your preferred nutrition calculator. Please consult your doctor about any specific dietary requirements.
Save
Save
Save
Save
Save
Save
Save
Save
Save
Save
Save
Save
Save
Save
Save
Save
Save
Save
Save
Save
Save
Save
Save
Save