This healthy Mediterranean chickpea salad is full of vibrant fresh ingredients. Quick and easy to make this, chickpea salad is perfect to serve as a side or enjoy on its own.
Who doesn't love Mediterranean-style produce? This chickpea salad is filled with colourful, healthy Mediterranean goodness!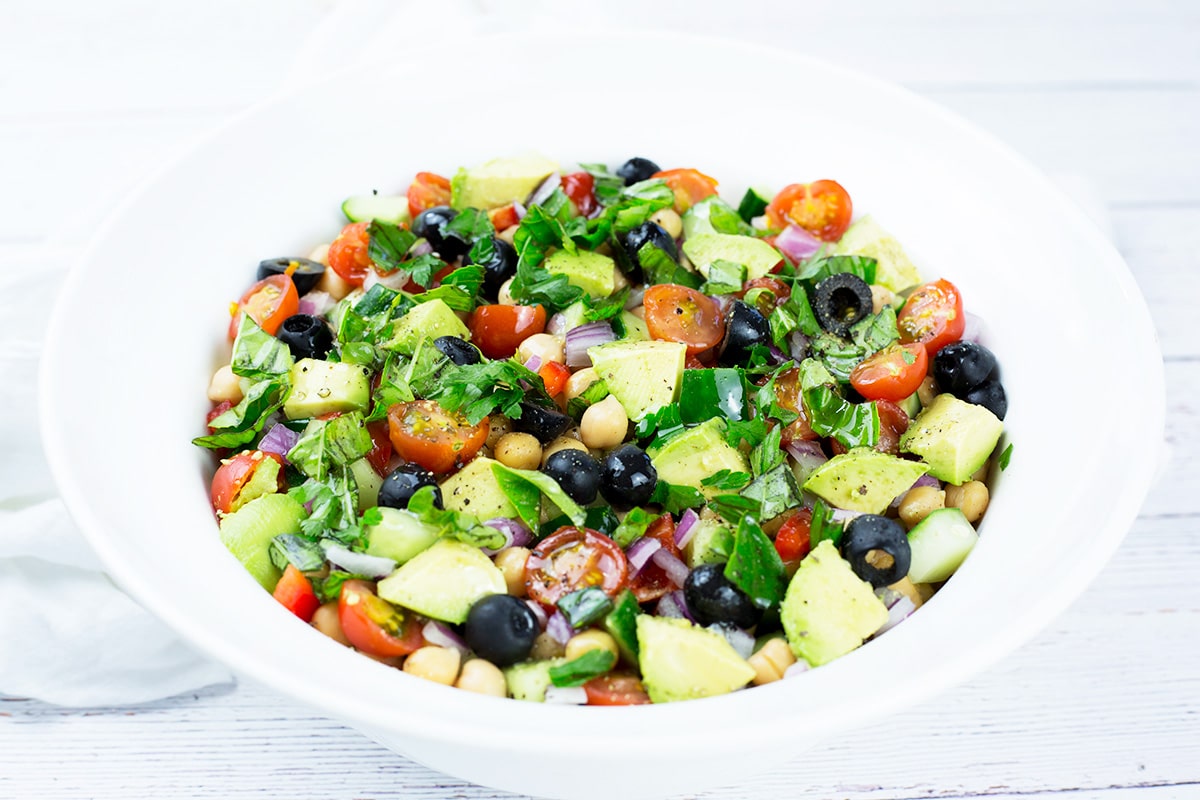 Chickpeas, olives, avocado, tomatoes, basil, and red onion really bring this salad alive - all of their fresh flavours work really well together.
The crispy cucumber and fresh tomatoes are balanced out nicely by the creamy avocado and the salad is topped off by a simple lemon vinaigrette.
Chickpea salads like this are one of my favourite salads to serve when hosting a gathering or a BBQ, this salad is tasty, goes with anything and...... is filling!
We have had a bumper summer for tomatoes in our garden and they are still going strong, my hubby has been busy making various homemade tomato sauces and the freezer is full!
Yes, he makes those not me......not sure why but he has a penchant for making homemade sauces and curry pastes - which is fine by me!
This chickpea salad couldn't be easier to make, you simply......
Add all ingredients minus the basil and parsley into a bowl and combine.
Add the ingredients for the dressing into a jug or a jar and whisk with a fork.
Pour the dressing over the salad and serve immediately.
You can't get much easier than that..., right?
Additional Recipe Notes
The beautiful fresh flavours from the Mediterranean Style produce in this chickpea salad speak for themselves - so it really does not need a fancy dressing or any extras.
The simple lemon and oil vinaigrette in the recipe tops the chickpea salad off nicely, or if you can't be bothered making a dressing and squeeze of lemon and a dash of olive oil will still work well.
Do I need to soak the chickpeas for this salad?
Chickpeas are a legume and can be hard to digest, they also contain phytates which can interfere with the absorption of minerals.
Soaking your chickpeas prior to eating them means you are gaining the best nutritional value from your meal and they are much easier to digest (source).
If you have digestive issues or autoimmune issues in particular then I strongly urge you to use dried chickpeas and soak and cook them before use.
If you usually experience gas or bloating from chickpeas or legumes then soaking them will make a big difference!
How do I soak chickpeas?
Cover 1 cup of dried chickpeas with warm water and 2 Tbspn of lemon juice. Leave covered to soak for 24 hours.
How do I cook chickpeas?
After soaking the chickpeas thoroughly rinse and drain them. Put in a pot and cover with water, add 1 teaspoon sea salt. Bring to the boil and leave to boil for 10 minutes, skim off any foam then reduce to a simmer and cook until tender. This may take 1-1.5 hours.
Keep an eye out for foaming, this typically occurs in the first 20 minutes. If you keep seeing foam then reduce the heat and you may need to cook for a bit longer.
For this Mediterranean-style salad, you need three cups of cooked chickpeas, you may have some leftover if you are cooking your own using dried chickpeas, it will depend on the age of the chickpeas you are using as they can vary in size.
If you are looking for other tasty salads you may like to try:
Healthy Broccoli Salad (No Mayo)
Beetroot, Avocado & Quinoa Salad with Spiced Walnuts & Mint
Sweet Potato & Feta Salad with Pomegranate & Pecans
Spinach, Blueberry, Avocado and Beet Salad
For more tasty recipes and to see what I've been getting up to you can follow me on Facebook, Instagram, Pinterest or Twitter.
Have a lovely week!
Hope x
(This recipe for Mediterranean Chickpea Salad first appeared on Love Food Nourish in February 2019, it has been updated for improved user experience)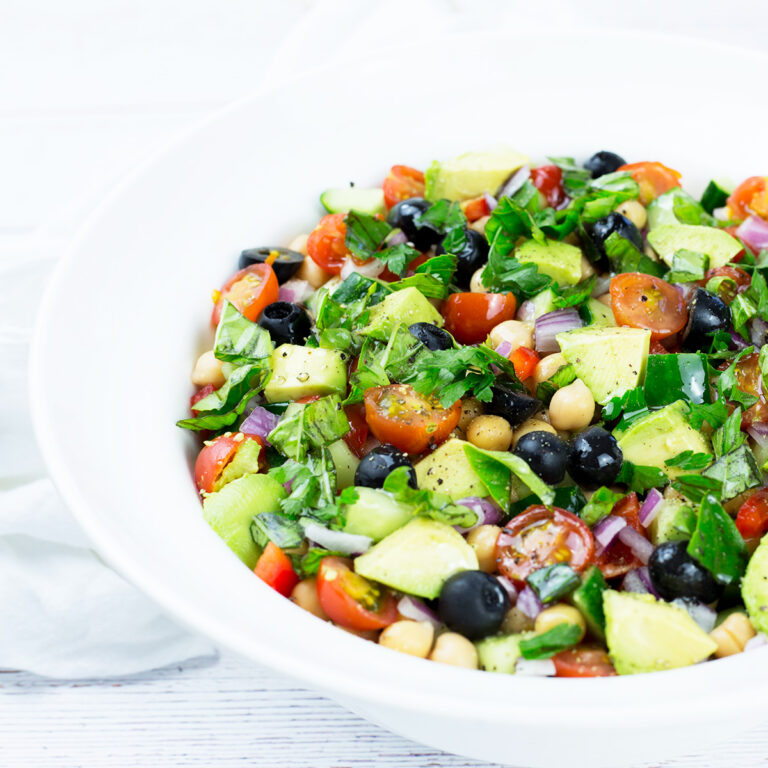 Mediterranean Chickpea Salad
A delicious easy to make Vegan chickpea salad, fresh, tasty and full of Mediterranean flavours! Gluten-Free, Vegetarian, Vegan.
Ingredients
Salad
3 cups cooked chickpeas, drained and rinsed or 2 cans of chickpeas 400gm/15oz*see additional recipe notes above
2 cups cherry tomatoes, sliced in half
2 cups cucumber, diced
½ cup red onion, diced
½ cup red pepper/capsicum thinly sliced
½ cup kalamata olives
1 avocado, peeled, and cut into chunks
2 Tbspn fresh basil
1 Tbspn fresh flat leaf parsley
Dressing
⅓ cup olive oil
3 Tbspn lemon juice
½ tspn salt
¼ tspn freshly ground black pepper
Instructions
Add all ingredients minus the basil and parsley into a bowl and combine.
Add the ingredients for the dressing into a jug or a jar and whisk with a fork.
Pour the dressing over the salad and serve immediately.
Can store in an airtight container in the fridge for up to 3 days.
Notes
Note the above preparation time does not include soaking and cooking the chickpeas. If you would like more information on soaking and cooking chickpeas please see the additional recipe information in the blog post. Alternatively, you can use canned chickpeas.
This chickpea salad should keep for up to 3 days covered in the fridge.
The nutritional values shown are approximate only and will vary depending on if you serve this as a side or a main.
Nutrition Information
Serving Size

6
Amount Per Serving
Calories

308
Total Fat

21g
Saturated Fat

3g
Sodium

426mg
Carbohydrates

26g
Sugar

4g
Protein

8g