These mini strawberry tarts are fresh, fruity, creamy and bursting with the flavour of fresh strawberries! These strawberry tarts are gluten free, dairy free, refined sugar free, vegan and paleo meaning that just about anyone can enjoy them! They make a fresh, colourful and pretty dessert that is great for entertaining.
These strawberry tarts have a coconut cream and strawberry filled centre that is creamy, thick, smooth with a refreshing sweet but slightly sharp flavour leaving the palate nicely refreshed.
The nutty coconut base is tasty and filling meaning you will be nicely satisfied and wont need to reach for another one….. just yet!
This year we are attempting to grow our own strawberries but they are not lasting long enough to get even so much as a small handful. As soon as the strawberries turn red my toddler has his eye on them and knows exactly when they are ripe. Off they come and into his mouth!
As frustrating as this is to not actually have a batch of strawberries to do anything with I'm very impressed with his patience which doesn't come naturally in toddler world….He has managed to restrain himself from picking them when they are green as much as his little hands want to!
So with that being said all of these strawberries are not from our garden but from our organic veggie suppliers but they taste just as good!
Additional Recipe Notes for making Mini Strawberry Tarts
These strawberry tarts are pretty filling due to the healthy fats and protein from the nuts and the coconut cream. I recently served these for a dinner party with friends and we enjoyed half a tart each served with fruit on the side which was plenty after a big meal but they equally can be enjoyed served alone.
To soften the cashews for these strawberry tarts you can: Either soak in cold water for 2 hours or overnight (this is best for digestion) or in boiling/very hot water for 10 minutes. Then rinse, drain and pat dry with a paper towel.
For this recipe I have used the thick creamiest part of the coconut cream and discarded the liquid part. The easiest way to obtain this is to put the can of coconut cream in the fridge, overnight is ideal but if you forget then even a couple of hours in the fridge will help it separate so the cream rises to the top and you can easily get the cream out from the liquid.
If coconut cream is not for you then you can easily swap out the coconut cream for standard double cream.
If you are looking for other no bake paleo sweet treats you may like to try:
Chocolate, Cranberry & Almond Clusters with Sea Salt
Creamy Blueberry, Coconut & Cacao Energy Bites

Cranberry & Chocolate Truffles
I hope you enjoy this recipe, please let me know how you got on in the comments below, I love hearing from you!
For more tasty recipes and to see what I've been getting up to you can follow me on Facebook, Instagram, Pinterest or Twitter.
Hope
Mini Strawberry Tarts (Gluten Free, Dairy Free, Paleo & Vegan)
---
Hope Pearce
Creamy No Bake Strawberry Tarts
20 minPrep Time
45 minCook Time
1 hr, 5 Total Time
4.8 based on 17 review(s)
Ingredients
Base

3/4 cup almonds
3/4 cup walnuts
3/4 cup dried pitted dates, soaked*See additional recipe notes
3/4 cup desiccated coconut
2 tspn vanilla essence

Strawberry Filling

1/2 cup coconut cream
1/2 cup cashews soaked*
1/3 cup lemon juice
1/3 cup strawberries
2 Tbpsn maple syrup

Topping

Strawberries, fresh mint, pomegranate seeds, desiccated coconut as desired.
Instructions
The night before place can of coconut cream in the fridge to ensure the thick part of the coconut cream separates, and place the cashew nuts in a bowl of water to soak. *See notes
Place dates in a bowl of hot water and cover. Soak for 10 minutes. Drain and rinse then pat dry with a paper towel.
Place all of the ingredients for the base in the food processor and blitz until finely ground.
Pat the dough into tart pans ensuring there is an even amount covering each tart pan. Place into the freezer for 20 minutes and start making the filling.
Add the soaked cashews, coconut cream (thick part of the coconut cream only, discard the liquid) and lemon juice into the food processor and blitz until smooth. Then add the strawberries and maple syrup and blitz.
Change the attachment on the food processor to the whisk attachment and beat the mixture for 2-3 minutes until slightly fluffy and smooth.
Remove the tarts from the freezer, and carefully remove the base from the tart cases. You will need to turn upside down and gently prize out with a knife.
Gently pour the strawberry filling into each tart case then place the tarts into the freezer for 45 minutes to set. This will leave the strawberry mixture thick but slightly runny which I prefer but if you wish for it to be firmer then freeze for up to 2 hours.
Remove from the freezer and garnish with your choice of strawberries, fresh mint, desiccated coconut and pomegranate seeds.
Chill tarts in the fridge until ready to serve.
7.8.1.2
50
https://lovefoodnourish.com/mini-strawberry-tarts-gluten-free-dairy-free-paleo-vegan/
Other recipes you may like to try: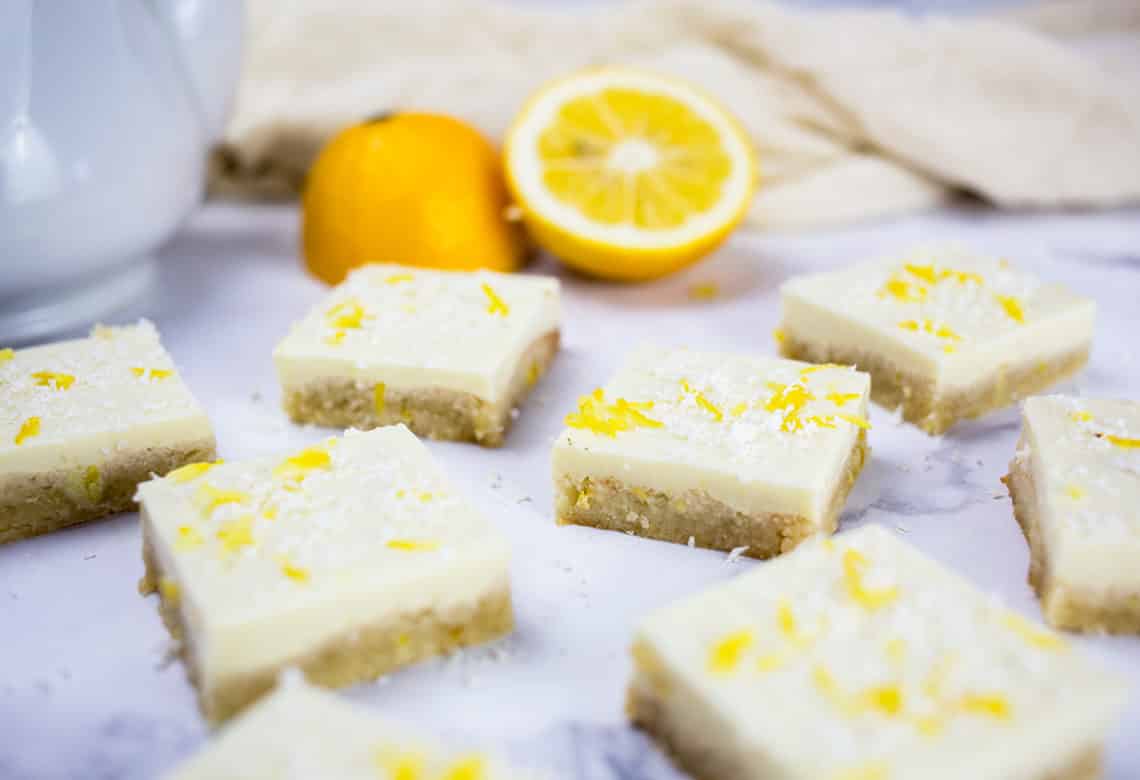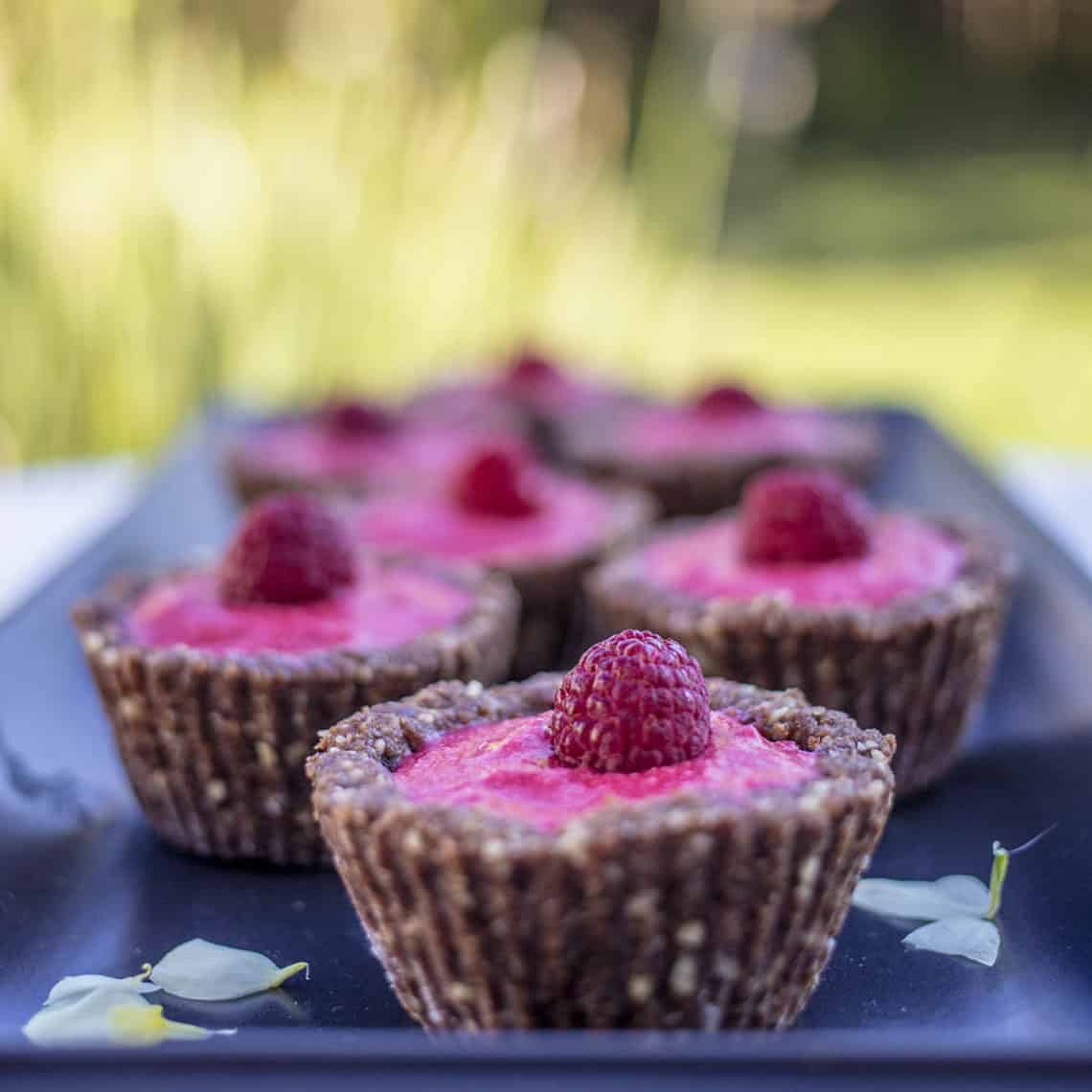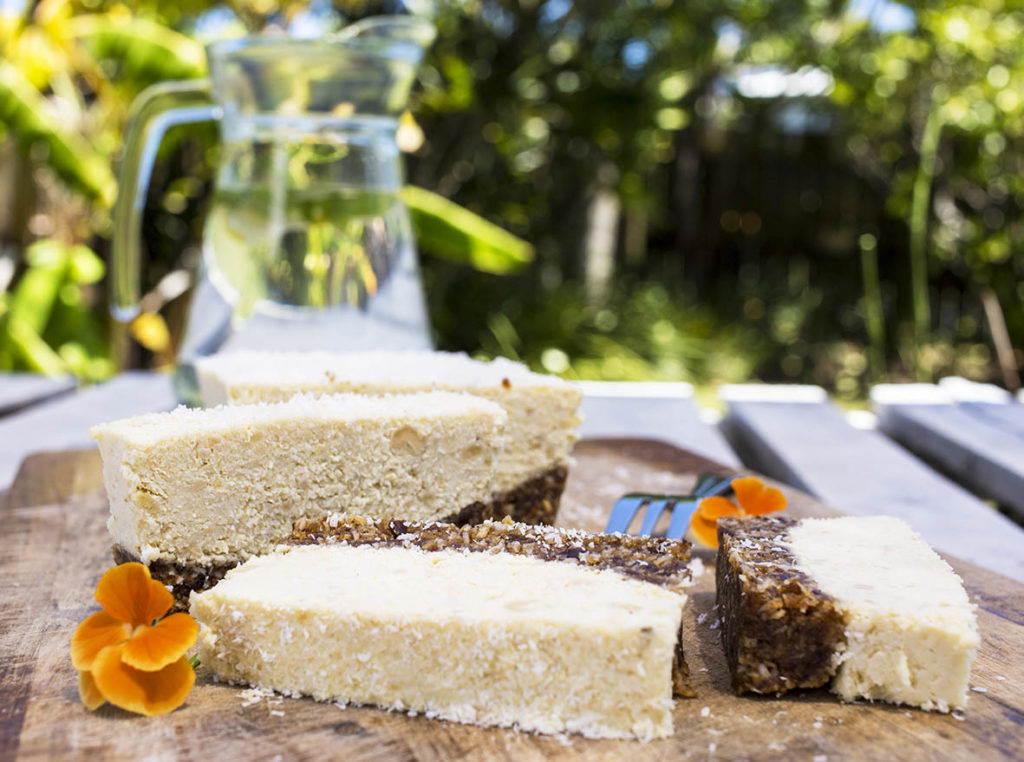 Strawberry, Acai & Coconut Chia Parfait