This hearty vegetarian Moroccan chickpea stew is full of mouth watering flavours and so simple to make. This is healthy and nutritious comfort food at its best!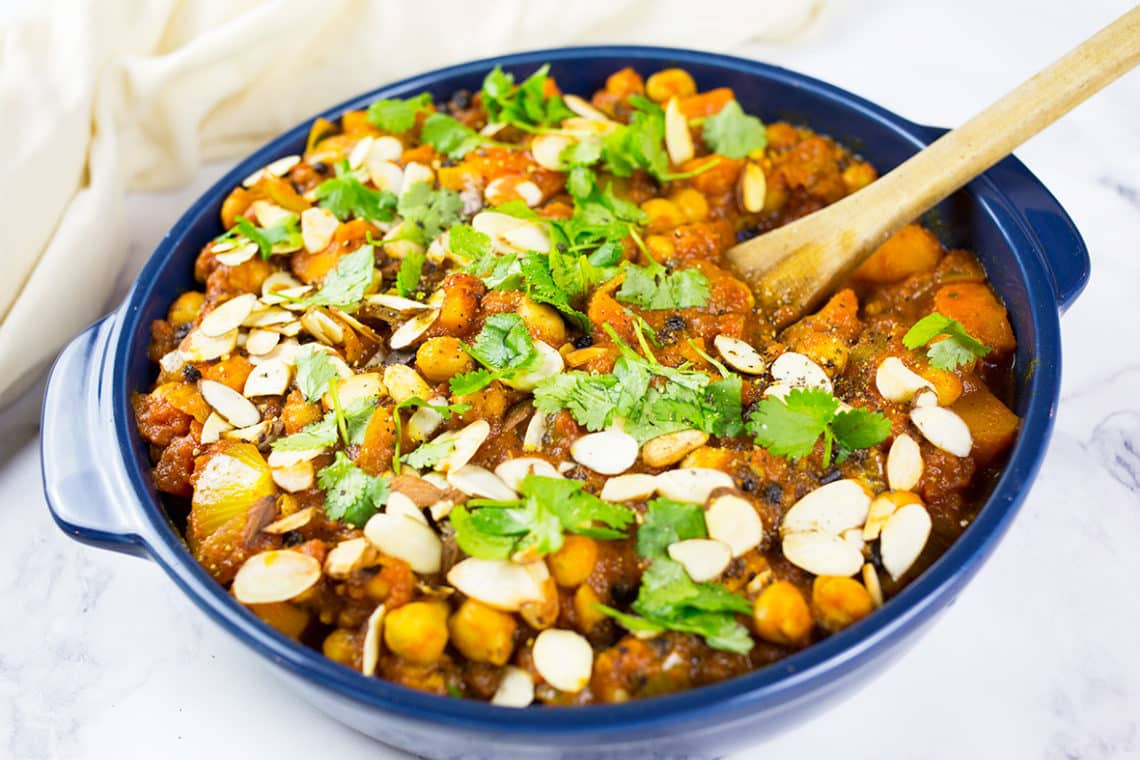 This chickpea stew makes the perfect easy weeknight meal and warmed up the next day can make super tasty left overs! The Moroccan inspired spices give this dish loads of delicious flavour while the lightly toasted almonds give the dish a lovely texture by adding some crunch.
The weather is starting to turn here and I am craving lots of warming, healthy and filling food at the moment! I do love healthy vegetarian dishes like these which are full of nutrient dense veggies.
I have used carrots and pumpkin in this stew, both of which are high in the antioxidant Vitamin A. They bring a natural sweetness to the flavour of the stew. Butternut squash and/or sweet potato could also be used instead of pumpkin.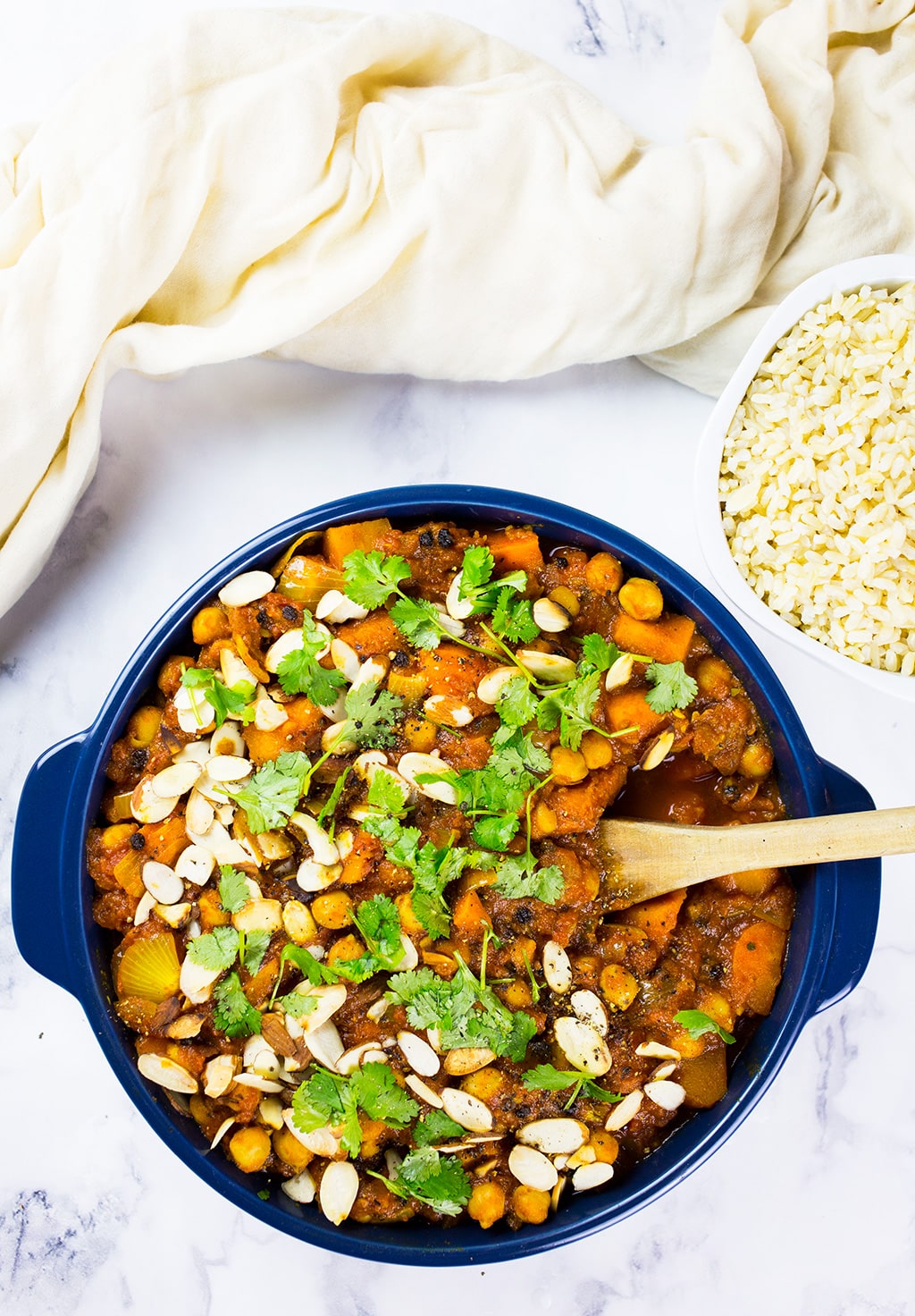 The chickpeas in this dish soak up the delicious aromatic spices which gives them a delicious flavour. Chickpeas are an excellent source of fibre and protein meaning they help keep you nice and full and are good sources of iron and zinc, both of which are important minerals that can help support the immune system.
The spices are what really makes this dish come alive! A combination of ground cumin, coriander, harissa, paprika, cinnamon, turmeric and garam masala gives it a little kick and lots of mouth watering flavour.
Morrocan Chickpea Stew Swaps and Variations
All of these warming spices are great to help keep circulation healthy and colds at bay. I have added some currants for a tiny bit of sweetness and a different texture you could also try blackcurrants, sultanas or raisins, or omit altogether if dried fruit is not your thing.
I have served this chickpea stew with brown rice but white rice, buckwheat or quinoa can be used. If you are looking for a grain free option then cauliflower rice could be used. Alternatively you could enjoy alone or serve with crusty bread.
I have used pumpkin and carrot in this, you could also use orange sweet potato or butternut squash.

For other gluten free + vegetarian recipes... you may like to try:
Roasted Red Pepper, Tomato & Lentil Soup
Loaded Lentil Salad
Gado Gado Indonesian Salad
Eggplant, Chickpea & Kale Curry
I hope you enjoy this recipe! Please let me know how you got on in the comments below, I love hearing from you!
For more tasty recipes and to see what I've been getting up to you can follow me on Facebook, Instagram, Pinterest or Twitter.
Have a lovely week!
Hope
Moroccan Chickpea Stew (Gluten Free & Vegan)
---
Hope Pearce
A full flavoured hearty Moroccan Chickpea Stew
15 minPrep Time
30 minCook Time
45 minTotal Time
Ingredients
2 Tbspn olive oil or coconut oil
1 onion, finely diced
3 garlic cloves, crushed
1.5 cups pumpkin, cut into cubes (approx 220gm / 7.07oz)
1 medium carrot, chopped (approx 136gm / 4.8 oz)
2 cups cooked chickpeas or 1.5 can chickpeas, rinsed and drained
2 cans (400gm/14.5oz)chopped tomatoes
2 tspn ground coriander
2 tspn ground cumin
2 tspn garam masala
1 tspn harissa
1 tspn turmeric
½ tspn paprika
½ tspn cinnamon
1 Tbspn tomato paste
½ cup sliced almonds
3 Tbspn currants
1 Tbspn coconut sugar (or more if you prefer a sweeter taste)
2 Tbspn fresh coriander to garnish
salt and pepper to taste
Instructions
In a medium sized pan add the olive oil and then on a low heat saute the onions and garlic for a couple of minutes until translucent.
Add the spices to the pan and stir through the onions and garlic cook for 1 minute.
Add the chopped pumpkin, carrot and chickpeas and stir through the spices and onions and garlic. Cook for 2-3 minutes.
Add the chopped tomatoes and tomato paste, cover and simmer on a medium low heat for 20 - 25 minutes until the vegetables are cooked through.
While the stew is cooking place a small skillet on a medium heat and then add the sliced almonds. "Dry roast" them for a couple of minutes, turning frequently so they don't burn. Remove and set aside.
After the vegetables are cooked through in the stew remove the lid, stir through the sugar, currants, salt and pepper and cook for another 2-5 minutes until stew is reduced to desired thickness. Taste and add more sugar or salt and pepper if desired.
Remove from heat and place in a serving bowl, top with fresh coriander and the sliced almonds.
Serve with cooked brown rice or quinoa.
Notes
I have kept this stew mild so that it is family friendly but if you like a bit of spice add ½ to ½ tspn chili powder.
7.8.1.2
60
https://lovefoodnourish.com/moroccan-chickpea-stew-gluten-free-vegan/