You will love this warming aubergine and chickpea curry. It has a slightly thick nutty texture and can be made as spicy or mild as you like, making it easy to adapt to have as a spicy dish for adults or to serve to the whole family.
This aubergine curry is super easy to make so if you are looking for a quick vegetarian or Vegan meal to throw together that is going to be healthy, tasty, and filling, then this is for you!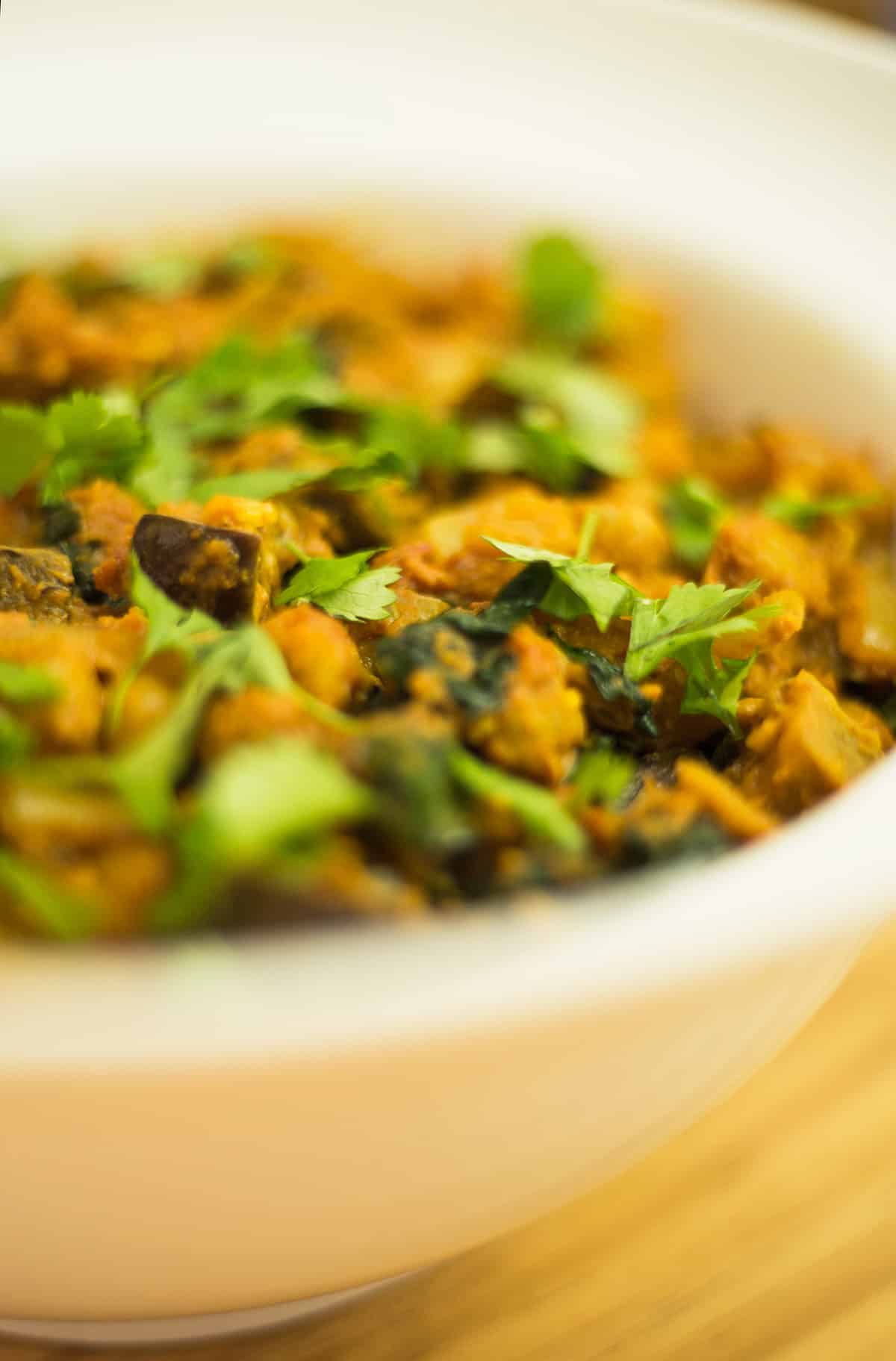 I love using aubergine in recipes; their wonderful glossy purple skins always give such a beautiful colour to a dish while their texture is very satisfying and fills you up nicely. As an added bonus aubergine are surprisingly low in calories and very high in cholesterol-lowering dietary fibre.
Aubergine's beautiful purple skins are high in phytonutrients that have antioxidant activity, research has focused on one antioxidant in particular called Nasunin. Nasunin can help protect fats in brain cell membranes from damage and can help destroy free radicals in the body, making it a potent free radical zapper. Another compound found in eggplant is chlorogenic acid, this has been attributed to having anti cancer, anti viral, and anti-microbial activities. Go the humble aubergine! Get more of these bad boys in your diet!
I have used chickpeas in this aubergine curry along with a small amount of peanut butter. These give the curry a slightly nutty flavour.
The peanut butter you may be thinking is a strange addition to a curry but I urge you to try it! It gives the curry a thicker texture which is slightly creamy. The chickpeas and the peanut butter both add a protein element to this plant-based curry making it very satisfying.
Aubergine and chickpeas are both fantastic for soaking up the flavour of a dish, allowing you to be creative in adjusting the flavour to your taste buds.
Additional Recipe Tips
You can adjust the amount of spice in this curry, making it suitable for all taste buds. My little guy can handle a little bit of spice but some children are quite sensitive to too much heat in a dish. If your child is one of the latter then use either no chili or ½ a dried chili chopped up finely. I use one dried chili if cooking for the whole family but two if cooking just for my husband and I.
This aubergine and chickpea curry can be cooked in around 30min but if you have longer then let it simmer on a low heat anywhere up to 1.5 hours, this allows more flavour to soak into the aubergine and the chickpeas. If you don't have that amount of time up your sleeve then even when cooking quickly it will still taste good!
I have used kale in this recipe, we always have an abundance of it in our garden, spinach leaves will also go well in this curry.
Serving and storing suggestions:
Serve with white or brown rice or cauliflower rice.
This curry will keep for up to 3 days covered in the fridge or can be frozen for up to 3 months.
Other curry recipes:
I hope you enjoy this recipe for aubergine and chickpea curry, please let me know how you got on in the comments below and leave a star rating, I love hearing from you!
For more tasty recipes and to see what I've been getting up to you can follow me on Facebook, Instagram, Pinterest or Twitter.
Hope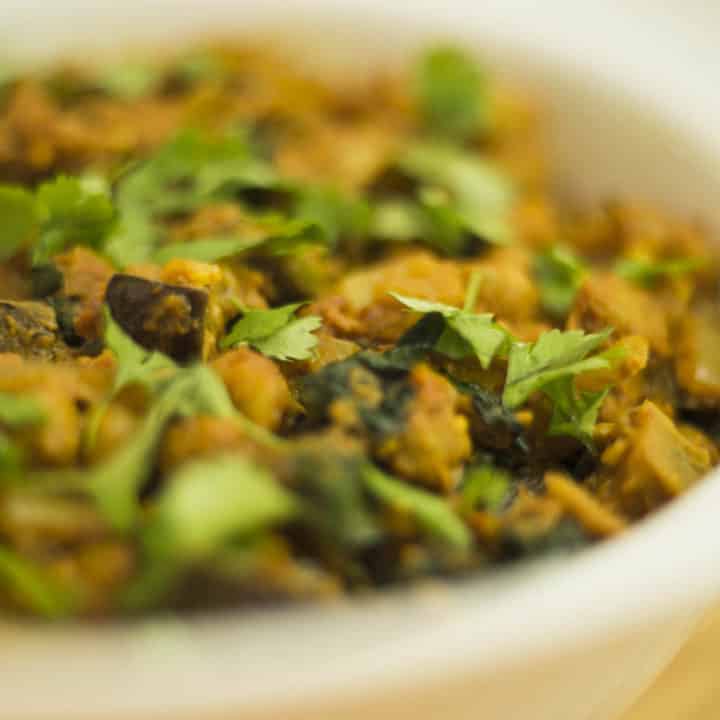 Aubergine (Eggplant) and chickpea curry
A cosy, healthy aubergine curry with a slightly nutty flavour, can be made mild or spicy to suit your tastes. This curry is Vegan and Vegetarian.
Ingredients
1 onion
4 fresh garlic cloves
1 inch of fresh ginger
2 dried red chilies * See tip above on heat
2 Tbspn coconut oil
1 medium sized aubergine/eggplant
1 Tbspn ground turmeric
1 Tbspn ground coriander
1 tspn sea salt
1 can chopped tomatoes (400gm/14oz)
¾ cup chickpeas, (approx ½ a can, 200gm/7oz)
1 cup of kale, chopped, stems removed
2 Tbspn peanut butter
2 Tbspn fresh coriander to garnish
Ground black pepper to taste
Instructions
Dice onion into small pieces, crush the garlic cloves, grate the ginger and chop the chilies into very small pieces.
Heat coconut oil in a pan on a medium heat. Add onion, garlic, ginger and chilli and saute for 1-2 minutes.
Add the rest of the spices and salt to the pan, cook for about 40 seconds until the spices are mixed through the onion, garlic, and chillies.
Chop eggplant into small cubes. Add the diced eggplant and chickpeas and stir through the spices until evenly coated, add more oil if needed. Cook for about 1 minute.
Add the chopped tomatoes and cover and cook on a low heat for 20 min * See tip above if you have longer then cook for anywhere up to 1.5 hours at a low heat.
Then add the peanut butter and kale, cook covered under lid for another 10 minutes until kale is cooked.
Check seasoning and add more to taste if needed.
Chop the fresh coriander and add to dish to garnish.
Serve with or without rice.
Notes
Serve with white or brown rice or cauliflower rice.
This curry will keep for up to 3 days covered in the fridge or can be frozen for up to 3 months.
Spinach can be used in this curry in place of kale.
Please see additional recipe tips in the blog post.
Nutrition Information
Yield

4
Serving Size

1
Amount Per Serving
Calories

299
Total Fat

16g
Saturated Fat

7g
Trans Fat

0g
Unsaturated Fat

7g
Cholesterol

0mg
Sodium

238mg
Carbohydrates

34g
Net Carbohydrates

33g
Fiber

9g
Sugar

11g
Protein

9g
This nutritional information is an estimate only and is provided as a courtesy to readers. It was auto-generated based on serving size, number of servings, and typical information for the ingredients listed in the recipe card. Please feel free to use your preferred nutrition calculator. Please consult your doctor about any specific dietary requirements.
Save
Save
Save
Save
Save
Save
Save
Save
Save
Save
Save
Save
Save
Save
Save
Save
Save
Save
Save
Save
Save
Save
Save
Save
Save
Save
Save
Save
Save