Simple food at its best! Chicken and chorizo with vegetables makes a hearty and full-flavoured dinner that the whole family will love. The Mediterranean-style ingredients are simmered in a tomato and basil sauce all in one pan - so easy! Gluten-Free, Paleo & Whole30 friendly.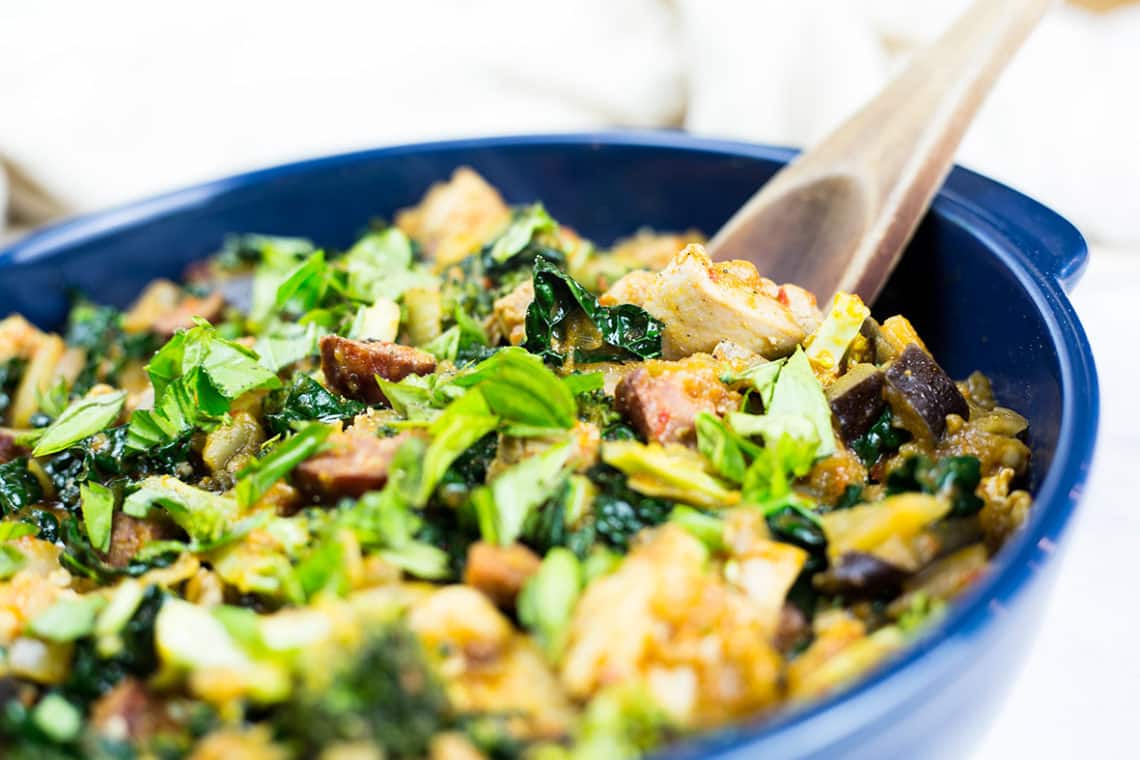 I do love my one-pan dinners, this chicken and chorizo dish is a favourite in my house as it ticks all the boxes. This recipe is easy to make, it has loads of flavour and is healthy!
The chicken is tender and succulent while the smoky flavours from the chorizo give this easy dinner a great depth of flavour.
This healthy meal is chock full of veggies and simmered in a delicious homemade tomato, basil and red pepper sauce. The homemade sauce goes so well with chicken and chorizo giving this dish a Mediterranean flair.
I have to admit this isn't my recipe........my husband came up with this recipe when looking for ways to use up the copious jars of tomato and basil sauce we had in the freezer.
We had a bumper summer for tomatoes as it was so long and hot hence we have a lot of homemade sauce to get through....which isn't a bad thing!
Additional Recipe Notes
I have used chicken thigh cutlets in this recipe, these work well in this recipe as they remain tender and moist after being cooked slowly, chicken breasts could also be used but thigh cutlets are preferable.
Tuscan kale is the type of kale I have used in this recipe, this is the very dark green kale (we have lots in the garden). This can be replaced with any kale or spinach leaves.
If you are following a Whole30 or Paleo diet then look for a good quality chorizo sausage from your local butcher.
I have used fish sauce in this recipe, this isn't traditionally used in a Mediterranean style dish but it really helps give the dish a good depth of flavour with an umami hit. If you are following a Whole30 or Paleo diet then look for a fish sauce without any sugar or additives.
This chicken and chorizo dinner makes great easy and tasty leftovers. It can be stored in the fridge in an airtight container for up to three days
What should I serve with this dish?
Chicken and chorizo with veggies can easily be eaten as a stand-alone meal. It also goes well with a simple side salad of mixed greens, rice or cauliflower rice if you are Paleo, Whole30 Keto or just looking for a low carb option. If you are not gluten-free then some crusty sourdough would also work well or couscous.
If you are looking for other chicken recipes you may like to try:
Chicken with Cannellini Beans and Thyme
Chicken, Asparagus and Avocado Salad with Lemon Cashew Dressing
I hope you enjoy this recipe! Please let me know how you got on in the comments below, I love hearing from you!
For more tasty recipes and to see what I've been getting up to you can follow me on Facebook, Instagram, Pinterest or Twitter.
Have a lovely week!
Hope
(This was originally published in May 2019)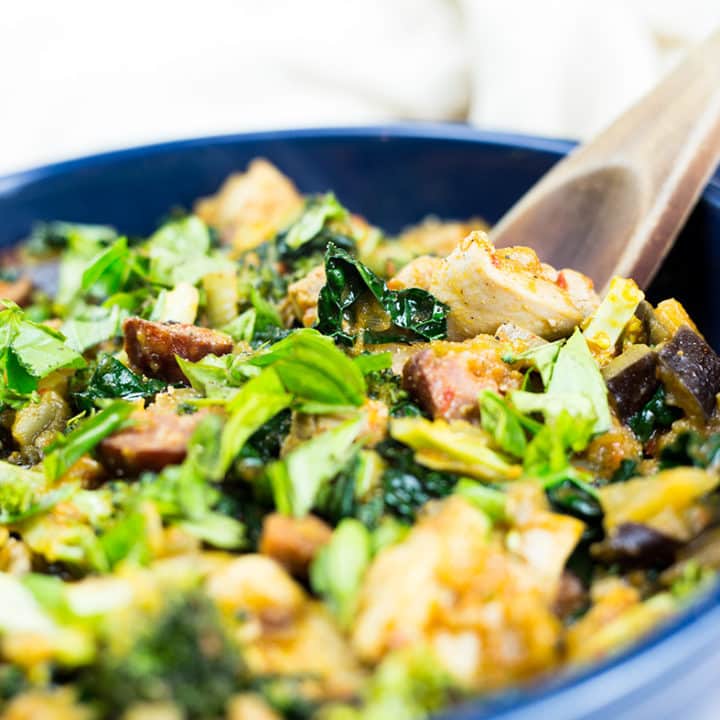 Chicken and Chorizo with Mediterranean Vegetables (One-Pan)
Easy to make one-pan chicken. Mediterranean style succulent chicken, chorizo and veggies simmered in a tomato and basil sauce. Gluten-Free, Paleo, Whole30.
Ingredients
Tomato and Basil Sauce
1 cup tomatoes, diced
½ cup red bell pepper or capsicum, chopped
¼ cup fresh basil leaves
2 garlic cloves
⅛th tspn black pepper
Chicken, Chorizo and Veggies
Chicken thigh cutlets boneless and skinless 400gm/14oz
Chorizo sausage, diced 100gm/3.5oz
1 Tbspn olive oil
1 brown onion, diced
1 garlic clove, crushed
1 Tbspn fish sauce
1 cup eggplant, cut into cubes (approx ½ eggplant)
1 cup broccoli, florets chopped into small pieces
1 cup tuscan kale or spinach, chopped and stems removed
2 Tbpsn fresh basil
salt and pepper to taste
Instructions
First make the tomato and basil sauce. Place all ingredients in a high speed blender or food processor and blitz until smooth.
Heat the olive oil over medium heat in a large skillet or pan. Make sure you have a lid available to cover it tightly later.
Add the garlic and onion to the pan and saute for 1-2 minutes until they are translucent. Add the diced chicken and chorizo and cook for 2-3 minutes until they are slightly browned, turning regularly.
Add the tomato and basil sauce and the fish sauce to the pan. Put the lid on the pan and cook for about 5 minutes until the sauce is gently bubbling.
Take the lid off the pan and let everything simmer on a medium low heat for 10 minutes, the liquid should reduce.
Add the chopped eggplant into the pan, place the lid back on and cook for 10 minutes until the eggplant is soft.
Add the chopped broccoli and cook for 5 minutes, then add in the chopped kale and cook for another 2-3 minutes.
Taste and add more salt and pepper as desired.
Serve piping hot with rice, cauliflower rice or crusty bread. Top with freshly torn basil.
Notes
See additional recipe notes in post.
Nutrition Information
Yield

4
Serving Size

1
Amount Per Serving
Calories

238
Total Fat

9g
Saturated Fat

1g
Cholesterol

80mg
Sodium

715mg
Carbohydrates

15g
Sugar

6g
Protein

25g