These delicious homemade nut bars are grain free and contain no added sweeteners or honey, they are naturally sweetened with antioxidant rich goji berries.
These paleo nut bars will keep the hunger wolves at bay if you need something quick to grab going out the door, or are a great healthy snack for lunchboxes that contains no refined nasties, additives or added sugar.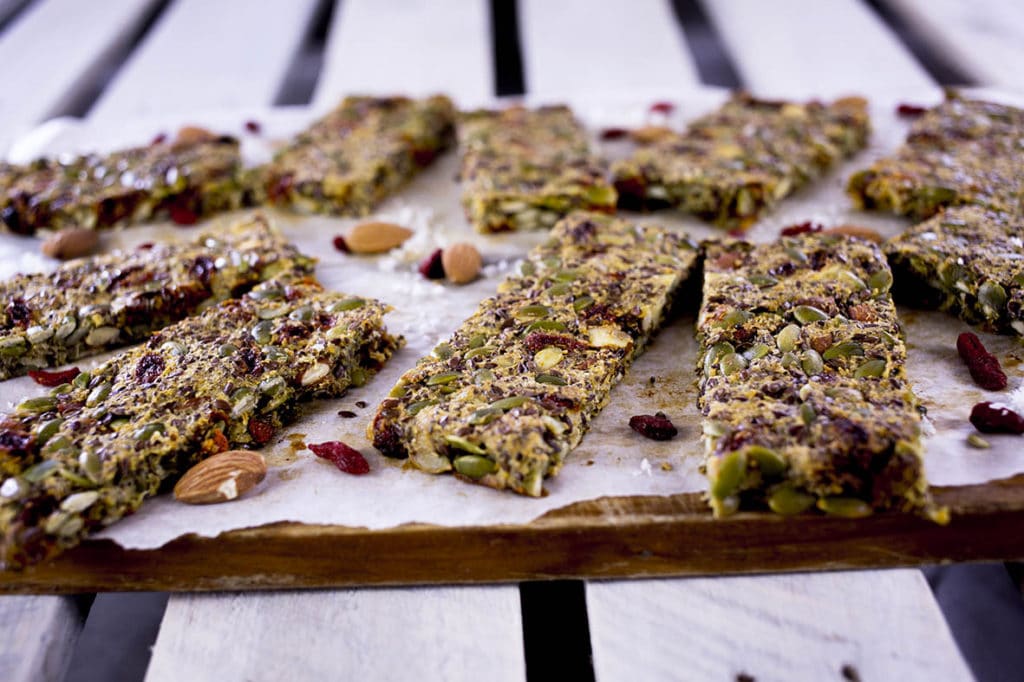 I had been on the hunt for a grain free "muesli" or "granola bar" with the least added sugar or honey possible, I couldn't find any recipes that were exactly what I was looking for, so I decided to come up with my own.
Now obviously the term granola or muesli bar implies that there will be some grains in the supposed bar. So I set about searching for a paleo version of a muesli bar but most of the recipes I found for paleo nut bars or paleo "granola" bars still included ¼ to ½ a cup of honey in the bar (which is far more than I wanted)! A decent amount of honey is commonly used in nut or granola bar recipes to help the bars stick together and not crumble.
So I played around making a few different variations sans honey. The first one didn't turn out at all and wouldn't stick together so it ended up as as nutty granola. But hey that's ok....it was still pretty tasty!
This recipe below did turn out and I finally got the healthy protein rich snack I was after! These paleo nut bars are nice and filling! They contain no added grains or sweetener and stop me reaching for carbs when in a hurry and needing something to eat something quickly!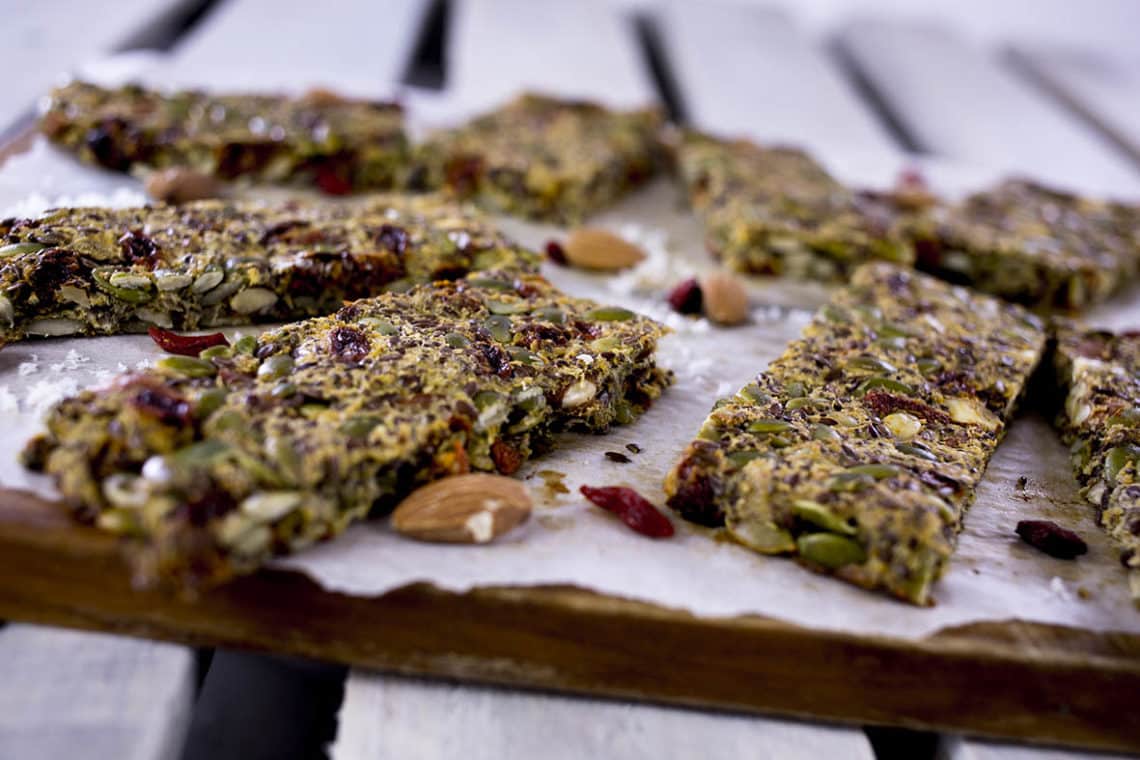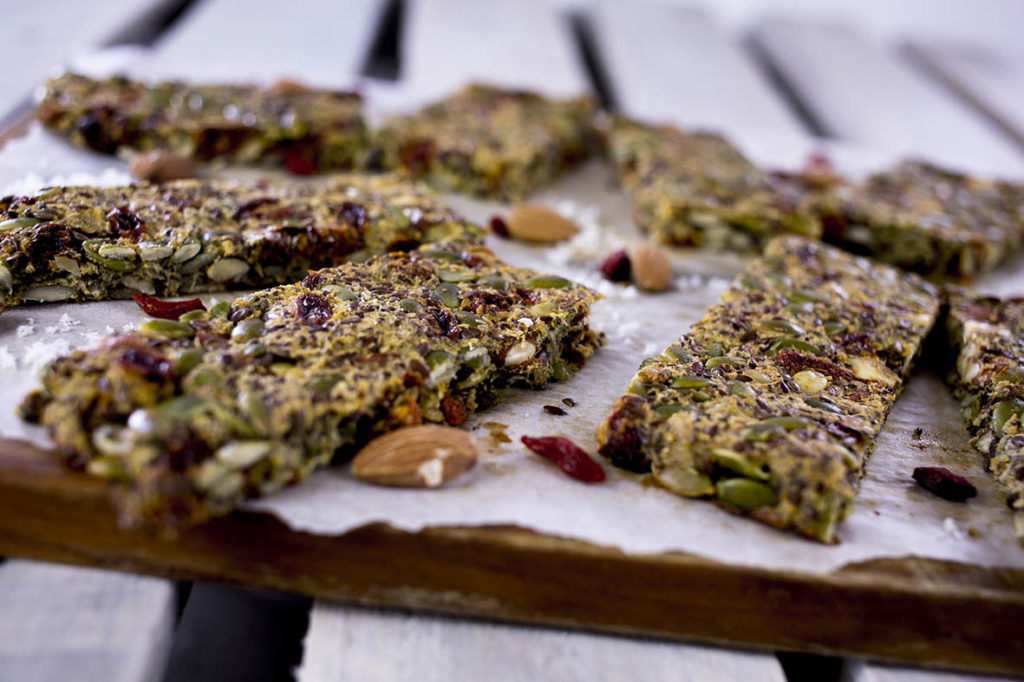 Master H currently thinks anything I mix in a bowl and put in the oven is cake.....This works out well for me at the moment as he thinks these nut bars are cake too! Being the sometimes demanding dear soul that he is, he will be fighting me to the cooling rack yelling cake at the mere sight of these bars coming out of the oven.
That's ok by me, I'm quite happy for him to have a munch on some healthy nuts, seeds and goji berries, he can think its cake all he likes.....Not sure how long this phase will last for, so I will take it while I can!
I hope you enjoy this recipe! Please let me know how you got on in the comments below, I love hearing from you!
If you are looking for some other healthy paleo snacks you may like to check out my creamy blueberry, cacao & coconut energy balls or raw gingerbread cookie bites.
For more tasty recipes and to see what I've been getting up to you can follow me on Facebook, Instagram, Pinterest or Twitter.
Have a lovely week!
Hope
Love Food Nourish Nutrition Info at a glance:
Goji Berries not only are tasty but are high in in the antioxidant Vitamin A which is great for healthy skin and eye health and for a healthy immune system. They also are a good source of vitamin c, calcium, iron, potassium, zinc and selenium.
Being a fruit goji berries do have naturally occurring sugar. The nuts and healthy fats in these bars can help balance any blood sugar spikes. Almonds in particular have been shown to not only help lessen blood sugar spikes after meals but provide antioxidants to help with any smaller free radicals that may result. (Jenkins DJ, Kendall CW, Journal of Nutrition)
Almonds are a good source of protein, biotin, vitamin E, manganese, copper, vitamin B2, calcium and magnesium. They have been shown to help support a healthy cardiovascular system, and to help lower blood sugar levels.
Pumpkin seeds are a good source of magnesium, manganese, copper and zinc. New Zealand soils have been found to be low in various minerals including zinc, so it is a good idea to include zinc rich food in your diet. Zinc can help support a healthy immune system, thyroid, mood, skin, hair and nail health.
Paleo Nut Bars with Goji Berries
---
Hope Pearce
Yields 12 bars
Delicious homemade goji nut bars with no added sugar or honey.
15 minPrep Time
16 minCook Time
31 minTotal Time
Ingredients
1 cup pumpkin seeds
½ cup almonds, roughly chopped
½ cup desiccated coconut
½ cup goji berries
½ cup water
3 Tbspn flaxseed
2 Tbspn chia seeds
1 tspn cinnamon
1 teaspoon natural vanilla essence
¼ tspn sea salt
2 large eggs
Instructions
Preheat oven to 180°C/350°F.
Add all of the dry ingredients into a bowl and mix until all combined. Add the ½ cup of water and stir through the mixture. Put mixture aside and let sit for 10 min*
In separate bowl whisk the eggs then the eggs then add to the mixture and stir through until all is combined.
Line a baking tray with baking/parchment paper.
Add the mixture to a tray and cover with another layer of baking/parchment paper. Gently press down or use a rolling pin to gently roll to ensure the mixture is compact and smooth.
Bake for 16-18 minutes until light golden brown.
Leave to cool for 10 minutes before slicing into bars with a sharp knife or a pizza cutter.
Keep contained in an airtight container.
Will keep for up to 1 week if kept in the fridge.
Notes
*The nut/seed mixture can be left to soak from a couple of hours to overnight for optimal digestion.
7.8.1.2
31
https://lovefoodnourish.com/paleo-nut-bar-goji-berries/
Source:
Haas, Elson M. Staying Healthy with Nutrition. Berkley, CA: Wiley, 2006.
Balch, Phyllis A. Prescription for Dietary Wellness. New York, NY: Penguin, 2003.
Jenkins DJ, Kendall CW, Josse AR, Salvatore S, Brighenti F, Augustin LS, Ellis PR, Vidgen E, Rao AV. Almonds decrease postprandial glycemia, insulinemia, and oxidative damage in healthy individuals. J Nutr. 2006 Dec;136(12):2987-92. 2006. PMID:17116708.
https://www.whfoods.com
Save
Save
Save
Save
Save
Save
Save
Save
Save
Save
Save
Save
Save
Save
Save
Save
Save
Save
Save
Save
Save
Save
Save
Save
Save
Save
Save
Save
Save
Save
Save
Save
Save
Save
Save
Save
Save
Save
Save
Save
Save