This deliciously marinated tempeh salad bowl is one of the most hearty satisfying salads you will ever have! Full of flavour, freshness and colour. Hearty, tasty, satisfying and vegan? Surely not? Oh yes!
The delicious peanut-miso marinated tempeh has a delicious savoury nutty flavour which is then coated in sesame seeds for added crunch. The nutty tempeh is set off perfectly by the contrasting flavours of the fresh veggies and brown rice.
This is certainly one salad that won't be leaving you hungry!
The peanut-miso marinade in this dish is a tasty blend of nutty, salty, tangy, savoury with a hint of garlic - I promise you if you give it a go you will love it!
We have family staying with us from Scotland and after a brief trip away visiting the beautiful Waipu Cove and a fair bit of overindulging I was left with strong cravings for some healthy food.
I decided to make this salad as it is.....
quick and simple to make
healthy
hearty and tasty
can feed 4-6 people leaving them full and satisfied!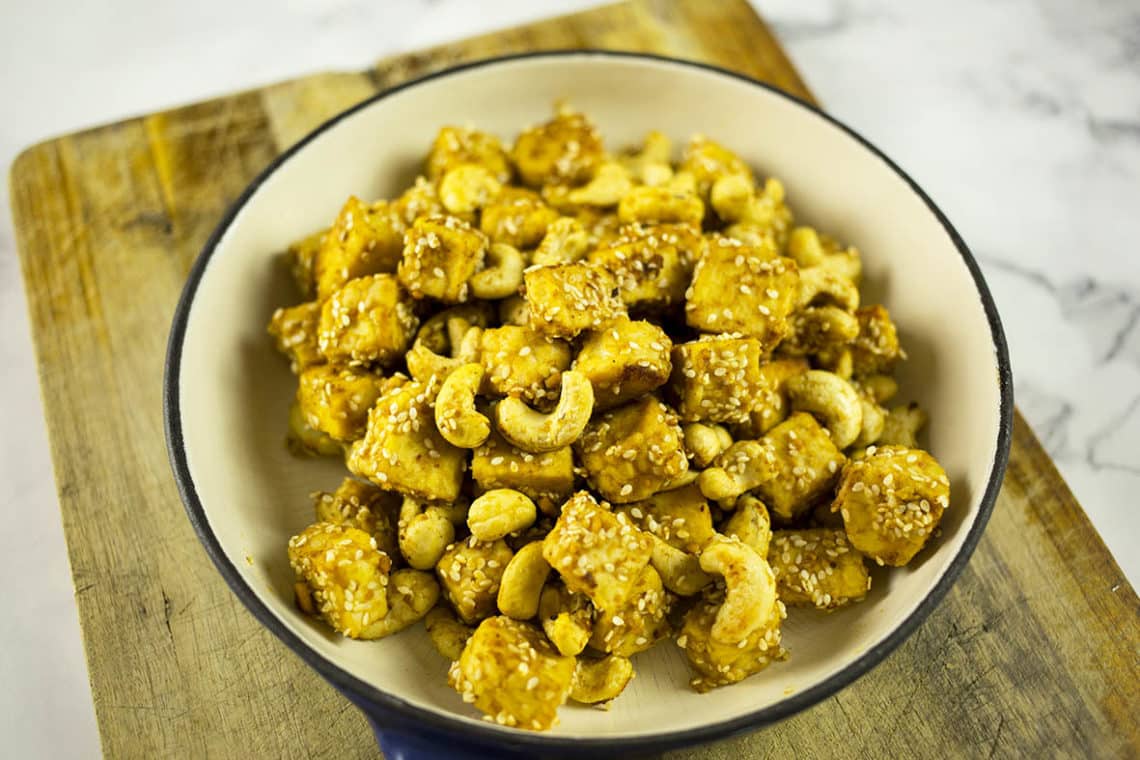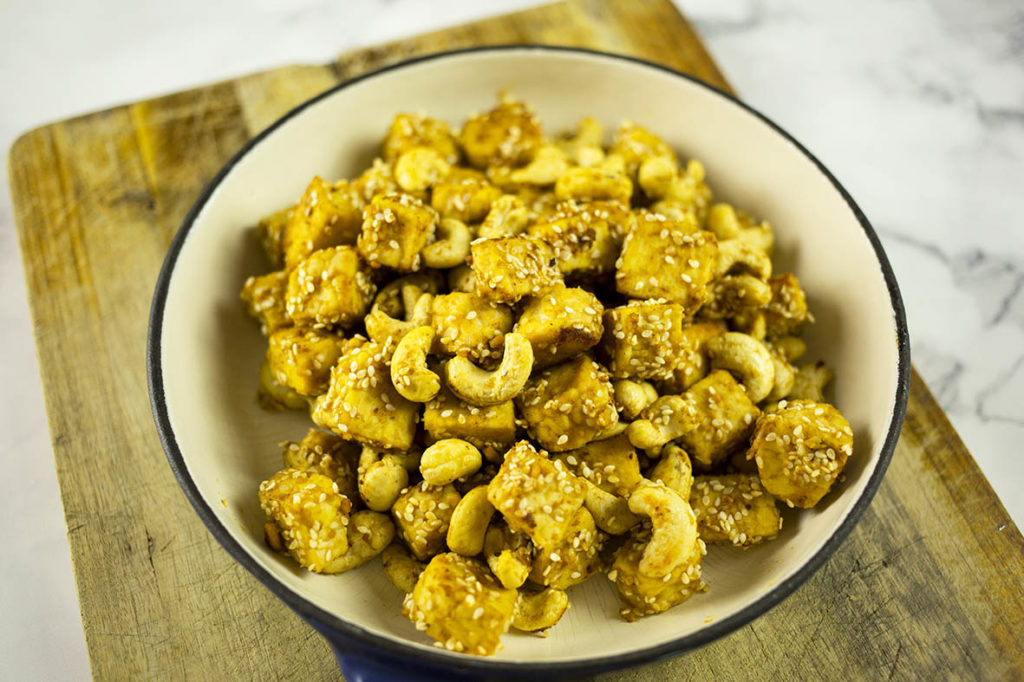 I like to make a pretty large batch of this salad so there are leftovers for lunch or dinner the next day. Master H gets a toddler's reconstructed version. Like many toddlers he isn't too fond of raw onion and although he will eat cooked kale he doesn't like to eat it raw.
Instead of making another meal for Master H he gets a separate serving of the prepared ingredients without the red onion and kale mixed through. His version consists of brown rice, tempeh, cashews, grated carrot, beetroot, chopped cucumber with a drizzle of lemon and olive oil over the top.
Perfect - no need to make two dinners!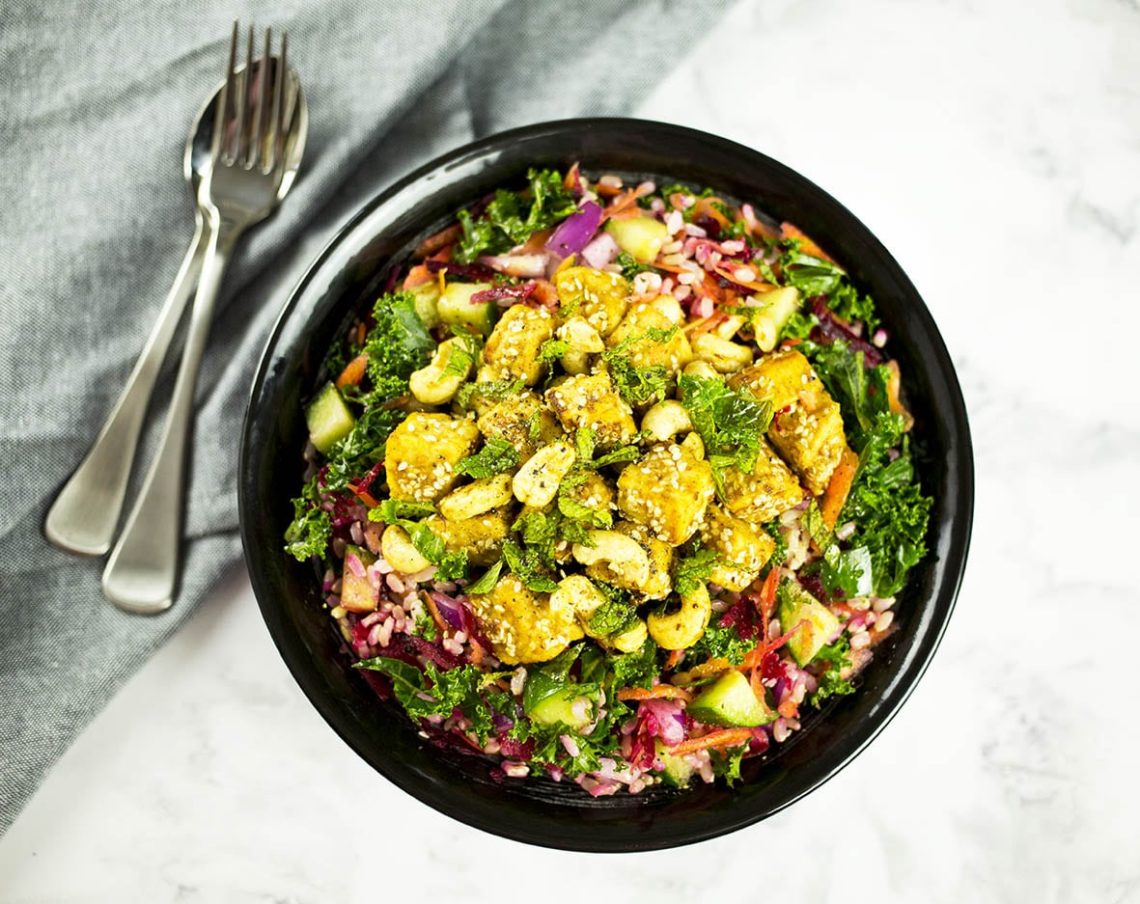 Now on to tempeh...I know... its not something everyone loves or has even tried.....
Like tofu, tempeh can be considered bland, but it has a natural nuttiness that I prefer over tofu. Tempeh soaks up the flavour of any marinade and can easily be turned from bland into delicious! Tempeh has a dense "meaty" consistency making it incredibly filling, it is an excellent source of plant based protein.
Tempeh originated in Indonesia. It is made from whole soy beans that are fermented into cake like patties or blocks. The fermentation process makes tempeh easier to digest than other soy products and helps to break down the phytates and other anti-nutrients found in soy.
The fermentation of tempeh can also help the nutrient absorption of soy including it's protein, vitamin's, mineral's and phytonutrient's, potentially increasing its health benefits.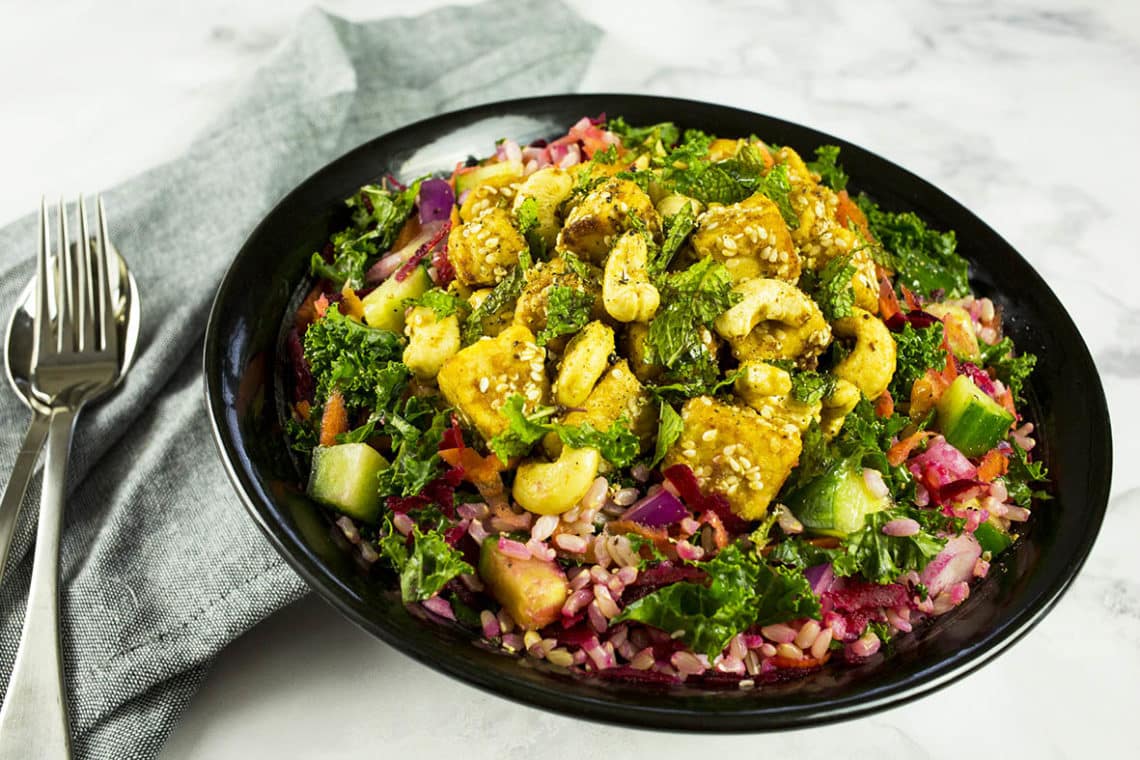 I hope you enjoy this recipe, if you are looking for some other salad recipes you may like my Beetroot, Avocado & Rocket Quinoa Salad with Spiced Walnuts & Mint or Detox Buddha Bowl with Spicy Chickpeas and Cumin Cashew Sauce.
I hope you enjoy this recipe! Please let me know how you got on in the comments below, I love hearing from you!
For more tasty recipes and to see what I've been getting up to you can follow me on Facebook, Instagram, Pinterest or Twitter.
Have a lovely week!
Hope
Love Food Nourish Nutrition Info at a glance:
Tempeh is a great source of plant based protein, is high in phytonutrients and minerals such as manganese, phosphorous and copper.
Brown rice is an excellent source of fibre and contains lignans which have been shown to protect against heart disease and some types of cancer. The oil found in brown rice is shown to have cholesterol lowering properties. It is a good source of the minerals manganese and selenium which have antioxidant properties and also magnesium, phosphorous, vitamins B1, B3 and B6.
Beetroot has anti-inflammatory and antioxidant properties it can also help support the liver's detoxification process's. Beetroot is a good source of the minerals manganese, potassium and iron.
Carrots have anti-oxidant and immune support properties, they are a good source of vitamin A.
Kale has anti-oxidant, anti cancer and anti-inflammatory properties. It is a good source of vitamins K, A & C and the minerals copper and manganese.
Peanut-Miso Tempeh Salad Bowl with Cashew Nuts
---
Hope Pearce
Delicious peanut-miso tempeh & cashew nuts in a rainbow salad bowl
10 minPrep Time
30 minCook Time
40 minTotal Time
Ingredients
Tempeh

250 gm/8 oz organic tempeh (1 pack)
1 lemon, juice of
2 Tbspn peanut butter
2 Tbspn miso paste
2 Tbspn tamari
1 garlic clove, crushed
2 Tbspn sesame seeds
½ cup cashew nuts

Salad

1 cup brown rice
1.5 cups kale, finely chopped
1 cup grated beetroot
1 cup grated carrot
1 cup cucumber, cut into cubes
1 cup red onion finely chopped (about ½ red onion)
2 Tbspn fresh mint, finely chopped

Dressing

½ lemon, juice of
2 Tbspn olive oil
salt and pepper to taste
Instructions
Add the lemon juice, olive oil, peanut butter, miso paste, tamari, crushed garlic to a bowl and lightly whisk with a fork until combined.
Cut the tempeh into small cubes and place in bowl with marinade. Ensure tempeh is evenly coated and cover and put in the fridge for 20 min.
Bring a medium pot of water to the boil. Rinse rice under running water. Add to the boiling water, reduce heat and simmer for 30 minutes. Once cooked, strain.
Heat a frying pan or skillet and add the marinated tempeh to the pan, add the sesame seeds to the tempeh ensuring the tempeh is evenly coated. Add the cashew nuts to the pan and mix in with the marinade, cook for about 4-6 minutes turning regularly, until the tempeh is caramelized and browned.
Add the remaining salad ingredients to the rice and mix through until all combined. Add the tempeh and cashew nuts. Top with the fresh mint.
Dress with the lemon juice and olive oil and add salt and pepper as desired.
Notes
I like to make a large batch of this salad so there are often leftovers the next day making it easy to reach for a healthy meal that is ready to go. The above recipe will serve 4-6 adults. Divide ingredients in half to make a smaller portion to serve 2-3 people.
7.8.1.2
33
https://lovefoodnourish.com/peanut-miso-tempeh-salad-bowl-cashew-nuts/
Source:
Haas, Elson M. Staying Healthy with Nutrition. Berkley, CA: Wiley, 2006.
https://www.whfoods.com
Anderson JW, Hanna TJ, Peng X, Kryscio RJ. Whole grain foods and heart disease risk. J Am Coll Nutr 2000 Jun;19(3 Suppl):291S-9S. 2000. PMID:17670.
Cade JE, Burley VJ, Greenwood DC. Dietary fibre and risk of breast cancer in the UK Women's Cohort Study. Int J Epidemiol. 2007 Jan 24; [Epub ahead of print] . 2007. PMID:17251246.
Most MM, Tulley R, Morales S, Lefevre M. Rice bran oil, not fiber, lowers cholesterol in humans. Am J Clin Nutr. 2005 Jan;81(1):64-8. 2005. PMID:15640461.
Save
Save
Save
Save
Save
Save
Save
Save
Save
Save
Save
Save
Save
Save
Save
Save
Save
Save
Save
Save
Save
Save
Save
Save
Save
Save
Save
Save
Save
Save
Save
Save