Quinoa Breakfast Bowl with Poached Egg, Avocado & Pesto. This savoury breakfast bowl will certainly get you going for the day and just feels oh so good for you! Full of alkalising greens, nutritious avocado, delicious pesto, fresh basil, tomato and a sprinkle of sunflower seeds for some added crunch.
Yes it takes a tiny bit longer to assemble than eggs on toast, but boy is it worth it!
This dish is the perfect way to use up any leftover quinoa. I'm a big fan of always making more food than you need for dinner. Dinner leftovers can make it is easy for you to reach for healthy alternatives the next day.
Quinoa is great because it is so adaptable and can easily be turned into a salad, porridge, fritters, or a breakfast bowl the next day.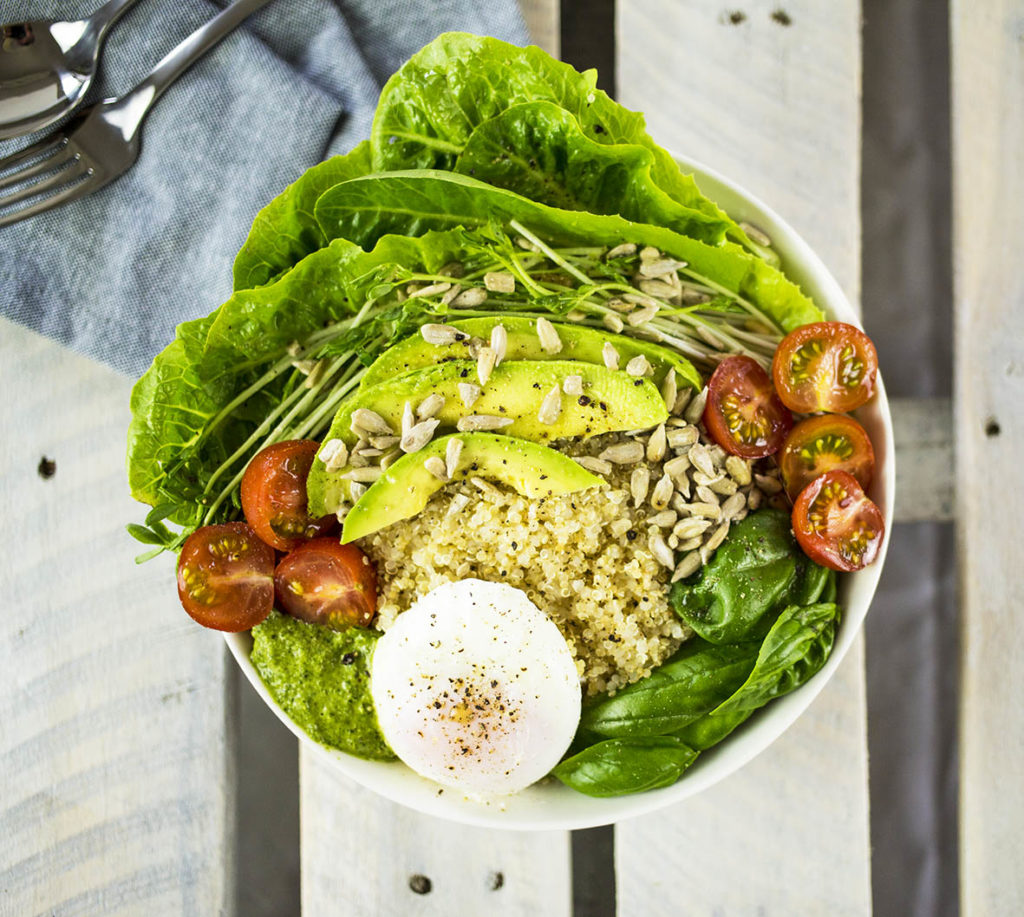 We have all been a little sick in my household in the past week, change of season maybe or just a little virus that my Master toddler picked up ....who knows? There I was hoping we were having a late summer after a very hot and humid few days early last week.
All of a sudden March the 1st rolled round and we are now officially in Autumn......Surely not already? Where has our summer gone?
Suddenly the weather got remarkably cooler and overnight it seemed darker in the mornings. Of course in some parts of the world this may be normal, but in temperamental old Auckland where we don't have such clear distinct seasons (other than a rainy winter that can always be counted on) it is not.... Hoping for a late summer is actually quite normal, and does often happen.
Now that it is no longer officially summer and coming to terms with this I mentally noted a couple of things. Not once this summer have I worn my "summer dressing gown" - a light silky flowery thing that officially means its summer in my household. Every morning I still have reached for my ridiculously fluffy but well loved "winter dressing gown".
The other thing I noted was that we have used our bedroom ceiling fan maybe 5 times, we usually have it on every night during summer. This was the mental proof I needed, our summer indeed has let us down!
I'm not ready to let summer go yet, so will keep on keeping my fingers crossed for a hot March. It has happened before and it can happen again!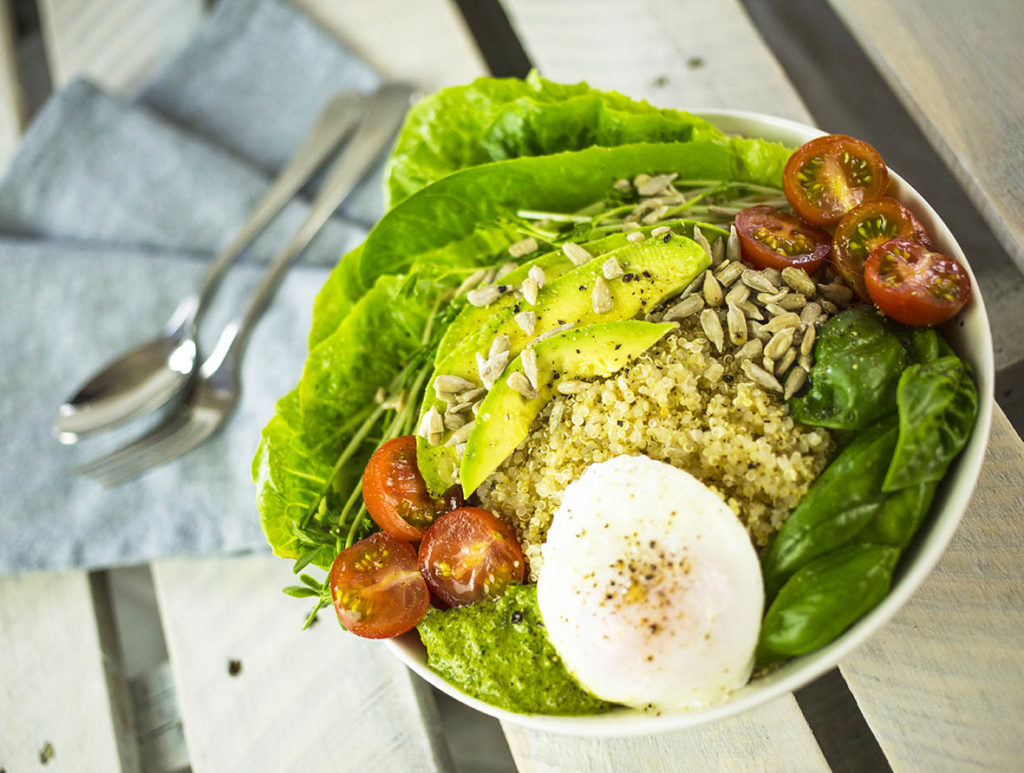 We still have plenty of basil and tomatoes in the garden, so that's always a good sign that we may have a while to go with summer. This breakfast bowl is a perfect way to use up any veggies you have in the garden and to give you a nutritious start to the day if you feel like you need an energy boost.
I have been making an abundance of pesto at the moment with all of our basil, it is always such a good way to get some greens and raw garlic into Master Toddler when he is a bit rundown. He loves it mixed through quinoa, rice, on top of scrambled egg's or crackers.
If you are interested in my kale, basil & walnut pesto recipe and for info on why garlic does need to be eaten raw to reap the benefit of it's immune boosting properties then please read this post here.
In this quinoa breakfast bowl I have used fresh basil but any fresh herbs can be used, I also used my homemade Kale, Basil and Walnut pesto but a standard pesto bought at the store will also work.
For other healthy breakfast ideas you may like my Tahini Oatmeal with Caremelised Bananas, Creamy Coconut Chia, Acai & Strawberry Layered Smoothie, or Baked Eggs with Crispy Kale, Capsicum and Pumpkin Seeds.
Below is some nutrition info for those that are interested, if not please skip to the recipe below,
I hope you enjoy this recipe! Please let me know how you got on in the comments below, I love hearing from you!
For more tasty recipes and to see what I've been getting up to you can follow me on Facebook, Instagram, Pinterest or Twitter.
Have a lovely week!
Hope
Love Food Nourish Nutrition Tips
Quinoa - Contains all 9 essential amino acids making it a good plant based source of protein. Compared to cereal based grains such as wheat, Quinoa has a high healthy fat content in the form of oleic acid which is beneficial for a healthy heart. Quinoa is also nutritious and a source of manganese, magnesium, phosphorous, folate, copper, iron and zinc.
Eggs - An excellent source of good quality protein. Starting the day of with some good quality protein can help with sustained energy throughout the day and help stabilise blood sugar levels. Egg's are also good sources of b vitamins, selenium and iodine and sources of vitamins A, D and K.
Avocado - Are not called a 'superfood" for nothing, they contain about 20 minerals and vitamins, are a good source of healthy fats and are great for healthy skin.
Basil - Has been shown to have antibacterial and anti-inflammatory properties. Basil can can help with digestive disorders and stomach cramps. Basil also contains antioxidant's called carotenoids due to its Vitamin A content.
Quinoa Breakfast Bowl with Poached Egg, Avocado & Pesto
---
Hope Pearce
A healthy delicious breakfast with Quinoa, Poached Eggs, Avocado & Pesto.
5 minPrep Time
4 minCook Time
9 minTotal Time
Ingredients
1 cup quinoa, cooked
2 eggs
½ cup lettuce, I used cos lettuce
½ cup cherry tomatoes
½ avocado
¼ cup fresh basil
¼ cup snow pea shoots
2 Tbspn basil pesto*
2 Tbspn sunflower seeds
1 Tbspn olive oil
1 Tbspn vinegar or lemon juice for poaching eggs
½ lemon, juice of for dressing
salt & pepper to taste
Instructions
Start by assembling your salad. Get two small bowls. Put ½ cup of cooked quinoa into each bowl then top with the lettuce, avocado, tomatoes, fresh basil and snow pea shoots.
Next poach the eggs. Fill a saucepan about ⅔rd full and bring to the boil. Add 1 Tbspn of vineger or lemon juice to the bubbling water (I use apple cider vinegar). Turn down the heat so the water is lightly simmering.
Crack the egg's into a small cup or a ladle and gently lower the cup or ladle into the water. Then gently tip out the eggs.
Cook the eggs for about 4 minutes - depending on how you like your eggs*
Use a ladle or spoon to gently remove the eggs from the water. Let any excess water drip off and then place on top of quinoa.
Add the pesto to each bowl.
Sprinkle each bowl with the sunflower seeds, a drizzle of olive oil and lemon juice.
Add salt and pepper to taste.
Notes
*Cooking the eggs for about 4 minutes will leave them firm on the outside with a runny yolk, cook for longer if you like a firmer yolk. *I used my homemade kale, basil & walnut pesto, any pesto from the supermarket will work.
7.8.1.2
32
https://lovefoodnourish.com/quinoa-breakfast-bowl-poached-egg-avocado-pesto/
Source:
Haas, Elson M. Staying Healthy with Nutrition. Berkley, CA: Wiley, 2006.
Balch, Phyllis A. Prescription for Dietary Wellness. New York, NY: Penguin, 2003.
James LEA. Chapter 1: Quinoa (Chenopodium quinoa Willd.): Composition, Chemistry, Nutritional, and Functional Properties. Advances in Food and Nutrition Research, Volume 58, 2009, Pages 1-31. 2009.
https://www.whfoods.com
Save
Save
Save
Save
Save
Save
Save
Save
Save
Save
Save
Save
Save
Save
Save
Save
Save
Save
Save
Save
Save
Save
Save
Save
Save
Save
Save
Save
Save
Save
Save
Save
Save
Save
Save
Save
Save
Save
Save
Save
Save
Save
Save
Save