This savoury breakfast bowl will certainly get you going for the day and just feels oh-so good for you! Full of greens, nutritious avocado, delicious pesto, fresh basil, tomato, and a sprinkle of sunflower seeds for some added crunch.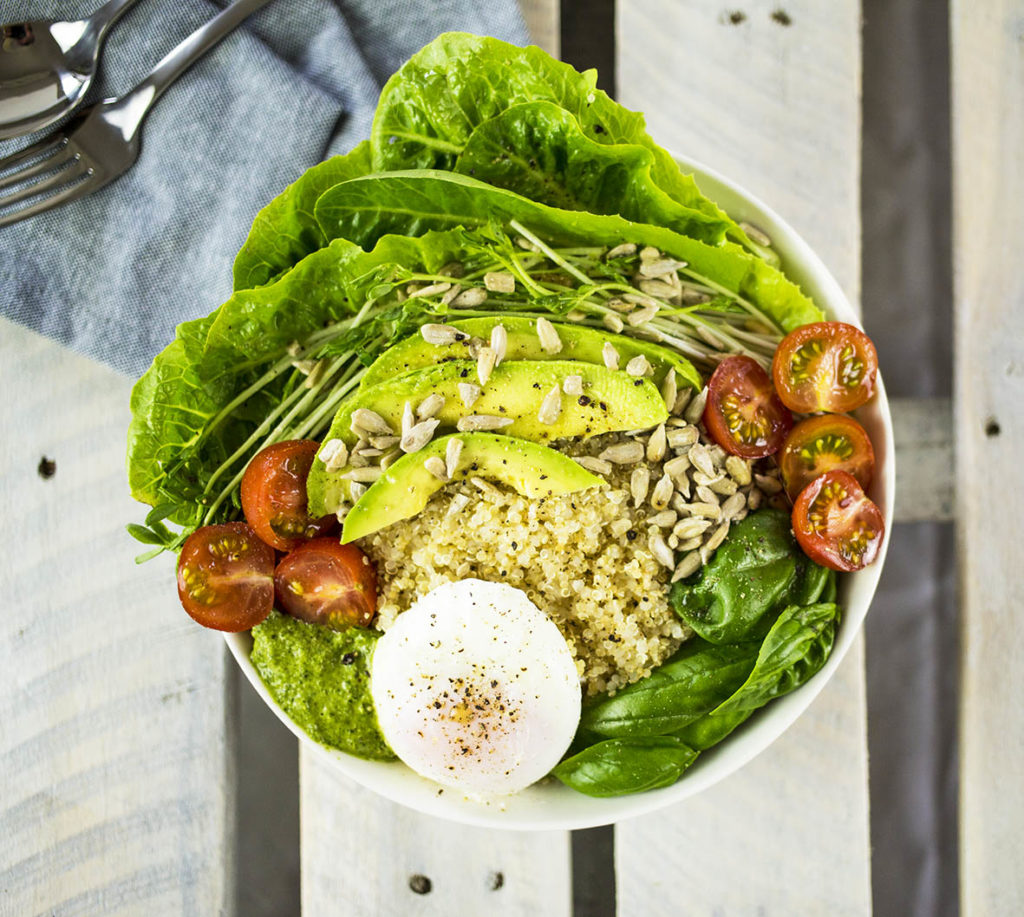 Yes, it takes a tiny bit longer to assemble than eggs on toast, but boy is it worth it! Full of protein and healthy fats this savoury quinoa breakfast bowl is the perfect way to start the day feeling full and satisfied.
This dish is the perfect way to use up any leftover quinoa. I'm a big fan of always making more food than you need for dinner. Dinner leftovers can make it easy for you to reach for healthy alternatives the next day.
Quinoa is great because it is so adaptable and can easily be turned into a salad, porridge, fritters, or a breakfast bowl the next day.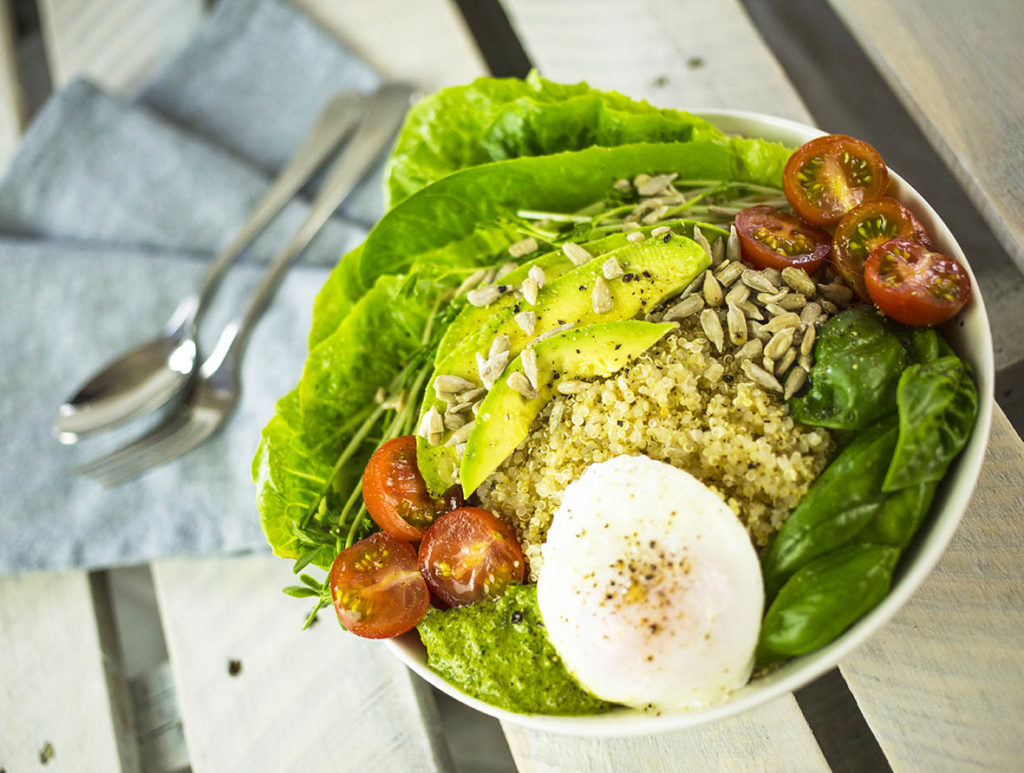 We still have plenty of basil and tomatoes in the garden, so that's always a good sign that we may have a while to go with summer.
This quinoa breakfast bowl is a perfect way to use up any veggies you have in the garden and to give you a nutritious start to the day if you feel like you need an energy boost.
I have been making an abundance of pesto at the moment with all of our basil. It's an easy way to get some greens and raw garlic into my little boy when he is a bit rundown. He loves it mixed through quinoa, and rice, on top of scrambled eggs, or crackers.
In this quinoa breakfast bowl, I have used fresh basil but any fresh herbs can be used, I also used my homemade kale, basil, and walnut pesto but a standard pesto bought at the store will also work.
Other healthy breakfast ideas you may like to try:
Tahini Oatmeal with Caramelised Bananas
Creamy Coconut Chia, Acai & Strawberry Layered Smoothie
Baked Eggs with Crispy Kale, Capsicum and Pumpkin Seeds.
Below is some nutrition info for those that are interested, if not please skip to the recipe below.
I hope you enjoy this quinoa breakfast bowl recipe. Please let me know how you got on in the comments below, I love hearing from you!
For more tasty recipes and to see what I've been getting up to you can follow me on Facebook, Instagram, Pinterest or Twitter.
Have a lovely week!
Hope
Love Food Nourish Nutrition Tips
Quinoa - Contains all 9 essential amino acids making it a good plant-based source of protein. Compared to cereal-based grains such as wheat, Quinoa has a high healthy fat content in the form of oleic acid and is also a source of manganese, magnesium, phosphorous, folate, iron, and zinc (1).
Eggs - An excellent source of good quality protein. Starting the day off with some good quality protein can help with sustained energy throughout the day and help stabilise blood sugar levels. Eggs are sources of some b vitamins, selenium, and iodine and sources of vitamins A and D (2).
Avocados - Are not called a 'superfood" for nothing, they contain about 20 minerals and vitamins(3).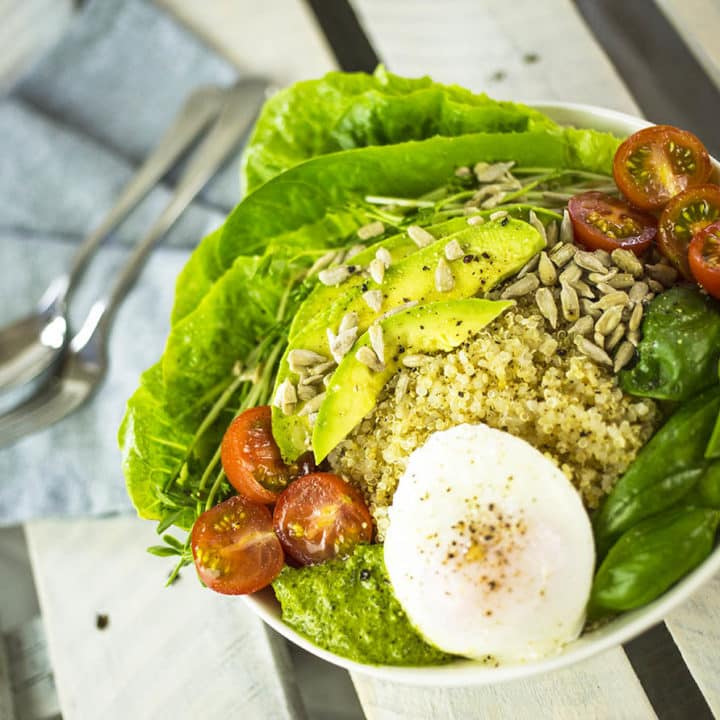 Quinoa Breakfast Bowl with Poached Egg, Avocado & Pesto
A healthy delicious breakfast with Quinoa, Poached Eggs, Avocado & Pesto.
Ingredients
1 cup quinoa, cooked (⅓ cup uncooked)
2 eggs
½ cup lettuce, I used cos lettuce leaves.
½ cup cherry tomatoes
½ avocado, peeled and sliced.
¼ cup fresh basil
¼ cup snow pea shoots
2 Tablespoons basil pesto*
2 Tablespoons sunflower seeds
1 Tablespoon olive oil
1 Tablespoon vinegar or lemon juice for poaching eggs
Squeeze of lemon for dressing
Salt & pepper to taste
Instructions
Start by assembling your salad. Get two small bowls. Place ½ cup of cooked quinoa into each bowl then top with the lettuce, avocado, tomatoes, fresh basil, and snow pea shoots.
Next, poach the eggs. Fill a saucepan about ⅔rd full and bring to the boil. Add 1 Tbspn of vinegar or lemon juice to the bubbling water (I use apple cider vinegar). Turn down the heat so the water is lightly simmering.
Crack the eggs into a small cup or a ladle and gently lower the cup or ladle into the water. Then gently tip out the eggs.
Cook the eggs for about 4 minutes - depending on how you like your eggs*
Use a ladle or spoon to gently remove the eggs from the water. Let any excess water drip off and then place on top of the quinoa.
Add the pesto to each bowl.
Sprinkle each bowl with the sunflower seeds, a drizzle of olive oil, and lemon juice.
Add salt and pepper to taste.
Notes
*Cooking the eggs for about 4 minutes will leave them firm on the outside with a runny yolk, cook for longer if you like a firmer yolk.
*I used my homemade kale, basil & walnut pesto, any pesto from the supermarket will work.
Nutrition Information
Yield

2
Serving Size

1
Amount Per Serving
Calories

467
Total Fat

33g
Saturated Fat

6g
Trans Fat

0g
Unsaturated Fat

25g
Cholesterol

190mg
Sodium

793mg
Carbohydrates

30g
Net Carbohydrates

22g
Fiber

8g
Sugar

4g
Protein

16g
This nutritional information is an estimate only and is provided as a courtesy to readers. It was auto-generated based on serving size, number of servings, and typical information for the ingredients listed in the recipe card. Please feel free to use your preferred nutrition calculator. Please consult your doctor about any specific dietary requirements.
Save
Save
Save
Save
Save
Save
Save
Save
Save
Save
Save
Save
Save
Save
Save
Save
Save
Save
Save
Save
Save
Save
Save
Save
Save
Save
Save
Save
Save
Save
Save
Save
Save
Save
Save
Save
Save
Save
Save
Save
Save
Save
Save
Save