Raw gingerbread cookie bites are tasty, easy to make and kids love them! If you are a fan of gingerbread or anything ginger you will love these raw cookie bites and will be reaching for another one. Gluten-free, dairy-free, Paleo-friendly, Vegan.
Soft and chewy on the inside, these cookie bites have a slight caramel flavour a hint of ginger, and Christmas spices.
I used to love gingerbread when I was a child so these are slightly reminiscent of traditional gingerbread except they require no baking! No-bake treats are awesome in my opinion as they are so fast to make!
Unlike the traditional gingerbread cookie which is full of refined sugar and carbs leaving you hankering for more, these Vegan gingerbread cookie bites may be small but they are pretty filling to their protein and healthy fat content.
Ginger not only tastes good but contains carminative properties so is great for soothing an upset stomach and can assist in the digestion of food (source). This makes it quite a handy spice to include in our diet around the most indulgent season.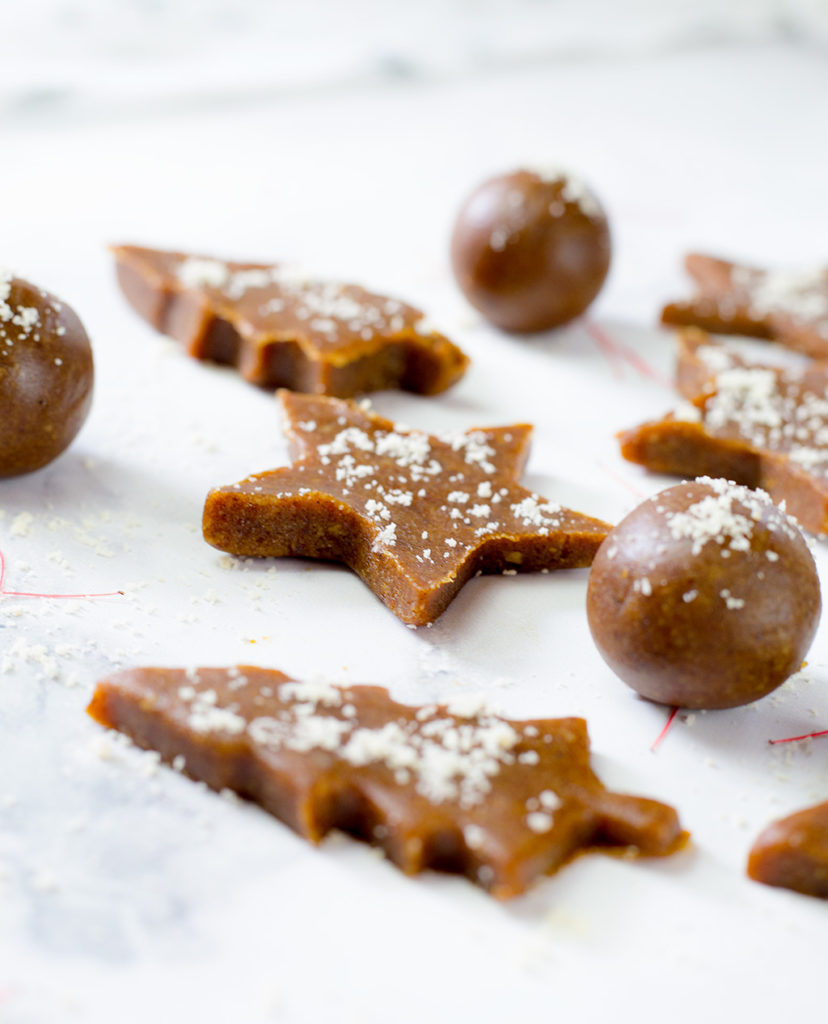 These delicious cookie bites are a great healthy sweet treat for kids for Christmas or they can make a perfect Christmas gift.
I have previously made these as gingerbread bliss balls, but this time I have made them into Christmas shapes using a cookie cutter.
If you don't have the inclination or time to do this then the gingerbread balls taste just as good!
Additional Recipe Notes
If the weather is getting warmer for you like it is for us here in New Zealand then I find it easier to pop the dough mixture in the freezer for 10 minutes before rolling it out and cutting it into shapes. This allows the dough to firm up and will enable you to cut out the cookies into a cleaner shape without leaving a sticky mess.
I have lightly sprinkled almond meal over the top of these cookie bites to give them a more Christmasy feel. Coconut sugar could also be used.
To store:
Store the cookie bites in the fridge in an airtight container.
For other easy gluten-free Christmas treats you may like to try:
Chocolate and Cranberry Almond Clusters
Raw Vegan Cranberry & Chocolate Truffles
Cranberry & Cacao Chip Oat Cookies
Gluten-Free Thumprint Cookies
Here are some no-bake and paleo sweet treats you may like:
Creamy Blueberry, Cacao & Coconut Energy Balls
Raw Vegan Raspberry Tartlets
No Bake Pina Colada Slice
I hope you enjoy this recipe! Please let me know how you got on in the comments below, I love hearing from you!
For more tasty recipes and to see what I've been getting up to you can follow me on Facebook, Instagram, Pinterest or Twitter.
Have a lovely week!
Hope x
This recipe was inspired by Wholefoodsimply - Ginger Balls.
Note: This was post was first published on Love Food Nourish on November 2016, I have updated the photos and recipe.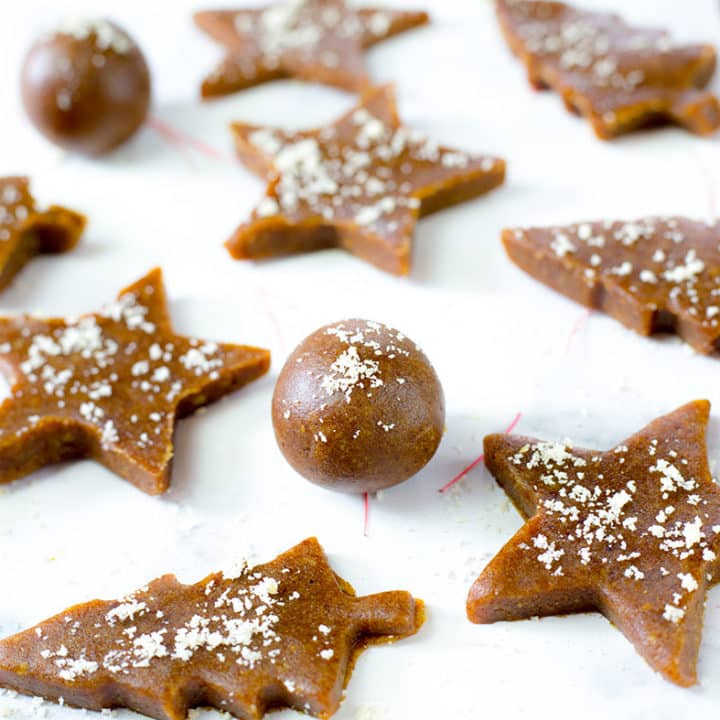 Raw Gingerbread Cookie Bites
These gingerbread cookie bites make a fun festive treat, they are so easy to make, get the kids involved too. Vegan, Gluten-Free, Dairy-Free, Refined Sugar-Free, Paleo
Ingredients
1 cup pitted dates *Soaked - see note below
1 cup ground almonds
½ cup walnuts
1 Tablespoon ground ginger
1 Tablespoon ground cinnamon
1 teaspoon natural vanilla essence
½ teaspoon ground nutmeg
¼ teaspoon clove powder
1 Tablespoon of ground almond or 1 Tablespoon of coconut sugar to sprinkle on top - Optional
Instructions
Place all of the ingredients in the food processor and blitz until your form a smooth dough-like consistency.
Place the cookie dough on a plate and cover with a paper towel and put in the freezer for 10 minutes. Note - This step is optional but makes the dough easier to cut into shapes.
Roll the dough out in between two layers of parchment or baking paper and cut it into shapes using a cookie cutter. If you are only rolling into balls and not cutting into shapes then you do not need to roll it out just simply roll the dough into a ball.
Optional - Sprinkle the cookie bites with a light dusting of ground almonds or coconut sugar. For the bites in the photo, I have used ground almonds.
Store in an airtight container in the fridge for up to 5 days. These raw cookie bites can also be frozen
Notes
Soaking dried dates makes them easier to blitz in the food processor and blend into the mixture. This is not necessary if you are using the more expensive Medjool dates. If you are using standard pitted dates then put the dates in a bowl and cover with warm water for 10 minutes. Then rinse the dates under cold water and pat dry with a paper towel before adding to the food processor.
Nutrition Information
Yield

25
Serving Size

1
Amount Per Serving
Calories

42
Total Fat

4g
Saturated Fat

0g
Trans Fat

0g
Unsaturated Fat

4g
Cholesterol

0mg
Carbohydrates

2g
Fiber

1g
Sugar

0g
Protein

1g
This nutritional information is an estimate only and is provided as a courtesy to readers. It was auto-generated based on serving size, number of servings, and typical information for the ingredients listed in the recipe card. Please feel free to use your preferred nutrition calculator. Please consult your doctor about any specific dietary requirements.
Save
Save
Save
Save
Save
Save
Save
Save
Save
Save
Save
Save
Save
Save
Save
Save