If decadent rich dark chewy bittersweet chocolate with a hint of cranberry sounds like your cup of tea then you will love these! These chocolate cranberry truffles are all of the above but contain no dairy or refined sugar, they are naturally sweetened with cranberries and dates.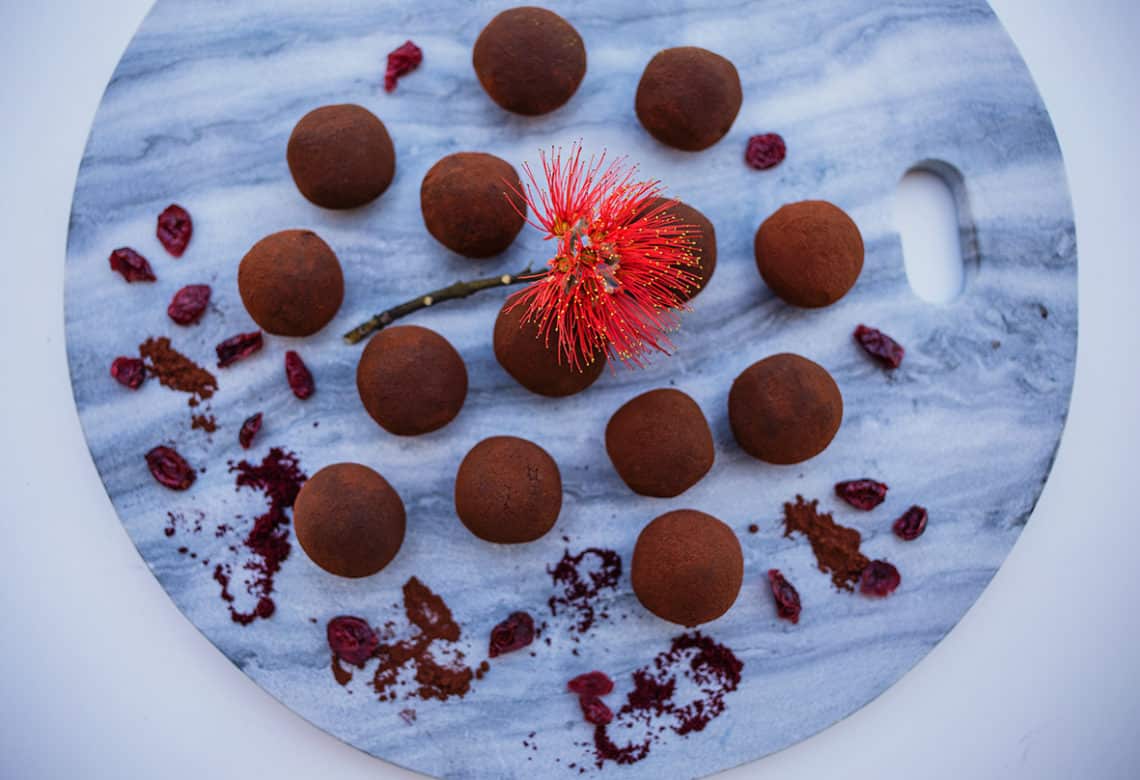 These little chocolate balls make a delicious but healthy sweet treat for Christmas.......or for any occasion really!
These are not truffles in the traditional sense but certainly taste decadent, rich, and chocolatey.......and contain only wholefood ingredients.
I love raw cacao and find it hard not to add it to well just about anything. Hot cacao drinks, smoothies, chia seed pudding, in baking or raw goodies, cacao is something I use pretty frequently! Not only is it tasty but cacao is an excellent natural source of antioxidants.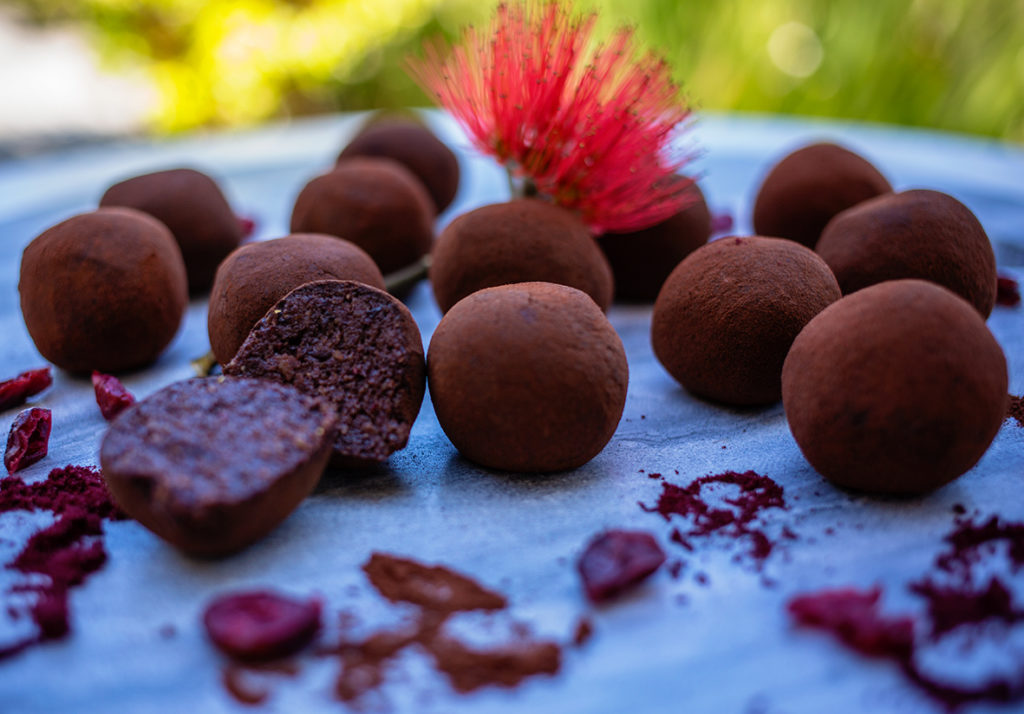 (This recipe was originally posted in December 2016, some of the content below reflects that)
Christmas is on its way and sometimes I find it hard to get into the spirit of Christmas when the weather turns warmer.
All I really feel like doing is heading to the beach rather than spending my time wandering around crowded malls looking for presents. However, we have now put up our tree, had a few BBQ's, and been to the beach so things are starting to feel a little festive in a New Zealand kind of way.
New Zealand Christmas time is always particularly beautiful when the stunning red flowers come out on the Pohutakawa tree.
If you are lucky enough to be at the beach then lazily gazing at the beautiful contrast in colours of the bright blue sky and sea, mixed in with the green and red from the Pohutakawa trees is always a reminder of how lucky we are to live in such a beautiful country.
Obviously now with a toddler in tow anything along the lines of "lazily gazing, lying or relaxing" at the beach doesn't happen so much, (or at all) but hey watching him play and potter around on the sand is still a pleasant way to pass the time.
For other gluten-free Christmas treats, you may like to try:
Raw Gingerbread Cookie Bites
Cranberry & Cacao Chip Oat Cookies
For other gluten-free no-bake desserts you may like:
Raw Vegan Raspberry Tartlets
No Bake Pina Colada Slice
I hope you enjoy these chocolate and cranberry truffles! Please let me know how you got on in the comments below, I love hearing from you!
For more tasty recipes and to see what I've been getting up to you can follow me on Facebook, Instagram, Pinterest or Twitter.
Have a lovely week!
Hope x
Chocolate Cranberry Truffles (Vegan)
Rich, decadent, chocolate and cranberry truffles that are gluten-free, dairy-free, Paleo and Vegan.
Ingredients
1 cup dried cranberries (with no added sugar) *Soaked - see note below
½ cup pitted dates *Soaked - see note below
1 cup ground almonds
½ cup walnuts
¼ cup raw cacao powder plus more for dusting
1 Tablespon coconut oil
Instructions
Soak the dried cranberries and dates in a bowl with warm water for 10 minutes. Then drain and gently pat dry with a paper towel.
Add all of the ingredients to the food processor and blitz until smooth.
Roll the mixture into balls and then roll into cacao powder to coat as desired.
Store in an airtight container in the fridge for up to 5 days.
These raw truffles can also be frozen. If you would like them to be extra chewy then these truffles can be kept in the freezer as they do not go completely hard, they stay nice and chewy.
Notes
Note 1 - If you live in a warmer climate than you may need to put the dough in the fridge or freezer for 10 minutes before rolling into balls.
Note 2 - Soaking the cranberries isn't completely necessary but does make them easier to blitz in the food processor.
Nutrition Information
Yield

14
Serving Size

1
Amount Per Serving
Calories

114
Total Fat

8g
Saturated Fat

2g
Sodium

3mg
Carbohydrates

10g
Sugar

7g
Protein

3g
Save
Save
Save
Save
Save
Save
Save
Save
Save
Save
Save
Save
Save
Save
Save
Save
Save
Save
Save