Roasted Red Pepper, Tomato & Lentil Soup – A hearty and vibrant vegan soup with delicious roasted red peppers, tomatoes and lentils. This soup will leave you feeling full and nourished – perfect for a cosy night in by the fire.
Sometimes you need a bowl of comfort food and this soup is definitely that! The beautiful roasted red peppers give this soup an amazing richness, combined with the tomatoes and hearty lentils it feels just oh so good for you!
It is half way through the year already – how did that happen?  I have to admit I have been feeling a little lack lustre…a little of the winter blues perhaps.
I have been trying to keep myself on track by eating nourishing foods, getting out in the fresh air when it is not raining and even if its cold pushing myself to go outside. I have to be honest I have never loved being cold and have be known to stay huddled up in the warm.  But once outside I always feel better!
It is so important at this time of year to get outside and get fresh air when we can, go for a walk and boost those vitamin D levels when the sun is out even if a little chilly. Adequate vitamin D levels are important for a healthy mood, hormonal balance and healthy immune system.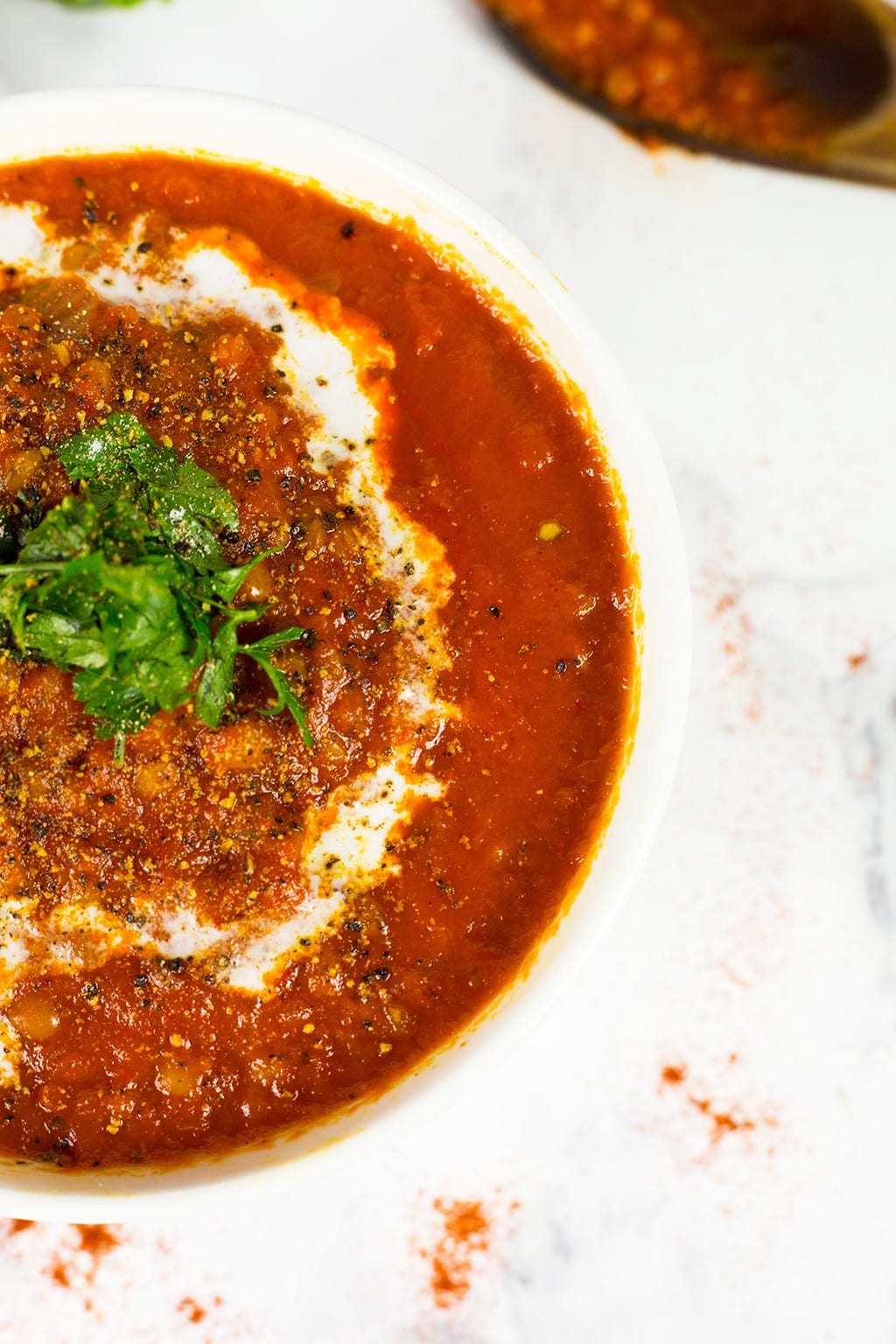 Now……not all little people like soups….
My little toddler is currently going through a "I'm all grown up now and I eat proper solid foods like a big person" phase. Anything he thinks is too runny (soups) or too mushy (mashed potatoes) is a no go for now.
Fair enough! So he gets a portion of the soup mixed through pasta. It actually makes a damn good pasta sauce – if I say so myself!
This is a great way to not have to make two proper meals and also gives him a tasty meal that is full of nutrition. So feel free to play around with this idea for your kids – obviously using gluten free pasta where appropriate.
If you are looking for other nourishing recipes with peppers or capsicum you may like to try my Baked Eggs with Crispy Kale, Capsicum and Pumpkin Seeds.
I hope you enjoy this recipe! Please let me know how you got on in the comments below, I love hearing from you!
For more tasty recipes and to see what I've been getting up to you can follow me on Facebook, Instagram, Pinterest or Twitter.
Have a lovely week!
Hope
Love Food Nourish Nutrition Tips
Red peppers and tomatoes are a good source of antioxidants, vitamin C & vitamin A making them great for a healthy immune system.
Recent research has shown tomatoes can affect bone health due to their lycopene content. A study revealed that post menopausal women who had no lycopene in their diet for four weeks showed unwanted changes and increased oxidative stress in bone tissue suggesting daily consumption of lycopene may be beneficial in osteoporosis prevention.
Lentils are a good vegetarian source of iron, they also are a good source of protein and soluble and insoluble fibre. Soluble fibre has cholesterol lowering properties as it can bind to cholesterol and help transport it out of the body. I always like to have a protein and fibre food source in my soups as this helps keep blood sugar levels stable and also makes them nice and filling!
Roasted Red Pepper, Tomato & Lentil Soup
---
Hope Pearce
A nourishing and hearty vegan soup with red bell pepper, tomatoes and lentils
10 minPrep Time
60 minCook Time
1 hr, 10 Total Time
Ingredients
1 cup uncooked brown lentils *soaked
3 large red bell peppers/capsicum
2 Tbspn olive oil
1 onion, finely chopped
3 garlic cloves, crushed
2 cans (400gm/14.5oz)chopped tomatoes
2 cups vegetable stock
1/2 cup water
1 170gm/6oz can tomato paste
1 Tbspn tamari or soy sauce
1/2 tsp harissa
1/2 tsp paprika
2 Tbspn coconut cream
2 Tbspn fresh parsely
salt and pepper to taste
Instructions
Preheat oven to 180°C/400°F
Place the red bell peppers/capsicum on a baking tray and drizzle with olive oil, cook for about 30 min until the peppers are tender and the skins have slightly blistered.
Remove the bell peppers/capsicum and leave to cool. Peel off the skins and then roughly chop.
Place a large saucepan on a medium heat and add 1 tablespoon of olive oil. Saute the onion and garlic for 2-3 minutes until soft.
Add the vegetables stock, canned tomatoes, tomato paste, cooked bell peppers, harissa, paprika and tamari or soy sauce. Using a stick blender blend these ingredients together until smooth.
Add the soaked lentils to the pureed soup and simmer on a medium heat until soft for about 30 minutes.
Taste the soup add salt and pepper and adjust seasoning to taste.
Remove from heat and stir through 2 Tbspn of coconut cream.
Garnish with fresh parsley.
Notes
*This soup can be made without soaking the lentils first but soaking them does improve their digestibility. Place lentils in a saucepan covered with warm water and about 1 teaspoon of lemon juice. Soak for 2-3 hours or preferably leave overnight. Rinse thoroughly and drain before use.
7.8.1.2
38
https://lovefoodnourish.com/roasted-red-pepper-tomato-lentil-soup-vegan/
Source:
Haas, Elson M. Staying Healthy with Nutrition. Berkley, CA: Wiley, 2006.
Mackinnon ES, Rao AV, and Rao LG. Dietary restriction of lycopene for a period of one month resulted in significantly increased biomarkers of oxidative stress and bone resorption in postmenopausal women. J Nutr Health Aging. 2011 Feb;15(2):133-8. 2011.
https://authoritynutrition.com/foods/bell-peppers/
Save
Save
Save
Save
Save
Save
Save
Save
Save
Save
Save
Save
Save
Save
Save
Save
Save
Save
Save
Save
Save
Save
Save
Save
Save
Save
Save