This simple warm chicken salad with succulent marinated and mildly spiced chicken makes an easy, healthy meal using the basic ingredients you have in your fridge. With a simple homemade balsamic dressing, this healthy chicken salad makes an easy lunch or dinner.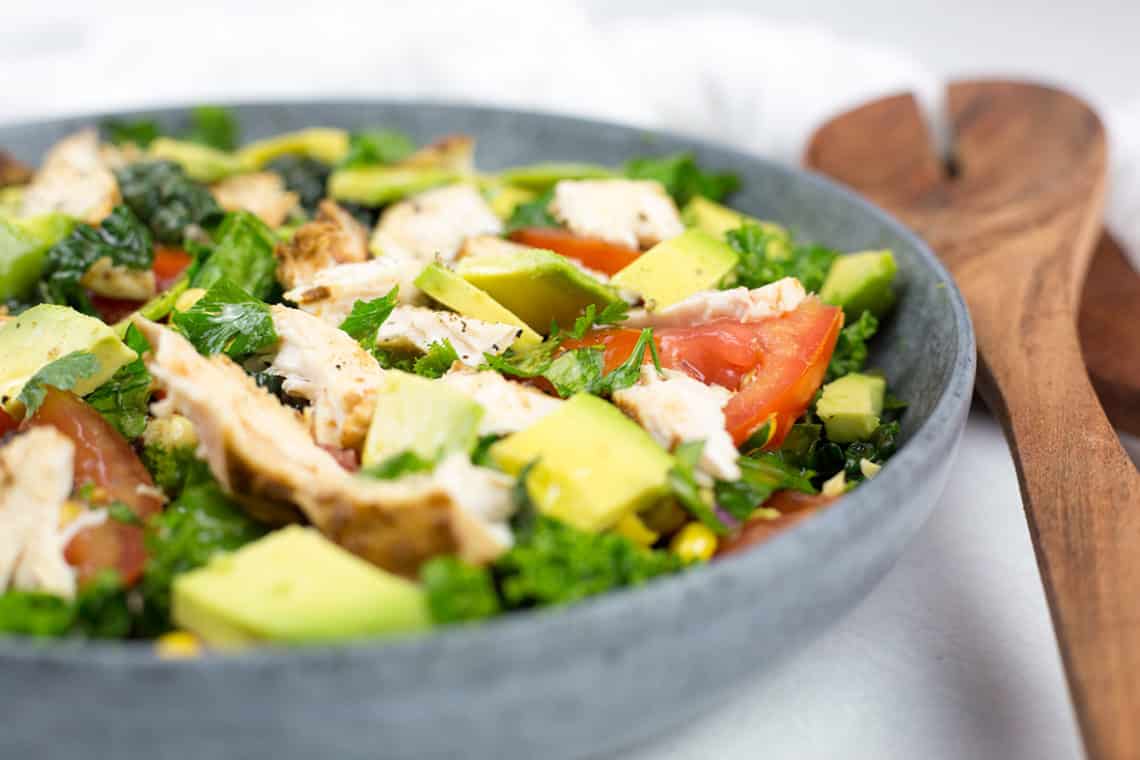 It is back to basics around here at the moment, as I'm sure it is for many of you. Instead of going out to buy ingredients to make various recipes I'm making and looking for recipes that use what I already have.
One thing I can always count on in my garden is kale, it grows and grows and grows! At the moment when we are all housebound, I am very grateful for these small things! I have used a mix of Tuscan kale, curly kale, Russian kale and cos lettuce in this recipe as that's what we have in the garden. If you can't get your hands on any kale any greens will work well.
We have been busy here steaming, and blanching anything in our garden that looks like it may not keep to put in the freezer and I am definitely appreciative of the fact that we are able to do this at the moment!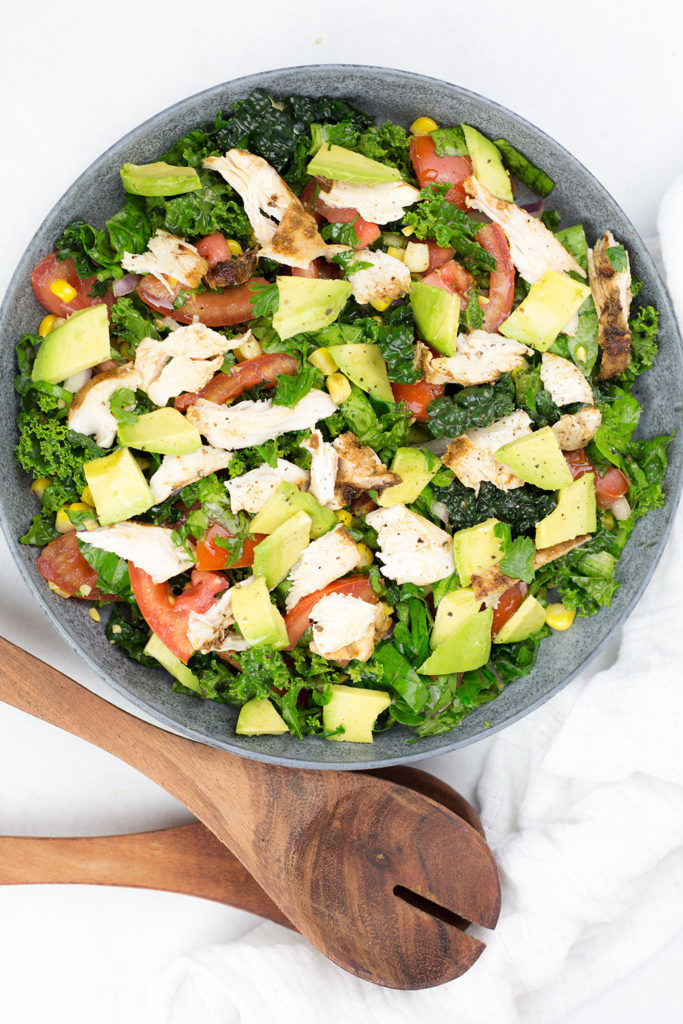 This simple chicken salad ticks all the boxes as it is...
Super easy to make!
Has tender chicken coated in various spices giving it an awesome flavour - (that is not from a pre-made packet!)
The salad is packed full of a variety of fresh veggies that can easily be swapped out for whatever you have on hand.
The marinated chicken is lightly spiced (not in a heat kind of way) so your kids can enjoy it too.
This salad goes well with nearly any dressing - I have made a simple one with what we have on hand.
The corn is sauteed with olive oil and garlic giving this salad extra flavour. You can also skip this step if you don't have time.
Can't get your kids to eat salads? Try these tips.....
Add the ingredients into a wrap or a burrito and have a Mexican style chicken wrap - the flavours are Mexian-ish.
Serve the ingredients between lightly toasted bread (GF if needed) and make a warm chicken salad toastie.
The other thing I find works well for smaller kids is not mixing the salad ingredients up and serving them separately (minus the onion) on a platter. Think tapas styles with some kind of dipping sauce such as guacamole, hummus, aioli or simply yoghurt or coconut yoghurt. This dairy-free ranch dressing goes really well with this salad.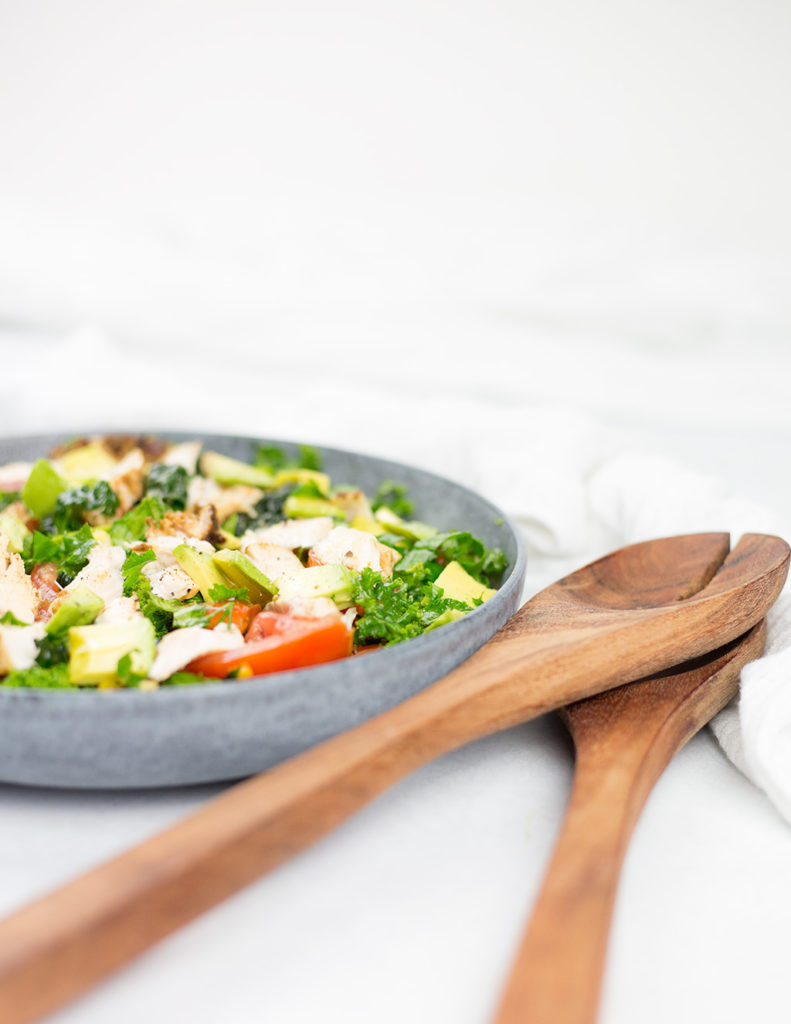 At the moment many of us don't have access to all of the ingredients we would like for a recipe.

Here are some basic swaps.....
Don't have kale? Use spinach greens, any lettuce greens, or Chinese cabbage leaves. This salad can also be mixed up with fresh parsley and or coriander leaves.
No avocados at the moment? Try boiling some eggs and slicing through the salad.
Don't have fresh corn? Use canned, with no added sugars or add in some canned chickpeas.
No balsamic vinegar? Use lemon and olive oil, mustard and olive oil or raw garlic and olive oil.
Other recipes you might enjoy....
I hope you enjoy this recipe! Please let me know how you got on in the comments below, I love hearing from you!
For more tasty recipes and to see what I've been getting up to you can follow me on Facebook, Instagram, Pinterest or Twitter.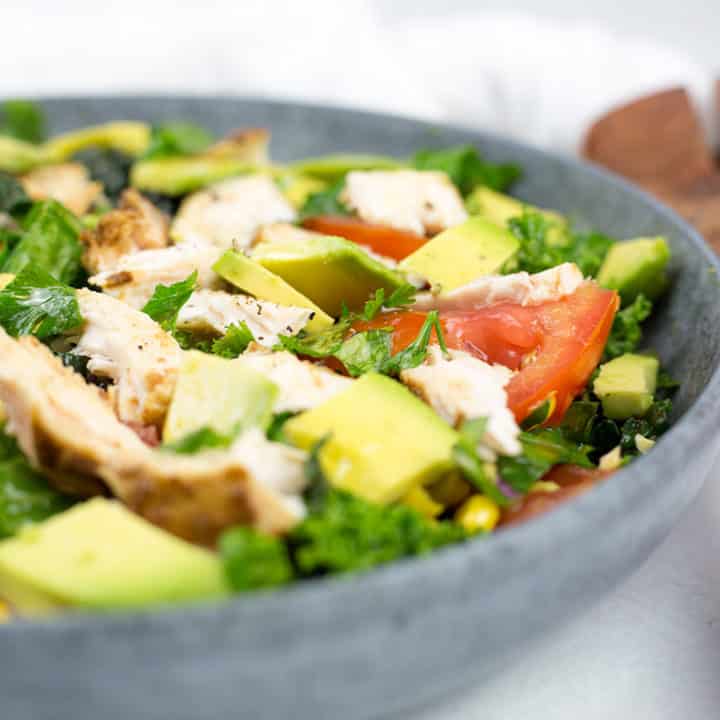 Simple Chicken Salad - Healthy & Easy!
Additional Time (Marinade) :
30 minutes
Total Time:
1 hour
15 minutes
You will love this easy chicken salad with succulent marinated and lightly spiced chicken and a simple balsamic dressing.
Ingredients
Chicken Marinade
1 teaspoon cumin powder
1 teaspoon ginger, dried
1 teaspoon coriander, dried
1 teaspoon garlic, crushed
1 teaspoon chipotle seasoning (optional)
2 teaspoon olive oil
1 tablespoon Worcestershire Sauce
1 teaspoon lemon juice
Chicken Salad
2 chicken breasts, boneless, large, (approx 480gm/16oz)
2 cups kale leaves, roughly torn, stems removed
1 cup cos lettuce leaves, roughly torn
2 large vine ripened tomatoes
½ red onion, diced
1 avocado, peeled and sliced
1 tablespoon olive oil for cooking
For sauteed corn (optional)
1 ear of corn, shucked or ¾ cup corn kernels from a can
1 teaspoon olive oil
1 teaspoon garlic, crushed
Salad dressing
1 tablespoon balsamic vinegar
3 tablespoon olive oil
1 teaspoon garlic, crushed
salt and pepper to taste
1 teaspoon honey (optional)
⅛th teaspoon salt
Salad Dressing
1 tablespoon Olive oil
3 tablespoon Balsamic Vinegar
1 teaspoon garlic, crushed
salt and pepper to taste
Instructions
Preheat the oven to 180C/355F
Place the ingredients for the marinade in a bowl and mix together, place the chicken breasts in the bowl and coat evenly in the marinade. Cover and leave for 30 min.
Put 1 tablespoon oil in a cast iron pan on a high heat. Once the pan is very hot turn the pan down to a medium heat. Cook the chicken breasts for about 3-5 minutes on each side so that they are are golden brown on the outside.
Place the chicken in an oven proof dish and cover with foil. Put in the oven and cook for 20 minutes.
While the chicken is in the oven make the rest of the salad and saute the corn.
To saute the corn bring a medium sized skillet or pan to a medium heat. Heat the olive oil and saute the garlic for 1-2 minutes until translucent. Add in the shucked corn kernels and saute for 2-3 minutes until golden. Remove and set aside.
Prepare the rest of the salad, add all of the ingredients into one large bowl and toss.
Remove the chicken from the oven, test to ensure the juices run clear. Leave to rest for 5 minutes while you make the marinade.
Put all of the ingredients for the marinade into a jar and shake or into a jug and stir.
Once all of the salad is assembled roughly tear the chicken and place over the top and toss through the corn. Pour over the dressing, toss and serve.
Top with fresh herbs if desired.
Notes
I used 1 cup of Tuscan kale, 1 cup of red Russian kale, a cup of curly kale, and 1 cup of cos lettuce in this recipe. That's what I had in the garden and it makes a nice blend. Any greens can work such as spinach leaves, lettuce leaves, or even Chinese cabbage leaves.
The chipotle seasoning gives this chicken a hint of spice, leave it out if your family does not enjoy spicy food.
If you are strictly gluten-free then check the label on your Worcestershire sauce brand to ensure it contains no gluten.
For a strict Paleo-friendly meal then remove the corn.
Nutrition Information
Yield

4
Serving Size

1
Amount Per Serving
Calories

484
Total Fat

31g
Saturated Fat

5g
Trans Fat

0g
Unsaturated Fat

25g
Cholesterol

51mg
Sodium

1291mg
Carbohydrates

31g
Net Carbohydrates

16g
Fiber

8g
Sugar

11g
Protein

24g
This nutritional information is an estimate only and is provided as a courtesy to readers. It was auto-generated based on serving size, number of servings, and typical information for the ingredients listed in the recipe card. Please feel free to use your preferred nutrition calculator. Please consult your doctor about any specific dietary requirements.