Roasted Sweet Potato and Feta Salad with Pomegranate and Pecans – This bright and colourful sweet potato salad is perfect for the festive table or to enjoy any time of year.
Cinnamon roasted sweet potatoes bring a mild sweetness to this salad that goes perfectly alongside crunchy greens, creamy goats feta and pecans; all balanced nicely by the sharpness of the brightly coloured pomegranates.
This salad is a great dish to take along to a Christmas party or BBQ (for those in the southern hemisphere) or to enjoy as part of your Christmas feast.
The busy season is nearly in full swing and in true kiwi fashion all of a sudden it is hot! Only on my last post I noted (with slight despair) the wet year we have had – those feelings are long forgotten after a week of glorious hot weather!
Summer is finally nearly here and I love the excitement that it brings along with visions of BBQs, camping and days at the beach.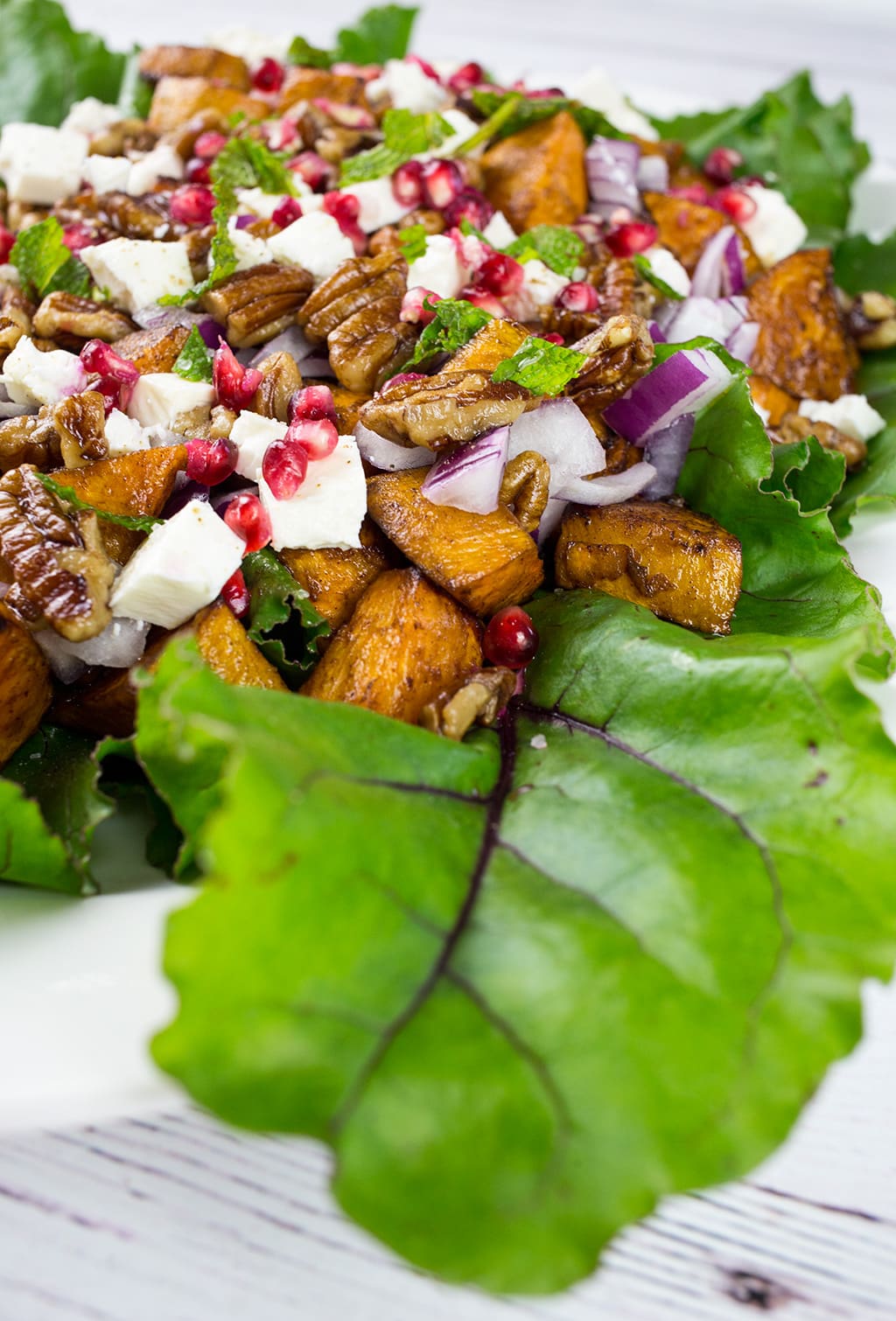 I do love a white Christmas and after living in the UK in my twenties I really appreciate how cosy, cheery and well Christmasy a white Christmas can be when the weather is chilly. Not to mention the joy of eating delicious warm comforting food, getting rugged up in jackets, hats and gloves or sitting by the fire and sipping on mulled wine. All so cosy!
However being a kiwi Christmas will always mean summer to me and the summery things that accompany a kiwi Christmas are special memories for me. Wearing shorts and jandals or your new summer dress on Christmas day, playing barefoot in the grass as a child with your new toys, sipping cold drinks, snoozing in the shade after you have enjoyed your Christmas feast or heading to the beach for a swim.
In both hemispheres Christmas is equally special but so different they cannot really be compared.
Anyhow back to the recipe…..
This sweet potato salad can be served with the sweet potatoes warm or cold making it a great option for whatever season Christmas may be for you.
If you are looking for other salads you may like to try:
Beetroot & Avocado Quinoa Salad with Spiced Walnuts & Mint
Hot Smoked Salmon Salad with Egg & Mustard Potatoes
Roasted Pumpkin, Chickpea and Sundried Tomato Salad
For other gluten free Christmas treats you may like:
Cranberry & Chocolate Truffles – G.F/Paleo/Vegan
Raw Gingerbread Cookie Dough Bites – G.F/Paleo/Vegan
Cranberry & Cacao Chip Oat Cookies – G.F/D.F
I hope you enjoy this recipe, please let me know how you got on in the comments below, I love hearing from you!
For more tasty recipes and to see what I've been getting up to you can follow me on Facebook, Instagram, Pinterest or Twitter.
Have a lovely week!
Hope
Love Food Nourish Nutrition Tips
I have used beetroot leaves in this salad as we currently have a big crop of beetroot about to be harvested in the garden. Beet leaves often discarded but they really are a great addition to any meal, they are not only crisp and tasty but also very nutritious! They are an excellent source of vitamin K, vitamin A, vitamin C, potassium, manganese, magnesium and vitamin B2. Beet leaves are also a great source of iron, just 1 cup of beet greens can give you 15% of the daily recommended intake of iron which is pretty impressive! If you can't get your hands on some beetroot leaves any greens can be used in this salad such as spinach, kale or rocket.
Sweet Potato & Feta Salad with Pomegranate & Pecans
---
Hope Pearce
Delicious cinnamon roasted sweet potatoes on a bed of greens, topped by feta, pecans, pomegranate and mint.
15 minPrep Time
30 minCook Time
45 minTotal Time
Ingredients
Cinnamon Sweet Potatoes

600 gm /1.3 lb orange sweet potato or kumara (approx 2 medium sized )
2 Tbsp olive oil
1 Tbsp balsamic vinegar
1 tsp ground cinnamon

Salad

100 gm /3.5 oz of spinach or other leafy greens* See notes
3/4 cup pecans
1/2 Tbsp olive oil
1/2 medium red onion, finely diced
1/2 pomegranate seeds/arils removed
1/2 cup goats feta (approx 55gm/2 oz)cut into small cubes or crumbs.
1 Tbsp fresh mint
salt and pepper to taste
Extra olive oil to drizzle over top if desired
Instructions
Preheat oven to 220°C/430°F
Peel and wash the sweet potato and cut into large cubes.
In a large bowl place the olive oil, balsamic vinegar and cinnamon to coat the sweet potatoes. Place the sweet potatoes into the marinade in the bowl and toss until evenly coated.
Place the sweet potatoes on a baking tray and sprinkle with salt and pepper. Bake for 15 minutes then flip the potatoes over and bake for another 10-15 minutes until tender and golden brown.
While the sweet potatoes are cooking prepare the rest of the salad.
Add 1/2 Tbspn olive oil to a medium frying pan, add the pecans and cook for 3-5 minutes until golden brown. Turn regularly.
Assemble the salad in a large bowl or platter. Add greens to the bottom layer, topped by the sweet potato then the red onion, pecans and pomegranate seeds. Top with feta and fresh mint. Add more salt and pepper to taste and drizzle with extra olive oil if desired.
Notes
Note 1 - I have used beetroot greens but any greens can be used in this salad such as kale, spinach or rocket. Note 2 - I have used greek goats feta to keep this recipe cows milk free for those with a cows milk dairy intolerance. If this doesn't apply to you then cows milk feta could also be used but it doesn't have the same crumbly texture. Note 3 - This would serve 2-3 as a standalone dish, 4-6 as a standard side dish or approx 8-10 as part of a Christmas feast. Note 4 - The nutrition information below is based on serving 6 people.
7.8.1.2
49
https://lovefoodnourish.com/sweet-potato-feta-salad-pomegranate-pecans/