A delicious warming bowl of oatmeal with creamy tahini, naturally sweetened with cinnamon, caramelised bananas, all topped off with crunchy almonds, cacao, and maple syrup.
Sometimes you need a big warm comforting breakfast that brightens you up on a dreary day and this bowl of oatmeal is certainly that. Somewhere in between comfort food, nourishing, and a treat - sounds good to me!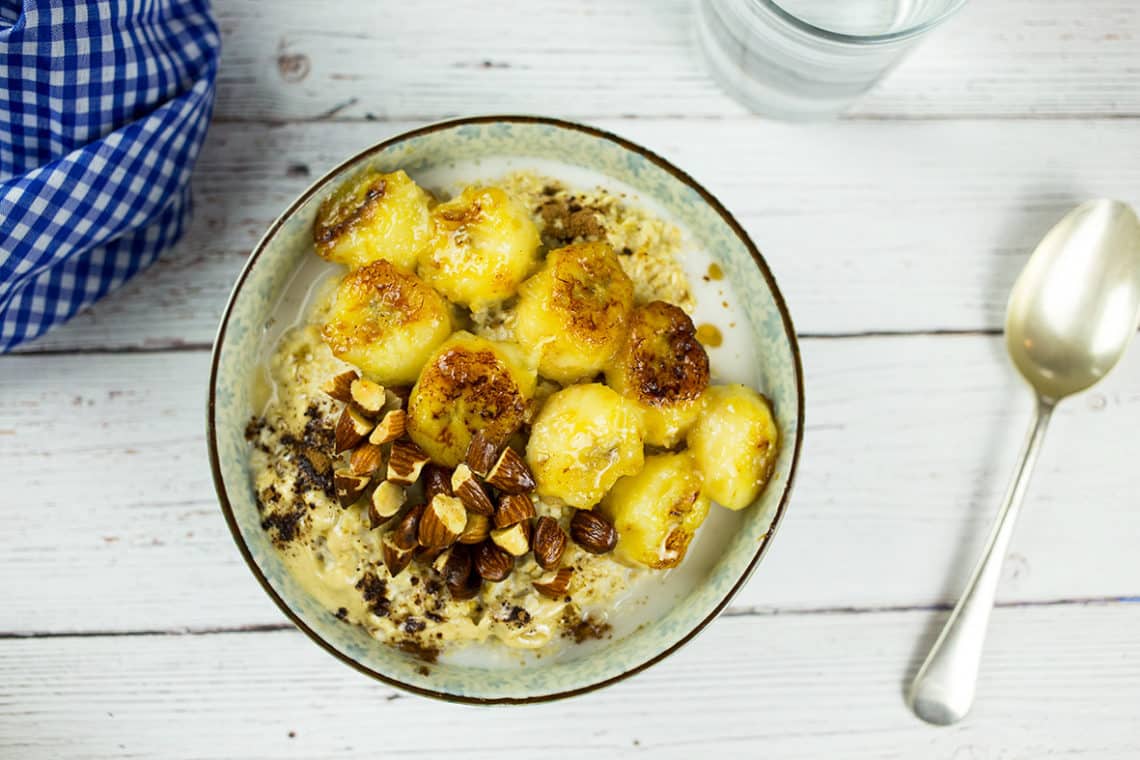 After last week's polar blast it is still pretty chilly and a nourishing warm cheery breakfast is just what I need!
I have lost my mojo lately for exercise, I am sure I am not alone in this when it is cold.
After noticing a definite dip in my mood lately due to some external factors and some just plain old winter blues I decided to make my state of mind and wellness a priority and put some positive things in place to try and help.
Eating nourishing foods and exercising were top of my list. This included trying to get out for a walk every time it is not raining (unfortunately there have not been many days where it has NOT been raining lately!) and making a concerted effort to do some yoga most days.
This does mean setting my alarm to try and get up before my toddler (which isn't always possible if he wakes up at 5 ish as I cannot bring myself to set my alarm to 4.30!) .......or doing broken bits of exercise with him climbing all over me. Not exactly the zen moments I would like but I am pleased to say my efforts have helped, after committing to my new routine I feel better, have more energy, and am in a better state of mind.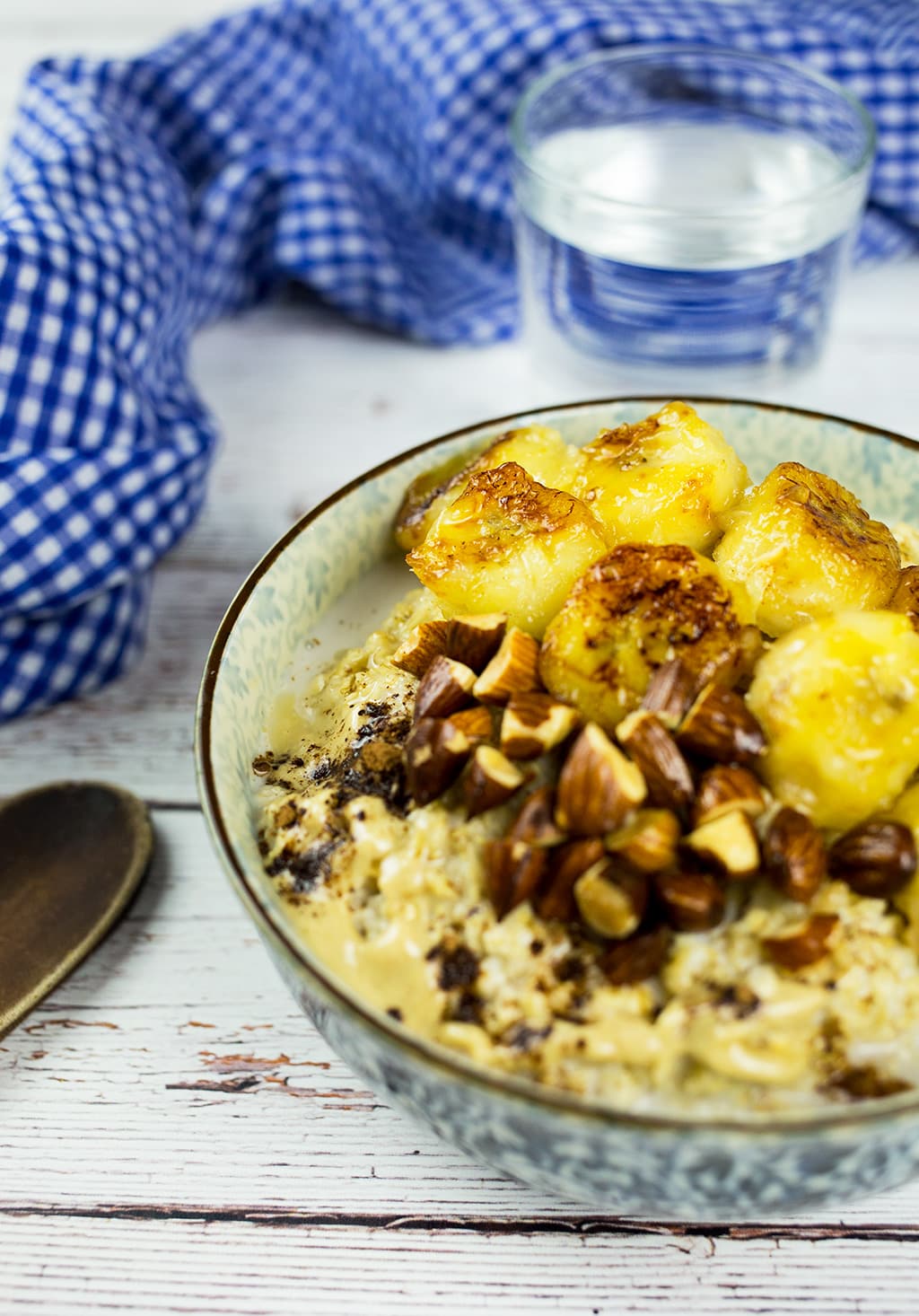 Tahini is a middle eastern spread made from ground sesame seeds that is deliciously creamy, it is slightly bitter and is often found in savoury dishes but can also be the perfect complement to sweet dishes. Adding some tahini to your oatmeal gives it a deliciously creamy texture which goes nicely with the gentle sweetness of the cinnamon, bananas, and maple syrup.
For other healthy breakfast ideas, you may like my Quinoa Breakfast Bowl with Poached Egg, Avocado & Pesto,
Creamy Coconut Chia, Acai & Strawberry Layered Smoothie or Baked Eggs with Cripsy Kale, Capsicum & Pumpkin Seeds.
I hope you enjoy this recipe! Please let me know how you got on in the comments below, I love hearing from you!
For more tasty recipes and to see what I've been getting up to you can follow me on Facebook, Instagram, Pinterest, or Twitter.
Have a lovely week!
Hope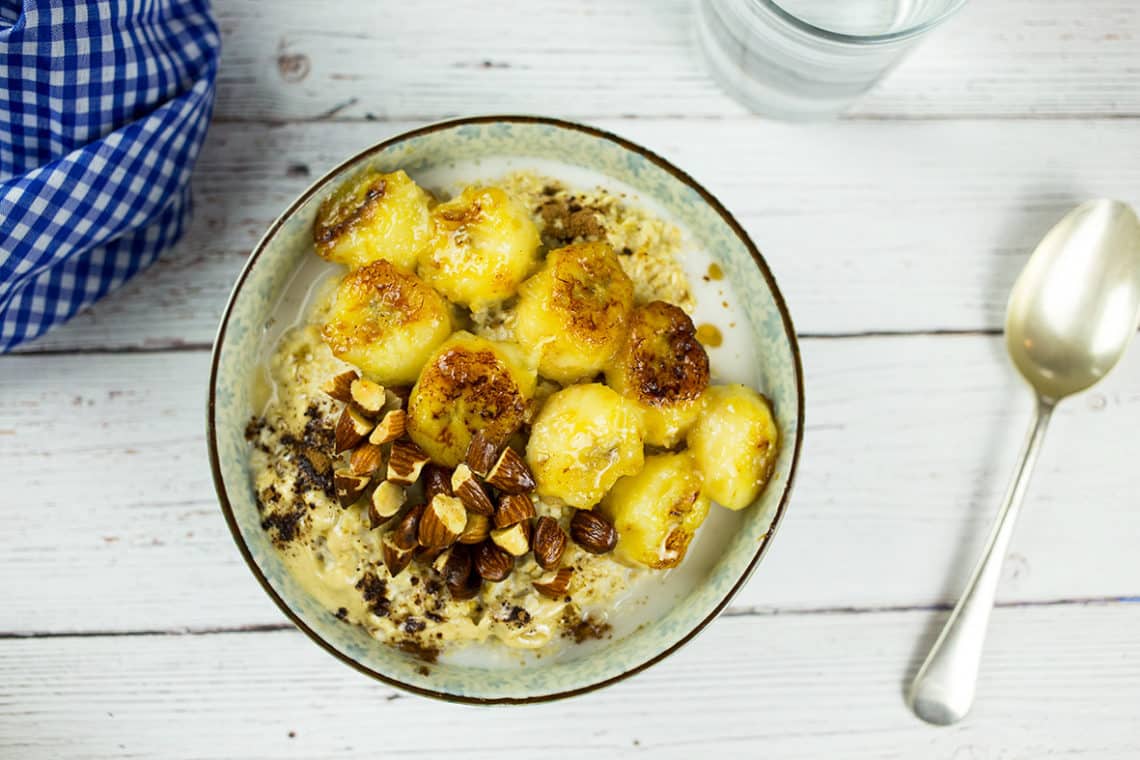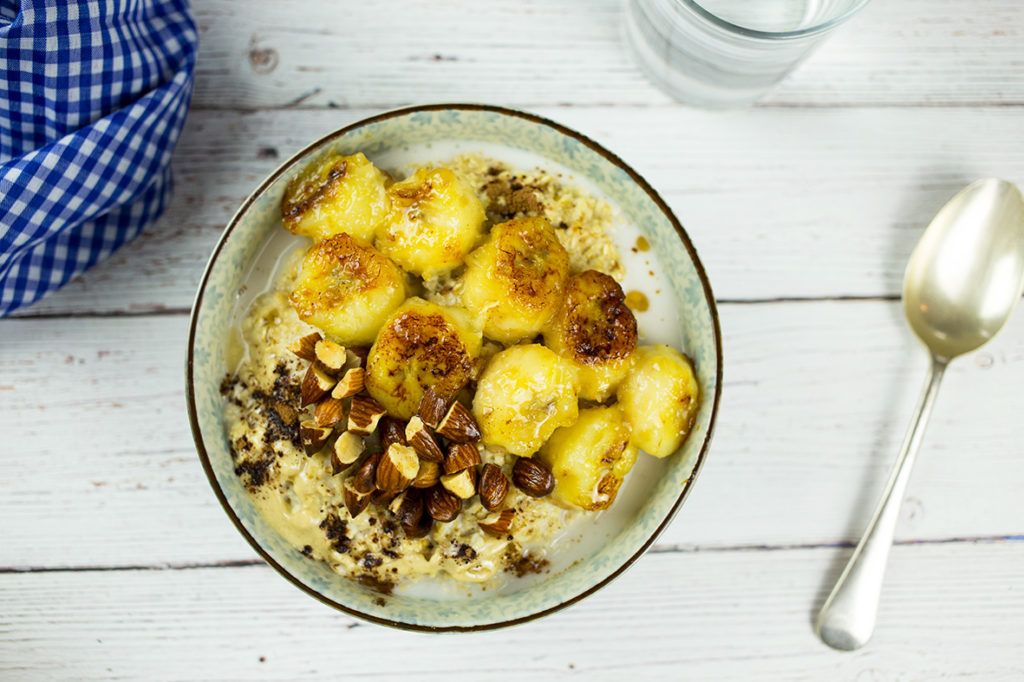 Love Food Nourish Nutrition Tips
Tahini is a good dairy-free source of calcium so is a great food to include in your diet if you have a dairy allergy or dairy intolerance. It also is a good source of healthy fat and protein.
Oats can be classed as a bit boring but there is no reason you can't spice up your oatmeal or porridge to make it more interesting and include oats in your diet, as oats actually have some great health benefits. Oats are very nourishing for the nervous system and soothing for the digestive system. Oats are a source of b vitamins and minerals silicon, calcium, iron, potassium, and phosphorous. They are also rich in a type of fibre called beta-glucan which can help lower cholesterol levels.
For optimal digestibility oats ideally should be soaked the night before to remove the anti-nutrients and phytates that can interfere with mineral absorption.
Tahini Oatmeal with Caramelised Bananas
---
Hope Pearce
A warming bowl of tahini oatmeal with caramelised bananas, almonds and cacao.
5 minPrep Time
10 minCook Time
15 minTotal Time
Ingredients
Oatmeal

1 cup rolled oats*
1.5 cups almond milk or your favourite nut milk
1 Tbspn tahini
1 teaspoon cinnamon

Topping

2 medium bananas, sliced into rounds
1 Tbspn coconut oil
1 Tbspn maple syrup
2 Tbspn chopped almonds
½ tspn raw cacao powder
Instructions
In a medium saucepan add the rolled oats, nut milk and cinnamon. Bring to a boil and then reduce to a simmer, stirring periodically. Simmer for 5 -10 minutes until the liquid is absorbed and the oatmeal is the consistency you desire. Add the tahini and stir through the oatmeal. Spoon the oatmeal into 2 bowls. If the oatmeal is too thick for you add more water until it reaches the consistency you desire
While the oatmeal is cooking cook the caramelised bananas. In a medium frying pan or skillet using a medium heat melt the coconut oil, then add the maple syrup to the pan. place the bananas in the pan. Cook for about 1 minute on each side until the bananas are caramelised. Remove the bananas from the pan and place on top of the oatmeal.
Add the chopped almonds to the same frying pan on a medium heat and cook for 1-2 minutes until golden. Remove from the pan and add to oatmeal.
Sprinkle with raw cacao powder, more maple syrup and milk if desired.
Notes
*Soak oats covered overnight in 1 cup of warm water plus 1 tablespoon of lemon juice and ½ tspn of sea salt for optimal digestibility
7.8.1.2
41
https://lovefoodnourish.com/tahini-oatmeal-caramelised-bananas/
Source:
Haas, Elson M. Staying Healthy with Nutrition. Berkley, CA: Wiley, 2006.
Fallon, Sally. Nourishing Traditions. Washington, DC: NewTrends, 1999, 2001.
Fisher C/Painter G. Materia Medica of Western Herbs for the Southern Hemisphere. 1996.
Save
Save
Save
Save
Save
Save
Save
Save
Save
Save
Save
Save
Save
Save
Save
Save
Save
Save
Save
Save
Save
Save
Save
Save
Save
Save
Save
Save
Save
Save
Save
Save
Save