These succulent Thai-style marinated chicken skewers are full of Asian-inspired flavours that you won't be able to resist! Perfect for the BBQ, entertaining (when we can) or to be enjoyed as a simple family meal with a side - they are very versatile! These chicken skewers are Paleo, Whole30 and Keto friendly.
If you have been following my blog for a while you will know that I love Asian inspired food.......
A few of my recipes have been inspired after various trips overseas such as my Vietnamese Chicken Pho, Gado Gado Indonesian Salad, and Vietnamese Prawn Noodle Salad with Spicy Peanut Dressing.
It is such a common sight when wandering around busy streets in South East Asia to come across a vendor selling chicken skewers that are cooked over hot charcoal letting off a fragrant smokiness that reminds your senses that there is no doubt you could be anywhere but South East Asia.
These Thai grilled chicken skewers remind me of those times and bring back many fond food memories.
The marinade for these chicken skewers is quite simply a few of our favourite ingredients thrown together and it seems to work - making the chicken full flavoured, tender and juicy!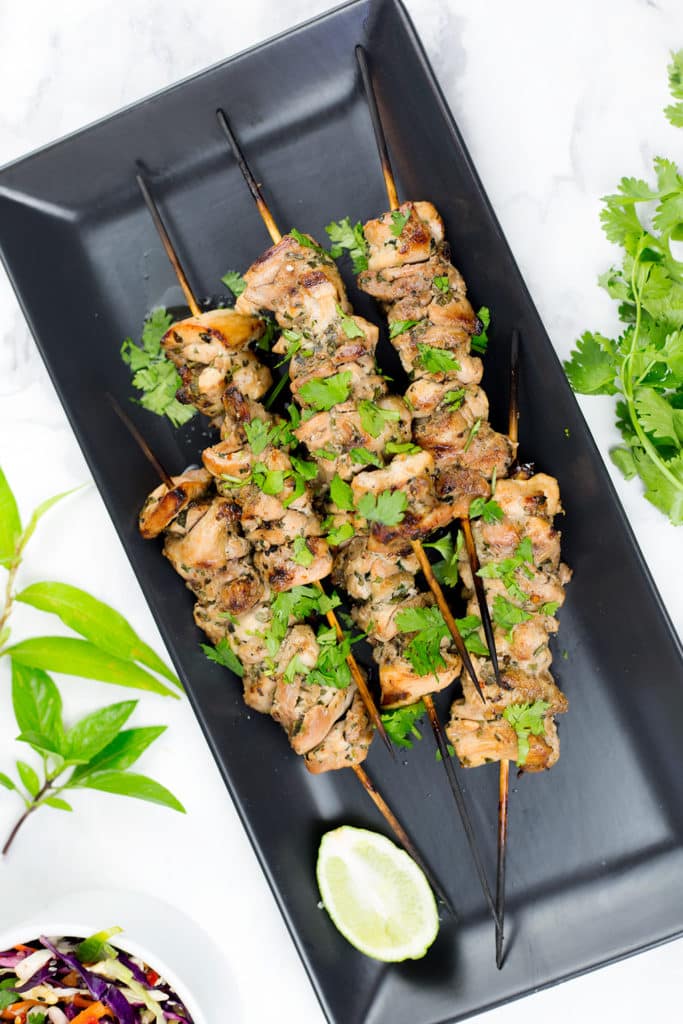 BBQ season is nearly over for us now in New Zealand. Well........actually it is officially over .....but luckily it has still been warm enough to cook outside.
Our BBQ is well used and we always cook outside well into autumn. We are definitely warm weather lovers in our household and try to hold on to summer as long as we can! We have a standard gas BBQ and a charcoal BBQ, we usually cook these skewers on the grill plate on the gas BBQ as it is much quicker.
For many of you on the other side of the world you are just coming into warmer weather so I think you will love these chicken skewers as they are great for summer entertaining.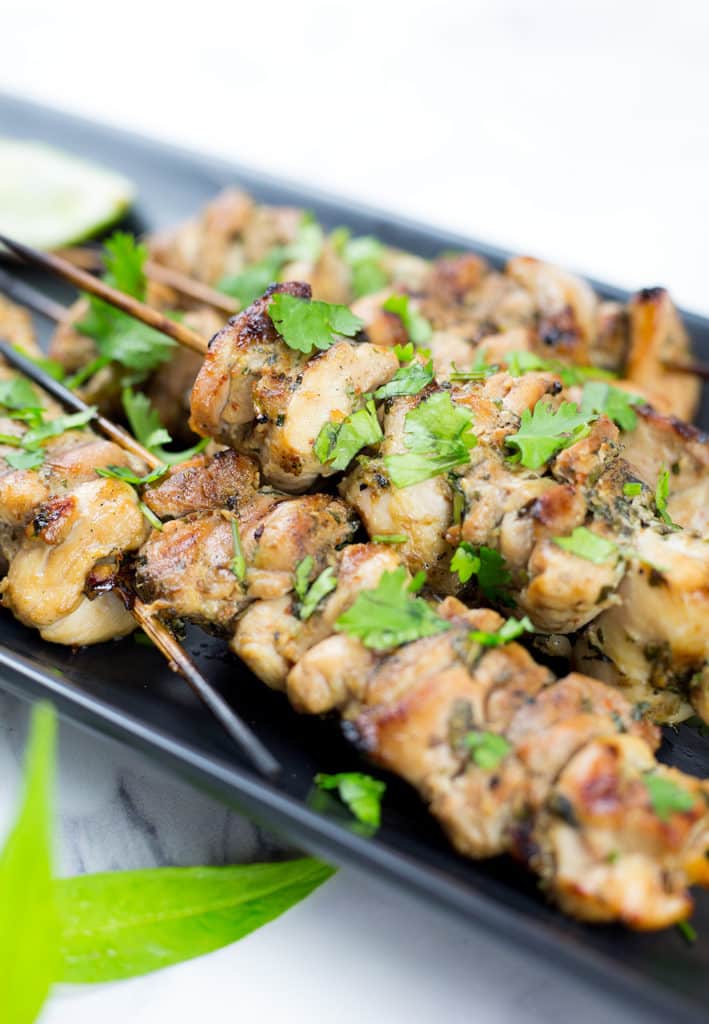 Additional Recipe Notes and FAQ
How long do I need to leave the chicken to marinade?
Leave the chicken to marinade anywhere from 30 minutes to overnight. The longer you leave it the more flavour they will have.
Can I cook these chicken skewers if I don't own a BBQ or it is not BBQ season here?
If you don't have a BBQ or it is not feasible to cook outside at the moment then you can easily cook these chicken skewers on a large grill pan at home on the stove.
What should I serve with these chicken skewers?
These chicken skewers go well with a simple side salad, rice, coconut rice or if following a Paleo, Whole30 or Keto diet then cauliflower rice is another good option.
Stir-fried greens with garlic go well. Bok choy, broccoli, beans are good options, add some chopped chili if you desire.
An Asian style salad such as my crunchy Asian slaw works well as a side dish.
How do I stop the skewers burning?
If you are using wooden skewers then you will need to soak them in water for at least 10 minutes prior to burning, alternatively you can use metal skewers.
You have mentioned soy sauce, tamari or coconut aminos - what should I use?
If you are following a Paleo or Whole30 diet or you can't tolerate soy than coconut aminos will be your preferred choice. If you are simply gluten free then tamari is a good choice. If none of the above applies to you and you can tolerate soy then standard soy sauce can be used. When it comes to consuming any ingredients based from soy then buying organic soy is always preferable.
Other chicken recipes you might like to try:
Chicken, Avocado & Asparagus Salad with Lemon Cashew Dressing
One Dish Mediterranean Chicken
I hope you enjoyed this recipe for Thai chicken skewers. Please let me know how you got on in the comments below and leave a star rating, I love hearing from you!
For more tasty recipes and to see what I've been getting up to you can follow me on Facebook, Instagram, Pinterest or Twitter.
Have a lovely week!
Hope x
Thai Chicken Skewers
Delicious marinated Thai style chicken skewers. Gluten-Free, Paleo, Whole30 & Keto friendly.
Ingredients
Chicken Marinade
3 Tbspn lime juice
3 Tbspn fish sauce
3 Tbspn olive oil
1 Tbspn soy sauce, tamari or coconut aminos* see additional recipe notes
1 tspn garlic, crushed
1 tspn chili flakes
2 Tbspn fresh Thai basil, finely chopped
2 Tbspn fresh Vietnamese mint, finely chopped
2 Tbspn fresh coriander/cilantro leaves and stalks finely chopped.
Chicken
600gm/1.3lb chicken thighs, boneless and skinless
Instructions
Cut the chicken into 3 cm/1 inch squares for skewering. In a small bowl, whisk together the ingredients for the marinade. Place the chicken pieces in a glass dish. Pour the marinade over the chicken and stir to coat. Cover and place in the refrigerator and let the chicken marinate for 30 minutes to overnight. If using wooden skewers, soak them in water while the chicken is marinating.
Grease the grill on your BBQ or a large grill pan on your stove. Cook the chicken for 20 - 25 minutes, turning regularly until golden brown and cooked through.
Serve piping hot and serve with a side salad, rice or cauliflower rice.
Notes
The above serving size is based on having 2 chicken skewers each person. Marinating time may vary - it is not included in the prep time - please see the additional recipe notes in blog post.
Nutrition Information
Yield

3
Serving Size

2
Amount Per Serving
Calories

191
Total Fat

11g
Saturated Fat

2g
Cholesterol

94mg
Sodium

859mg
Carbohydrates

2g
Protein

20g
(This recipe for Thai Chicken Skewers was first posted on Love Food Nourish in April 2019)