An easy-to-understand guide and free printable for using Vegan egg substitutes. If you are new to Vegan baking or looking for egg-free replacements due to allergies this post is for you!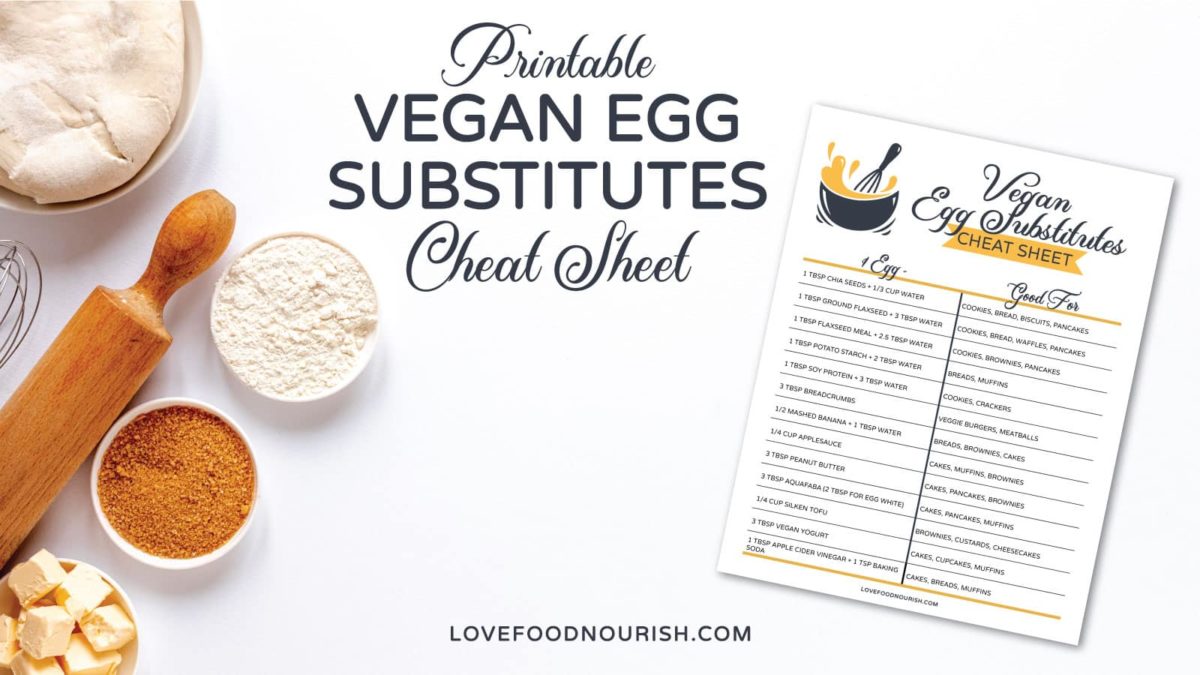 We have a couple of close friends with egg allergies so for entertaining and children's parties I have often made Vegan desserts and birthday cakes and had to experiment with using various egg substitutes.
Eggs are a common ingredient that we rely on in cooking for baking for their various properties such as binding, rising, texture and stabilising to name a few.
We are all so used to using eggs that when trying to bake without them it can be a little overwhelming.
Even if you're not allergic to eggs or Vegan it can be useful to know a few of these substitutes if you're ever in a situation where you can't use/don't have/can't get eggs.
I get quite a few questions about egg-free baking so I hope this post will be helpful.
Common Egg Substitutes
Chia Eggs
1 tablespoon of chia seeds + ⅓ cup of water.

A chia egg is made by combining 1 tablespoon of chia seeds with 3 tablespoon of water, mixing together, and letting sit until thick. With chia seeds, you really need to scrape the seeds off the sides of the vessel you are using once you have added water or they can stick to the sides. Chia eggs produce a gel-like texture which can be used in binding.
They can be used in cookies, bread, no-bake desserts, or breakfasts such as chia pudding or this layered chia smoothie or crackers such as.
Flax Eggs
1 Tablespoon of ground flaxseed or linseed + 3 Tablespoons of water
Flax eggs make an easy egg substitute and can replicate the consistency and texture of an egg when used in baking. They are made by combining ground flaxseed or linseed, (which it can be called in New Zealand) with water and letting it sit about 5 minutes until thickened.
Flaxseeds do not provide any lift to baked goods so they are best used in baking for their binding effects.
Note: I refer to these mainly as flaxseed as in most recipes you find this is what the recipe will call for, but you can use flaxseed and linseed interchangeably.
Ground Flaxseed Meal
1 Tablespoon of ground flaxseed or linseed meal + 2.5 Tablespoons of water
Note: While similar, whole ground flaxseed meal is not the same as ground flaxseed.
Ground flaxseed is as the name suggests made from ground flaxseeds while ground flaxseed meal is made from ground flaxseed after the oil has been extracted. This is not something we can buy readily in New Zealand I have only been able to find it sparingly however it is available overseas and many of my readers buy this for its other benefits.
Use this egg substitute the same way as you would a flax egg.
Potato Starch
1 Tablespoon of Potato Starch+ 2 Tablespoons of water
Potato starch can be used as an egg substitute when you need a tender crumb and a light texture. Starches also work well when making recipes that already contain leavening. You can use potato starch for bread, muffins, and cakes.
Soy Protein
1 Tablespoon of soy protein powder + 3 Tablespoons of water
Soy protein powder can be used for making cookies and crackers.
Breadcrumbs
3 Tablespoons of breadcrumbs
You can bind Veggie burgers and veggie "meatballs" or standard burgers and meatballs without eggs using breadcrumbs. Breadcrumbs are great because they absorb moisture from the main burger ingredients and help hold everything together.
If you are adding any extra veggies to your burgers that have a high moisture content such as mushrooms or zucchini then you may need to add more breadcrumbs.
Mashed Banana
½ mashed banana + 1 Tablespoon of water
Mashed, ripe bananas make an excellent egg substitute in baking. However, they will add a slight banana taste, so are best used when baking a sweet recipe, not a savoury one. Due to their natural sweetness, the other benefit of using bananas is you may need to use less sugar in your recipe.
Applesauce
¼ cup applesauce
Similar to bananas applesauce adds a light sweetness to your recipe so works best as an egg substitute in sweet recipes or desserts. The pectin in apples can work as a binder.
Applesauce can provide a lot of moisture so may be best suited to recipes that require a longer baking time or you may need to simply check and keep your baking in the oven a little longer.
Peanut Butter
3 Tablespoons of peanut butter
Peanut butter or any nut butter of choice can be used as an egg substitute. It will affect the end flavour of your baking with a slightly nutty flavour so this needs to be kept in mind, it works well for cakes, pancakes and brownies.
Creamy varieties work best as opposed to chunky nut butter, check also for any additives such as sugar as this can also affect the finished product.
Aquafaba
3 Tablespoons of aquafaba or 2 Tablespoons if the recipe just calls for egg whites.
Aquafaba is the brine that is drained from a can of chickpeas (the bit that is usually discarded). It whips up just like egg whites do so it can be used as an egg substitute in meringues or macarons.
It's important to note that the foam produced by aquafaba doesn't solidify once it is cooked. It does need sugar (or an alternative ingredient) to be whisked into the aquafaba to stabilise it.
The viscosity of aquafaba can vary between different brands of chickpeas. If you have tried whipping the aquafaba but are not getting the results you desire then reduce the liquid by 50% by gently cooking it on low heat.
Silken Tofu
¼ cup silken tofu
Silken tofu is a great egg substitute to use in Vegan cheesecake recipes, custards, moist brownies, or dessert. It is dense and heavy and is well suited to recipes that require extra moisture.
Vegan Yoghurt
3 Tablespoons of Vegan yoghurt
Vegan yoghurt can be used where moist baked goods are required. It can also replace applesauce in a recipe.
Apple Cider Vinegar and Baking Soda
1 Tablespoon of apple cider vinegar mixed plus 1 teaspoon of baking soda
This combination is perfect for where you want a baked good that is light and fluffy. It can be common for Vegan baked goods to be a little on the dense side. The baking soda mixed with acid will produce bubbles that help to lift your baked goods.
The vinegar and baking soda combination works well when you are looking to make lighter cakes, breads, muffins or cupcakes. You may need to experiment with the exact amounts to use depending on what you are making.
You can pin the graphic below (or even save it) for future reference or here is a free printable pdf that you can print out and keep.