These mini white chocolate blueberry cheesecakes make a delicious Vegan dessert that is also gluten-free and dairy-free.
Fresh, fruity and mildly sweet these mini blueberry cheesecakes are decadent yet so satisfying.
I love my no-bake desserts, particularly when the weather is getting warmer!
If you have tried Vegan "cheesecakes" before you will know they are not the same as a traditional cheesecake, but in my opinion, they are still delicious and I often prefer them.
Blueberries give these mini cheesecakes their beautiful vibrant colour. The cacao butter gives this dessert a subtle white chocolate flavour that pairs well with the creamy blueberry filling but is not overpowering.
The slight tartness comes from a splash of lemon, if you prefer more tang then you can add more lemon as desired.
Key Ingredients:
Blueberries - Frozen or fresh, if you are using frozen then let them defrost quickly before using or they can cause the cacao butter to harden.
Cashews - Raw, unsalted cashews give these cheesecakes their "creamy, cheesy" texture. You will need to soak these before blending, ideally overnight or for at least four hours in cold water or 10-15 minutes in hot water.
Cacao Butter - This gives the cheesecakes a subtle white chocolate flavour. It may not be an ingredient you have on hand but can be found now in most wholefoods sections of supermarkets and is reasonably priced, a small amount can go a long way. It is great for using in desserts or snacks where you want them to hold their shape without baking - like these peanut butter fat bombs.
Walnuts - I used walnuts in the base but you could also use almonds or pecans or a mix of them all.
Maple Syrup - Use a good quality maple syrup as this will affect the end result and in no-bake desserts, you can notice the difference more than in baked goods.
Additional Recipe Notes:
You can make these Vegan cheesecakes in a muffin tin or in silicone muffin moulds. If you make them in a muffin tin then you will need to place a few strips of baking paper underneath each mini cheesecake leaving tabs to pull them out easily. They pop out easily from silicone moulds.
Alternatively, you could pour the mixture into a baking tray to set and then slice into slices or make it into one large cheesecake such as this Raspberry Vegan Cheesecake made in a cake tin.
How to Store:
I prefer to keep these mini cheesecakes in the freezer and remove them when I need them. They should keep in an airtight container in the fridge for up to 4 weeks. Remove them prior to serving and leave them to thaw slightly for 20-25 minutes. Or they can be kept in the fridge for up to five days.
For other no-bake desserts you might like to try:
Mini Strawberry Tarts - Fresh and creamy, these mini tarts are crowd-pleasers.
Raw Rasberry Tartlets - Full of raspberries with a nutty cacao base these tartlets are delicious.
No Bake Pineapple Coconut Slice - Refreshing and full of tropical flavours that are reminiscent of a pina colada.
Dairy-Free Chocolate Cheesecakes - Decadent, smooth and creamy mini dairy-free chocolate cheesecakes.
No Bake Chocolate Brownies - These no-bake Vegan brownies are fudgy, chocolatey and decadent.
For more tasty recipes and to see what I've been getting up to you can follow me on Facebook, Instagram, Pinterest or Twitter.
If you make these Vegan blueberry cheesecakes, I'd love for you to give them a star rating ★ below, and please let me know how you get on! You can also tag me #lovefoodnourish on Instagram – I love seeing your creations!
Have a lovely week!
Hope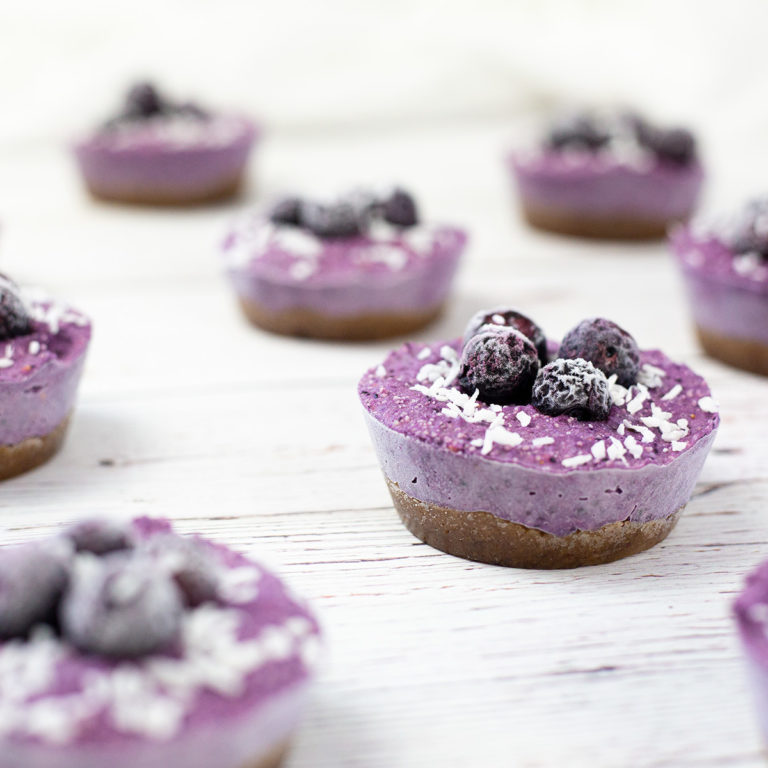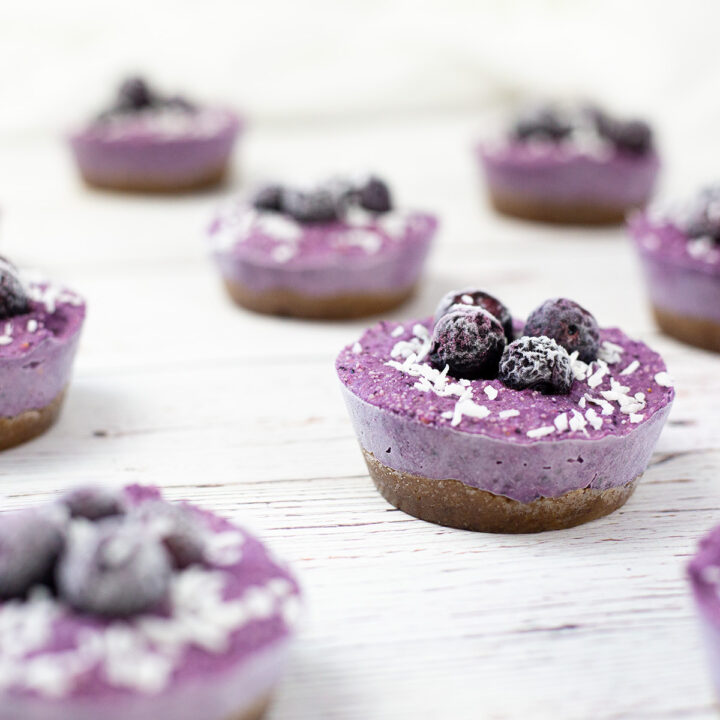 Vegan White Chocolate Blueberry Cheesecakes
Yield:
12 mini cheesecakes
Total Time:
3 hours
30 minutes
These mini Vegan cheesecakes make a delicious no-bake dessert. Blueberries combined with the subtle white chocolate flavour from cacao butter makes these a crowd-pleaser. Vegan, Paleo, Gluten-Free, Dairy-Free, Refined Sugar-Free.
Ingredients
Base
1.5 cup walnuts
½ cup pitted dates
1 teaspoon vanilla extract
Cheesecake filling
1.5 cups cashews, raw
1 cup blueberries
½ cup cacao butter, melted and cooled
½ cup almond milk, unsweetened or coconut milk
¼ cup maple syrup
½ lemon, juice of
Topping
Extra blueberries and coconut as desired.
Instructions
Soak the cashews in cold water for at least four hours or overnight. Alternatively, you can soak them in hot water for 10-15min covered. Rinse and drain and set aside.
Soak the dates in a small bowl covered in warm water for 10 minutes, rinse and drain.
Melt the cacao butter in a pan until it is liquid and then set aside to cool.
Place the walnuts, dates, and vanilla into your food processor. Blitz until you have a sticky dough-like consistency to make the base for the cheesecakes.
Press the dough into the base of each of your moulds. I used roughly about a tablespoon for each mould and then pressed it down evenly.
If you use frozen blueberries then quickly run them under cold water to defrost slightly as the cacao butter can solidify when coming into contact with them frozen.
Place the soaked cashews, blueberries, lemon juice, coconut or almond milk, melted cacao butter and maple syrup into your food processor and blitz until you have a thick, smooth filling. If it is too lumpy add some more water or milk of choice to get it smoother. Taste and add more maple syrup if desired for a sweeter cheesecake.
Pour the filling evenly over each base.
Top with extra berries and desiccated coconut if desired.
Freeze for 2-3 hours until set. Then leave to thaw slightly before serving.
Notes
I used frozen blueberries but you could also use fresh.
I prefer to keep these mini cheesecakes stored in the freezer, then bring them out and leave them to thaw slightly for around 20 minutes before serving.
Coconut milk or unsweetened almond milk works well for the filling. Coconut milk will give the cakes a more "coconut" flavour, almond milk is more neutral.
I prefer these cheesecakes to not be overly sweet, please taste the filling and add more sweetener if you prefer a sweeter dessert.
The prep time does not include the soaking of the cashews.
Nutrition Information
Yield

12
Serving Size

1
Amount Per Serving
Calories

308
Total Fat

26g
Saturated Fat

8g
Trans Fat

0g
Unsaturated Fat

17g
Cholesterol

0mg
Sodium

111mg
Carbohydrates

18g
Fiber

2g
Sugar

10g
Protein

5g
This nutritional information is an estimate only and is provided as a courtesy to readers. It was auto-generated based on serving size, number of servings, and typical information for the ingredients listed in the recipe card. Please feel free to use your preferred nutrition calculator. Please consult your doctor about any specific dietary requirements.