These tasty grain free and paleo egg muffins make a healthy protein rich snack or breakfast, they are packed full of veggies with delicious pesto on the top which gives them an extra flavour punch.
These nutritious muffins are so easy to make, making them an easy ready to go healthy breakfast or snack for lunchboxes. They are free from any refined grains, gluten, or dairy (depending on the pesto you use - I have used a dairy free one for this recipe).
Apologies for the delay in posting but we have just been on holiday to beautiful Bali and I had a break from blogging and my computer which was much needed!
More on our Bali trip coming soon....but for now we are a bit jetlagged and adjusting to life back at home.
I have been busy in the kitchen prepping healthy snacks and dinners to make up for our over indulgence on holiday (but that's what holidays are for right?) and to get us through the next week of adjusting back into our time zone and change of temperature.
Back to Winter and more of the seemingly endless rain in Auckland....but hey Spring isn't far away!
I love having healthy protein rich snacks ready made so I can eat them on the go. This stops me reaching for other snacks that are not so healthy.
Having suffered form unstable blood sugar for most of my twenties, I never realised back then that snacking on fruit or "healthy" things like muesli bars was setting me up for a blood sugar roller coaster and extreme afternoon fatigue.
Keeping my blood sugar stable with protein rich snacks gives me sustained energy throughout the day which I love, with no afternoon dips needing to reach for that chocolate bar!
Irregular blood sugar was a constant problem for many clients in my naturopathic clinic, it can have wide reaching affects upon hormones, energy, mood, (hangry anyone?) and can be a contributor to skin complaints like acne.
Not only are these egg muffins rich in protein but they are full of alkalising green vegetables giving you an extra healthy boost and an easy way to get some more nutrition into your day. I have added some ground turmeric powder which gives the muffins a nice golden colour with the addition of turmerics anti-inflammatory and immune enhancing benefits.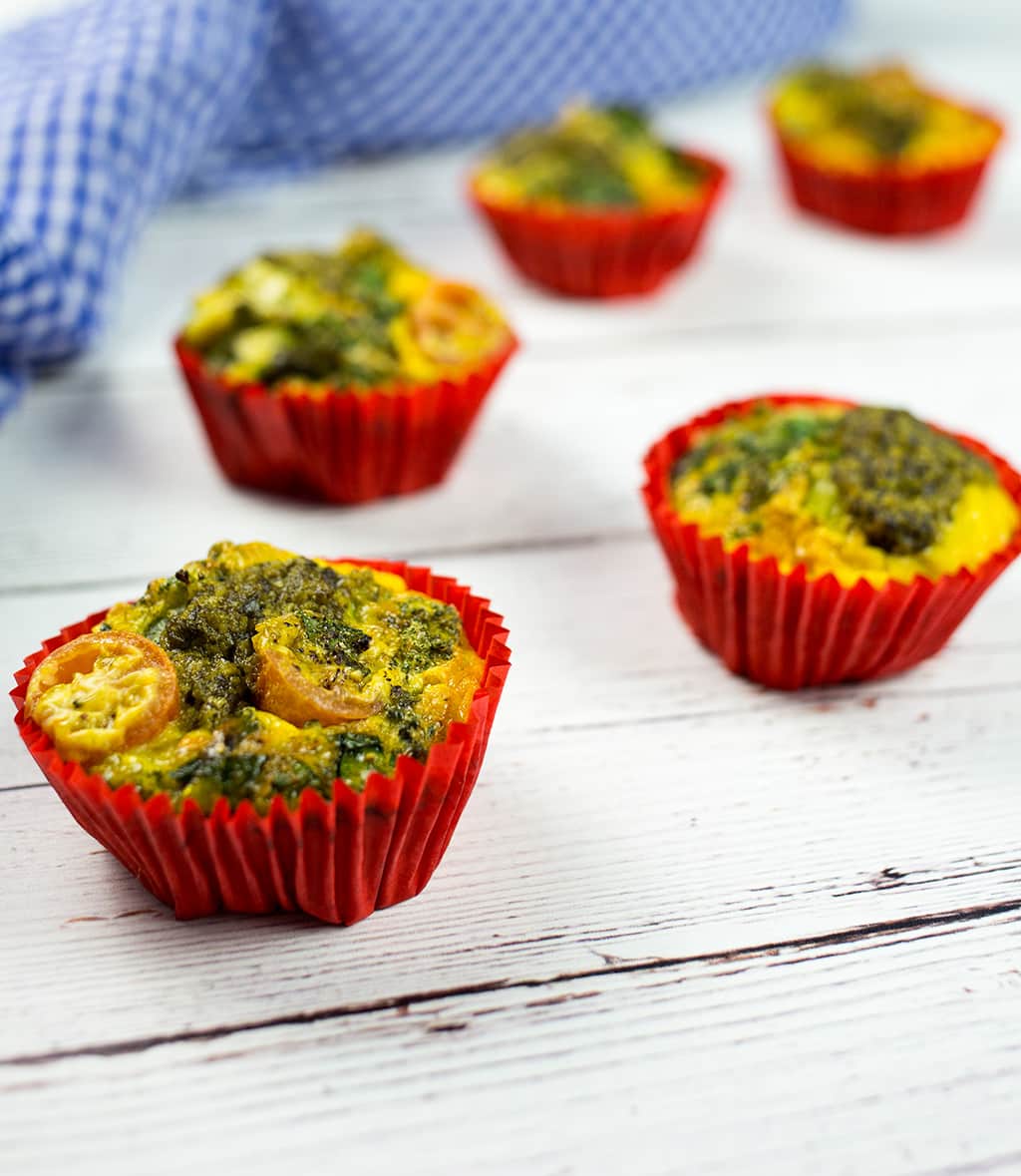 Master Toddler loves these egg muffins and thinks they are mini cakes. He doesn't seem to mind that he is happily munching on spinach, broccoli, tomatoes and kale (in my pesto) so these egg muffins are a great way to get some extra nutrition into kids.
Veggie egg muffins are extremely versatile so you can easily use up whichever vegetables you have in your fridge. I like to use them as a sneaky opportunity to get more greens into my toddler as greens can sometimes be a bit of a battle.
I have used a dairy free pesto in this recipe, if you are looking for a dairy free or vegan pesto recipe you may like to try my Kale, Basil & Walnut Pesto, or a standard shop bought pesto will work just as well. If you are following a strict paleo diet then using a dairy free pesto still allows these muffins to be consumed.
You can easily add a variety of toppings to these egg muffins, pumpkin seeds or sunflower seeds can work well and give some extra crunch or sundried tomato and fresh herbs like rosemary are other options.
If you are looking for some other healthy protein rich snacks you may like to try my Paleo Nut Bars with Goji Berries or Creamy Blueberry, Cacao & Coconut Energy Balls.
For other easy muffin recipes please check out 25 Gluten-Free Muffins, for a delicious selection of sweet and savoury muffins to choose from
I hope you enjoy this recipe! Please let me know how you got on in the comments below, I love hearing from you!
For more tasty recipes and to see what I've been getting up to you can follow me on Facebook, Instagram, Pinterest or Twitter.
Have a lovely week!
Hope x
Healthy Veggie Egg Muffins with Pesto
---
Hope Pearce
Easy & Healthy Egg Muffins with Veggies and Pesto
5 minPrep Time
25 minCook Time
30 minTotal Time
Ingredients
8 eggs
3 Tbspn nut milk, unsweetened
¼ cup broccoli florets, chopped (about 4 florets)
½ cup spinach, chopped
¾ cup cherry tomatoes, chopped in half (about 10 cherry tomatoes)
2 Tbspn pesto*
½ teaspoon ground turmeric
Pinch of sea salt and ground black pepper
Instructions
Preheat a fan forced oven to 180°C/350°F
In a large mixing bowl whisk eggs with the nut milk. Add in the broccoli florets, spinach, tomatoes, turmeric, salt and pepper and mix until combined.
Spoon the mixture into a greased muffin tin or muffin cases.
Bake for 15 min then remove the muffins and spoon about ½ tspn of pesto on top of each muffin. Put the muffins back in the oven and cook for another 5-10 minutes until you can insert a skewer or a toothpick into the middle of the muffin and it comes out clean. The muffins should be lightly golden on top.
Remove egg muffins from the oven and serve warm or cold. Once cooled, keep muffins in the fridge in an airtight container for up to 3 days. They can be frozen in zip lock bags and taken out when needed.
Notes
* If you are following a strict paleo or dairy free diet then use a dairy free pesto such as my kale, basil & walnut pesto mentioned above.
7.8.1.2
42
https://lovefoodnourish.com/veggie-egg-muffins-with-pesto/
Other recipes you might like to try:
Creamy Lemon Bliss Balls (Paleo)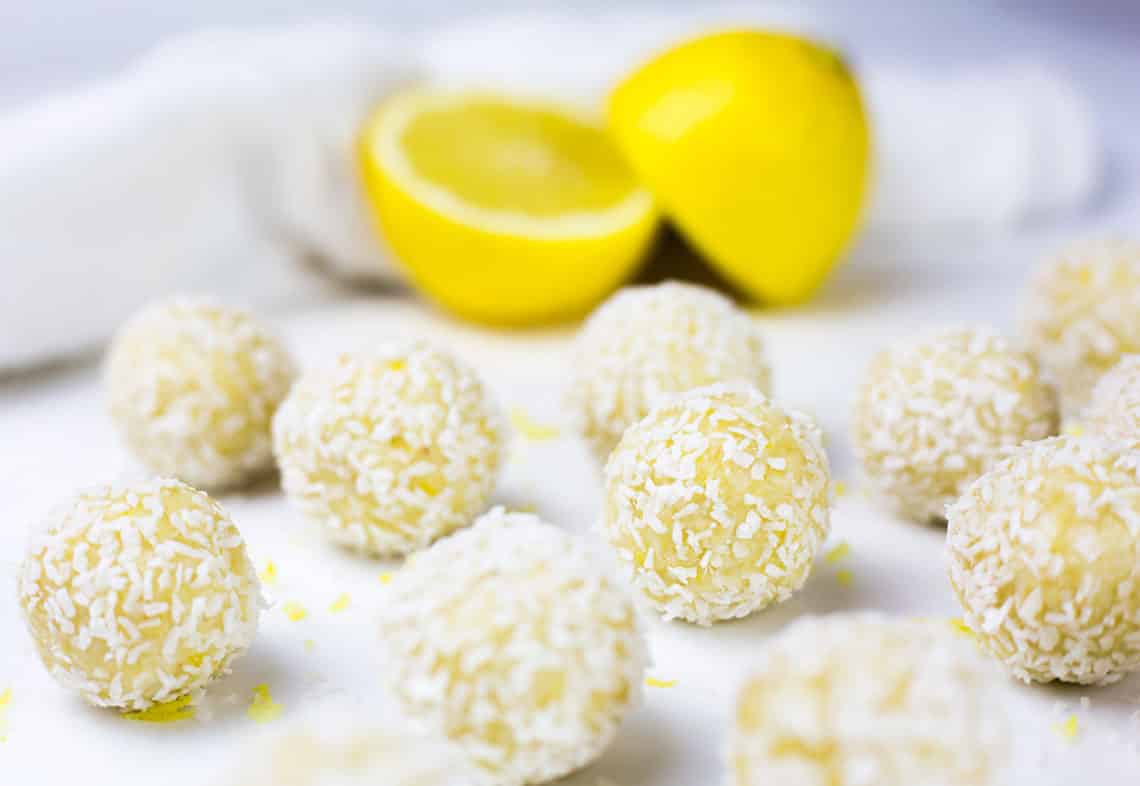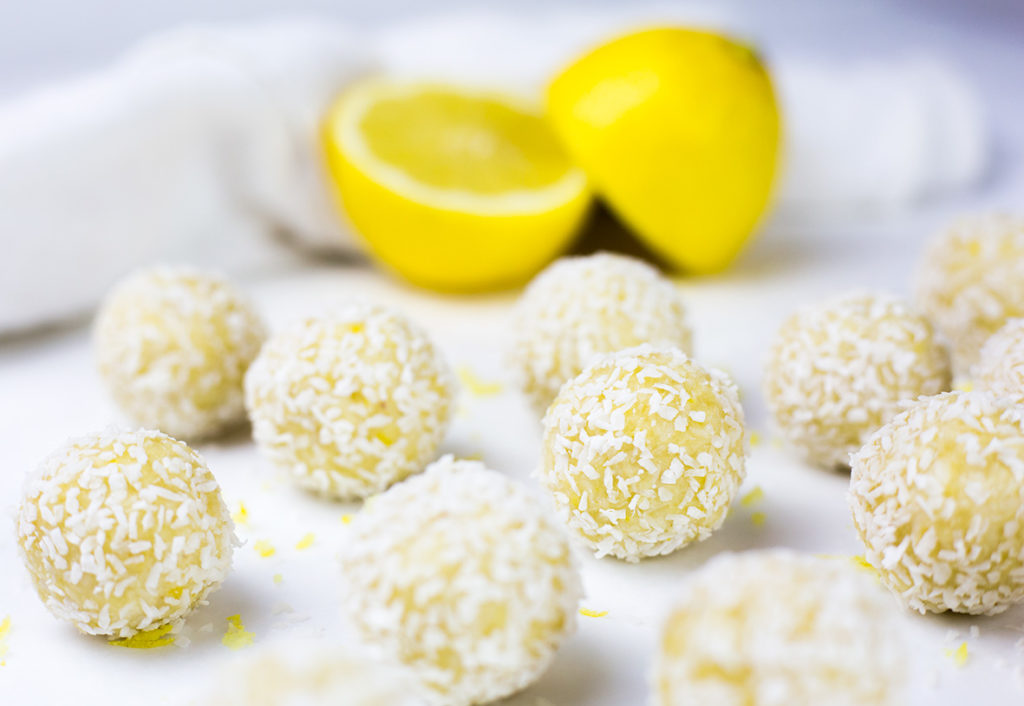 Gluten-Free Dairy-Free Chocolate Chip Cookies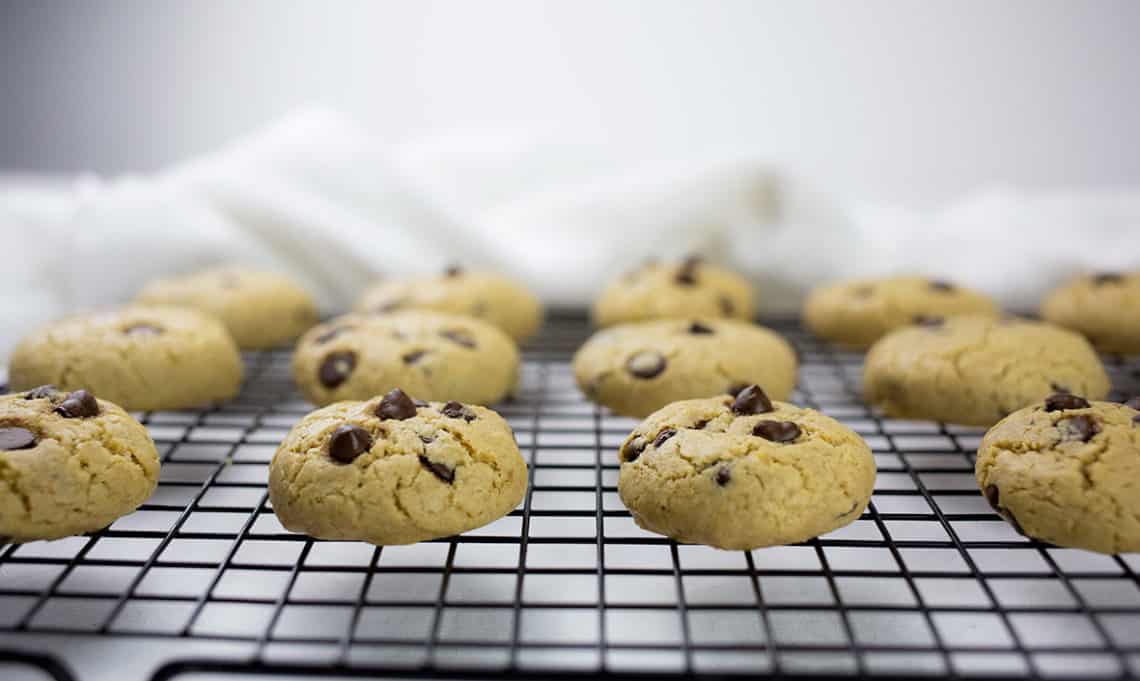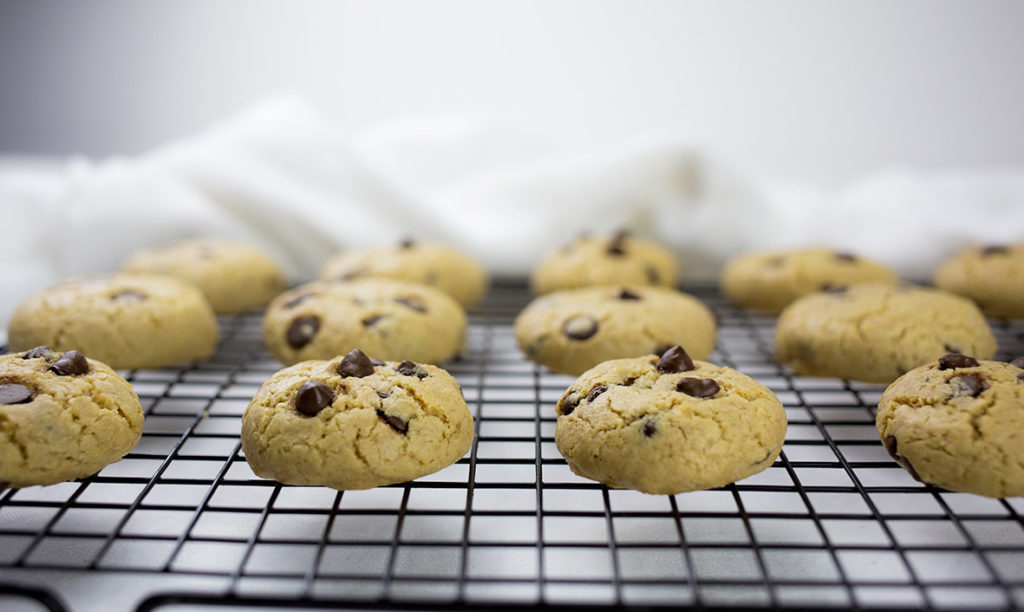 Homemade Gummies (No added sugar)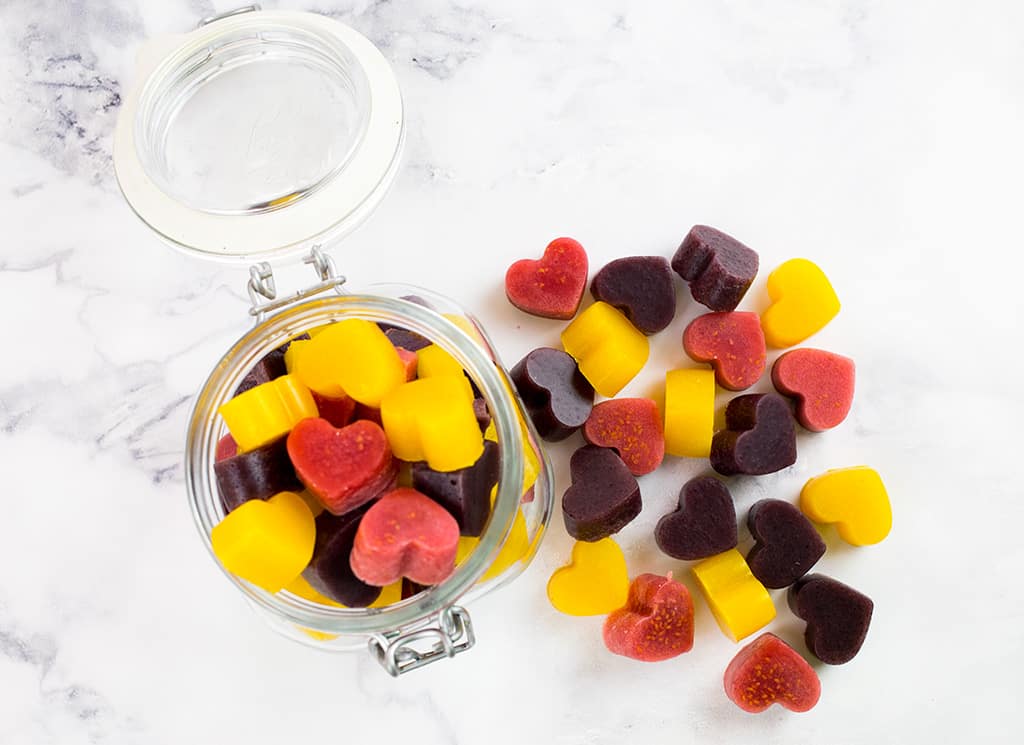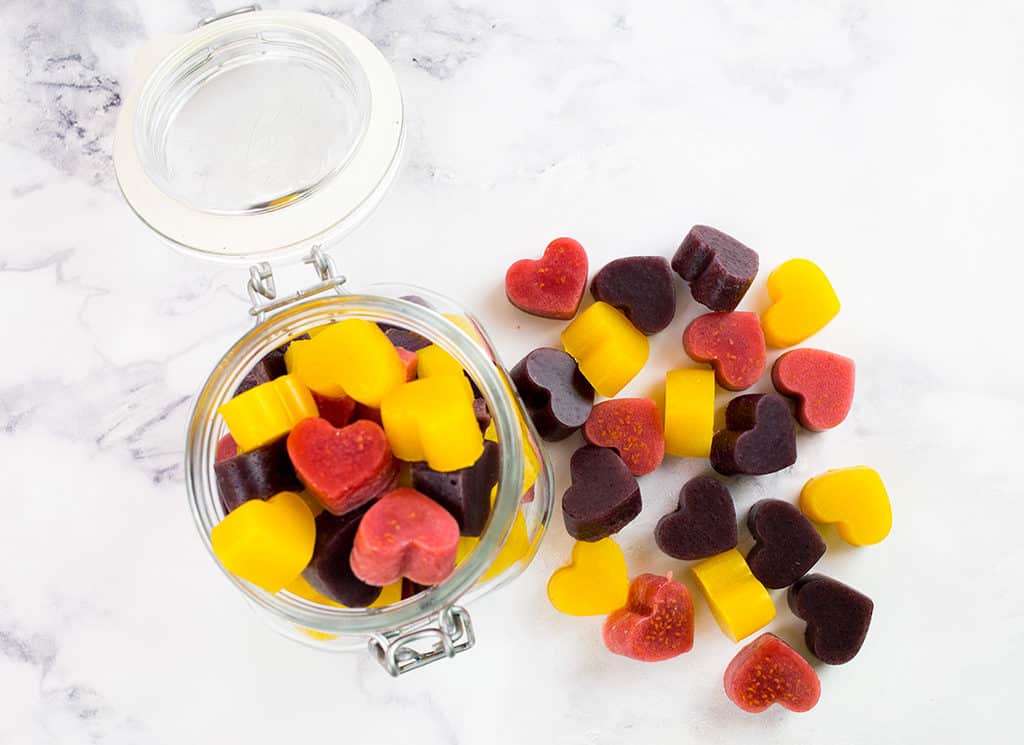 Paleo Nut & Seed Bread with Rosemary & Olives
Save
Save
Save
Save
Save
Save
Save
Save
Save
Save
Save
Save
Save
Save
Save
Save
Save
Save
Save
Save
Save
Save
Save
Save
Save
Save