This zucchini and bacon slice makes an easy low carb snack, breakfast, lunch or light dinner. Gluten-free, dairy-free, Keto, Paleo and Whole30 friendly this zucchini slice is a tasty and filling savoury slice that everyone can enjoy.
This zucchini slice is kid-friendly and can easily be made ahead for a grab and go breakfast or to pop into lunchboxes. I am always on the lookout for recipes where I can add some veggies in (and hopefully no one will notice), this recipe is definitely one of those!
My little boy loves this savoury slice (like many kids he is a big fan of anything with bacon) so this recipe is a great way to sneak some more veggies into him. It is super easy to make ahead and can be enjoyed as a light dinner on busy weeknights.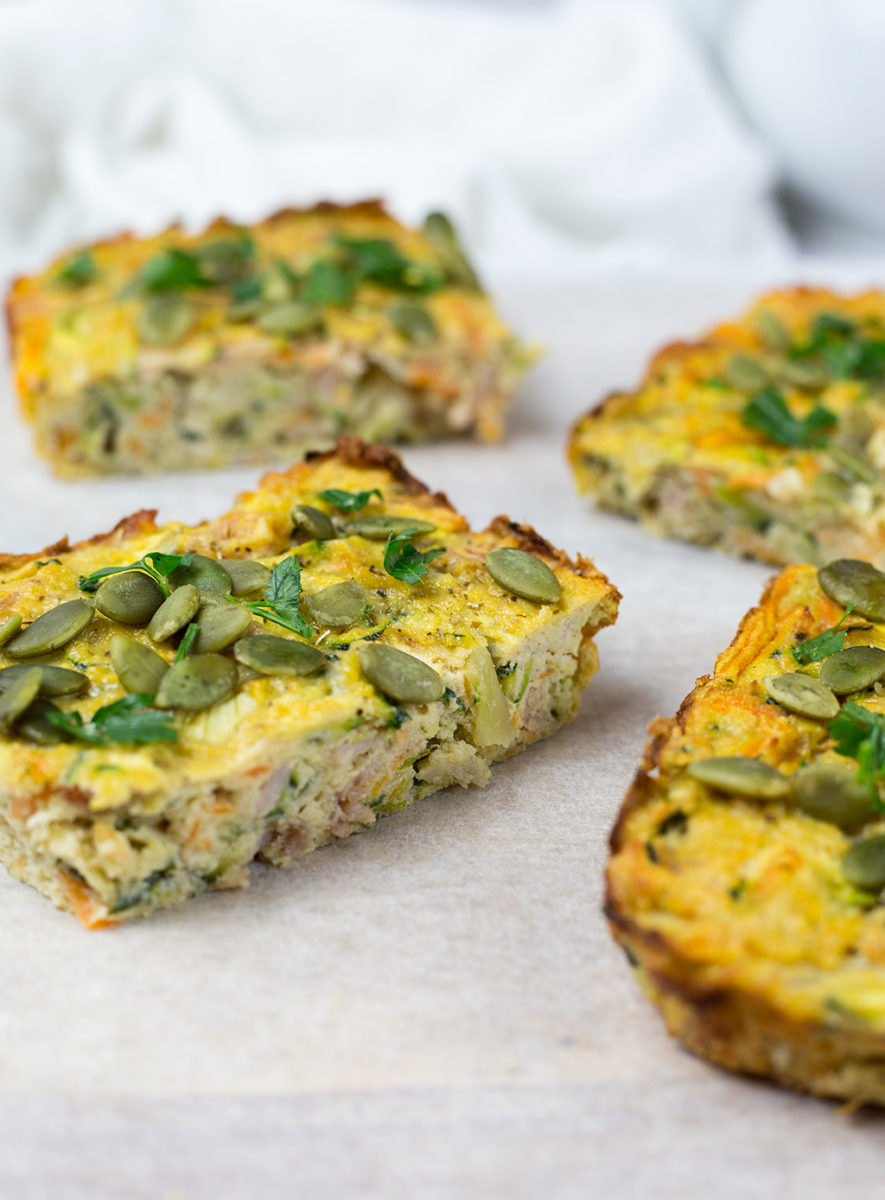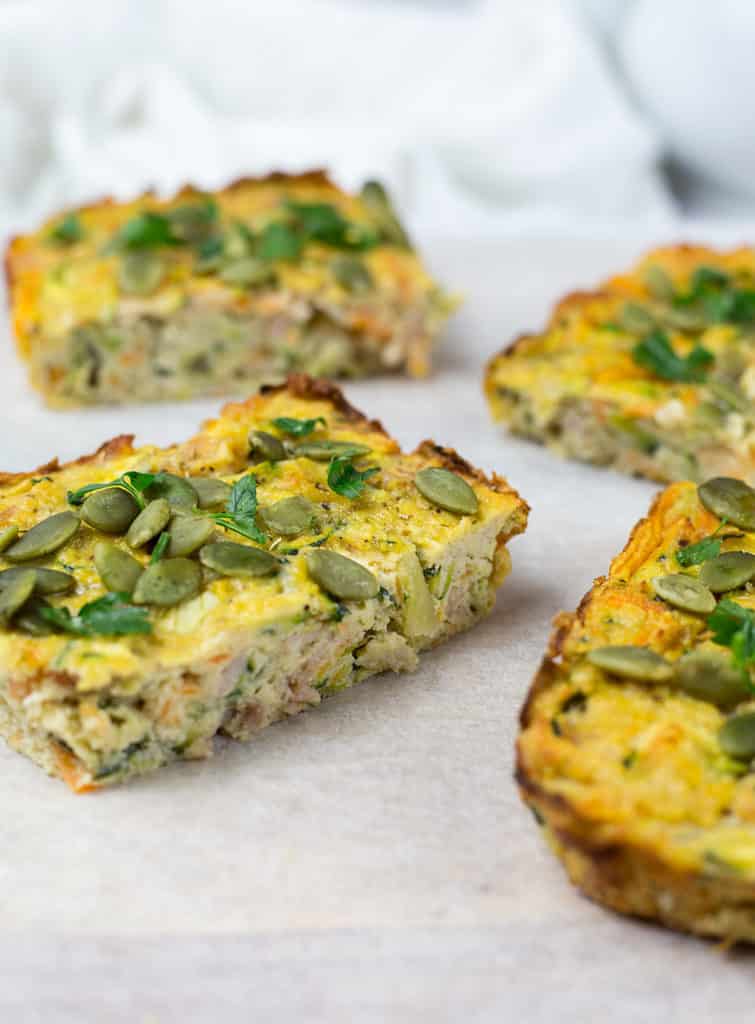 I have kept this zucchini and bacon slice dairy-free, the bacon gives this slice a good dose of salty savoury flavour. I have also added in some nutritional yeast which also gives it a slight "cheesy" flavour.
Have you tried nutritional yeast before?
Nutritional yeast is an excellent ingredient to use if you can't tolerate dairy but still would like your baked goods to have a bit of a cheesy hit.
As the name suggests nutritious yeast is ......nutritious! It is a good source of b vitamins, selenium and zinc, so adding some to baking or savoury dishes is a great way to boost the nutritional content of your food.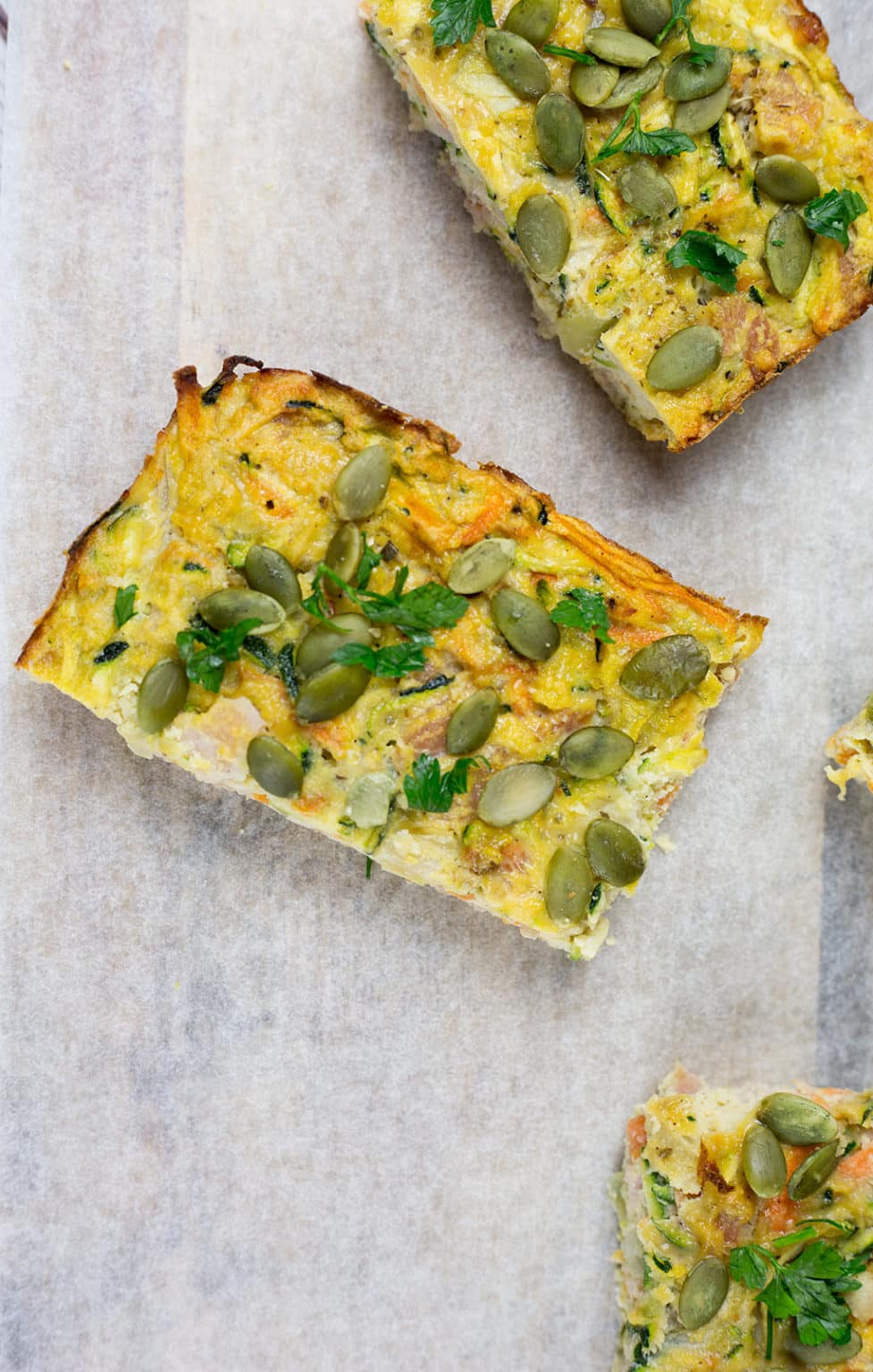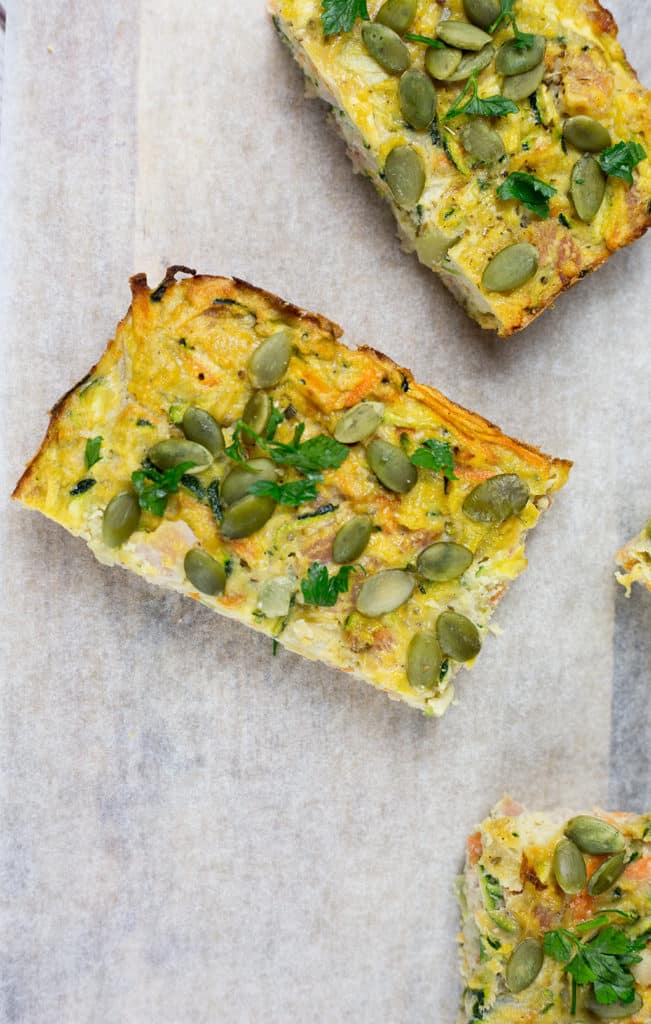 Additional Recipe Notes
This is such a versatile recipe, you can add in whatever herbs you have in the garden, add in some more greens such as chopped spinach if you prefer, tomatoes or grate some cheese on top. I have added chopped parsley and pumpkin seeds for a bit of added flavour and texture, sunflower seeds could also work or a sprinkle of microgreens would add a nice freshness to this dish.
If you are following a strict Whole30 diet at the moment then you will need to look for a bacon that hasn't been sweetened with sugar or honey and doesn't have preservatives that are not Whole30 approved. If you live in New Zealand you can often find some Whole30 or Paleo friendly bacon at your local butcher.
This zucchini slice can easily be re heated in the microwave or in the oven. I don't have a microwave so I will always reheat in the oven, to do this place the zucchini slice in an oven proof dish with tinfoil and bake at 180°C/350°F for around 15 - 20 minutes until piping hot.
This zucchini and bacon slice can be sliced as big or small as you prefer, it goes really well with a fresh green salad for lunch or with salad and/or steamed vegetables for a light dinner.
You can easily freeze this zucchini slice. Slice and wrap and store in an airtight container or ziplock bag for up to 2 months.
If you are looking for some other healthy snacks you may like to try the following posts/recipes:
Gluten Free/Paleo Savoury Muffins
Paleo Nut Bars with Goji Berries

Veggie Egg Muffins with Pesto (Paleo)
I hope you enjoy this recipe for zucchini and bacon slice! Please let me know how you got on in the comments below and give a star rating, I love hearing from you!
For more tasty recipes and to see what I've been getting up to you can follow me on Facebook, Instagram, Pinterest or Twitter.
Have a lovely week!
Hope x
Zucchini and Bacon Slice (Gluten Free & Paleo)
A delicious, easy to make, zucchini and bacon slice. Perfect for make-ahead breakfast, lunch easy dinner or to pop into lunchboxes. Paleo and Gluten Free.
Ingredients
6 eggs
¼ cup coconut flour
2 cups zucchini, grated *approx 2 large zucchini
1 cup carrot, grated *approx 1 large carrot
1 brown onion, finely diced
6 rashers/slices of bacon, diced (250gm/8.8oz)
¼ cup coconut oil, melted and cooled to room temp
3 Tbspn almond milk, unsweetened
3 tspn nutritional yeast * optional
¼ tspn sea salt
⅛ tspn black pepper
2 Tbspn pumpkin seeds for topping*optional
2 Tbspn fresh parsley for topping
Instructions
Preheat oven to 180°C/350°F.
Grease and line a 30cm x 20cm slice tin or baking dish.
In a large bowl whisk the eggs. Add the coconut flour and beat until well combined.
Add the rest of the ingredients, stir through until everything is evenly mixed through.
Pour mixture into the prepared baking tray, sprinkle with pumpkin seeds and bake for 40-45 minutes until golden brown. Test with a skewer to ensure it is cooked through.
Leave to cool for at least 5minutes before slicing. Sprinkle with fresh chopped parsley.
Store in the fridge in an airtight container for up to 4 days.
Nutrition Information
Yield

8
Serving Size

8
Amount Per Serving
Calories

344
Total Fat

24g
Saturated Fat

11g
Trans Fat

0g
Unsaturated Fat

11.4g
Cholesterol

153mg
Sodium

235mg
Carbohydrates

19g
Net Carbohydrates

13g
Fiber

6.2g
Sugar

3.4g
Protein

15g
This nutritional information is an estimate only and is provided as a courtesy to readers. It was auto-generated based on serving size, number of servings, and typical information for the ingredients listed in the recipe card. Please feel free to use your preferred nutrition calculator. Please consult your doctor about any specific dietary requirements.