These no bake banana almond cookie dough bites are the easiest little sweet treats you will ever make! Perfect as a quick and easy paleo snack on the go, or as a healthy snack for toddlers. They are allergy friendly - gluten, grain, dairy and egg free, with no added sugar or sweetener - just a few simple ingredients!
Bananas, ground almonds and desiccated coconut make these little bites a tasty healthy sweet treat that your kids will love....I am quite partial to them too! I have added some chopped walnuts into these cookie bites which gives them some more protein and healthy fats and a little bit of crunch for some added texture.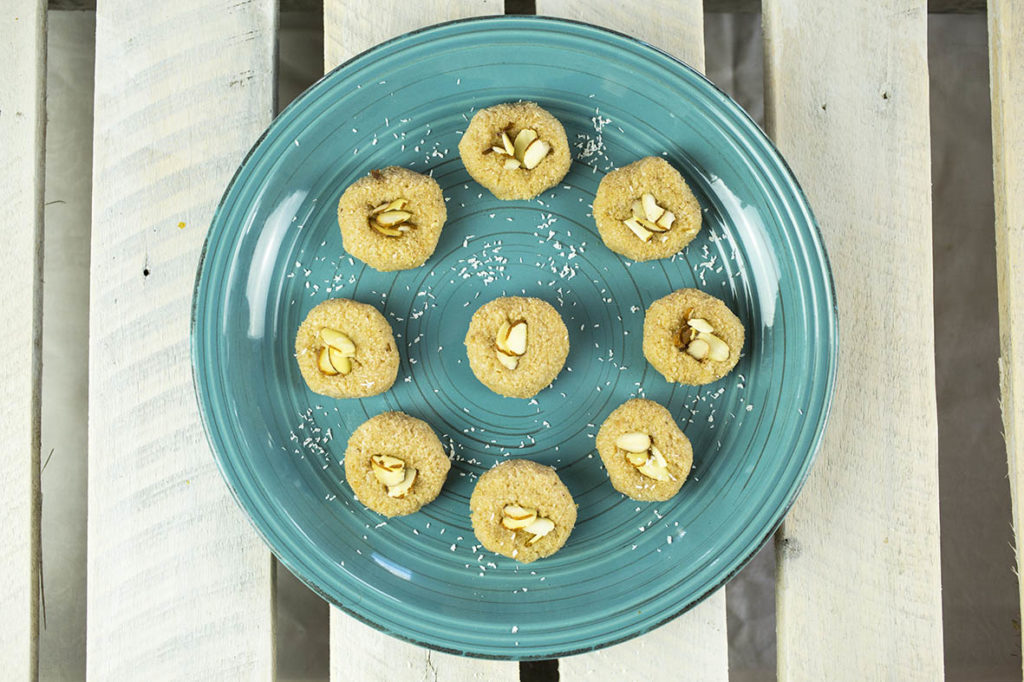 I am taking my little toddler on a plane this week to see his grandparents......I'm a little bit nervous for obvious reasons, trying to keep quiet your not so quiet toddler on a plane is always a little challenging. I have made a small batch of these to keep as treats up my sleeve to hopefully help keep my toddler appeased.
Master Toddler happily calls these healthy treats cakes and thinks that anything that is called cake is a good thing! They don't actually contain many normal cake ingredients, but if he is happy to think of them as cakes then I am too!
I always get a bit nervous flying with Master H on my own. This flight is only an hour, but somehow that hour in the past has been absolutely exhausting. Lots of bouncing him up and down, trying to stop him crying or crawling up down the isle..... and other fun things like trying to stop him from climbing all over the seats in front and throwing food or toys. Aah the serenity! Luckily fellow passengers are usually pretty nice and friendly.....
He is now no longer a crawler but a walker, along with more delightful curiosity. This can be accompanied by extreme stubbornness but I am hoping that this time his fascination with aeroplanes will make this trip different and he will be so excited it will be a breeze! We will see....
I hope you enjoy this recipe, please share with your friends if you do!
If you are looking for some other quick toddler friendly snacks that are gluten, dairy, egg and sugar free then you may like my Banana, Pear and Cinnamon Oat Bites for Kids.
Have a lovely week! x
Love Food Nourish Nutrition Tips at a glance:
Bananas are very nutritious and are a very rich food source of the mineral potassium. Potassium can help with lowering blood pressure, supports communication between nerve and muscles, and acts as diuretic to help with fluid retention and bloating. Bananas are also a good source of vitamin B6, vitamin C, magnesium, copper, manganese and fibre.
Bananas often get a bad rap for being high in carbohydrates and sugar leading to blood sugar spikes. So like any fruit bananas should be eaten in moderation and attention should be paid to portion control. Pairing up your banana with protein and healthy fat can help soften the effects of the banana on blood sugar levels and slow down the release of sugar into the bloodstream. These cookie dough bites contain healthy protein and fats from the ground almonds and walnuts.
These cookie dough bites are free of added sugars and grains making suitable for those following a paleo diet.
Serves 11 cookie dough bites
Banana Almond Cookie Dough Bites – Gluten Free, Dairy Free, Sugar Free, Egg Free
---
Hope Pearce
Delicious and healthy banana almond cookie dough bites
5 minPrep Time
5 minTotal Time
Ingredients
1 large ripe banana
1 cup almond meal
½ cup desiccated coconut
¼ cup chopped walnuts
1 teaspoon vanilla essence
sliced almonds or chopped walnuts for decorating
Instructions
In a large bowl mash the banana with a fork until smooth.
Add the rest of the ingredients and mix until evenly combined and forms a dough.
Line a small baking tray with parchment or baking paper.
Take 1 tablespoon of the mixture and roll into a small cookie shape. Flatten with the back of a tablespoon or bottom of a glass.
Decorate with sliced almonds or chopped walnuts.
Freeze for 15 minutes then keep in the fridge in an airtight container.
Will keep for 3-4 days depending on the ripeness of the banana used.
7.8.1.2
34
https://lovefoodnourish.com/banana-almond-cookie-dough-bites-gluten-free-dairy-free-sugar-free-egg-free/
Save
Save
Save
Save
Save
Save
Save
Save
Save
Save
Save
Save
Save
Save
Save
Save
Save
Save
Save
Save