This chia seed porridge makes a delicious, warming and healthy start to the day. Packed full of nutritious chia seeds - this is an easy and versatile breakfast. Simply add a variety of toppings to your chia porridge - nuts, fruit, yoghurt to make this breakfast as decadent or as simple as you like. Paleo, Vegan, Whole30 and Gluten Free.
(This chia seed porridge post was first published in June 2016)
I love chia seed pudding but when the weather turns colder it is nice to have something warm to start off the day. If you are looking for a grain free breakfast then this chia seed porridge is a great easy option instead of your standard porridge made with oats.
Chia seeds are best eaten soaked - they retain up to 8 times their normal weight in water. This means they are super hydrating for the body. They are in fact the richest plant source of omega 3 essential fatty acids which are anti inflammatory (source).
Chia seeds are great for any dry, flaky inflammatory skin conditions and help re hydrate the body so therefore the skin. What could be better than that......An instant morning pick me up!
Chia seeds are also a good form of fibre, protein, calcium and zinc. They are beneficial to have in your diet if you are dairy free and looking to bump up those calcium levels (source).

Additional Recipe Notes for making Chia Seed Porridge
Can I soak the chia seeds overnight?
Yes! To make this breakfast, it is best to start the night before by soaking the chia seeds so that you can get the most of the nutrients from these nutrient dense seeds, it also makes them easier to digest. The great thing is this process takes only about 1 minute of prep in the evening!
How do I soak the chia seeds?
Place ¼ cup of chia seeds in a bowl, cover the chia seeds with 400ml of your favourite milk. (I used 250ml or 1 cup of coconut milk and 150ml or ⅔rd cup of almond milk). Stir, ensuring that the chia is covered by all of the liquid and cover the bowl. Leave the chia seeds to soak overnight in the fridge and then you only have a couple of minutes of cooking to do in the morning. Easy!
Why is my chia porridge or chia pudding runny?
It should thicken when it cooks and for the "porridge" I think tastes better if the chia mixture it is not too thick. However if it is too runny for you then whisk in some more chia seeds and leave to set for a bit until thickened.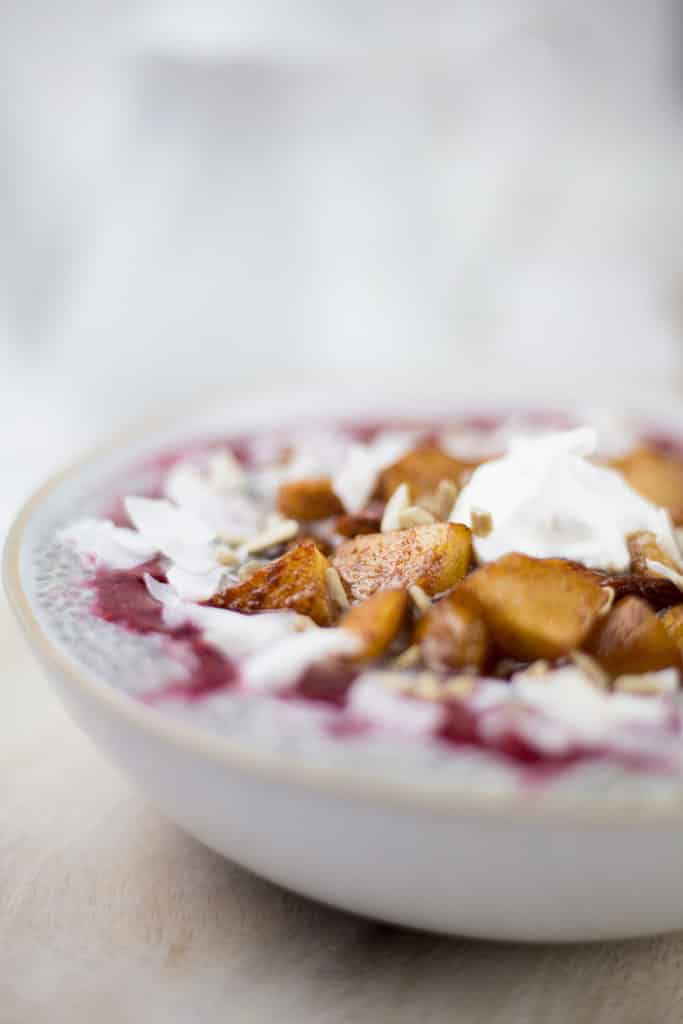 What toppings can I have on chia porridge?
You can use any fruit - berries, bananas, pears, apples, plums, feijoas and kiwifruit all work well.
You can stir powder through the chia mixture such as cacao powder if you would like to have a "chocolate" chia porridge, or add some spice such as a pinch of ground ginger, nutmeg or cinnamon.
I like adding a bit of texture so chopped nuts, desiccated coconut, shaved coconut or ground flaxseed are all good options.
If you don't have any of the above a tablespoon of peanut or almond butter can be an easy topping option that adds a bit of protein and fat.
Yoghurt and/or coconut yoghurt can top the porridge off nicely.
I haven't added any sweetener just letting the fruit sweeten the porridge naturally. If you would like it sweeter you can drizzle maple syrup over the top or if you would like it to be as sugar free as possible but still sweet you can stir some drops of stevia through the liquid chia mixture before it sets and keep the fruit to a minimum.
A little more on the toppings I have used to make the chia porridge in this recipe..........
I have used chopped almonds, frozen berries blitzed in the blender to give me a berry drizzle and cinnamon sauteed pears and feijoas (they are in season in New Zealand at the moment). I have sprinkled some shaved coconut around the side and topped it all off with a dollop of coconut yoghurt.
Now......yes I do use a variety of toppings when feeling a bit decadent and have a bit more time such as in the weekend........and also to make the photos look nice of course!
No.....I probably would not add ALL of these toppings if I had a busy morning ahead. A few simple toppings can work well and your chia porridge will still taste good!
The blitzed frozen berries makes a bit more than you will need so you can keep it in the fridge for your next couple of breakfasts or add it into a smoothie.
Is Chia Seed Porridge Paleo?
Yes it is!
Is Chia Seed Porridge low carb?
Yes on its own chia seed porridge is low in net carbs due to its high fibre content. But the overall carbs of your porridge will greatly depend on the toppings you use. If you use a lot of fruit high in sugar and carbs such as bananas or add maple syrup than no the end result will not be a low carb breakfast. If you would like your chia porridge to be as low carb as possible then stick to fruit that is lower in sugar such as berries.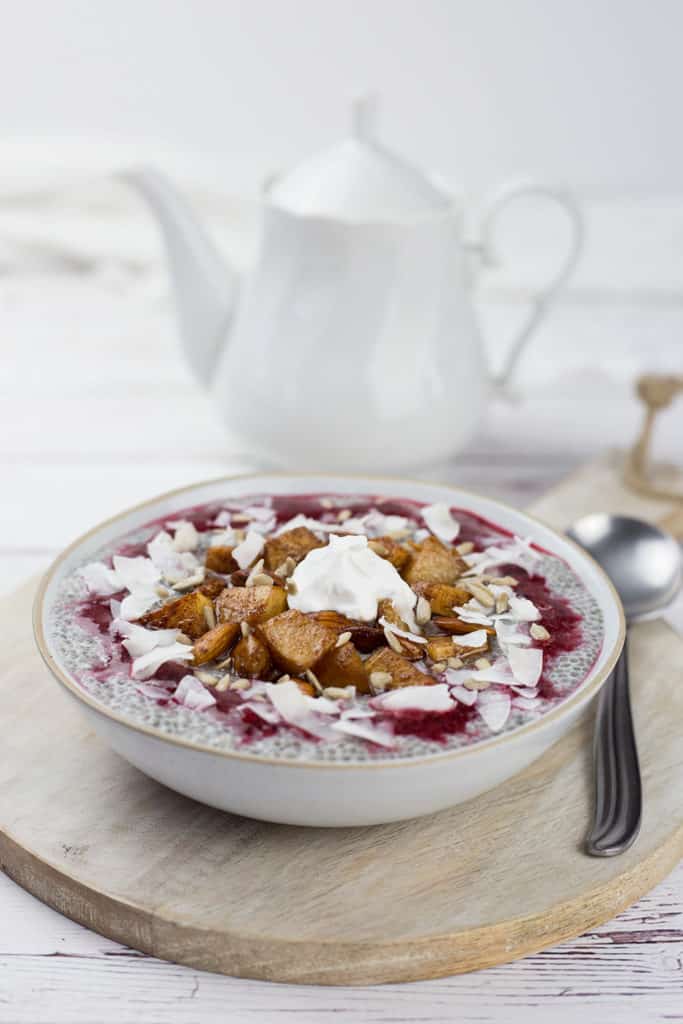 Additional Nutrition Tips
I have used chopped pears in this recipe as they are currently in season for us. The humble pear is often overlooked but they contain high levels of antioxidants and are a great source of vitamin c, copper and vitamin K. Pears also contain pectin which is a soluble fibre that binds to cholesterol and helps eliminate toxins from the body (source).
Always leave the skin on your pears as the skin contains surprisingly high levels of phytonutrients including anti-cancer polyphenols, anti-aging flavanoids and the super antioxidant glutathione which can help prevent against cancer, stroke and high blood pressure (source).
I have also added chopped feijoas to this chia seed porridge and as they have a very short season I like to make the most of them when I can!
Have you tried feijoas before? Feijoas are unique to NZ, Brazil, Bolivia and Argentina. Feijoas are part of the guava family, the skin is green and the fleshy pulp has a distinct tangy and aromatic taste which is also slightly sweet. If you don't live somewhere that feijoas grow you truly are missing out! Get on over here!
Feijoas grow in abundance in autumn in NZ and if you are lucky enough to have friends with feijoa trees (like we are) then generally a bagful or two will be dropped off on your doorstep.
Feijoas are an excellent source of vitamin C, 100gm of fresh fruit provides about 20.3mg of vitamin c which is 34% of the RDI. Feijoa also contains small amounts of B-complex vitamins such as vitamin B3, B5 and B6 and folate as well as minerals like calcium, magnesium, copper, and manganese (source).
For other delicious chia seed recipes you may like to try:
Mango Chia Pudding with Coconut and Blueberries
Easy Chia Jam - No cooking required!

Strawberry, Acai & Coconut Chia Parfait
I hope you enjoy this recipe! Please let me know how you got on in the comments below, I love hearing from you!
For more tasty recipes and to see what I've been getting up to you can follow me on Facebook, Instagram, Pinterest or Twitter.
Have a lovely week!
Hope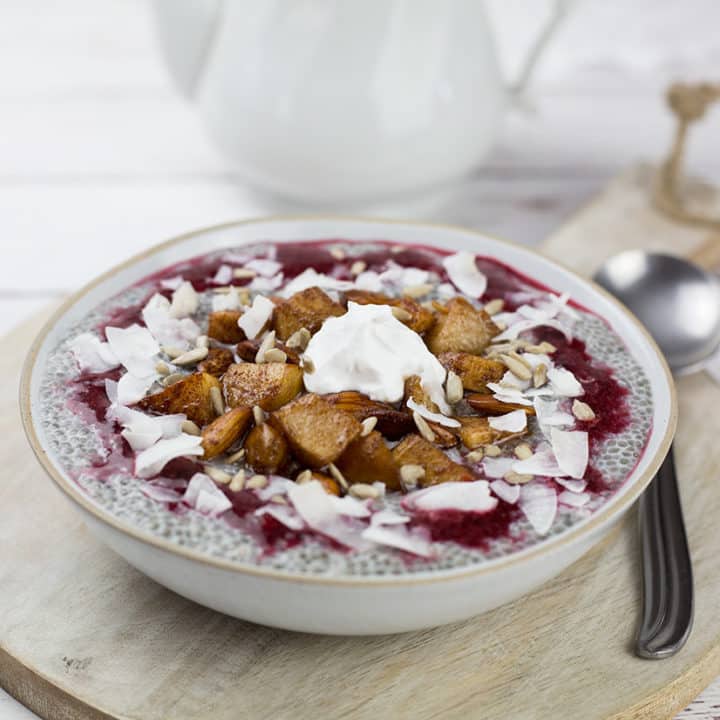 Chia Seed Porridge
A warm and nourishing porridge. This easy overnight chia seed porridge has cinnamon sauteed pears and feijjoas. Gluten Free, Dairy Free, Paleo & Vegan.
Ingredients
Chia Porridge
¼ cup chia seeds
⅔rd cup unsweetened almond milk (150ml)
1 cup coconut milk (250ml)
1 tspn vanilla extract
Topping
½ Tbspn coconut oil
¼ cup pear, cut and cubed
¼ cup feijoa, peeled, cut and flesh removed.
2 Tbspn chopped almonds
1.5 tspn ground cinnamon
¼ cup of frozen berries
2 Tbpsn warm water
2 Tbspn coconut yoghurt
2 Tbspn shaved coconut
Instructions
Start the night before. Soak the chia seeds in the coconut and almond milk, stir the chia seeds and vanilla extract through the milk. Put in a covered bowel or sealed container or jar and leave in the fridge overnight.
In a medium sized skillet or pan melt the coconut oil. Add the chopped pear, feijoas, almonds and cinnamon to the skillet. Saute these for 3-5 minutes until the fruit is tender and the cinnamon is mixed through the fruit and almonds.
While the pear, feijoas and almonds are sauteing gently reheat the chia seed porridge in a small saucepan, heat until warm but not boiling.
In a high sped blender add the berries and water and blitz until they are nearly like liquid.
Spoon the chia seed porridge into bowls, drizzle with the berry liquid, top with the cooked pear, feijoas and almonds. Top with shaved coconut and coconut yoghurt.
Serve immediately.
Notes
Replace coconut milk and or almond milk with any of your favorite nut milk.
The above prep time does not include soaking overnight.
Nutrition Information
Yield

2
Serving Size

1
Amount Per Serving
Calories

574
Total Fat

48g
Saturated Fat

32g
Sodium

158mg
Carbohydrates

37g
Sugar

11g
Protein

11g
Save
Save
Save
Save
Save
Save