These easy to make Pumpkin Chocolate Chip Bars are soft, slightly chewy, full of pumpkin flavour and chock full of chocolate chips! Drizzled with chocolate these pumpkin bars make an easy, delicious dessert. Paleo, Gluten Free, Refined Sugar Free.
I love using pumpkin in baking it is so versatile, it is nutritious and naturally sweet and ……goes really well with the best thing of all…….chocolate!
I have been a bit behind the game on getting some pumpkin treats out for Halloween in the past couple of years. Halloween falls in Spring here in little ol' New Zealand so it is easy to forget that the rest of the world is going Pumpkin crazy.
This year my little one is right into Halloween and has already been asking about it (as he had such fun last year) – so I thought I better get in early and come up with some tasty pumpkin treats.
Whats so good about these Pumpkin Chocolate Chip Bars?
These bars are pretty darn tasty…. they are moist, soft and slightly chewy.
They can easily be a great dessert (particularly if you drizzle chocolate over the top) or leave it off if you prefer and enjoy them for morning or afternoon tea instead.
They are gluten free and paleo friendly and contain no refined sugar.
How to make Pumpkin Chocolate Chip Bars………
1. Preheat the oven to 180C/355F.
2. In a large bowl or your food processor lightly whisk the eggs. Add the pumpkin puree, nut butter, maple syrup, vanilla extract and almond milk. I use the food processor for this as I used pre-cooked pumpkin and like to blitz the ingredients until they are smooth.
3. If you are using a food processor change the attachment to the mixer. Add the coconut flour,almond meal, baking soda and salt. Gently stir or mix with the food processor until you have a smooth batter.
4. Add half of the chocolate chips and leave half aside. Stir the chocolate chips through the batter. Use the remaining chocolate chips to place in the batter once you have poured it into the tray. This means you will get more towards the top.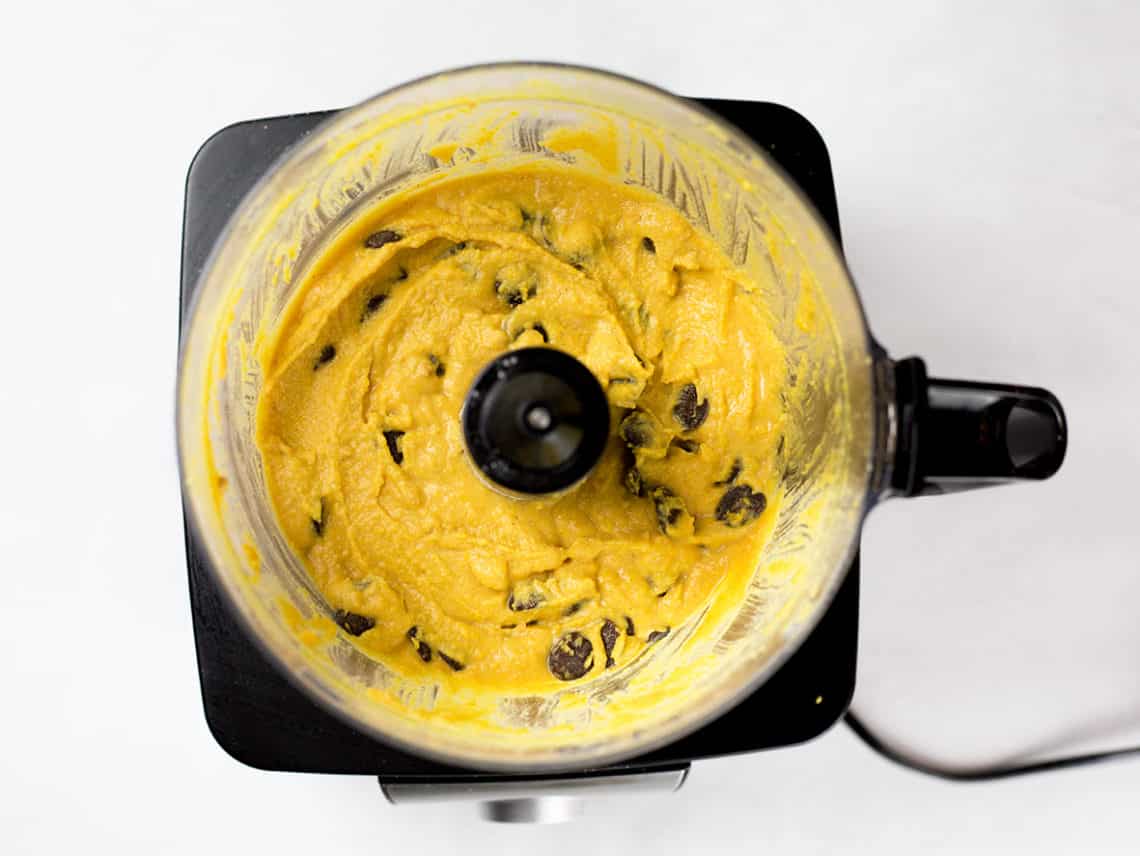 5. Pour the batter into a prepared 8 x 8 baking tray, placing the remaining chocolate chips along the top.
6. Bake for 20 to 25 minutes, test with a skewer and should come out mostly clean with a few crumbs.
7. Leave to cool before slicing into bars.
8. Next make the chocolate to drizzle over the bars. Use the double boiler method – place the chocolate chips and olive oil in a glass bowl over a saucepan with boiling water. Gently melt the chocolate and oil stirring until you have a smooth liquid. Set aside for a couple of minutes to thicken. With a teaspoon drizzle the chocolate over the bars.
What should I serve with these Pumpkin Chocolate Chip Bars?
They actually don't need anything to go with them they be enjoyed just as they are!
These bars go well with a dollop of plain yoghurt, coconut yoghurt or vanilla icecream on top.
You could leave off the chocolate drizzle entirely or simply drizzle some maple syrup over the top.
How long will these keep?
They are best kept in the fridge in an airtight container and will last up to five days.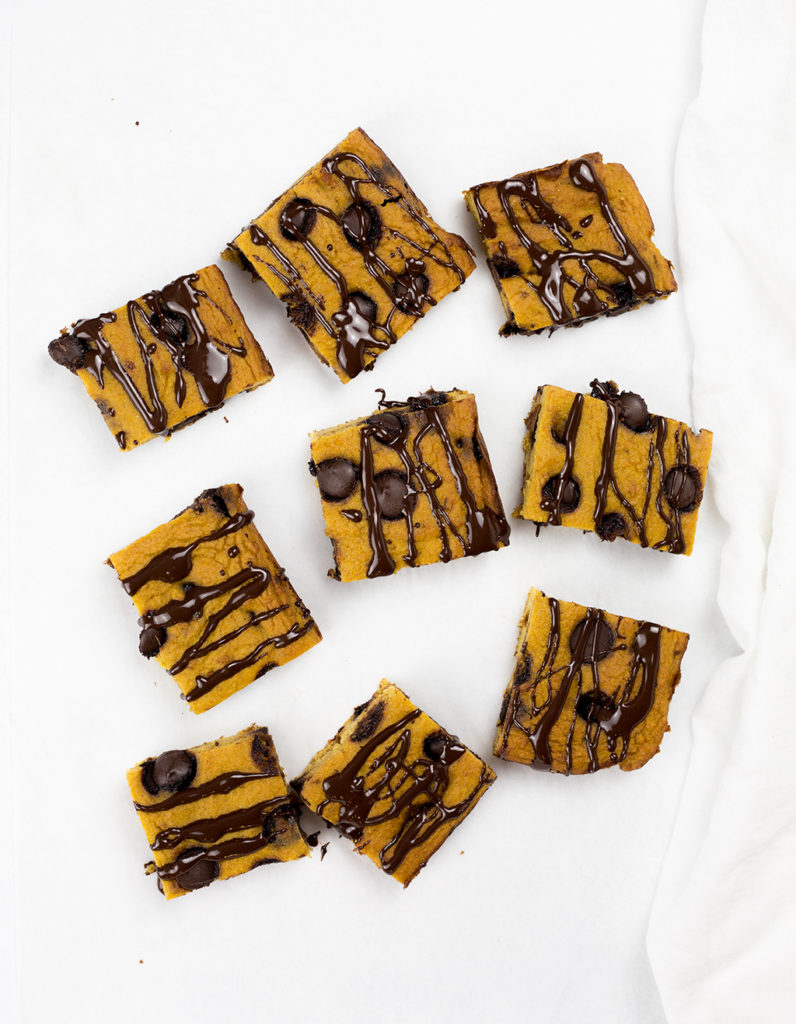 Additional Recipe Tips
In New Zealand pumpkin puree can be hard to find (you may find it in some of the larger Countdown supermarkets). When I made these pumpkin bars I used pre-cooked pumpkin. I simply roasted a pumpkin, removed the skin and seeds and blitzed in my food processor with 1 Tbsp of water until it was smooth. I prefer doing this over using the canned puree anyway as it is more nutritious and you don't get any hidden sugars or additives. I used the remainder of the pumpkin for dinner and to use cold in salads for lunches in the week.
You can use any kind of nut butter in these bars, if you are not following a strict Paleo diet then peanut butter will work well.
If you are specifically dairy free please look for dark chocolate chips that are allergy friendly and dairy free. You can also break up a dark chocolate bar.
You can add addition spices such as cinnamon, nutmeg or cloves but I actually prefer these without the spices.
Other gluten free pumpkin recipes you may like:
Roasted Pumpkin, Chickpea and Sundried Tomato Salad
I hope you enjoy this recipe! Please let me know how you got on in the comments below, I love hearing from you!
For more tasty recipes and to see what I've been getting up to you can follow me on Facebook, Instagram, Pinterest or Twitter.
Hope
Pumpkin Chocolate Chip Bars (Paleo)

---

Hope Pearce

Delicious pumpkin chocolate chip bars, drizzled with dark chocolate. Gluten Free, Paleo and Refined Sugar Free.

15 minPrep Time

25 minCook Time

40 minTotal Time

Ingredients

3 eggs
1 cup pureed pumpkin
1/4 cup maple syrup
1/4 cup nut butter
2 Tbsp almond milk, unsweetened
1 tspn vanilla extract
1/3 cup coconut flour
1/3 cup almond meal
1 tsp baking soda
1/8th tsp salt
1/2 cup dark chocolate chips

Chocolate Drizzle

1/4 cup dark chocolate chips
1 Tbspn olive oil

Instructions

Preheat the oven to 180C/355F.
In a large bowl or your food processor lightly whisk the eggs. Add the pumpkin puree, nut butter, maple syrup, vanilla extract and almond milk. I use the food processor for this as I used pre-cooked pumpkin and like to blitz the ingredients until they are smooth.
If you are using a food processor change the attachment to the mixer. Add the coconut flour,almond meal, baking soda and salt. Gently stir or mix with the food processor until you have a smooth batter.
Add half of the chocolate chips and leave half aside. Stir the chocolate chips through the batter. Use the remaining chocolate chips to place in the batter once you have poured it into the tray. This means you will get more towards the top.
Pour the batter into a prepared 8 x 8 baking tray, placing the remaining chocolate chips along the top.
Bake for 20 to 25 minutes, test with a skewer and should come out mostly clean with a few crumbs.
Leave to cool before slicing into bars.
Next make the chocolate to drizzle over the bars. Use the double boiler method - place the chocolate chips and olive oil in a glass bowl over a saucepan with boiling water. Gently melt the chocolate and oil stirring until you have a smooth liquid. Set aside for a couple of minutes to thicken. With a teaspoon drizzle the chocolate over the bars.

Notes

This nutritional information is an estimate only and is provided as a courtesy to readers. It was auto-generated based on serving size, number of servings, and typical information for the ingredients listed in the recipe card. Please feel free to use your preferred nutrition calculator. Please consult your doctor about any specific dietary requirements. This serving is based on 1 bar per serving. If you are specifically dairy free please look for dark chocolate chips that are allergy friendly and dairy free. You can also break up a dark chocolate bar.

7.8.1.2

91

https://lovefoodnourish.com/pumpkin-chocolate-chip-bars-paleo/