This chunky pumpkin and chickpea salad is a hearty and filling salad that is full of flavour! The sweetness of the roasted pumpkin goes perfectly against the sharpness of the sundried tomatoes and the nuttiness of the chickpeas.
This salad is perfect to take to a BBQ here in (mostly) sunny NZ or for those of you in colder climates can make a perfect dish for thanksgiving or the festive season.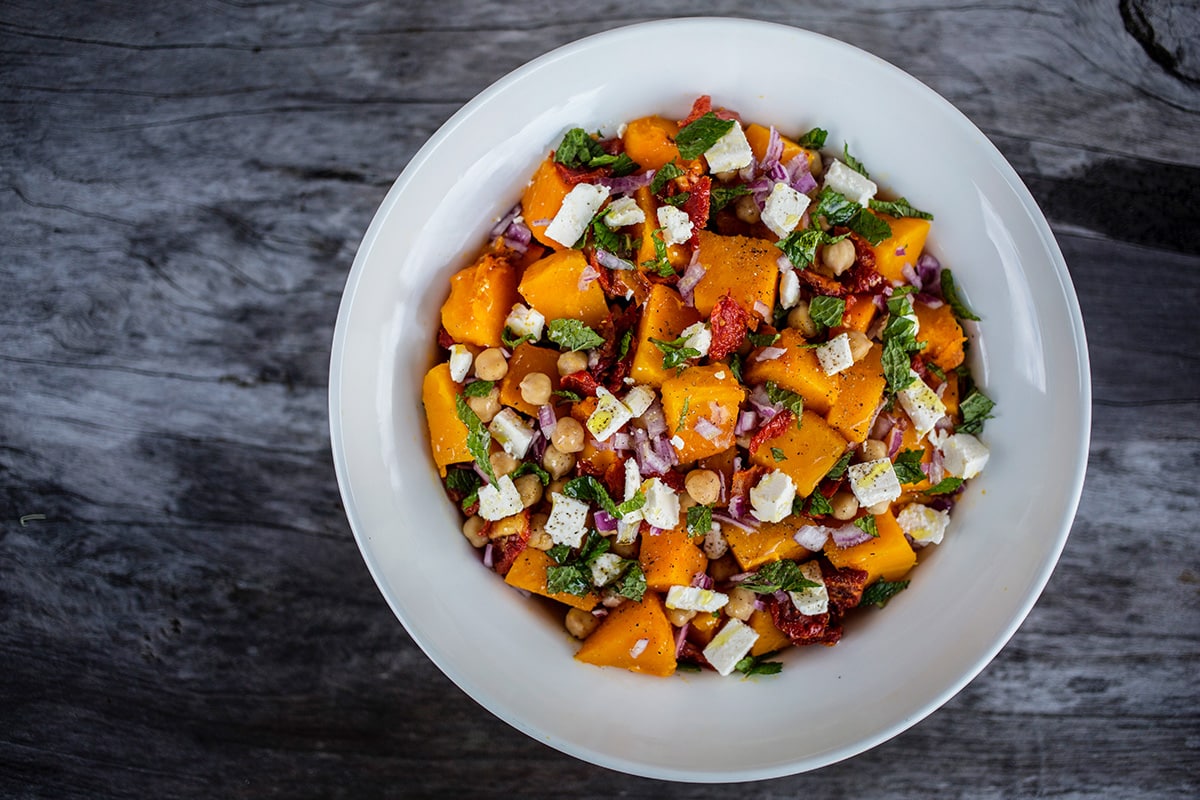 The chickpeas give this pumpkin salad a good serving of protein making it great to take as a side or nice and filling to enjoy as a tasty stand-alone dish.
This roasted pumpkin and chickpea salad is suitable for the whole family, it can also be great to take on a picnic and makes for tasty leftovers to pack into lunches.
My little toddler loves pumpkin and chickpeas (being a fanatic of small and round things to eat), so if giving him some of this salad I just remove the sliced red onion which is a bit strong for him.
Key Ingredients:
Pumpkin - I prefer to use roasted pumpkin as it slightly caramelizes and brings great flavour to the salad. You could also use leftover pumpkin that has been steamed. Butternut squash or buttercup could be used instead of pumpkin.
Chickpeas - Canned or soaked and cooked - it is up to you! If you are using canned rinse and drain them well.
Sundried tomatoes - Their lovely sharp flavour goes so well in this pumpkin salad.
Feta - Goats feta works the best for this salad but you could also use Vegan feta if you would like this salad to be Vegan or omit altogether.
Mint - Fresh mint tops this salad off nicely. Fresh parsley would also work well.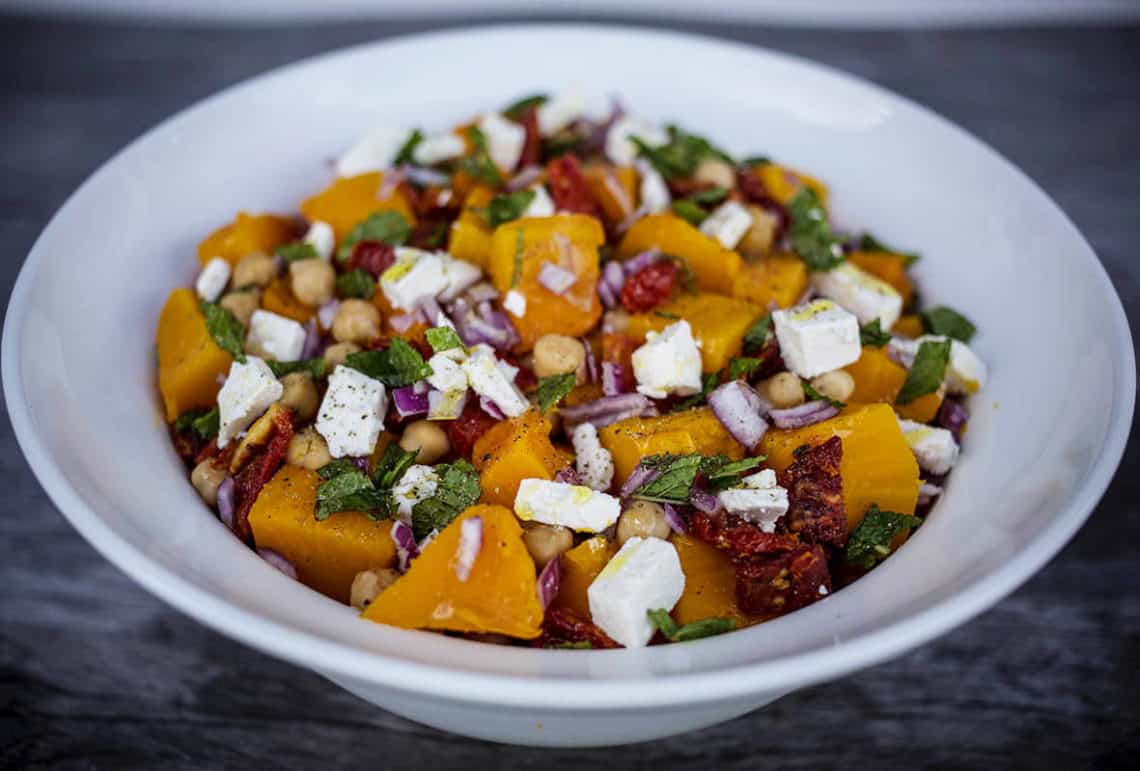 Additional Recipe Notes
This pumpkin and chickpea salad should keep for up to three days in an airtight container in the fridge.

This salad will serve 6-8 people as a side, the nutrition information is based on serving 6. If you are eating it for lunch as is then it should serve around 4 people.

The cook time includes roasting the pumpkin, if you make this salad using leftover roasted pumpkin then it can be made in about 5 minutes!
For other healthy recipes with chickpeas, you may like to check out this Roasted Butternut Squash with Turmeric Hummus or Aubergine (Eggplant) and Chickpea Curry.
For other pumpkin recipes you may like to try:
Spiced Paleo Pumpkin Bread
Pumpkin Banana Muffins - Gluten Free
Cumin Roasted Pumpkin, Cauliflower and Date Salad

I hope you enjoy this pumpkin and chickpea salad recipe! Please let me know how you got on in the comments below, or leave a star rating, I love hearing from you!
For more tasty recipes and to see what I've been getting up to you can follow me on Facebook, Instagram, Pinterest or Twitter.
Have a lovely week!
Hope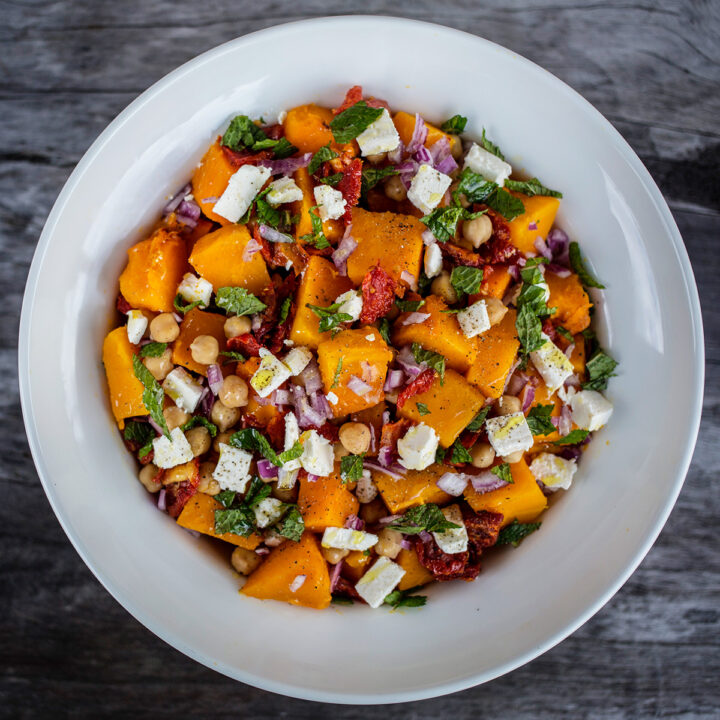 Roasted Pumpkin, Chickpea and Sundried Tomato Salad with Goats Feta
Delicious Roasted Pumpkin and Chickpea Salad with Sundried Tomatoes. This easy salad is filling, delicious and healthy! Perfect for potluck's, picnics, or as a side for dinner or lunch.
Ingredients
Pumpkin and Chickpea Salad
½ medium pumpkin (roughly 2 cups)
1 can (400gm/15oz) of chickpeas, drained and rinsed
½ red onion
½ cup sundried tomatoes
½ cup goats feta, cut into cubes
½ cup fresh mint
Salt and pepper to taste
Salad dressing
2 Tablespoon extra virgin olive oil
1 Tablespoon balsamic vinegar
1 garlic clove, peeled and minced.
Instructions
Preheat oven to 180°C/355°F.
Peel and cut the pumpkin into large cubes. Place the pumpkin in a roasting dish in the oven and cook for about 35-40 minutes until the pumpkin is tender.
Remove from the oven and leave the pumpkin to cool.
Dice the red onion, finely chop the sundried tomatoes, and fresh mint.
Add the pumpkin, chickpeas, sundried tomatoes, mint, and goat's feta to a large salad bowl.
Pour the dressing over the pumpkin salad just before serving.
Notes
I have used goats feta in this pumpkin salad. You could use other cheese, Vegan feta, or omit if you prefer.
This pumpkin and chickpea salad should keep for up to three days in an airtight container in the fridge.
This will serve 6-8 people as a side, the nutrition information is based on serving 6.
Nutrition Information
Yield

6
Serving Size

1
Amount Per Serving
Calories

149
Total Fat

5.9g
Saturated Fat

2g
Trans Fat

0g
Unsaturated Fat

4.6g
Cholesterol

0mg
Sodium

257mg
Carbohydrates

20g
Fiber

4.7g
Sugar

6g
Protein

5.5g
This nutritional information is an estimate only and is provided as a courtesy to readers. It was auto-generated based on serving size, number of servings, and typical information for the ingredients listed in the recipe card. Please feel free to use your preferred nutrition calculator. Please consult your doctor about any specific dietary requirements.
Save
Save
Save
Save
Save
Save
Save
Save
Save
Save
Save
Save
Save
Save
Save
Save
Save
Save
Save
Save
Save