This chunky pumpkin and feta salad is a hearty and filling salad that is full of flavour! The sweetness of the pumpkin goes perfectly against the sharpness of the sundried tomatoes and the nuttiness of the chickpeas.
This salad is perfect to take to a BBQ here in (mostly) sunny NZ or for those of you in colder climates can make a perfect dish for thanksgiving or the festive season.
The chickpeas give this dish a good serving of protein making it great to take as a side or nice and filling to have as a tasty stand alone dish. This salad is suitable for the whole family, so can also be great to take on a picnic or to pack into lunches. My little toddler loves pumpkin and chickpeas (being a fanatic of small and round things to eat), so if giving him some of this salad I just remove the sliced red onion which is a bit strong for him.
I love putting chunky roasted vegetables in salads. Pumpkin is always a winner due to its natural sweetness and it makes a nice change to enjoy it in a salad as opposed to your usual roasted styles. Butternut squash and buttercup could also be used in this salad.
Chickpeas are one of my go to staples and I love adding them to pretty much anything! Fantastic for plumping up any leftovers - add some chickpeas and maybe a couple more vegetable if necessary and you have another dinner ready to go. If you are in a salad mood then instantly make it more filling by adding some chickpeas and if all else fails and the cupboards are bare make some hummus and have on toast with tomato - an instant healthy snack!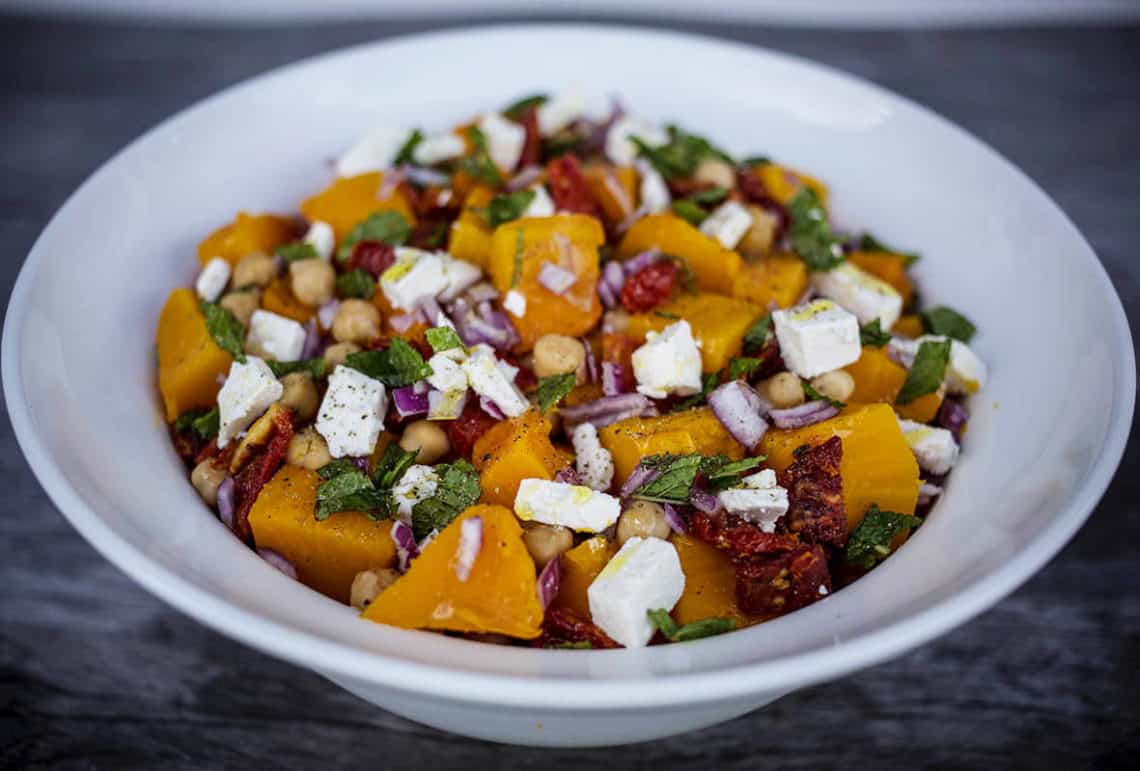 I hope you enjoy this recipe, please share if you do!
For other healthy recipes with chickpeas you may like to check out Roasted Butternut Squash with Turmeric Hummus or Nutty Eggplant, Chickpea and Kale Curry.
For other pumpkin recipes you may like to try:
Spiced Paleo Pumpkin Bread
Pumpkin Banana Muffins - Gluten Free
I hope you enjoy this recipe! Please let me know how you got on in the comments below, I love hearing from you!
For more tasty recipes and to see what I've been getting up to you can follow me on Facebook, Instagram, Pinterest or Twitter.
Have a lovely week!
Hope
Love Food Nourish Nutrition Tips
Pumpkin's are an excellent source of Vitamin A which is fantastic for the immune system and is essential for healthy vision. They also contain antioxidants, are great for healthy skin and are naturally high in fibre.
Chickpeas are an excellent source of fibre and protein so can help you stay full for longer without needing to reach for any snacks. Nothing helps control blood sugar better than a mix of fibre and protein and chickpeas are an excellent source of both. Chickpeas contain half of the daily RDI of fibre and two thirds of that fibre is insoluble making it excellent for keeping the colon healthy.
Chickpeas are high in various nutrients that have been shown to be important for heart health and lower cholesterol such as potassium, folate, vitamin b6. They are also good sources of iron, zinc, manganese and molybdenum, making them a good iron source for those on a plant based diet. I could go on but I think that's enough for one post, but the take home message is chickpeas have numerous health benefits!
.
Roasted Pumpkin, Chickpea and Sundried Tomato Salad with Goats Feta
---
Hope Pearce
Delicious Roasted Pumpkin and Chickpea Salad with Sundried Tomatoes
10 minPrep Time
40 minCook Time
50 minTotal Time
Ingredients
Salad

½ medium pumpkin
1 can (400gm) of chickpeas, drained and rinsed
½ red onion
½ cup sundried tomatoes
½ cup goats feta, cut into cubes
½ cup fresh mint
Salt and pepper to taste

Salad Dressing

2 Tbspn extra virgin olive oil
1 Tbspn balsamic vinegar
1 garlic clove, peeled and minced.
Instructions
Preheat oven to 180°C/350°F.
Peel and cut pumpkin into large cubes. Place pumpkin in roasting dish in the oven and cook for about 35-40 minutes until the pumpkin is tender.
Remove from the oven and leave the pumpkin to cool.
Dice the red onion, finely chop the sundried tomatoes and fresh mint.
Add the pumpkin, chickpeas, sundried tomatoes, mint and goats feta to a large salad bowl.
Pour the dressing over just before serving.
Notes
Remove goats feta to make dish vegan.
7.8.1.2
21
https://lovefoodnourish.com/roasted-pumpkin-chickpea-sundried-tomato-salad-goats-feta/
Save
Save
Save
Save
Save
Save
Save
Save
Save
Save
Save
Save
Save
Save
Save
Save
Save
Save
Save
Save
Save
Save