This creamy butternut squash and chickpea curry is full of delicious aromatic flavours. It is perfect for enjoying on a cosy evening in when you are craving some comfort food!
This curry makes an easy Vegetarian or Vegan dinner that the whole family will enjoy. Gluten-Free & Dairy Free.
Butternut squash and chickpea curry is one of my favourite Vegetarian curries. When I am craving something warm, healthy, and comforting this is one of my go to dinners!
There is something about the creaminess from the coconut cream (or coconut milk) that makes this curry feel decadent yet still simple enough to make on a busy weeknight.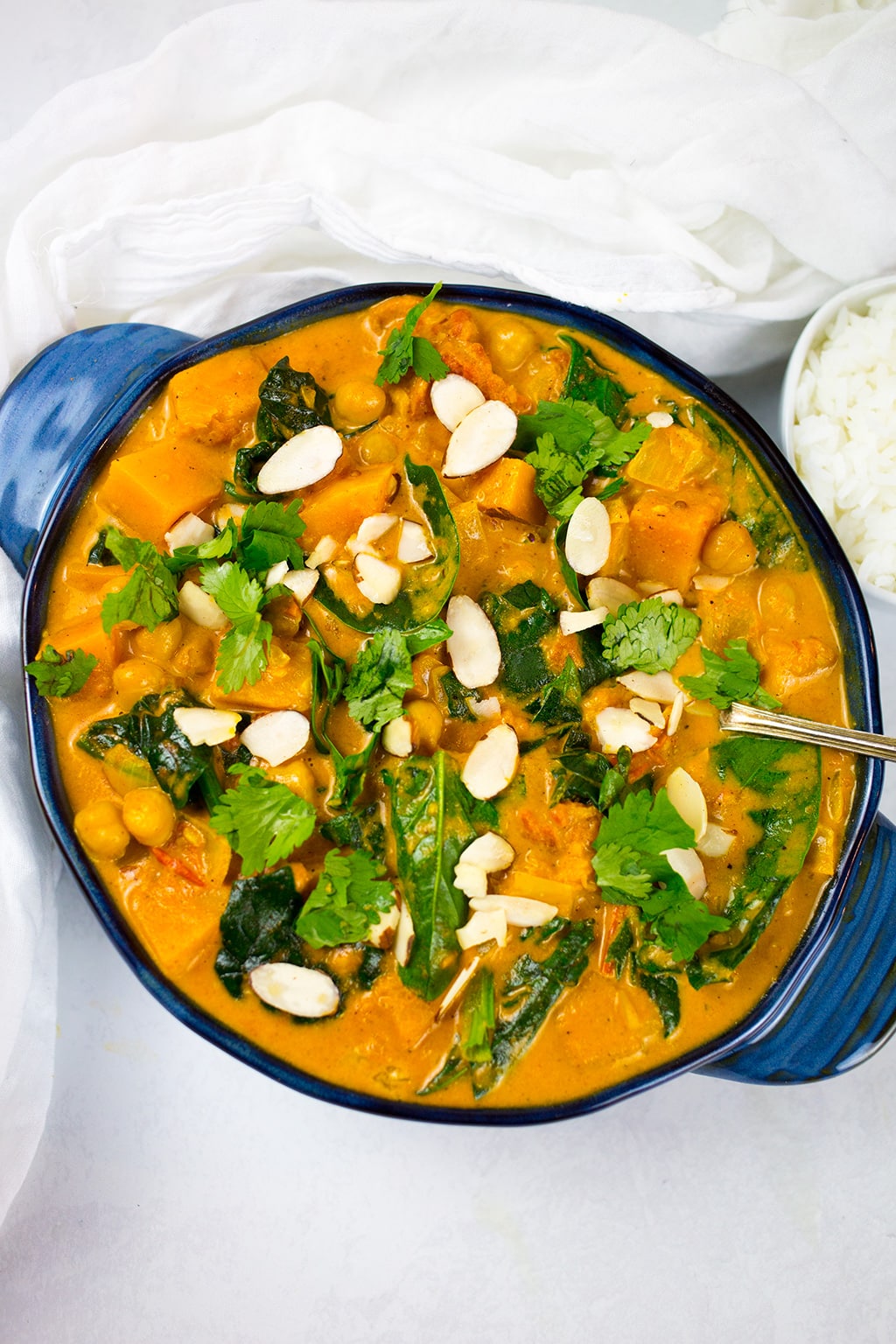 The butternut squash lends an additional creamy texture to this curry along with a hint of natural sweetness. The chickpeas soak up the flavours of the spices and make this dish extra filling. Fresh spinach is added in at the end for some extra goodness.
The creamy butternut squash curry is topped off by sliced almonds and fresh coriander for added texture and flavours. I like to keep it mild so it is child friendly but you can easily add some freshly chopped chili on to individual plates at the end to kick the heat level up a notch or two.
How to make butternut squash and chickpea curry........
It really is so simple!
In a skillet or pan heat the coconut oil, saute the onions, and garlic until translucent.
Next, add the spices, mix in with the onions and garlic and cook for a few minutes.
Then add the chickpeas and butternut squash so that they are covered in the spices.
Add the full-fat coconut cream or coconut milk and cook away until the butternut squash is nice and tender. The curry liquid will reduce while cooking and you should have a nice thick curry at the end.
Voila! Done........Once the butternut squash and chickpea curry is reduced and the butternut squash is tender, add the spinach and top with sliced almonds. Serve with rice or your choice or sides.
For detailed step by step instructions and nutrition information please read the recipe card below.....
Recipe Tips and Variations
If you would like this butternut squash and chickpea curry to be spicy then add in some chili powder to the spices at the beginning of cooking. Start off with a small amount, taste, and add more later in the cooking if desired. As mentioned above I like to keep the entire curry mild so it is child friendly and then top with chopped chili as desired for each individual after cooking. This means everyone is happy!
I like to use coconut cream for this recipe, if this is too rich for you then you can use coconut milk. Ensure you use the full-fat coconut milk, not the low-fat version.
If you would like this meal to be lower on the carbs then serve the curry with cauliflower rice instead of rice.
Pumpkin or buttercup can be used in place of butternut squash. I find butternut squash the easiest to prepare as you can simply peel the skin off with a vegetable peeler.
Be careful not to overcook the spinach, this can make the curry more watery. The spinach should be placed in the curry at the end and is only just wilted, then simply stir it through.
If you are sensitive to chickpeas you can leave them out or substitute with some pan-fried tofu. If you experience digestive issues or bloating after eating chickpeas it can be a good idea to use pre-soaked and cooked chickpeas instead of chickpeas out of a can. If you would like more information on soaking chickpeas then check out this post.
Recipe FAQ
What should I serve with this curry?
White (jasmine works best) or brown rice, quinoa, millet, cauliflower rice, or simply with some naan bread.
Can I freeze butternut squash curry?
Yes, freeze in in an airtight container or ziplock bag and it should keep for three months.
Other curry recipes you might like to try.....
For more tasty recipes and to see what I've been getting up to you can follow me on Facebook, Instagram, Pinterest or Twitter.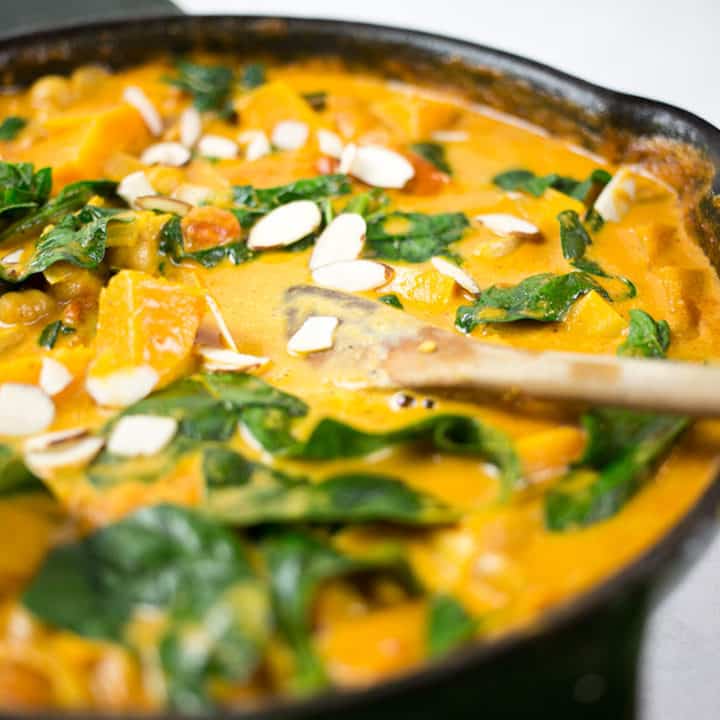 Butternut Squash and Chickpea Curry
A creamy full flavoured Vegan curry with Butternut Squash, Chickpeas, and Spinach. Gluten-Free + Dairy Free.
Ingredients
1 Tbs coconut oil
1 onion, medium
2 teaspoon garlic, crushed
½ teaspoon coriander seeds
½ teaspoon turmeric
½ teaspoon ginger
3 teaspoon garam masala
½ teaspoon salt
¼ teaspoon black pepper
400gm/14oz butternut squash, peeled and cubed
1 can chickpeas, rinsed and drained (approx 400gm)
1 can tomatoes (approx 400gm)
1 can coconut cream (approx 400ml)
1 teaspoon coconut sugar
3 cups spinach leaves (95gm/3.3oz)
Topping
¼ cup almonds, sliced
2 Tbs coriander, fresh
2 teaspoon chopped chili (optional)
Instructions
Heat the coconut oil in a medium skillet or pan on a medium heat. Add the diced onion and crushed garlic to the pan and saute until they are translucent for 2-3 minutes.
Next add the rest of the spices and salt to the pan, cook for another minute until the spices gently pop and are mixed through the onion and garlic.
Add the chickpeas and butternut squash to the pan. Stir until they are both coated in the onions, garlic and spices. Cook for 2-3 minutes.
Add the canned tomatoes, coconut cream, salt and pepper. Bring to medium heat and simmer for 25 - 30 minutes until the butternut squash is soft. Stir periodically.
Add the sugar and stir, then the spinach leaves. Cook for another 1-2 minutes until the spinach leaves have wilted.
Remove from the heat and top with sliced almonds, fresh coriander and fresh chili as desired.
Serve on white or brown rice, quinoa, or cauliflower rice.
Notes
Please note that the nutritional information above is based on serving 4, this meal should serve 4-6 people.
Please use full fat coconut cream or milk not the light version.
For additional tips please read the information in the blog post.
Nutrition Information
Yield

4
Serving Size

1
Amount Per Serving
Calories

736
Total Fat

32g
Saturated Fat

23g
Trans Fat

0g
Unsaturated Fat

7g
Cholesterol

1mg
Sodium

702mg
Carbohydrates

108g
Net Carbohydrates

93g
Fiber

15g
Sugar

74g
Protein

14g
This nutritional information is an estimate only and is provided as a courtesy to readers. It was auto-generated based on serving size, number of servings, and typical information for the ingredients listed in the recipe card. Please feel free to use your preferred nutrition calculator. Please consult your doctor about any specific dietary requirements.