This delicious homemade avocado sauce is lush, thick, and creamy and is dairy-free! Use as a sauce or a dressing this avocado sauce is very versatile.
With its many uses this avocado sauce is delicious poured over poached eggs, can be mixed through chicken dishes, pasta dishes, drizzled over nachos or tacos, used as a spread for crackers or toast, or as a dip to go with your appetizers.
Unlike the avocado dressings that you find in the store, this tasty sauce has no additives, dairy or sugar, but still manages to taste full of creamy avocado goodness.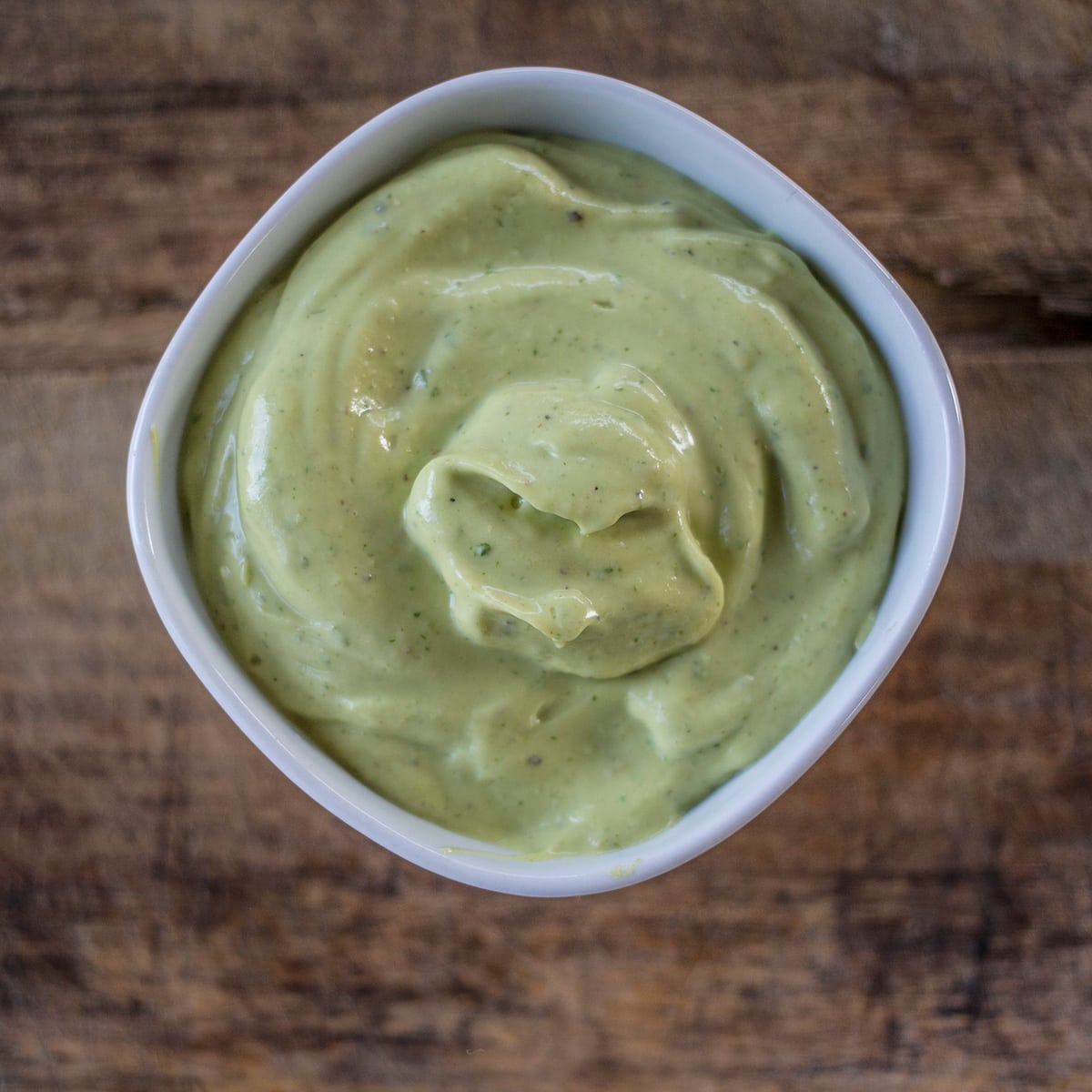 Aside from being downright delicious, avocados contain around 20 vitamins and minerals and are an excellent source of healthy fat.
Not only do avocados contain high levels of antioxidants but due to their fat content, they can help you absorb nutrients from other plant-based foods that require lipids (fat) for absorption. This makes them particularly beneficial for those eating a plant-based diet.
It is all very well various fruit and vegetables being high in certain nutrients but if the nutrients cannot be absorbed then they are of no use!
Fat-soluble vitamins such as vitamin A, D, E, and carotenoids all need lipids (fat) to be absorbed. And what you may ask are carotenoids? They are the plant pigment in various fruit and vegetables such as carrots, tomatoes, and sweet potatoes that give them their red, yellow, and orange colour.
Why do we want these in our diet? Because carotenoids can be turned into powerful antioxidants to support health.
So in a nutshell ....matching up carrot sticks (high in carotenoids) with an avocado dip (a good source of healthy fat) is a match made in heaven to absorb the nutrition from the carrot.
Recipe Tips
This recipe is for a thick creamy avocado sauce but you can add more water as desired to make it thinner to use as a dressing to go over salads.
If you are looking for other recipes with avocado you may like to try:
Quinoa Breakfast Bowl with Poached Egg, Avocado & Pesto
Beetroot, Avocado & Rocket Quinoa Salad with Spiced Walnuts & Mint
Other dairy-free and Vegan dips:
Kale, Basil & Walnut Vegan Pesto
Creamy White Bean Dip
Lemon Tahini Dressing
I hope you enjoy this recipe for creamy avocado sauce! Please let me know how you got on in the comments below or leave a star rating, I love hearing from you!
For more tasty recipes and to see what I've been getting up to you can follow me on Facebook, Instagram, Pinterest, or Twitter.
Have a lovely week!
Hope x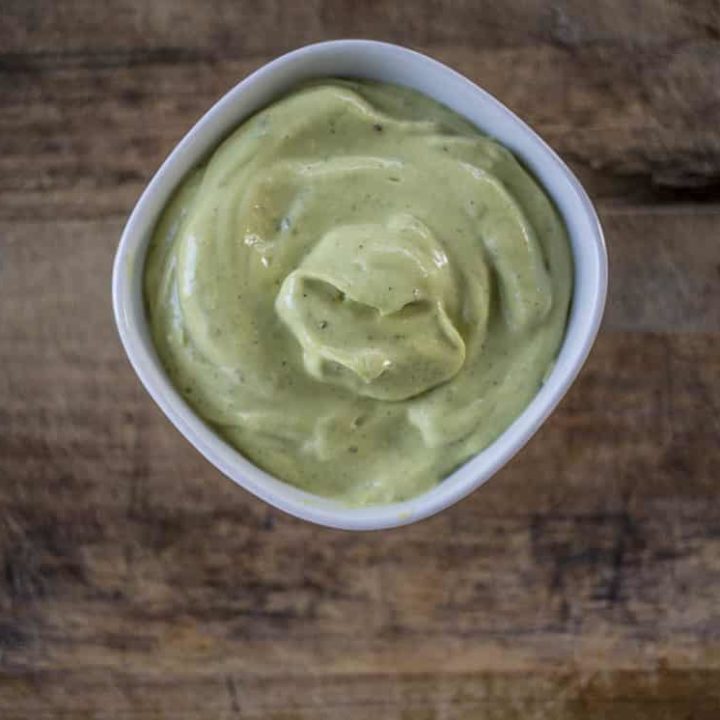 Creamy Dairy Free Avocado Sauce
A thick and creamy avocado sauce. Can be used as a sauce, dressing or dip. Dairy-Free and Vegan.
Ingredients
1 Avocado
1 Tbspn lemon juice
1 garlic clove
3 Tbspn olive oil
2 Tbspn fresh parsley
3 Tbspn water
Sea Salt and freshly ground black pepper to taste
Instructions
Add all ingredients into food processor or blender.
Blend until smooth.
Add more water to reach a thinner consistency if desired.
Taste and adjust seasoning if necessary.
Notes
The nutrition information for avocado sauce is approximate only and based on a serving size of 2 Tbs per person.
Nutrition Information
Yield

12
Serving Size

2
Amount Per Serving
Calories

57
Total Fat

6g
Saturated Fat

1g
Trans Fat

0g
Unsaturated Fat

5g
Cholesterol

0mg
Sodium

29mg
Carbohydrates

2g
Fiber

1g
Sugar

0g
Protein

0g
This nutritional information is an estimate only and is provided as a courtesy to readers. It was auto-generated based on serving size, number of servings, and typical information for the ingredients listed in the recipe card. Please feel free to use your preferred nutrition calculator. Please consult your doctor about any specific dietary requirements.
Save
Save
Save
Save
Save
Save
Save
Save
Save
Save
Save
Save
Save
Save
Save
Save
Save