Crustless Quiche with Butternut Squash, Kale & Sundried Tomato topped with Goats Feta and Pumpkin Seeds. This gluten free and grain free quiche is not only tasty and nutritious but also dairy free. It makes the perfect lunch or light dinner.

First blog post! Wow….after months of testing recipes and fine tuning recipes that I used to give out to clients I had been waiting for this day to put it all together. Somehow I thought it would be more serene and organised than the actual day was, but hey that's life with a toddler, days are certainly never serene, and sometimes they can be organised if you are having a good day but things can turn topsy turvy pretty quickly. I had been waiting for a day for my husband to be off and us both to be free so he could help look after Master H and also take some photo's as he is a pretty good with a camera. 
I had made us a yummy dish for lunch (this) and a couple of other tasty treats to take photos of trying to make the most of a sunny day with great light before the darker wintery days set in. So the scene was anything but serene was a mad rush as always while Master H was asleep trying to accomplish numerous things at once as fast as I possibly can and then once our little treasure was up it was all go trying to keep him out of my cooking while keeping him entertained. This involved singing nursery rhymes while cooking, dancing while cooking and quickly giving him a constant supply of food to munch on while we were busy.  Dishes piled up and up and up and before you knew it the light was gone and it was getting dark! After feeling like a slightly neglectful mother for the day it was done, a couple of tried and tested dishes complete and a few photos to prove it!
So on to the food here it goes..
Crustless Dairy Free Quiche with Butternut Squash, Kale and Sundried Tomato.  Yum!
This is such a tasty and easy nutritious quiche to eat for lunch or have for a light dinner. I call it a quiche as that seems to be the most appropriate term but it actually has no crust or dairy so is great for anyone that is gluten free, or is intolerant to dairy or on a grain free diet. The butternut squash makes the dish extra filling and adds a sweet earthy taste which is balanced out by the saltiness of the sundried tomatoes and the addition of the kale.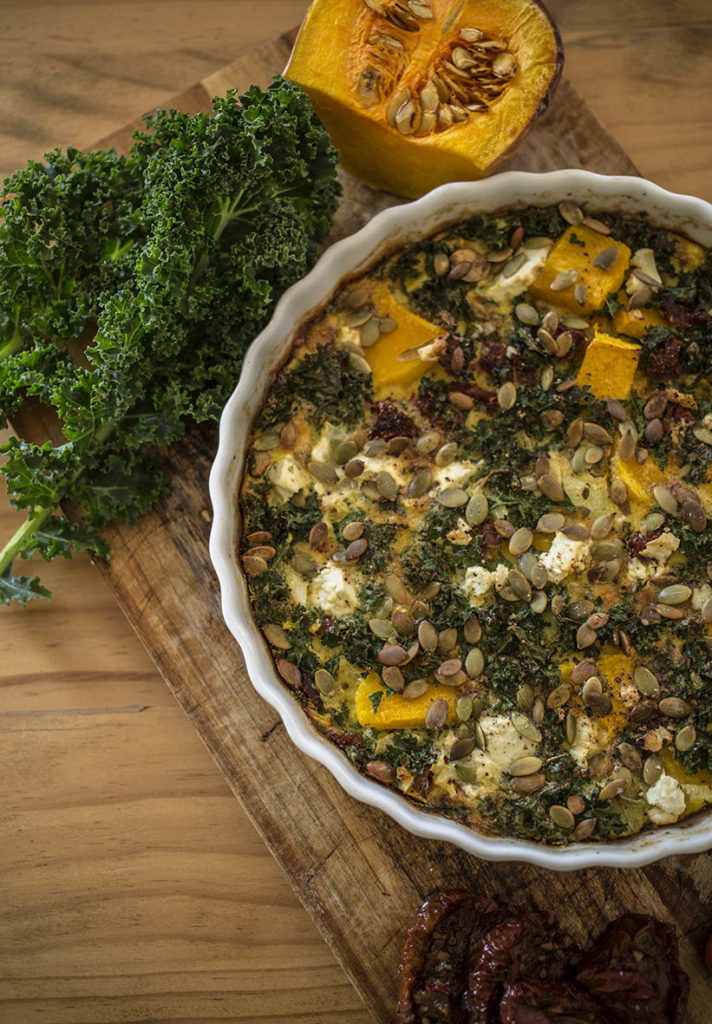 Butternut squash is one of the best plant food sources of beta-carotene, a powerful antioxidant which is converted to Vitamin A in the body. Vitamin A is a very important nutrient for the immune system which can help ward off cold's and ills and chills. In addition it can help preserve normal eye site and is thought to protect against cancer, stroke and heart disease.
We are fortunate to always have an abundant supply of kale in our garden which is great because I always like to add in leafy greens where I can to meals. Leafy greens are so nutritious and help keep the acid/alkaline balance of our body in check. Any meal where I can add greens and it still tastes good to Master H is also a bonus for me. Kale is one of the richest source of carotenoids in the leafy green family and can help to protect against cancer. The calcium in kale is more easily absorbed by the body than milk making it great for those on dairy free diets and to help prevent osteoporosis and bone loss.
I have added pumpkin seeds to the top of the quiche, pumpkin seeds are an excellent source of zinc. Zinc is essential for a healthy immune system so as a whole this is a great dish to eat as we head into winter.
If you are looking for other recipes with butternut squash or kale you may like to try my Roasted Butternut Squash & Turmeric Hummus or Baked Eggs with Crispy Kale, Capsicum & Pumpkin Seeds.
I hope you enjoy this recipe, please share if you do.
Have a lovely week! x
Crustless Dairy Free Quiche with Butternut Squash, Kale and Sundried Tomato
---
Hope Pearce
A delicious grain & dairy free quiche with butternut squash, kale & pumpkin seeds.
30 minPrep Time
25 minCook Time
55 minTotal Time
Ingredients
1/2 medium sized butternut squash
6 free range eggs
3 large kale leaves, stems removed.
½ medium onion
¼ cup sundried tomatoes
30gm of goats feta to sprinkle on top (optional)
3 Tbspn pumpkin seeds
1/8th tspn sea salt
1/8th tspn fresh ground black pepper
coconut oil, butter or ghee for greasing dish
Instructions
Preheat oven to 180°C/350°F
Cut the squash in half lengthwise and scoop out the seeds. Roughly chop into big cubes for roasting. Roast until fork tender about 30 min. Once cooked let cool for 10 min then slice into 2cm squares. While the butternut is roasting add the eggs in to your food processor. Whisk until they double in size - about 2-3 minutes.
Using a slicing attachment on your food processor add the kale and onion until they are finely sliced.
Chop the sundried tomatoes into small pieces and add to egg mixture.
Add the sliced butternut, salt and pepper.
Grease a 23cm quiche dish with coconut oil. Pour mixture into dish.
Sprinkle pumpkin seeds and goats feta over top of dish.
Add more salt and pepper over top of dish as desired.
Bake for 20-25 min until golden brown.
Notes
Butternut squash can be replaced by pumpkin. Kale can be replaced by spinach. To make this quiche suitable for a paleo diet remove goats feta.
7.6.5
3
https://lovefoodnourish.com/crustless-dairy-free-quiche-butternut-squash-kale/
Save
Save
Save
Save
Save
Save
Save
Save
Save
Save
Save
Save