A simple guide to using white sugar substitutes in baking with a free printable sugar conversion chart.
Many people are looking to cut down on their refined sugar intake and use healthier alternatives. It is important to note that even when using unrefined, natural, or what is classed as healthier sugar alternatives, many of these can still affect blood sugar levels and still contribute to your daily calorie intake.
Jump to: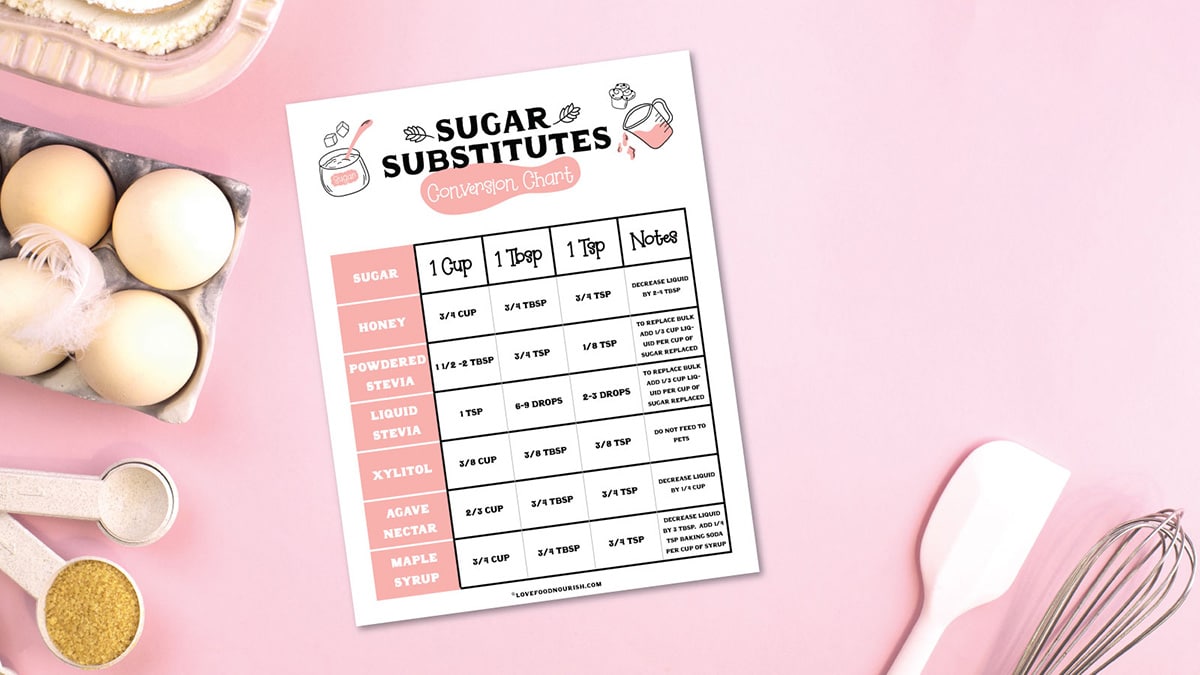 Refined White Sugar
What exactly is white sugar?

White sugar that is used primarily in baking comes from either sugar beetroots or sugarcane. It is sucrose, a disaccharide composed of the simple sugars glucose and fructose.
Although white sugar is the most widely used sugar in baking, it is by no means the only one. There are other substances that can be used in place of sugar, such as honey, stevia, and maple syrup, all of which have slightly different baking properties.
Why is sugar used in baking?
The first and most obvious benefit is: It makes baked foods sweeter. But it doesn't only make things sweeter. Like salt, sugar is a flavour enhancer that can elevate or amplify other flavours. For example, sugar can balance out bitterness when adding dark cocoa powder to baking.

Sugar can also help brown your baked goods. Because sugar caramelises when cooked some pie crusts, for example, may contain a small quantity of sugar.

Sugar is also hygroscopic, which means it draws water to it. This characteristic can be beneficial since it helps baked foods keep moisture, or it can be detrimental because a frosted cake may dry out very rapidly because the frostings' abundance of sugar draws moisture from the cake layers.
White Sugar Substitutes
What sugar substitute is best to use?

When deciding to use unrefined sugar alternatives, it is useful to look at your overall purpose for switching to a white sugar substitute and work out if the substitute will be suitable for the recipe you have chosen.

If you are deciding based on health reasons such as lowering your calorie or sugar content or keeping your blood sugar levels stable then work out whether you think it will also produce the baked goods you desire.

It is important to remember that baked goods with unrefined sugar or sweeteners are still treats and/or something to enjoy in moderation.
Just because a recipe contains a white sugar replacement does not mean they are simply healthier, it depends on how much is used, what sweetener is used, and what other ingredients are in a recipe.
Free Printable Sugar Substitute Conversion Chart
The below sugar substitute chart is for you if you are looking for an exact swap with refined white sugar in a recipe. I often will reduce the overall amount of sugar or sweetener in a recipe even further depending on what other ingredients I am using.
You can pin the graphic below (or even save it) for future reference or here is a free printable pdf that you can print out and keep.
Additional Information on White Sugar Substitutes
Honey
Honey is a humectant which means that it retains moisture. This can be great in baking as it can help keep cakes, biscuits and muffins moist.
When baking with honey you usually need to reduce the amount of liquid you are using in a recipe. Honey can give baking a darker colour and richer flavour depending on the type of honey you use.
As honey is sweeter than refined sugar you can use less honey than you would use white refined sugar in a recipe.
As a general rule ¾ cup of honey can replace 1 cup of white sugar, however I often will reduce this even more if I am trying to cut down on the overall sugar content of a recipe. It may depend on what other ingredients are in the recipe and if they are sweet e.g banana in a banana bread recipe.
Stevia
The South American native plant stevia is 200–300 times sweeter than normal sugar. It has no calories and has no effect on blood sugar levels.
It does taste different to sugar and some people may not like the aftertaste, however when stevia is used in baking you can not always taste the unique stevia sweetness. It will greatly depend on the recipe.
Stevia is available as a liquid or powder and is stable at high temperatures. As a result, you can cook with it, bake with it, and sweeten beverages with it.
Before using stevia in a recipe, make sure to read the manufacturer's label because the quantity of stevia that equals 1 cup of sugar may differ from brand to brand. You also may find some extra ingredients have been added, again depending on the brand and whether the product is powdered or liquid.
Xylitol
Xylitol is also known as birch sugar. Xylitol contains fewer calories than sugar and has a lower glycemic index, so it is often thought of as a healthier choice than refined white sugar. Xylitol contains 2.5 calories per gram, compared to sugar which contains 3.7 calories per gram.
Xylitol is commonly used in baking as it can be swapped for a 1-1 ratio with refined white sugar without any other adjustments needed. It is also known to help prevent tooth decay when consumed regularly.
Xylitol works well in cakes and beverages. It does not activate yeast so it is best avoided in recipes that use yeast to rise. Xylitol will not caramelise, even if exposed to high temperatures for a long time.
Xylitol is toxic for dogs, so make sure that your puppy doesn't eat anything that contains it!
For some people, high amounts of xylitol may cause them to experience some digestive side effects.
Xylitol and erythritol often confused and thought to be the same sweeteners with a different name. I have put notes for erythritol at the end of this post to explain the difference.
Agave Syrup
Agave syrup is a liquid sweetener made from the juice of the agave plant.
As it is similar to honey in texture, it is sometimes used as a plant-based alternative to honey.
It has a lower glycemic index than sugar, and is also sweeter. However it is very high in fructose, which can be associated with negative health outcomes.
Therefore, it is better to use it sparingly or in moderation and always buy it organic, instead of the more processed versions.
Agave syrup works well in beverages, pancakes, granola, sticky cakes, and muffins. Keep in mind that you'll need to decrease the cooking temperature by 10°C/50°F, to prevent burning.
Maple Syrup
The sap of the North American native maple tree is boiled to produce maple syrup. It can be used to caramelised your recipes, and it gives your food a beautiful, aromatic flavour comparable to molasses.
Maple syrup is a popular Vegan alternative to honey. It contains small amounts of calcium, magnesium, potassium and zinc (1). It is however still high in sugar so is possibly not the best choice if you are looking for a sweetener that will not affect your blood sugar levels.
Because maple syrup is heat stable, you can use it in baking as well as in sauces, marinades, glazes, and other cooking applications. Additionally, it tastes great drizzled over pancakes and in cookies.
Erythritol
Erythritol is a calorie-free sweetener that tastes and looks a lot like sugar.
It is a naturally occurring substance found in several fruits and fermented foods, and it has no negative effects on blood sugar levels or tooth decay.
Because it is hygroscopic, or able to store water, erythritol is an excellent choice for baked foods because it prevents them from drying out. Erythritol can help achieve the same sweetness when sugar is reduced in baked goods to lower the calorie content.
The dough won't be able to rise if you use it in recipes that call for yeast, though you can caramelise it. Unlike sugar, erythritol cannot activate yeast.
1–1 ¼ cups of Erythritol is equal to 1 cup of white sugar.
In case you missed it it here is the graphic you can pin (or save) for future reference or here is a free printable pdf that you can print out and keep.
For more tasty recipes and to see what I've been getting up to you can follow me on Facebook, Instagram, Pinterest or Twitter.