These gluten free savoury muffins are moist, light, fluffy and tasty! Full of vegetables and nutritious ingredients, these paleo savoury muffins make a healthy snack, grab and go breakfast or a tasty addition to the lunchbox.
I have always been a bit of savoury muffin fan. I definitely prefer savoury goodies rather than sweet....I find them more satisfying.
Not that I don't enjoy sweet things... oh I do....but when snacking and looking for something satisfying I always opt for savoury.
I have been trying to come up with a recipe for gluten free muffins that are savoury AND moist for a while but have always been a bit disappointed with the results.
Many gluten free savoury muffin recipes I have played around with taste ok fresh out of the oven but often turn into a more solid "brick" like consistency once they have cooled down.
I am pleased to say that these savoury muffins still taste light and moist the next day!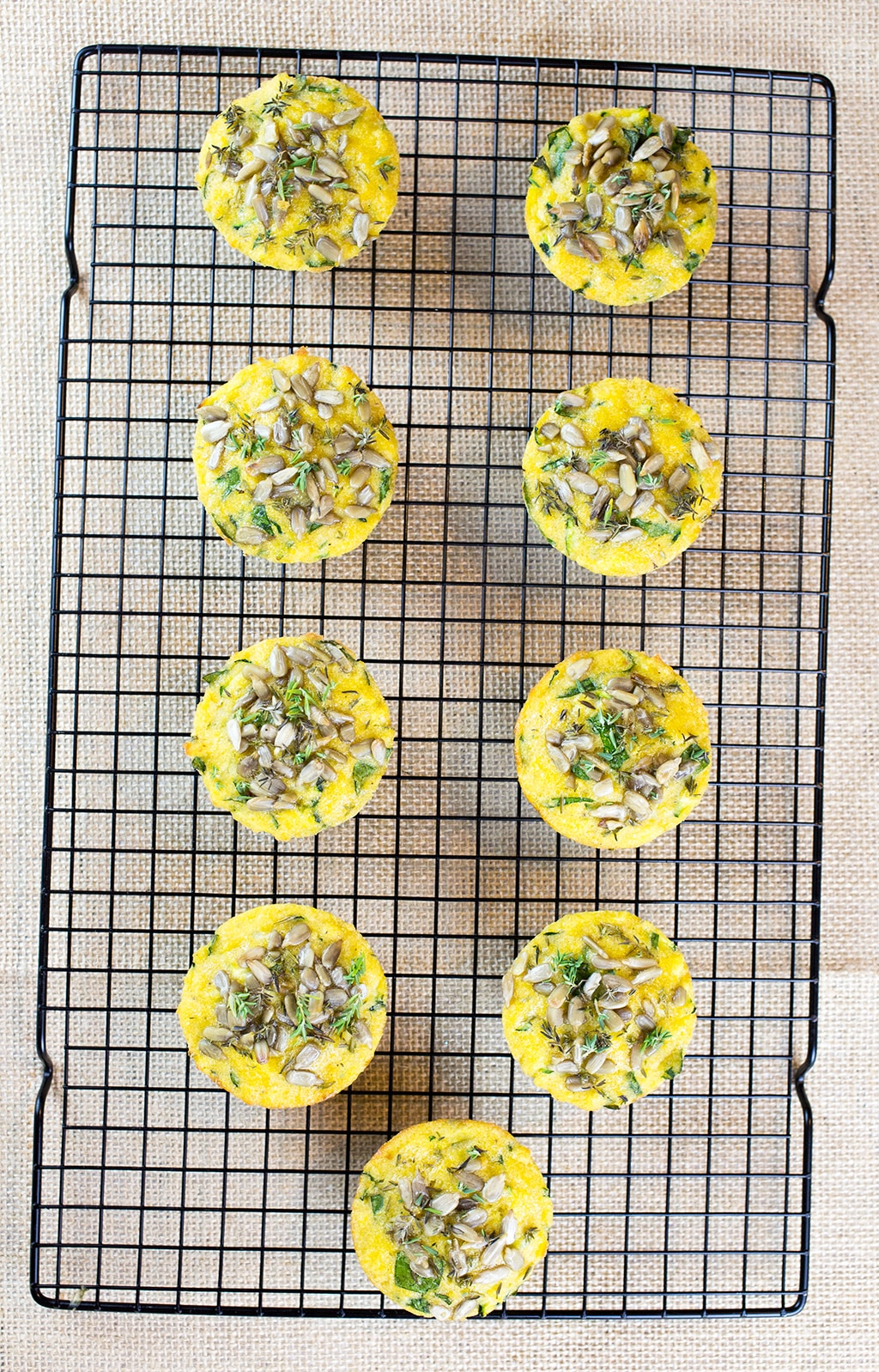 These gluten free muffins are a great way to get extra veggies into your kids that they will enjoy.
I have kept these muffins dairy free and added in nutritional yeast for a slightly "cheesy" savoury flavour but additional cheese can be added on top if you prefer.
Nutritional yeast is a good source of b vitamins, selenium and zinc, so is a great way to boost the nutritional content of food.
These muffins also contain good servings of protein and healthy fats meaning they will leave you satisfied!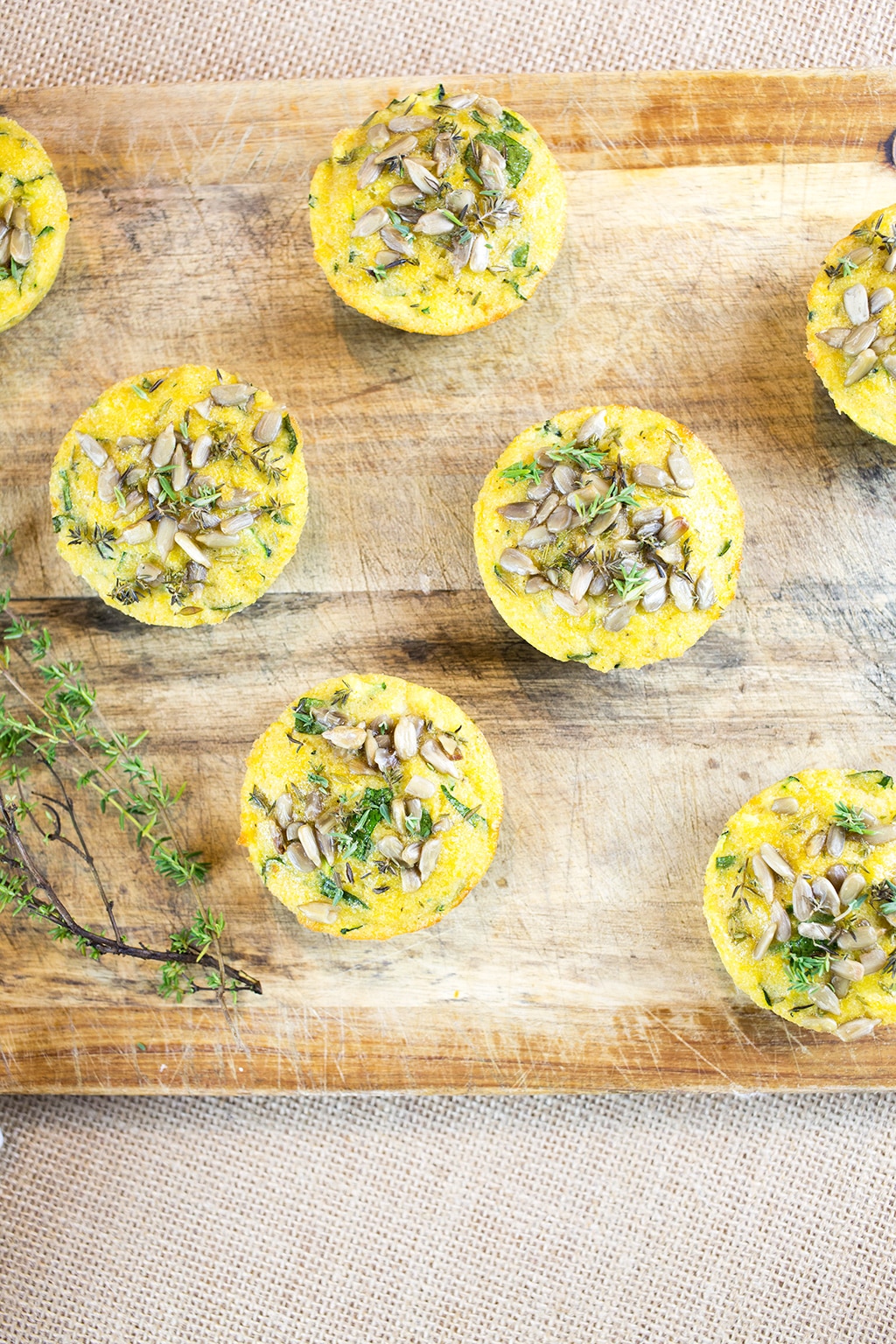 These savoury muffins work well with a range of vegetables, I have used zucchini and spinach in this recipe but grated carrot, kale, finely chopped broccoli, spring or red onion also all work well.
If you are looking for other gluten free muffin recipes you may like to try:
Grain Free Lemon Almond Coconut Cakes (Paleo)
Veggie Egg Muffins with Pesto (Paleo)
I hope you enjoy this recipe! Please let me know how you got on in the comments below, I love hearing from you!
For more tasty recipes and to see what I've been getting up to you can follow me on Facebook, Instagram, Pinterest or Twitter.
Have a lovely week!
Hope

Additional Recipe Notes for making Gluten Free Savoury Muffins
These muffins contain liquid ingredients (almond milk and melted coconut oil) when you open the oven you will see the liquid bubbling around the muffin. This does not mean they are not cooked. This liquid will disappear once they have been removed from the oven and will soak into the muffins retaining their moisture. You want to inset a toothpick and for it to come out mostly clean with a few crumbs, when this happens they are done, they should be slightly golden on top.
I prefer to store goods that are baked with coconut flour in the fridge as I find they remain fresh for longer. If you live in a cooler climate this may not be necessary.
Gluten Free Savoury Muffins (Paleo & Dairy Free)
---
Hope Pearce
Light and Fluffy Gluten Free Savoury Muffins
10 minPrep Time
20 minCook Time
30 minTotal Time
Ingredients
½ cup almond meal
⅓ cup tapioca starch/tapioca flour
3 Tbspn coconut flour
1 tspn baking powder
½ tspn salt
2 tspn nutritional yeast *optional
⅛th tspn ground turmeric *optional
⅛th tspn ground black pepper
3 eggs
⅓rd cup coconut oil, melted
½ cup + 1 Tbspn almond milk
⅓ cup spinach, finely chopped
¾ cup grated zucchini
2 Tbspn sunflower seeds
2 tspn fresh thyme or other fresh herbs
Instructions
Preheat oven to 180°C/355°F.
Add the dry ingredients into a large bowl.
In a separate bowl add the eggs and whisk then add the coconut oil and almond milk.
Add the wet ingredients into the bowl with the dry ingredients and mix together.
Add the vegetables and stir through the mixture.
Spoon the mixture into prepared muffin tins. Top with sunflower seeds and fresh thyme.
Bake for 15-20 minutes until a light golden brown and a toothpick or skewer comes out clean or with just a couple of crumbs* See additional recipe notes in blog post.
Store in an airtight container in the fridge.
7.8.1.2
57
https://lovefoodnourish.com/gluten-free-savoury-muffins-paleo-dairy-free/