These mini lemon coconut cakes are the perfect little treat! They are so simple and can be whipped up pretty quickly, making them ideal to enjoy for morning tea or to serve with whipped coconut cream as a divine little dessert. Gluten-Free, Dairy-Free, Paleo, Refined-sugar free.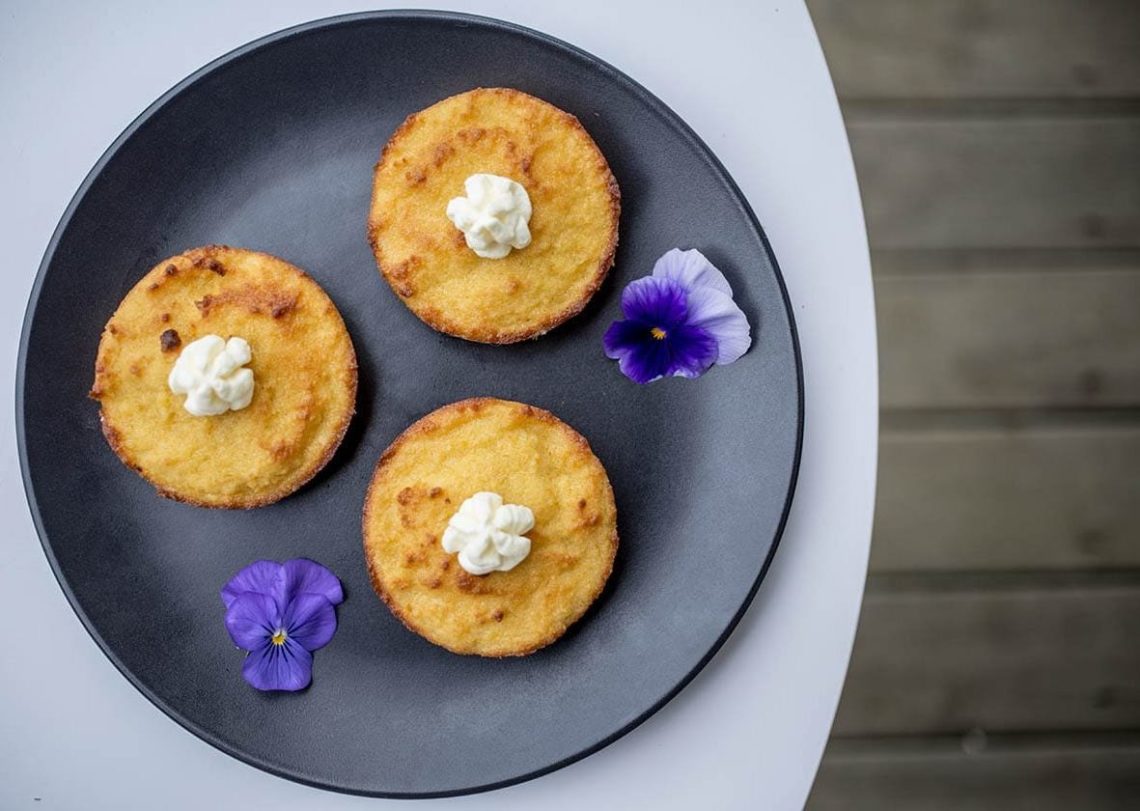 These delicious treats are a go-to favourite in my family. They are moist, not too sweet, and have a refreshing citrus flavour from the lemons......making them just right!
I rarely give my little man sweet treats so anything sweet is certainly a treat! These lemon coconut cakes were given the thumbs up by Master toddler as he tries to shove the entire half mini cake (his portion is a half size) in his mouth at once.... which isn't always a pretty sight!
He then will say his delightful "um um's" while munching and I know they have passed the grade! I do love how he so appreciates food and isn't shy about telling me so.
I know this phase saying "um, um" will only last so long as all of the phases do. Although his eating habits sometimes drive me mad, I know I will miss this phase of utter delight at trying new foods - particularly if they are sweet!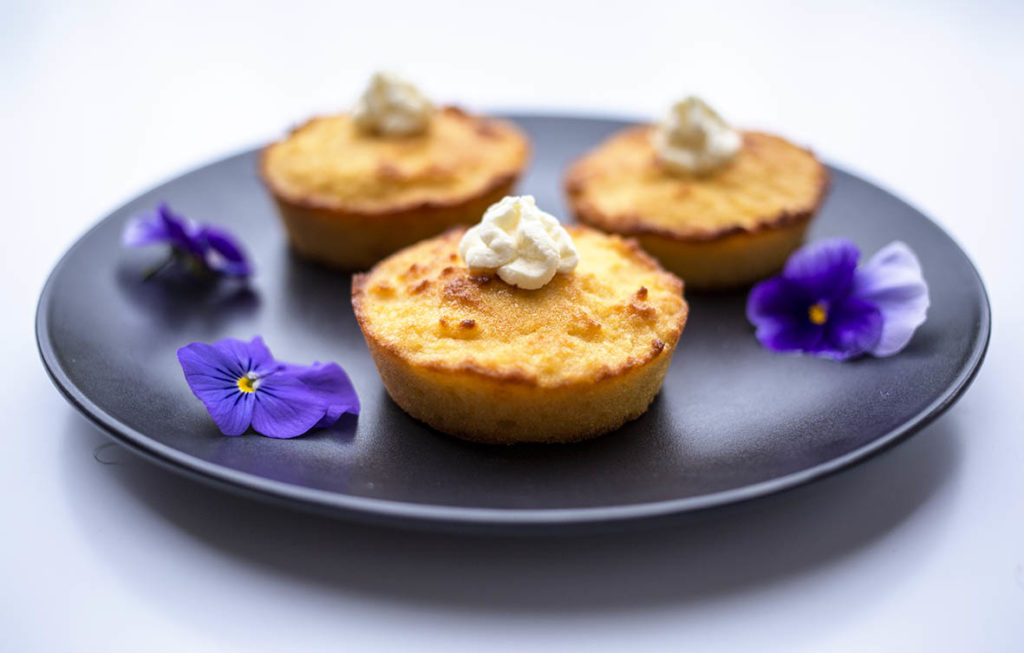 Parenting is such a funny thing as I find I am always missing the person or baby he was but loving the person he has become. I'm not sure if this changes when the rate of change slows down but between 0 and 2 years old they change so much right before your very eyes.
It is amazing to watch, but sometimes I miss my little bubba who was pretty chilled and am astounded/tired/bemused by this extremely active sometimes crazy sometimes naughty, and stubborn little being that has taken his place. But the cheeky smiles that come with the naughtiness still manage to melt my heart every time.
Today was a day with toddler antics abound, me chasing him which is so common these days as he loves to run off when we are out. Then he pulled one of my cherished earrings out of my ears that were given to me by a dear friend and part of it has gone missing in the shop - no doubt never to be seen again....
Once we are home I see Master toddler has spilled his water bottle over one of my favourite books (ruining the pages) while he is busy tipping over the cat food and dragging the clean washing through the spilled cats food. In between all of this he is constantly trying to pull the food I am trying to prepare off the bench while I am trying to make it.
Has there ever been a greater sense of patience than having a toddler? I think not, so on we go today as I attempt to get out a blog post and battle to get a nice picture of the food to put on this post! I often try and get photos done during his sleep time but this doesn't always work out as planned. Today is one of those days......
Additional Recipe Notes
I have used whipped coconut cream for these lemon coconut cakes which adds a nice touch if you are feeling fancy or coconut yogurt is another good option but they can easily be eaten on their own. If you are not dairy intolerant then plain greek yogurt or cream goes nicely with them too.
For other Paleo or grain-free treats you might like:
I hope you enjoy this recipe for lemon coconut cakes! Please let me know how you got on in the comments below, I love hearing from you!
For more tasty recipes and to see what I've been getting up to you can follow me on Facebook, Instagram, Pinterest or Twitter.
Have a lovely week!
Hope x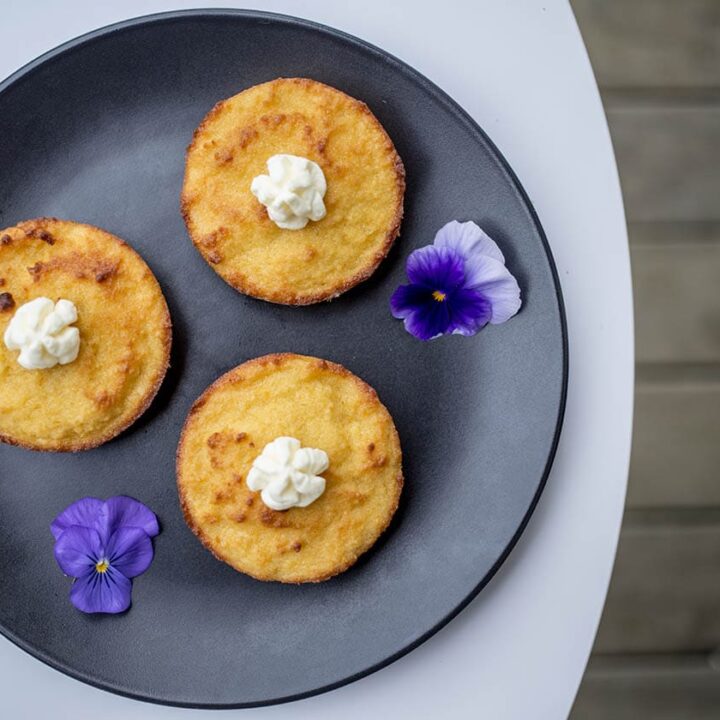 Lemon coconut cakes (Paleo & Gluten Free)
Lemon coconut cakes with whipped coconut cream, a delightfully moist and refreshing gluten-free sweet treat or dessert. Gluten-Free, Dairy-Free, Paleo, Refined-Sugar-Free.
Ingredients
Lemon Coconut Cakes
3 medium sized eggs
⅓ cup coconut oil, melted, plus extra for greasing muffin tray
¼ cup honey
¼ cup of lemon juice and zest of lemons (2 medium sized approx)
1 teaspoon apple cider vinegar
1 teaspoon baking soda
1 teaspoon vanilla extract
1 cup ground almonds/almond meal
1 cup desiccated coconut
1.5 Tbspn coconut flour
Whipped Coconut Cream (Optional)
1 can full fat coconut cream refrigerated overnight
1 teaspoon vanilla extract
6 drops of liquid stevia or 1 Tbspn honey
Instructions
Preheat oven to 180°C/355°F conventional setting.
Whisk eggs using the whisk attachment in your food processor or an electric whisk until they double in size - about 3 minutes.
Add melted coconut oil, lemon juice, lemon zest, honey, apple cider vinegar, & vanilla essence to food processor or blender and process for a minute or until everything is mixed through.
Add the ground almonds, desiccated coconut, coconut flour, and baking soda, mix through evenly or fold in manually.
Spoon the mixture into your greased muffin tin or tray.
Bake for 15-18 minutes until skewer comes out clean once inserted.
While the mini cakes are baking make the whipped coconut cream. Remove the can of coconut cream from fridge, the thick cream should have risen to the surface and should be separated from the coconut water.
Turn the can of coconut cream upside down and open the can. Then discard the water from the cream.
Add the thick cream to food processor or mixing bowl. Add the stevia and vanilla extract. Whip until the cream is light and fluffy - about 2-3 minutes.
Pipe onto the cakes as much as desired or add a scoop to the side to serve with each cake.
Notes
The lemon coconut cakes will keep for 3-5 days in an airtight container. If you are keeping it to serve later add the coconut cream just before serving.
The nutritional information is based on each cake and is an estimate only. This does not include the coconut cream.
The coconut cream will most likely make more than you need, you can cover it and keep it in the fridge for 2 days to use as needed it is delicious with many things!
Nutrition Information
Yield

10
Serving Size

1
Amount Per Serving
Calories

220
Total Fat

17g
Saturated Fat

9.1g
Trans Fat

0g
Unsaturated Fat

6.4g
Cholesterol

49mg
Sodium

171mg
Carbohydrates

15g
Fiber

2.4g
Sugar

11g
Protein

4.6g
This nutritional information is an estimate only and is provided as a courtesy to readers. It was auto-generated based on serving size, number of servings, and typical information for the ingredients listed in the recipe card. Please feel free to use your preferred nutrition calculator. Please consult your doctor about any specific dietary requirements.
Save
Save
Save
Save
Save
Save
Save
Save
Save
Save
Save
Save
Save
Save
Save
Save
Save
Save
Save
Save
Save
Save
Save
Save
Save
Save
Save
Save
Save
Save
Save
Save
Save
Save
Save
Save
Save
Save
Save
Save
Save
Save
Save
Save
Save
Save
Save
Save
Save