A rustic nut and seed Paleo bread with rosemary and olives. Gluten-free, grain and yeast free this is one bread that is not only tasty but nutrient-dense and will leave you feeling satisfied!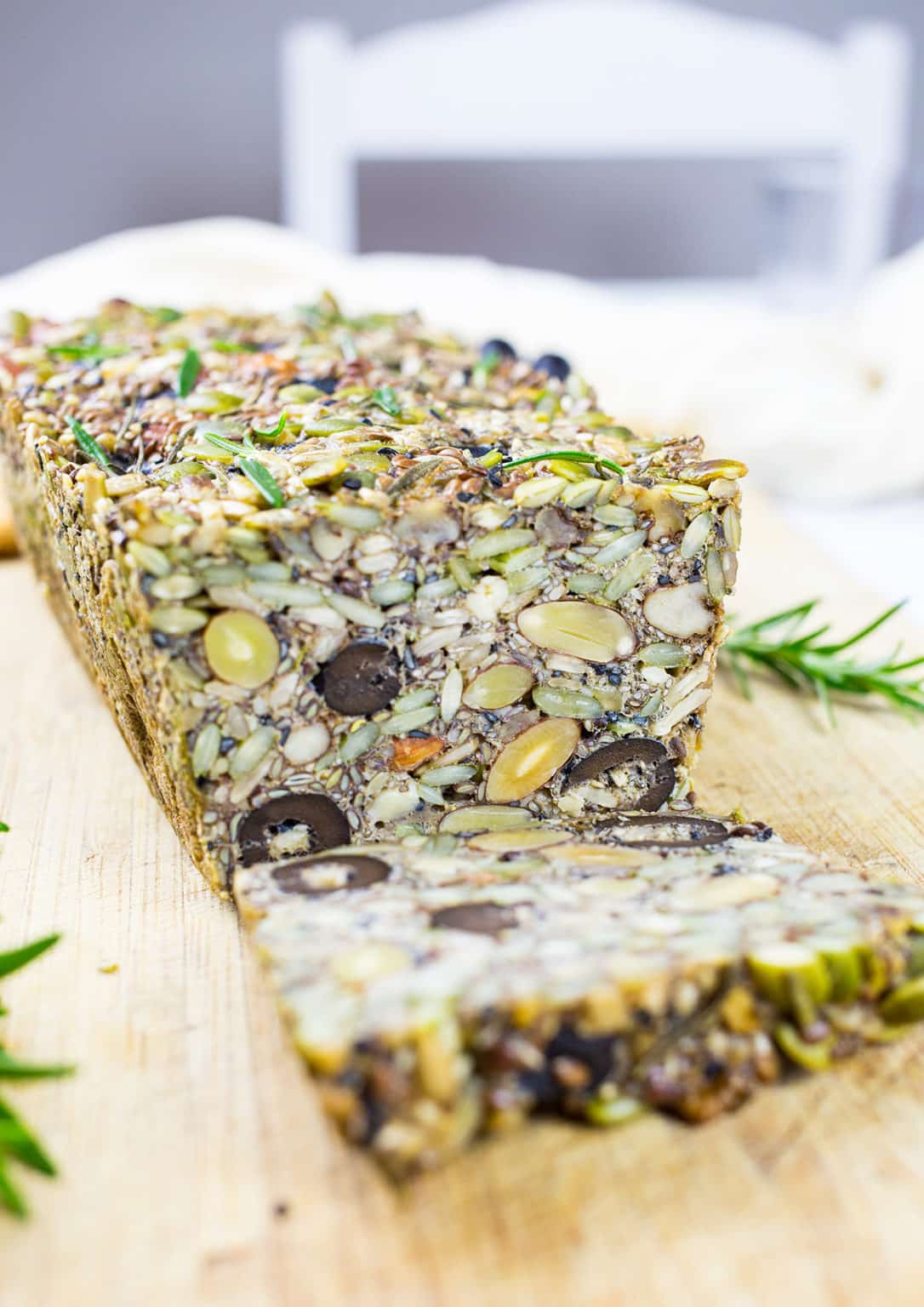 This Paleo nut bread is so easy to throw together, you really can't go wrong! It tastes delicious either eaten as is, or toasted with your favourite savoury spread - butter, hummus, pesto or avocado are all great options.
This rustic nut and seed bread is so versatile - enjoy it alongside a hearty bowl of soup or as a side along with a salad or with a poached egg on top.
After one or two slices of this bread you will not be left hungry - I promise! Packed with nutritious nuts and seeds this bread is chock full of protein and healthy fats leaving you feeling full!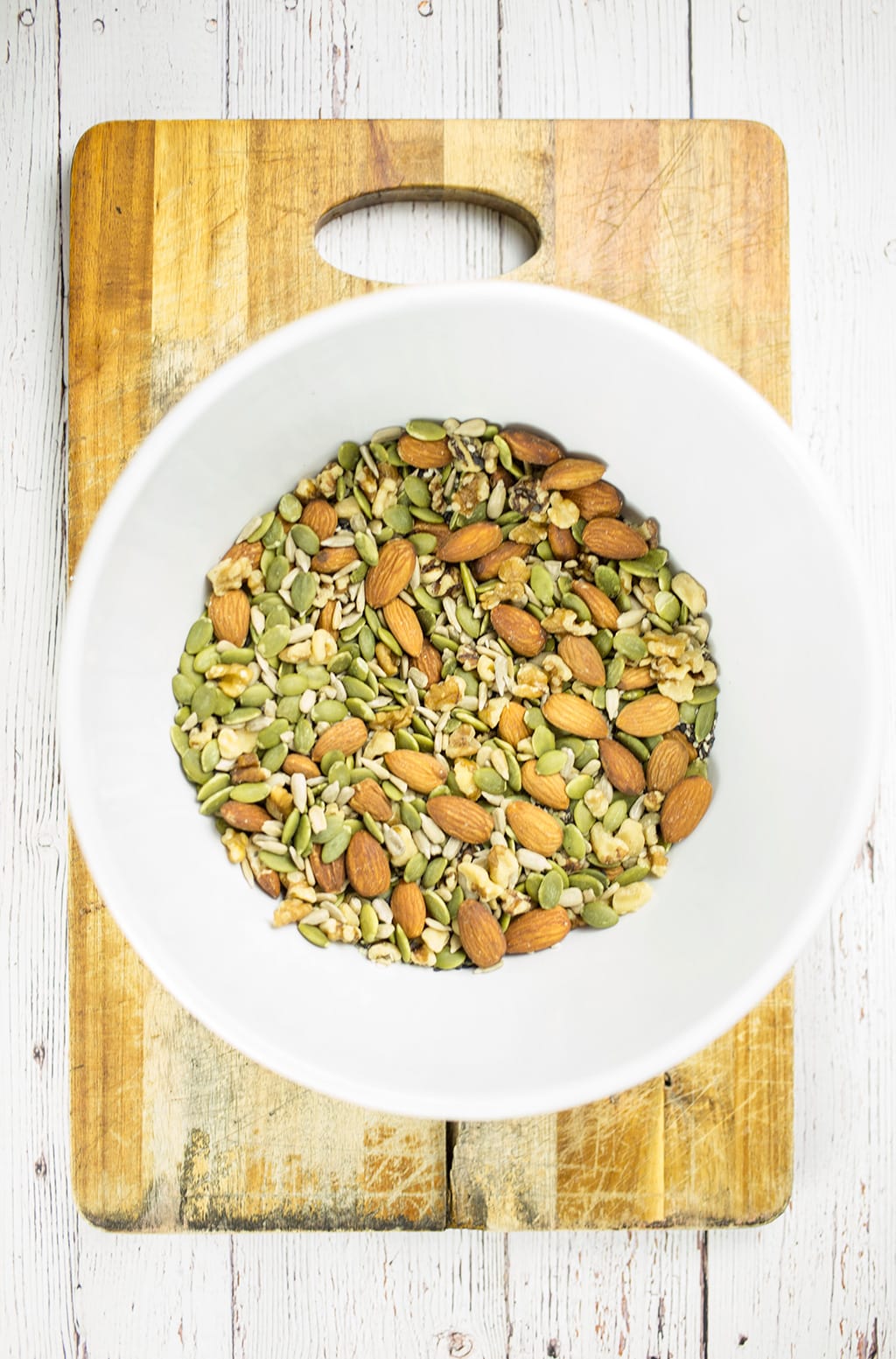 I first tasted a nut and seed bread similar to this many years ago when I was living in the UK and a danish workmate bought some in for morning tea. This particular bread contained rye but was still very dense with lots of nuts and seeds. I can remember being very impressed having never tasted anything quite like it before.
Many years later I tasted a nut and seed bread at a local farmers market and it reminded me of the danish bread I had tried. This lead me to investigate further where I came across the life changing loaf of bread by Sarah at my New Roots.
If you haven't heard of Sarah she is the author behind My New Roots, a beautiful blog where you will find some mouth watering plant based recipes and stunning photography. Her life changing loaf of bread is a vegan nut and seed bread that also contains psyllium and oats and is very tasty indeed.
After being inspired by all of the versions of this bread I had tasted, I played around and wanted to come up with a Paleo version, and this is the result.
This Paleo bread is now a staple in our house and is often served as a side when having guests for lunch.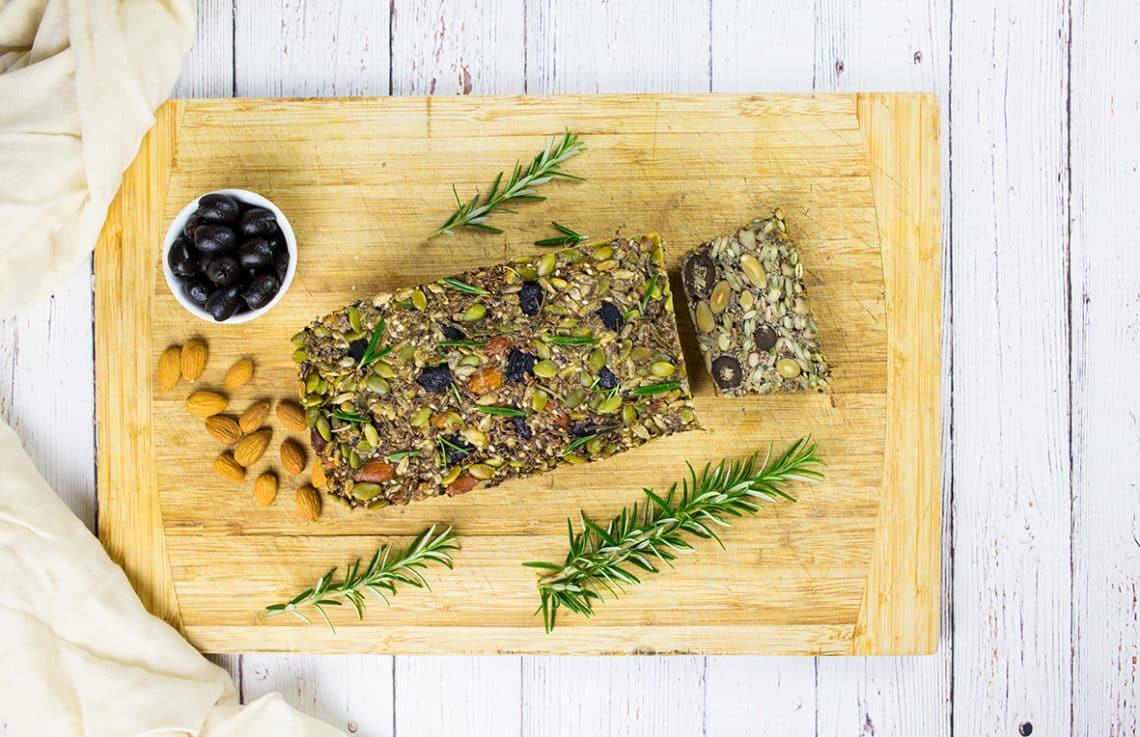 Additional Recipe Notes
I have added olives and rosemary into this bread which gives the bread some extra flavour. If olives or rosemary are not your cup of tea then you can leave one or both of these ingredients out - this will give you other options for enjoying the nut and seed bread with sweeter toppings such as chia jam, homemade nutella or almond butter if you prefer.
This bread can be sliced and frozen for later use if needed. This is not like your usual doughy type of bread, it is very dense, so thin slices work better.
Additional Notes on Soaking the Nuts and seeds:
I have left the nuts and seeds in this bread to semi soak in minimal water for better digestion and absorption. This helps soften the outer shell which is a good idea, particularly if you have a sensitive digestive system. It is my personal belief that any soaking is better than none (just make sure you rinse the nuts well afterwards). Soaking nuts may help break down phytic acid which can interfere with the absorption of minerals. By soaking the nuts beforehand you can help increase the nutritional value of the bread and the nuts and seeds are easier to digest and absorb.
I have tried making this bread a variety of times using different soaking methods and not soaking at all. When soaking the nuts using the more traditional methods of submerging the nuts completely in water the bread has come out too wet and does not hold together as well and can be very crumbly. The method I have used is from my own personal experience of trying to balance making a simple recipe that works well alongside making it as nutritious as possible.
In my personal experience with clients in clinic, I have found that people with a healthy digestive system can tolerate a certain amount of phytic acid, particularly when balanced with a varied and healthy diet. If you find it difficult to digest nuts then soaking or using activated nuts is definitely recommended.
If you use nuts and seeds that are already activated (soaked then dehydrated) then this you will NOT need to use the cup of water that is listed in the ingredients.
To soak or not to soak is a personal preference and completely up to the individual 🙂
If you are looking for some homemade spreads to enjoy with this bread you may like to try......
Kale, Basil & Walnut Pesto - Dairy Free/Vegan
Roasted Butternut Squash and Turmeric Hummus

Creamy White Bean Dip with Garlic and Sage
Other recipes you might like:
Spiced Pumpkin Paleo Bread

Banana & Feijoa Loaf
I hope you enjoy this recipe! Please let me know how you got on in the comments below, I love hearing from you!
For more tasty recipes and to see what I've been getting up to you can follow me on Facebook, Instagram, Pinterest or Twitter.
Have a lovely week!
Hope x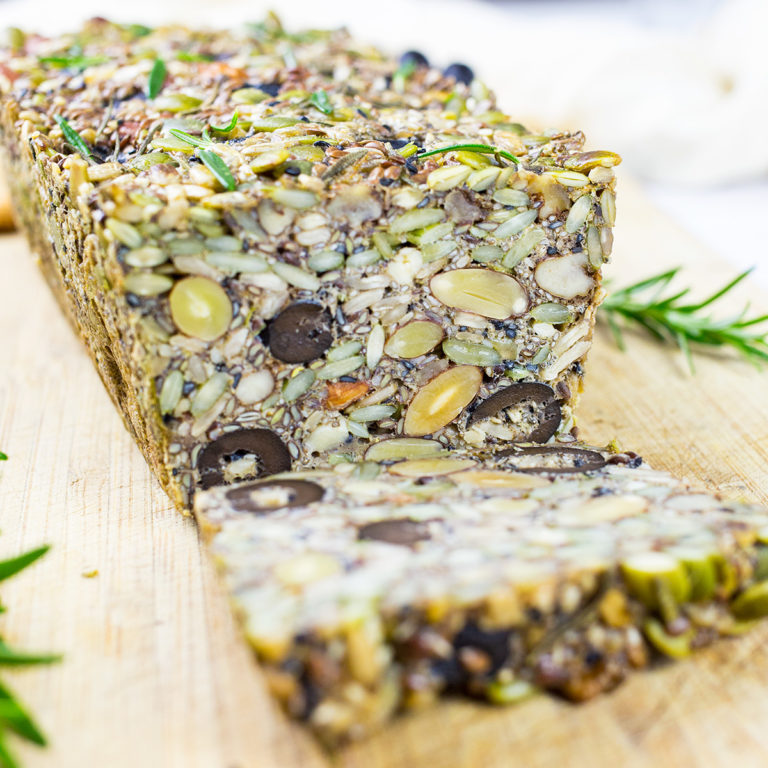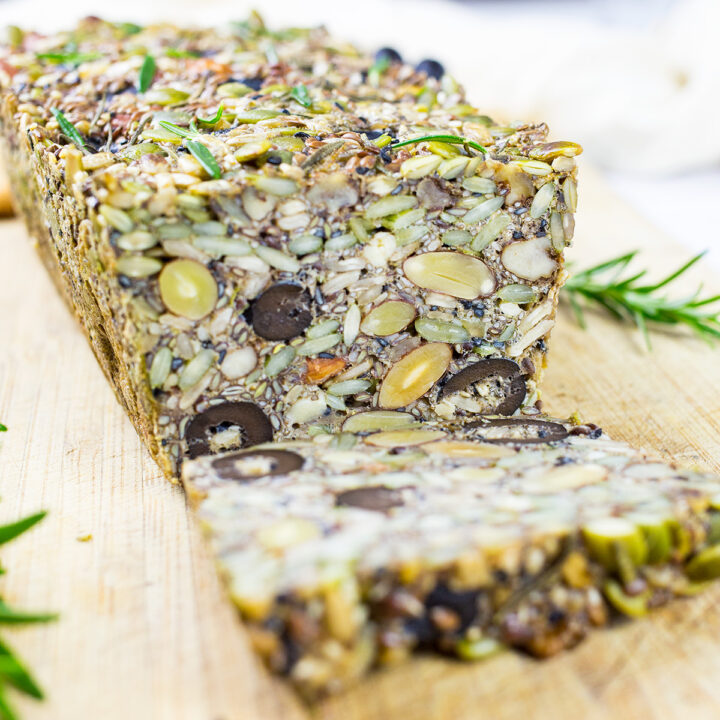 Paleo Nut & Seed Bread with Rosemary & Olives
Yield:
1 loaf of bread, appox 12 slices
Cook Time:
1 hour
10 minutes
Total Time:
1 hour
20 minutes
A delicious paleo nut and seed bread with olives and rosemary
Ingredients
1 cup sunflower seeds
1 cup pumpkin seeds
¾ cup almonds
¾ cup walnuts, chopped
½ cup flaxseed
¼ cup chia seeds
¼ cup sesame seeds
1 cup water
1 tspn salt
5 eggs
¼ cup coconut oil, melted
½ cup black olives, pitted
1 Tbspn fresh rosemary
Instructions
Place all of the nuts and seeds in a large bowl. Add the salt and water. Cover, (stir periodically so all nuts are moist) and leave from 2 hours to overnight. *See additional recipe notes on soaking for this recipe in blog post. If you use activated nuts then you will not need the cup of water.
Preheat oven to 160C/320F
In another bowl whisk the eggs, add the coconut oil. Add the wet ingredients to the bowl of soaked nuts. Add the olives and rosemary and mix together. Leave to sit for a couple of minutes so the egg has been absorbed slightly into the dough.
Add the mixture to a prepared loaf tin.
Bake for 60-70 minutes until firm and slightly golden on top.
Remove from oven and leave to cool completely before slicing.
Store in an airtight container in the fridge for up to 6 days. Slice before freezing.
Notes
The soaking time is optional, please see additional recipes notes in blog post,this is not included in the prep time above.
Nutrition Information
Serving Size

12 slices
Amount Per Serving
Calories

385
Total Fat

32g
Saturated Fat

7g
Sodium

118mg
Carbohydrates

12g
Sugar

1g
Protein

14g
[mpprecipe-recipe:59