This creamy no-bake Vegan cheesecake makes a delightful fresh and fruity dessert that is perfect for Summer.
Smooth, creamy, and with the right balance of tart and sweet from the raspberries this dessert is a real crowd-pleaser. This raspberry cheesecake is Vegan, gluten-free, dairy-free, and Paleo friendly.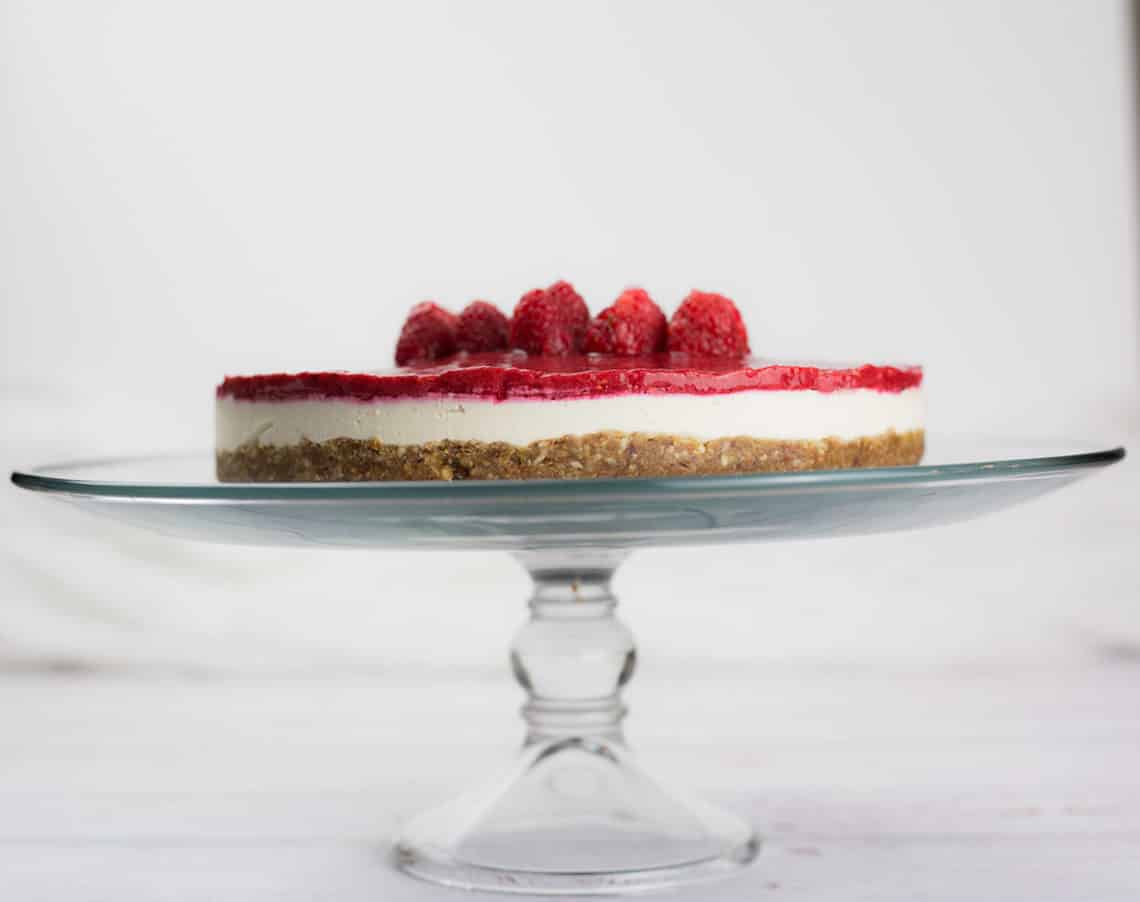 If you have been following my blog for a while you will know I love my no-bake desserts!
While I have always loved cheesecake I can't tolerate a lot of dairy, and although I am not Vegan I was delighted to come across the various Vegan "cheesecakes" that popped up several years ago in raw food cafes.
This raspberry cheesecake is free from gluten, dairy, and the large amounts of refined sugar that you find in your standard cheesecakes so instead of filling up on empty calories you are enjoying a nutrient-rich dessert made from unrefined ingredients.
Soaked cashews make the "cheese" part and if you are doubtful about how good these can taste in a no-bake dessert then I urge you to give it a go! I promise you will not be disappointed - no it does not taste exactly the same as a traditional cheesecake - but it is very similar and even nicer in my opinion!
Due to the high protein content from the nuts, this Vegan cheesecake is very filling! You will only need a small slice, meaning there is a lot to go around!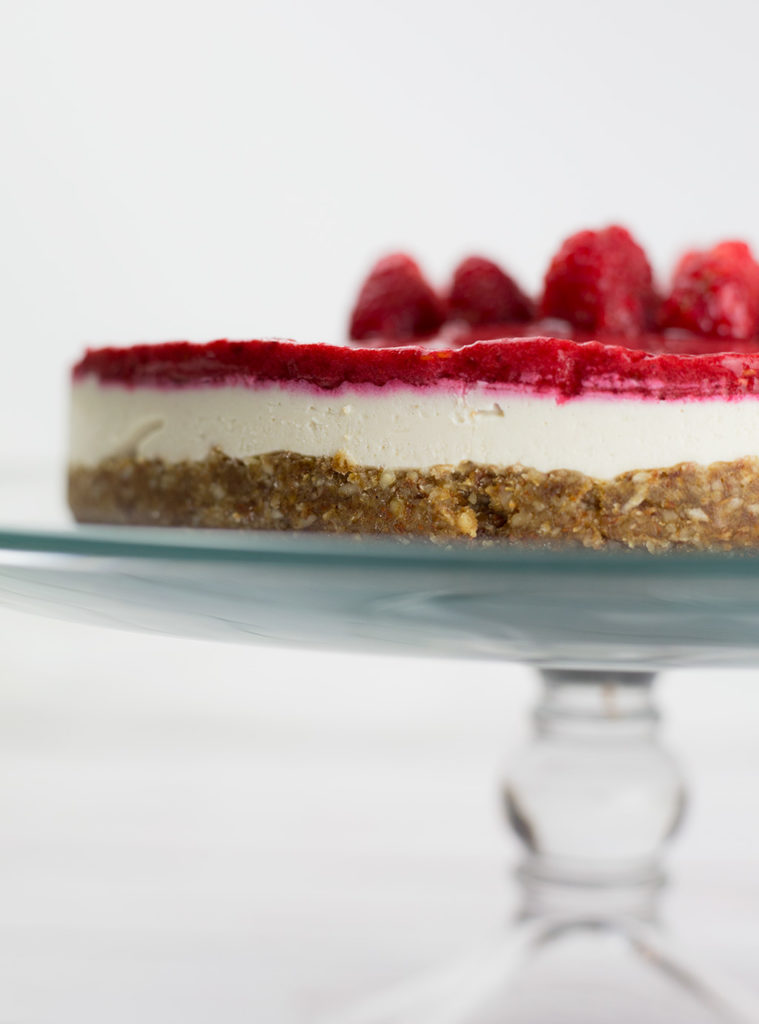 I love making mini no-bake cheesecakes but this larger cheesecake is definitely a favourite.
It is perfect to serve when entertaining guests or in our case we will be enjoying it on Christmas Day. Pavlova topped with strawberries is a popular dessert to have for Christmas in New Zealand but I find it is too sweet, not to mention it is usually full of a LOT of refined sugar and dairy.
Additional Recipe Notes
This no-bake cheesecake is perfect for a busy time when entertaining as you can make it ahead of time and keep it in the freezer.
I usually make this dessert with frozen raspberries so regardless of whether they are in season it can be enjoyed at any time of year.
Other gluten-free no-bake desserts you may like to try:
For more tasty recipes and to see what I've been getting up to you can follow me on Facebook, Instagram, Pinterest or Twitter.
If you make this Vegan Raspberry Cheesecake, I'd love for you to give it a star rating ★ below. You can also tag me #lovefoodnourish on Instagram – I love seeing your creations! Hope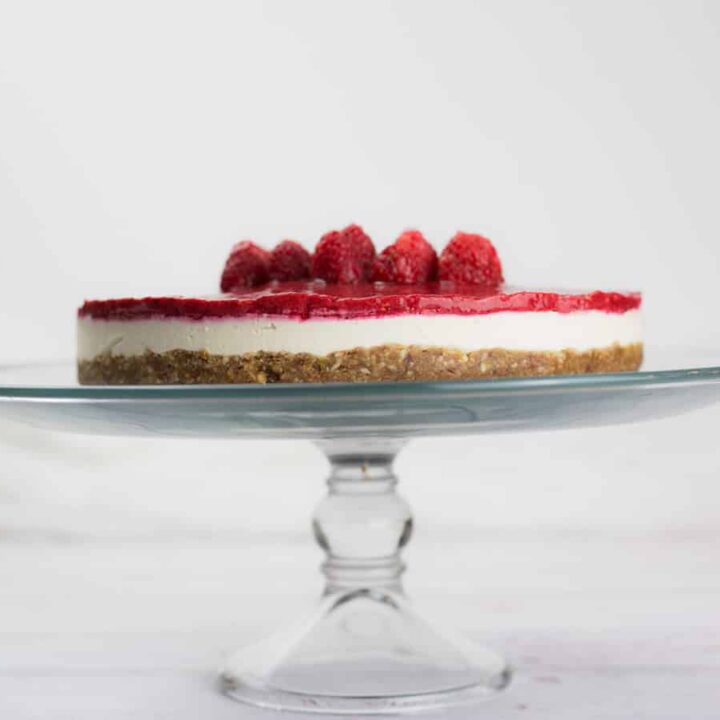 Raspberry Vegan Cheesecake
Inactive Time:
1 hour
30 minutes
Total Time:
1 hour
50 minutes
A delicious no-bake vegan raspberry cheesecake. This dairy-free cheesecake is fresh, fruity, creamy, and delicious. Make with fresh or frozen raspberries. Paleo, gluten-free, dairy-free, Vegan.
Ingredients
Cheesecake Base
¾ cup walnuts
¾ cup almonds
¾ cup dates, soaked*
¾ cup desiccated coconut
Filling
2 cups raw cashews, soaked*
⅓ cup plus 1 Tbspn lemon juice
½ cup coconut cream
2 Tbspn maple syrup
1 tspn vanilla extract
Topping
2 cups raspberries, frozen
½ cup dates, soaked*
2 Tbspn raspberries to add on top
Instructions
First, soak the cashews and dates.
Line the bottom of a a 9" spring-form pan and grease the sides with coconut oil.
Blitz all of the ingredients for the crust in a food processor until you have a dough-like consistency. If you scoop out some of the ingredients then it should hold together in a ball, this is how you know it is done. Scoop out the crust and place it on the bottom of the pan and press down to ensure the base is even.
Place the crust in the freezer while you make the rest of the cheesecake. Rinse out your food processor.
Next blitz all of the ingredients for the filling in a food processor. You want this to be nice and creamy so use the strongest setting and blend it until it is nearly looking like a very thick smooth liquid. The time it will take will vary depending on the strength of your food processor.
Once smooth pour over the crust and smooth it out so you have an even layer. Place back in the freezer and freeze for 1 hour, then start the topping.
For the topping add the dates to the food processor and blitz until you have a smooth paste. Add the frozen raspberries and blitz until they are crushed, blended, and smooth, it should be like a thick pulpy liquid. This may take anywhere between 3-5 minutes depending on the strength of your food processor. Place in the freezer for 30 minutes.
Top the cake with fresh raspberries, or if you are using frozen then leave them out prior to doing the topping for 15-20 minutes to thaw.
Run a knife under hot water to cut the Vegan cheesecake into slices and serve.
Notes
*To soften the cashews you have two options: Either soak in cold water for 4 hours to overnight - overnight is best. Or in very hot water for 20 minutes. Then rinse, drain and pat dry with a paper towel. *Soak dates in warm water for 10 minutes, rinse, drain and pat dry with a paper towel.
Nutrition Information
Yield

12
Serving Size

1
Amount Per Serving
Calories

346
Total Fat

22g
Saturated Fat

6g
Trans Fat

0g
Unsaturated Fat

15g
Cholesterol

0mg
Sodium

66mg
Carbohydrates

35g
Net Carbohydrates

30g
Fiber

5g
Sugar

23g
Protein

8g
This nutritional information is an estimate only and is provided as a courtesy to readers. It was auto-generated based on serving size, number of servings, and typical information for the ingredients listed in the recipe card. Please feel free to use your preferred nutrition calculator. Please consult your doctor about any specific dietary requirements.
(This Vegan cheesecake recipe was originally posted in December 2018)