Sometimes you just need a bowl of goodness and this chickpea buddha bowl is just that!
It is chock full of fresh veggies that go perfectly with the spicy chickpeas all topped off beautifully by a creamy cumin cashew dressing. This buddha bowl is gluten-free and Vegan.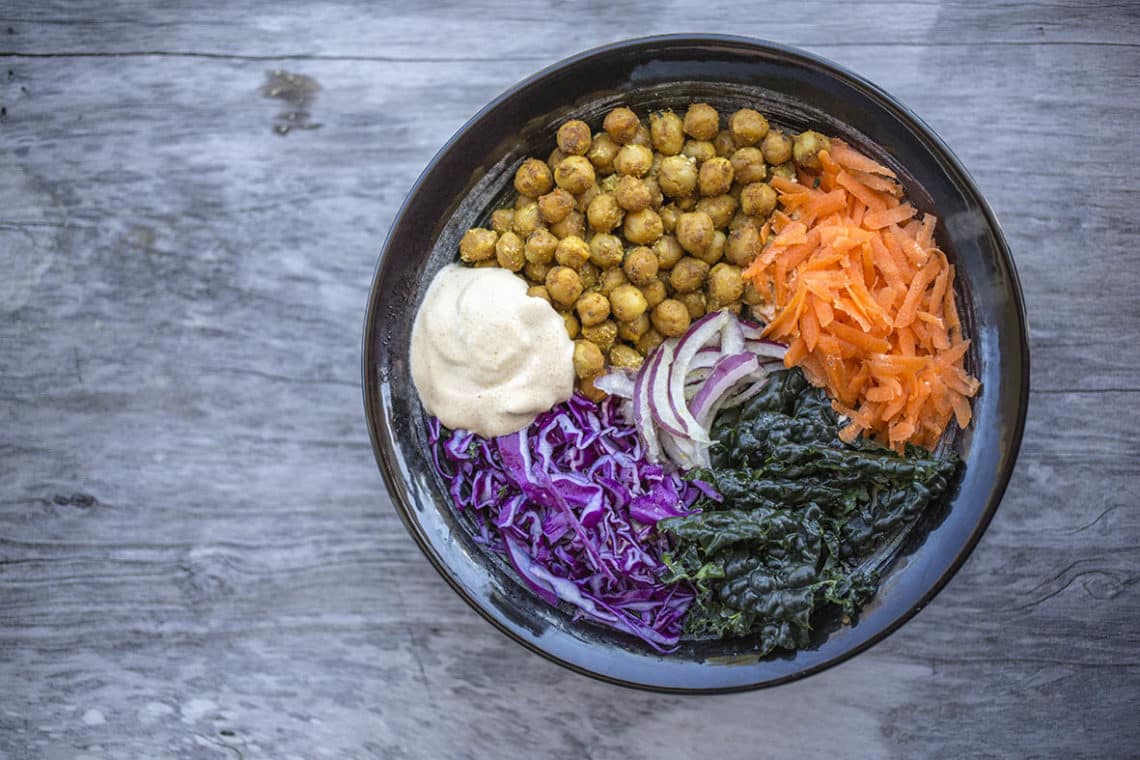 The crispy crunch from the red cabbage, mixed with the kale, carrot, and red onion are ingredients that are not only oh so good for you.......but go delightfully with the moreish spicy chickpeas.
This crunchy-spicy-fresh combo makes a delicious combination.
This healthy buddha bowl is complete once drizzled with the creamy dairy-free cumin cashew dressing - I am sure it will become a new favourite.
The chickpeas and the cumin cashew dressing give this buddha bowl a nice protein boost, complete with fibre from the veggies and chickpeas you won't be going hungry after eating this!
It's not always easy to make salads child friendly. My little boy loves purple cabbage, I presume that's because of its pretty colour and crunch! He will eat this salad (minus the onion) mixed with the tasty cashew dressing.
If he is not in a salad eating mood (which let's face it, small children are not always) then I use the veggies I have chopped up for the salad another way and add to a stirfry or make into veggie fritters or add the ingredients into a wrap.
I have put some nutritional info for you below, if this isn't up your alley then please skip here and read on to the recipe!
This buddha bowl has red cabbage and kale, both of which are cruciferous vegetables that are thought to support liver detoxification pathways and contain various antioxidants.
The humble red cabbage is such a nutritious vegetable; it has 6-8 times more antioxidant activity than green cabbages, they are full of nutrients, and they are also high in the amino acid glutamine. Glutamine is great for many things but the biggie that it is popular for in natural healthcare is supporting the healing of the digestive lining.
This buddha bowl also contains red onions and garlic (in the cashew dressing) which are naturally high in sulphur which is also great for supporting liver detoxification pathways and turmeric well known for numerous health benefits.
Additional Recipe Tips
You can make these chickpeas as spicy or mild as you like by adjusting the amount of paprika, taste, and adjust to suit your family.
To make the cashew dressing runnier simply add more water as desired.
Other Vegan recipes you may like:
Mediterranean Chickpea Salad
Chia Seed Porridge
Eggplant Bruschetta
Healthy Broccoli Salad - No Mayo
I hope you enjoy this recipe! Please let me know how you got on in the comments below, and leave a star rating, I love hearing from you!
For more tasty recipes and to see what I've been getting up to you can follow me on Facebook, Instagram, Pinterest, or Twitter.
Have a lovely week!
Hope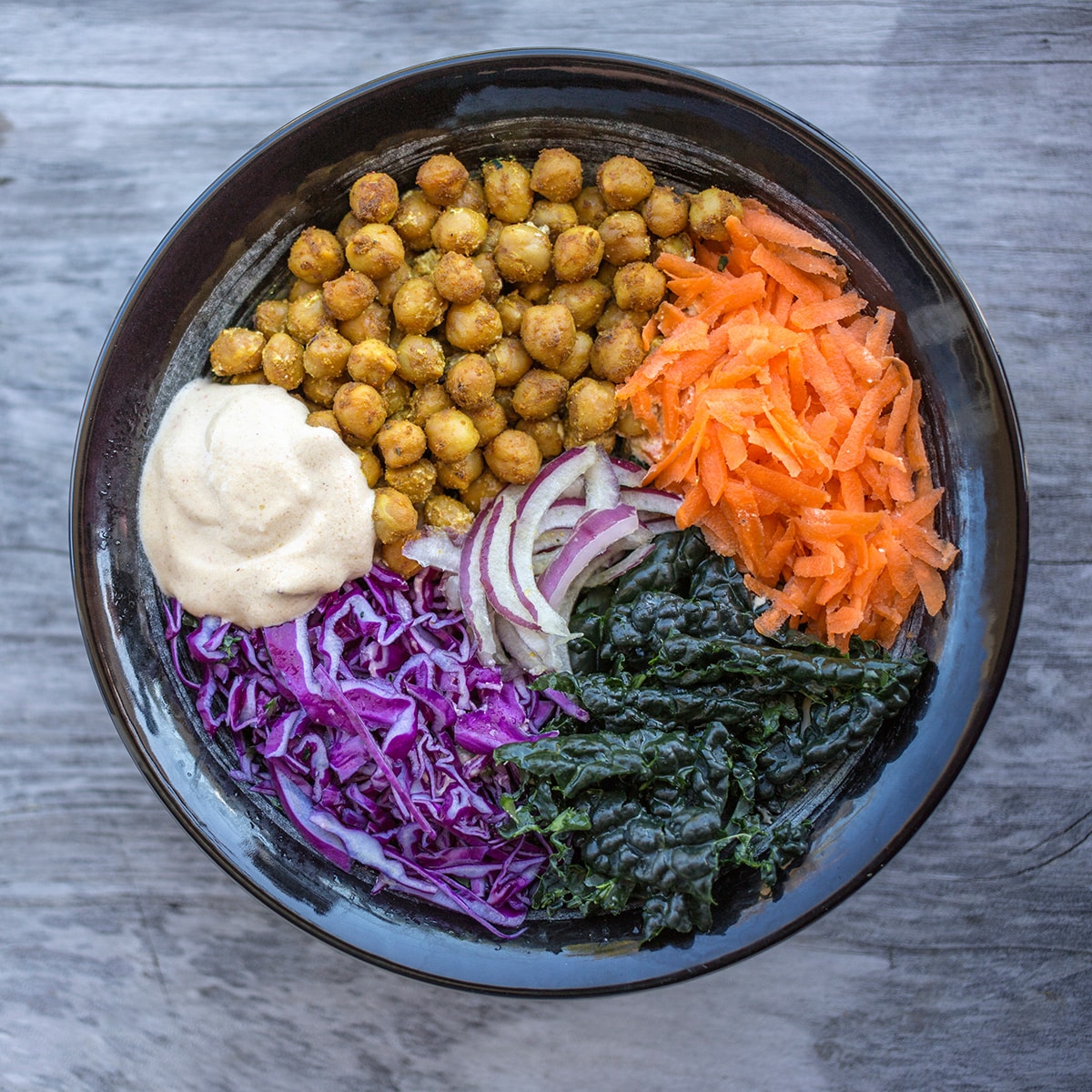 Spiced Chickpea Buddha Bowl with Cumin Cashew Dressing
A colourful and tasty Vegan buddha bowl with spicy chickpeas and a creamy dairy-free cumin cashew dressing.
Ingredients
Spicy Chickpeas
1.5 cups cooked chickpeas
1 Tbs coconut oil
1 Tbs ground turmeric powder
1 Tbs ground cumin powder
1 teaspoon ground paprika powder
¼ teaspoon sea salt
Salad
2 cups of kale, stems removed
2 cups of red cabbage, roughly chopped
1 carrot, grated
½ red onion, medium size
Cumin Cashew Dressing
¼ cup cashews
1 garlic clove
3 Tbs olive oil
2 Tbs lemon juice
2 Tbs water
1 teaspoon cumin
Pinch of ground paprika powder
Extra salt and pepper to taste
Instructions
Add the cashew nuts to a bowl and enough warm water to cover them, cover the bowl and let them sit for 15 minutes while you make the rest of the salad.
Add coconut oil to the pan and melt. Add the chickpeas, turmeric, paprika, cumin, and salt, stir the spices through the chickpeas so that they are coated. Cook for about 5 minutes until the chickpeas are golden brown.
Add the slicing attachment to your food processor and add the kale, cabbage, and then red onion until finely sliced. Grate the carrot. If you don't have a food processor then chop finely by hand.
Drain and rinse the cashew nuts and add to blender with olive oil, lemon juice, water, cumin powder, paprika, salt, and pepper. Blitz until smooth and creamy. Adjust seasoning to taste and water to reach the desired thickness.
Arrange the salad in a bowl with chickpeas, and drizzle over cashew dressing.
Notes
You can make these chickpeas as spicy or mild as you like by adjusting the amount of paprika, taste, and adjust to suit your family.
If you would like the cashew dressing to have a thinner more liquid consistency add more water as desired.
The cashew nuts for the dressing may be soaked overnight if preferred.
Nutrition Information
Yield

2
Serving Size

1
Amount Per Serving
Calories

676
Total Fat

40g
Saturated Fat

11g
Trans Fat

0g
Unsaturated Fat

27g
Cholesterol

0mg
Sodium

656mg
Carbohydrates

68g
Net Carbohydrates

49g
Fiber

19g
Sugar

16g
Protein

20g
This nutritional information is an estimate only and is provided as a courtesy to readers. It was auto-generated based on serving size, number of servings, and typical information for the ingredients listed in the recipe card. Please feel free to use your preferred nutrition calculator. Please consult your doctor about any specific dietary requirements.
Save
Save
Save
Save
Save
Save
Save
Save
Save
Save
Save
Save
Save
Save
Save
Save
Save
Save
Save
Save
Save
Save
Save
Save