This is my favourite seed crackers recipe of all time. Crunchy, tasty, and easy to make - you can't go wrong with these homemade crackers for a healthy snack.
Pumpkin seeds, sunflower seeds, hemp seeds, chia seeds, and sesame seeds make these crackers nutritious and super tasty!
These are one of my go-to snacks. I have made many versions of these seed crackers over the years but this recipe is hands down my favourite.
Seed crackers go so well with pretty much any dip, spread, topping or enjoy on their own - they still make a satisfying snack.
Perfect to pop on a platter for entertaining or to add into lunch boxes, these homemade crackers are nut-free making them child and school-friendly.
These crackers are gluten-free, Paleo, Keto, Whole30 and Vegan compliant.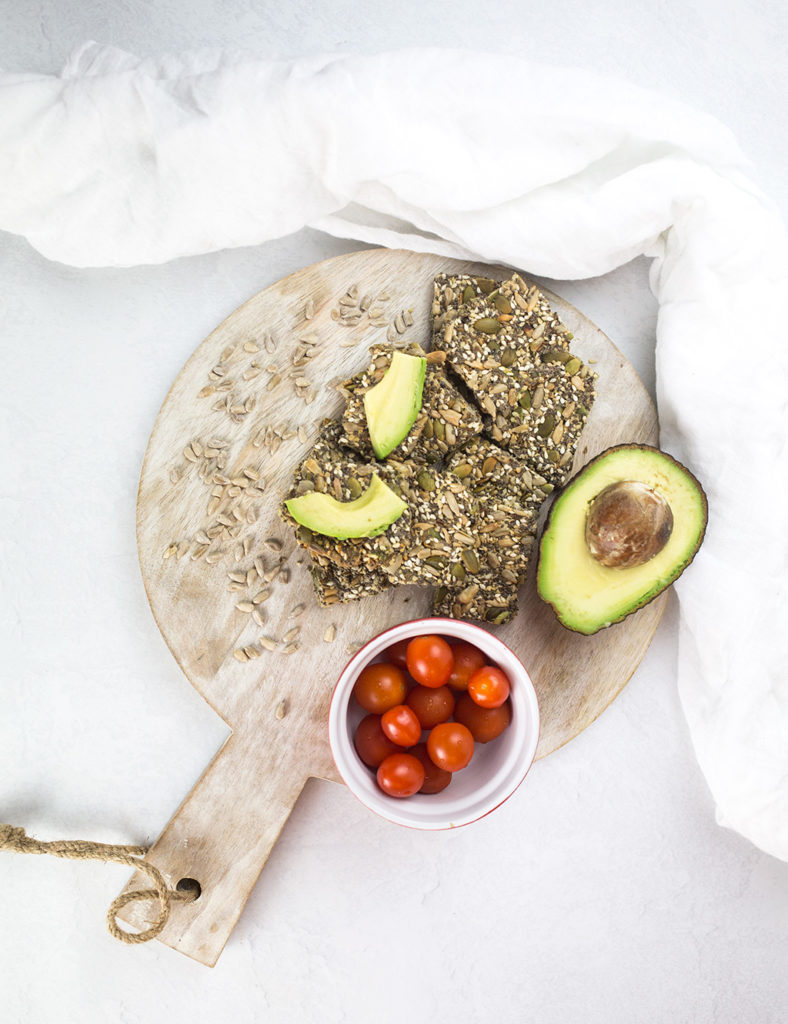 Additional Recipe Tips
These seed crackers don't need any eggs to bind them, the chia seeds and flaxseeds bind together once water is added making a gel like consistency.
I like to soak the seeds for the crackers for 20 minutes, you can soak them for longer if you prefer. This may alter the baking time.
Different variations you could try:
I have made these seed crackers a dozen different ways over the years. The recipe below is my personal favourite with a mix of seeds, cumin and nutritional yeast.
It may sound like a strange combination but the nutritional yeast gives these seed crackers and intense savoury flavour and I find it makes a tasty combination with cumin seeds.
I urge you to try all sorts of herbs when to see which you prefer, some good options are:
Dried rosemary and garlic.
Simply 1 teaspoon of garlic salt .
I prefer using cumin seeds when making these crackers as opposed to ground cumin. If you would prefer to use ground cumin I would recommend trying 1 tsp.
1 teaspoon mixed herbs.
Sea salt and chili flakes.
Dried oregano and sea salt.
If you are looking for another homemade cracker recipe that is a bit like a traditional cracker rather than chock full of seeds you might like to try this easy gluten-free crackers recipe.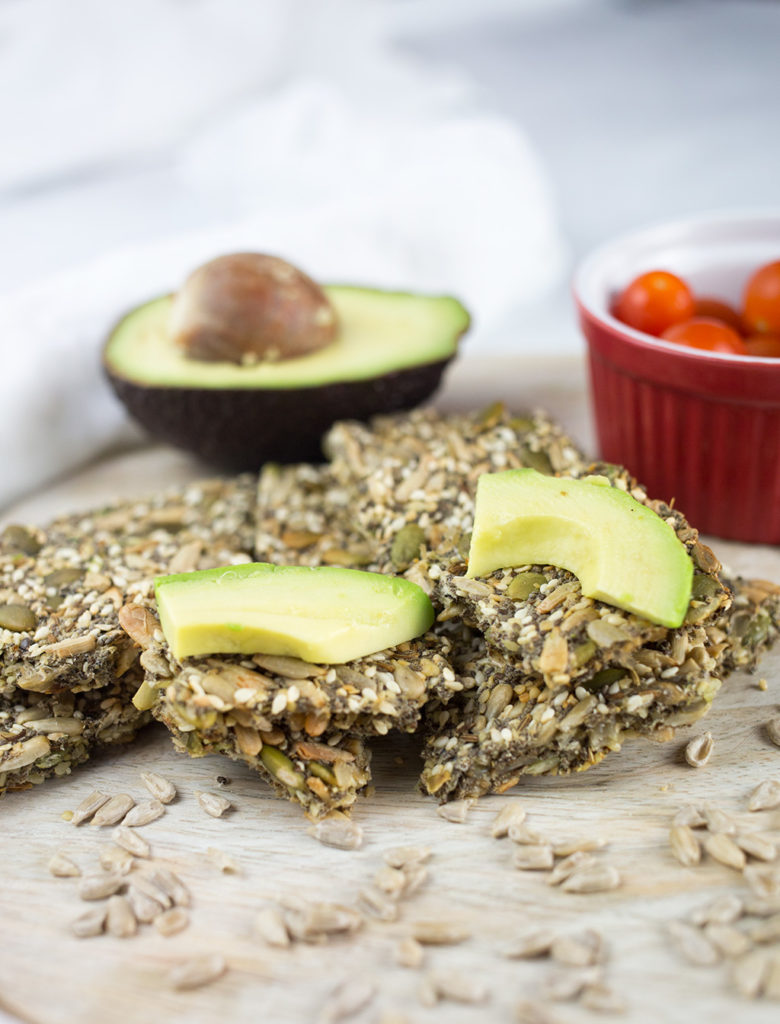 Ideas for cracker toppings
Sliced avocado and tomato and/or olives.
Pesto and avocado. This kale, basil, walnut, and pesto is one of my favourite homemade pesto recipes, it is dairy-free and Vegan friendly.
Any type of hummus, my roasted butternut squash hummus with turmeric healthy and delicious.
Tahini and sliced tomato with a sprinkle of salt and black pepper.
These go really well with my creamy white bean dip, spread on top or simply dip in!
If you prefer sweet snacks over savoury then omit the spices from your crackers and use peanut butter, nutella or almond butter as toppings.
Other savoury snack recipes:
The gluten-free savoury muffins are full of vegetables and can make an easy grab and go breakfast or pop in a lunchbox.
This zucchini and bacon slice is perfect as a snack, lunch or can be popped into lunchboxes.
If you make this recipe, I'd love for you to give it a star rating ★ below. You can also tag me #lovefoodnourish on Instagram – I love seeing your creations!
For more tasty recipes and to see what I've been getting up to you can follow me on Facebook, Instagram, Pinterest or Twitter.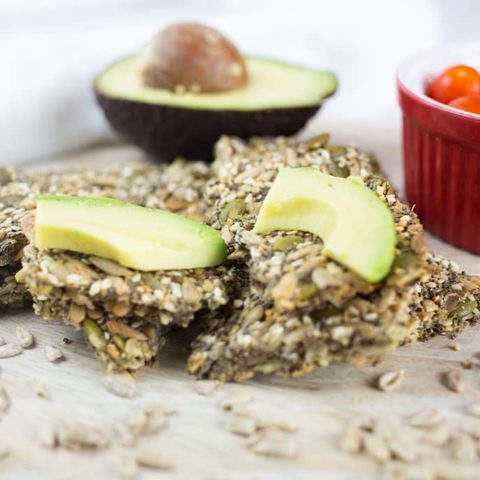 Easy seed crackers recipe
Additional Time:
20 minutes
Total Time:
1 hour
25 minutes
Crunchy, tasty, and easy to make these easy homemade crackers make a great healthy snack or appetizer. Gluten-Free, Paleo, Vegan, Keto, Whole30.
Ingredients
1 cup sunflower seeds
½ cup pumpkin seeds
½ cup chia seeds
¼ cup hemp seeds
¼ cup sesame seeds
1 cup water
1 tablespoon cumin seeds
1 tablespoon nutritional yeast
1 teaspoon sea salt
Sprinkle of freshly ground black pepper
Instructions
Preheat your oven to 170C/340F.

Add all of the seeds into a large mixing bowl, roughly stir so they are evenly combined. Add your spices and salt and stir and then the water and stir again.

Cover and set the bowl aside and allow it to thicken for about 20 minutes. The mixture will thicken and become gel-like in consistency. This is now the dough.

Line a large baking tray with baking/parchment paper, lightly grease it with some coconut oil or preferred oil.

Spread the dough into a thin layer as evenly as possible. You may need to manipulate it slightly with your hands to ensure there are no gaps, you can simply press it down with your fingers. Ideally, around 4 mm is ideal, I don't measure the cracker dough but get it as flat as I can.

Bake for 1 hour, I would suggest checking 5-10 minutes on either side as the crackers can easily burn. You want them to be slightly golden and firm to touch.

Remove the tray from the oven and leave the crackers to cool. You can cut them into squares with a sharp knife or pizza cutter or simply break them into chards.

Store the crackers in an air-tight container.
Notes
I like to soak the seeds in these crackers for 20 minutes, you can soak them for longer if you prefer. This may alter how long you need to bake
these crackers and you will need to bake them for longer than
recommended below, depending on how long you soaked them for.
This recipe makes roughly 30-32 seed crackers, this can vary depending on how thin or thick you make the crackers and how big or small you cut them.
For other variations and toppings ideas please see the notes in the blog post.
The nutritional information is worked out per cracker, serving size can vary depending on what toppings you use etc, a rough serving size would be 2-4 crackers per person.
Nutrition Information
Yield

30
Serving Size

1
Amount Per Serving
Calories

59
Total Fat

5g
Saturated Fat

1g
Trans Fat

0g
Unsaturated Fat

4g
Cholesterol

0mg
Sodium

336mg
Carbohydrates

3g
Net Carbohydrates

1g
Fiber

2g
Sugar

0g
Protein

2g
This nutritional information is an estimate only and is provided as a courtesy to readers. It was auto-generated based on serving size, number of servings, and typical information for the ingredients listed in the recipe card. Please feel free to use your preferred nutrition calculator. Please consult your doctor about any specific dietary requirements.