These delicious sticky Asian-style meatballs make a great family dinner or can be delicious when entertaining. The tender flavoursome meatballs are coated in a sticky Asian sauce, topped with crunchy sesame seeds. Paleo, Keto & Whole30 friendly.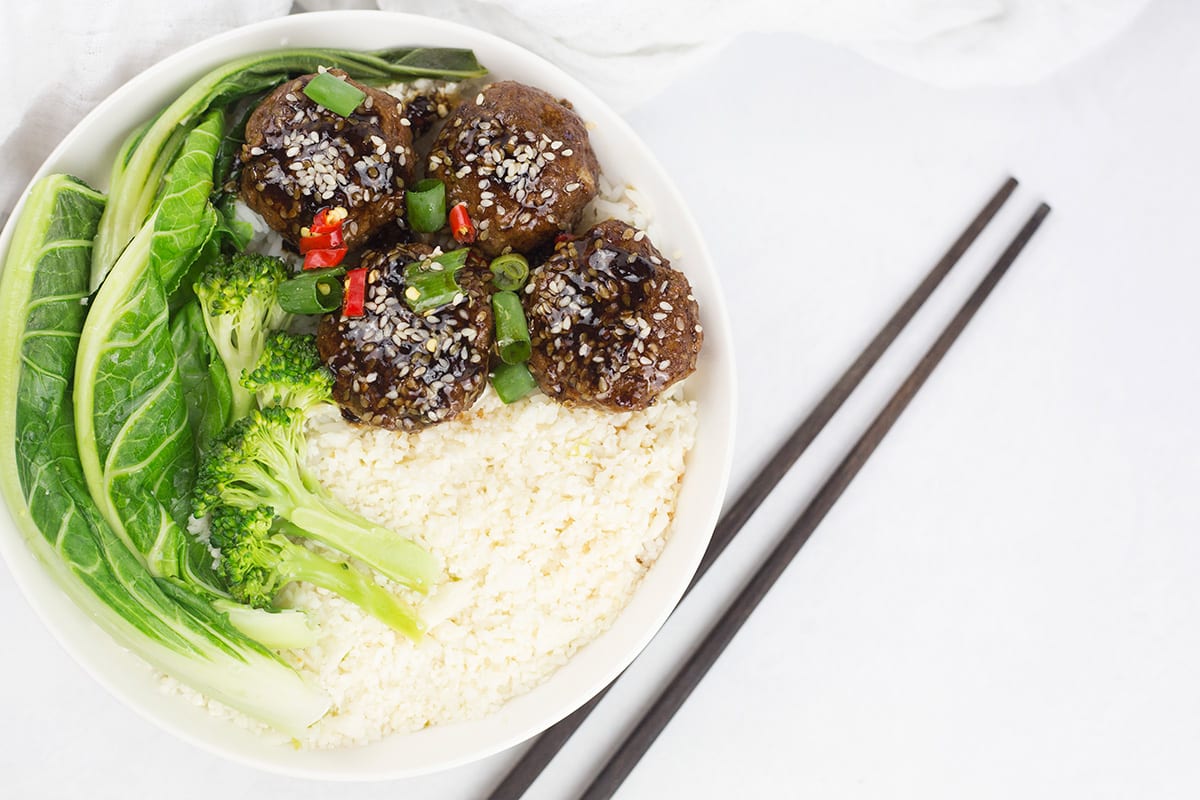 If you enjoy Asian-style food you will love this recipe, these delicious tender meatballs are packed with flavour. The delightful sticky sauce takes these meatballs to the next level giving them the full umami hit.
The meatballs are coated with sesame seeds and a sprinkle of chopped spring onion (optional) and you can serve with additional chopped chili if you like a bit of spice.
These make tasty leftovers and can easily be enjoyed cold the next day.
Serving suggestions:
Turn into a regular family dinner by serving with white or brown rice alongside steamed vegetables such as bok choy, carrots, cauliflower, or broccoli. For a Paleo or Whole30 option use cauliflower or broccoli rice instead of plain rice.
These meatballs also go well with an Asian-style salad such as my Crunchy Asian Slaw.
Top with chopped chili for a bit of spice.
To make the meatballs child-friendly leave the spring onion and chopped chili aside and sprinkle on after you have dished them out.
Pile the meatballs onto a platter with some toothpicks for a party or serve as an appetizer.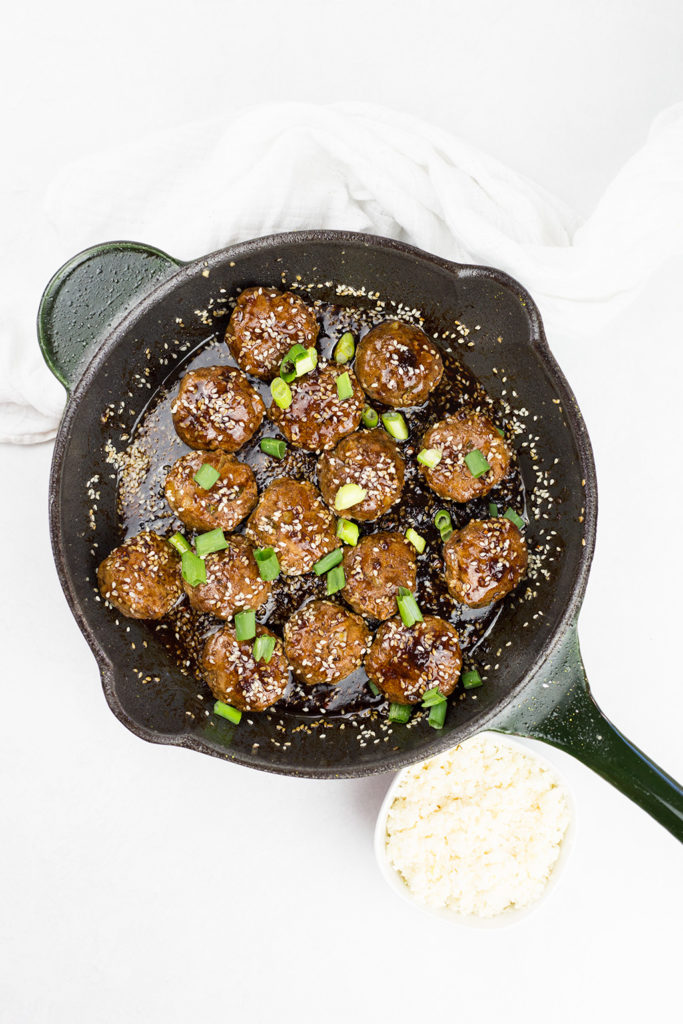 Additional Recipe Tips
I find that these meatballs cook better in the oven and retain their tenderness. Use a large sheet pan baking tray and line it with baking paper or tin foil. Greasing with a small amount of oil stops the meatballs from sticking and they are easier to turn over.
Some liquid may come out of the meatballs while cooking, simply scoop it off after cooking in the oven and before putting them in the sticky sauce.
The nutritional information is based upon a serving size of 4 meatballs.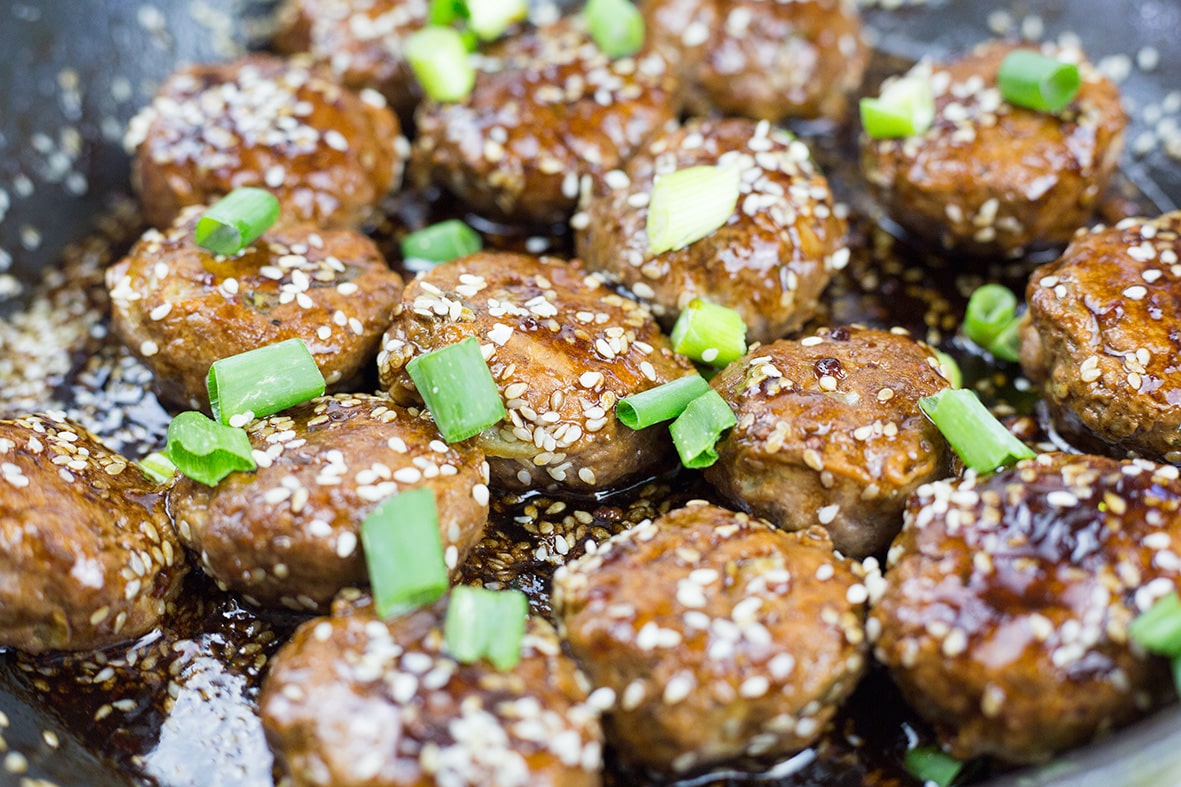 You have mentioned soy sauce, tamari, or coconut aminos – what should I use?
If you are following a Paleo or Whole30 diet or you can't tolerate soy then coconut aminos will be your preferred choice. If you are simply gluten-free then tamari is a good choice.
If none of the above applies to you and you can tolerate soy then standard soy sauce can be used. When it comes to consuming any ingredients based from soy then buying organic soy is always preferable.
Additional Notes for Whole30 compliance
You will need to remove the honey if you are following a Whole30. Yes, the end result will be a little less sweet (sorry) but as you are hopefully readjusting your palate from craving all things sweet you won't miss it. The coconut aminos do give the sauce a very mild sweetness.
What is arrowroot powder?
I use arrowroot powder in a lot of my recipes - mainly to thicken sauces. Arrowroot is a starchy substance that's extracted from the root of a tropical plant known as Maranta arundinacea. It's basically a white, powdery starch that's naturally gluten-free, grain-free, and Paleo-friendly.

If you don't have access to any then you can use cornstarch. However not every brand of cornstarch on the market is considered to be completely gluten-free so for those who have celiac disease and non-celiac gluten sensitivity you will need to check your labels.

Other recipes you might like to try:
For meatball fans out there you might like to give these gluten-free chicken meatballs a try. They are healthy and easy to make and go well with a variety of side dishes.
I hope you enjoy this recipe for Sticky Asian Meatballs! Please let me know how you got on in the comments below, I love hearing from you!
For more tasty recipes and to see what I've been getting up to you can follow me on Facebook, Instagram, Pinterest or Twitter.
Hope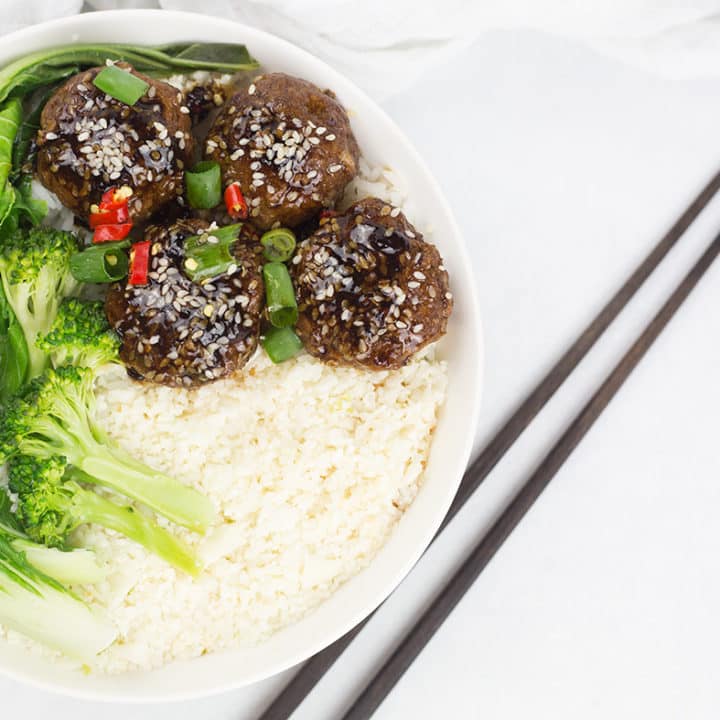 Sticky Asian Meatballs
Delicious Asian style meatballs, tender and packed full of flavour with an Asian style sticky sauce. Gluten Free, Paleo & Whole30 Friendly.
Ingredients
Asian meatballs
730g /1.6 lb ground minced beef
2 eggs
½ medium onion - diced
2 Tbs almond meal
2 Tbs thai basil (optional)
1 Tbs tamari or coconut aminos
1 Tbs sesame oil
1 teaspoon garlic, minced
½ teaspoon dried ginger
½ teaspoon sea salt
⅛ teaspoon black pepper
Asian sticky sauce
1 Tbs sesame oil
1 teaspoon garlic, minced
¼ cup tamari or coconut aminos
2 Tbs rice vinegar
2 Tbs water
1 teaspoon honey
2-3 teaspoon arrowroot powder
Garnish
2 Tbs sesame seeds
2 Tbs spring onion, chopped
1 Tbs fresh chili, chopped - optional
Instructions
Preheat the oven to 180C/355F.
In a large bowl crack the eggs and quickly whisk with a fork.
Add the remainder of the ingredients (minus the beef) and quickly mix until combined. Then add the minced beef and mix through until evenly combined.
Line a large sheet pan baking tray with tin foil or baking paper and lightly grease. Form the meatball mixture into golf ball sized balls. Place each meatball on the prepared tray leaving space between them. (You may need two trays)
Bake for 15 minutes then turn and cook for another 5 minutes until the meatballs are cooked through.

Heat a skillet on medium heat. Add the sesame oil and garlic and saute for about 1 minute. Add the remainder of the ingredients for the sauce (minus the arrowroot mixture). Once the liquid is hot add the arrowroot mixture stirring frequently for 2-3 minutes until it thickens.
Turn the heat off the skillet (the pan should still be hot) and add the cooked meatballs into the sauce. Turn them over so they are coated in the sauce.
Top the meatballs with sesame seeds, fresh spring onion, and chopped chili if desired.
Serve over rice/cauliflower rice or with steamed vegetables. You should have some sauce left to spoon over the meatballs when serving.
Notes
Some liquid may be released when cooking the meatballs, this is to be expected simply scoop off before coating them in the sticky sauce.
If you don't have arrowroot powder you could replace it with cornstarch, if you are gluten-free please check the labels.
The nutritional information is based on an estimate of a serving being 4 meatballs.
Please see notes in blog post regarding tamari, coconut aminos and soy sauce.
For Whole30 use only coconut aminos and remove the honey from the sauce.
Please see additional Recipe FAQ and tips in the blog post.
Nutrition Information
Yield

6
Serving Size

4
Amount Per Serving
Calories

447
Total Fat

30g
Saturated Fat

9g
Trans Fat

1g
Unsaturated Fat

17g
Cholesterol

171mg
Sodium

1178mg
Carbohydrates

5g
Net Carbohydrates

4g
Fiber

1g
Sugar

2g
Protein

38g
This nutritional information is an estimate only and is provided as a courtesy to readers. It was auto-generated based on serving size, number of servings, and typical information for the ingredients listed in the recipe card. Please feel free to use your preferred nutrition calculator. Please consult your doctor about any specific dietary requirements.